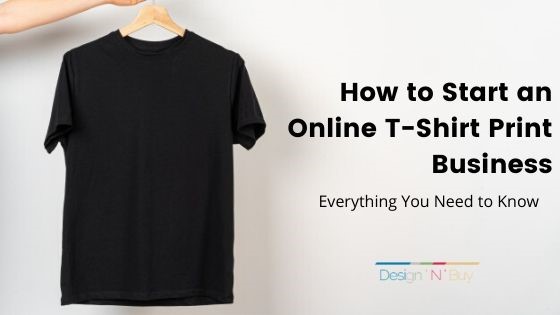 Did you know that it's possible to establish an online apparel brand without making any investment into printing machines or clothing inventory? Not only can you start an online apparel business with no starting expenses, but you can also earn decent profits with basic design skills and the power of personalization.
But, how can you get a business of this type started? Let's learn how you can earn a decent living and establish an apparel brand without any technical expertise. All you need to do is follow the following 5-step formula to establish an apparel brand with the use of dropshipping, an online t-shirt designing tool, a multi-vendor eCommerce platform, and a strong social media presence.
What is Online T-Shirt Design Software?
Online t-shirt design tools utilize Web2Print technology-empowered software that allow users to create customized t-shirt designs online. Users can create designs with a library of clipart, fonts and pre-designed artwork templates. The designs created can be applied to designated areas on the apparel; once the design is finalized, the personalized t-shirt can be printed and shipped.
What Is A Multi-Vendor Ecommerce Platform?
A multi-vendor eCommerce platform allows multiple suppliers to upload their products and offer them to potential customers. Generally, t-shirt eCommerce sites allow different brands to upload their own branded products while the site owner earns commission from each sale. But, in this specific business model, you will need on-demand printers and t-shirt suppliers that can execute on-demand print jobs and ship orders to customers – all at fixed rates and delivery times. All products designed and shipped on your site will have your brand logo and, rather than selling their own brands, the suppliers will sell your own.
By utilizing an eCommerce platform that supports multiple suppliers, whether through a custom integration or a paid add-on, you can enable suppliers to work directly with your business.
Now that you understand the basics, let's move toward the actual business idea and execution. We've broken down the whole concept into 5 simple steps that you can follow to establish an online t-shirt business using design tools and dropshipping.
5 Steps to Starting an Online T-Shirt Business
1. Integrate with a Web2Print Solution
The first step to building your own online t-shirt business is to get set up with the right eCommerce platform that integrates with a Web2Print solution and dropshipping. Many of the best eCommerce platforms have built-in integrations that support multi-vendor selling and on-demand printing solutions.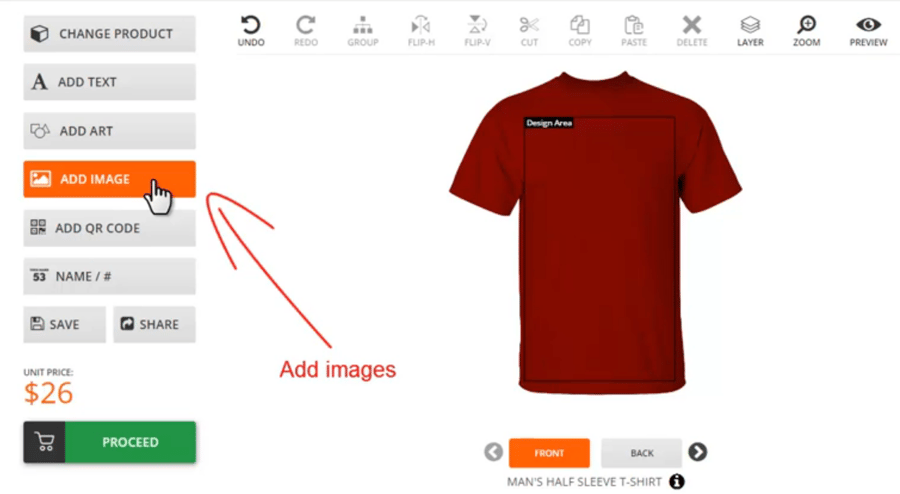 Once you've set up your on-demand printing supplier integration, you need to ensure that you've activated functionality that allows your on-demand print partners and t-shirt suppliers to upload their plain and pre-designed t-shirts on your website.
For the success of your business, it's essential that you do research into specific categories that you can introduce on your site that will attract users. You should also ensure that the variety and quality of the t-shirts you wish to sell on your site, along with the printing technology, is good enough that it makes customer satisfied. The print technology on your site is vital to get right, because the shirts printed with it must properly execute the t-shirt designs created using the design tool.
For better brand positioning, you can also focus on a specific niche like sportswear, graphic tees, or quotes-based t-shirt designs. After you find some success, you can always expand your niche.
To avoid technical difficulties on your site, it's best that you work with a renowned t-shirt design software provider that offers a complete solution. This means that the provider you work with will not only customize the t-shirt designing tool based on your needs, but that they can also develop an eCommerce website for you and integrate it with their tool.
2. Register Your Brand & Collaborate with Printers and Suppliers
Once you finalize your customization with the Web2Print solution provider of your choice, this may take a few months to execute depending on the customizations you've decided on. While the provider customizes this solution for you, you can use that time to design your brand and collaborate with on-demand printers and t-shirt suppliers.
You'll need to register your brand and establish a legitimate presence at the beginning. Afterwards, you can move forward with your strategy and the conditions with which you're going to contact t-shirt suppliers with a formal relationship and service lease contract (if necessary). You should try to negotiate the least possible quantity that they can ship to your on-demand printers and get the maximum number of varieties in terms of color, size and patterns.
It's also essential that you establish relationships with multiple vendors from different areas of the world for maximum reach and minimum dependency. Once you've established this, you can target on-demand printers with similar conditions and minimum print and delivery days.
3. Create Virtual Product Designs
With both t-shirt manufacturers and on-demand printer suppliers onboard with your business and your platform integrated with t-shirt designing software, the next step is to create a virtual inventory for your store. So, instead of creating an inventory of products for your brand yourself, you can hire design professionals and get some pre-designed t-shirts as per your chosen niche. You can list these designs on your platform with various size, color and pattern options. Since there's no physical inventory, it's essential that your t-shirt patterns, sizes and colors align with the inventory available from your suppliers.
As you get started with your business, you'll have a wide range of virtual product offerings for your potential customers without actually printing them. This business model is called dropshipping: you sell the products on your online store, and the orders for those products will be sent to the supplier. Then, the supplier will fulfill the order and ship it out for you, taking all of the work of inventory, fulfillment, and shipping out of your hands.
With these virtual designs, you can start positioning your brand amongst your desired customers and create a distinct brand image in their minds.
4. Employ the Power of Personalization
One of the best parts of integrating customized t-shirt designing software with your eCommerce platform is the fact that users won't need to possess any technical skills to utilize it. This will allow you to offer your designing tool as a service to customers, giving them the power create personalized t-shirt designs that you can print and ship to them. Not only can you charge a premium for these customers, but you can also establish minimum product requirements and receive bulk orders from individual customers.
Providing this service will help you attract new customers who can use your t-shirt printing software to get personalized t-shirt designs with complete 2D and 3D previews. Once your customers finalize their designs, they can place a bulk order to be printed and shipped to them.
5. Utilize Social Media Marketing
If you do some research, you'll find that many entrepreneurs are running their businesses using the dropshipping model. And, if you analyze their business models, you'll realize that most of them are within the apparel and accessories industry. These businesses utilize social media platforms to target audiences who can pay more for their targeted products and earn the differential amount from the on-demand t-shirt dropshipping facility.
When you establish your online business, you can also leverage social media to reach potential markets and sell to different customers using similar price differentiation strategies. All you need to do is ensure that you're working with a t-shirt supplier and printer who can make deliveries within a defined timeline. Aside from that, you can offer your t-shirt designing service to your customers by showcasing previous orders that customers have placed with your business.
Tip: You can directly promote your product designs on various social media platforms of your choice that were made with the online t-shirt designing tool that you have integrated. This is great advertising for your business and can get the word out about how powerful your software is!
Moving Forward
If you've reached this point, that means you believe in this business idea, so we've saved the best advice for last. As we've discussed earlier, the dropshipping business is all about targeting markets where there is a possibility of a price gap. In some markets, the difference in price is higher than the actual delivery cost!
Therefore, you too can also establish your printers and t-shirt supplier network in markets like China and use their network to reach other audiences in the US and Europe. There are also delivery service providers who can deliver goods from China to the US and Europe at the lowest cost in just a few days.
By following this business model, you can establish your apparel brand with no preliminary investments in printing machinery or inventory. But the success of this business idea is highly dependent upon the flexibility and customization that you can get from t-shirt printing software. So, it's essential that you collaborate only with renowned Web2Print solutions providers with complete customization possibilities and experience.