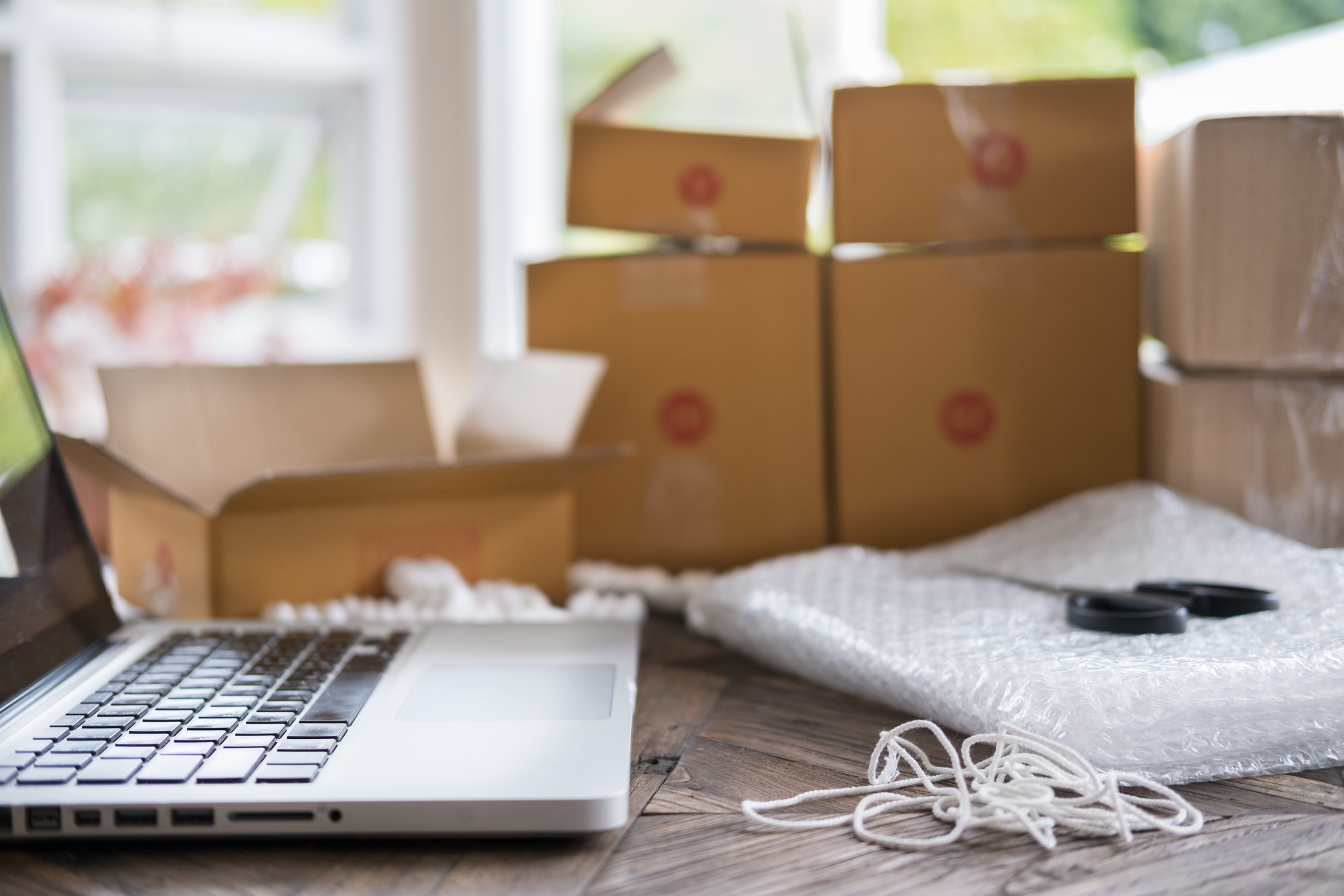 When customers purchase a product from an eCommerce business, they often have to pay for more than the product itself. Shipping is necessary for transporting the product from its storage location to the customer's doorstep. However, this service is rarely, if ever, free for store owners. As a result, they have to add a shipping rate to the purchase.
The question that emerges here is how much to charge a customer for shipping. The answer can be trickier to reach than one might believe. This is not as simple as imposing the same dollar amount on everyone who visits the website. A business headquartered in Miami will spend far more on shipping an item to Tokyo than to Tallahassee. Charging the same shipping fee to both customers could mean losing profit from transporting a product over thousands of miles. They also risk severely overcharging the customers who live relatively close.
There are several other methods for determining an appropriate fee. Given the risk of taking from your profit margin and dissatisfying customers, you will want the one that is most accurate. Depending on the company's structure, inventory, and needs, flat-rate shipping can be helpful. However, an online company would be wise to base their shipping fees on distance and time.
What are Real-Time Carrier Calculated Shipping Rates?
Using shipping rates calculated in real-time directly from your shipping carriers is the best method for determining shipping costs. This method precisely and reliably determines how much shipping from one place to another will cost your company. That way, you can be confident that you will not overcharge or undercharge your customers.
Real-time carrier calculated shipping rates help companies find a balance in delivery speed and shipping costs. Faster means of transport may boost customer satisfaction, but they are usually pricier. If shipping rates prove too expensive, the company could end up eating some of the cost. Tougher still, customers may be less willing to pay for more shipping on top of the purchase price. (On that note, customers love offers for free or discounted rates at checkout.)


Factors Considered in Calculated Shipping Rates
The main factor is the distance between the locations of the item's distributor and the customer's address. The more miles the supplier needs to travel, the more they have to pay. Time is another important factor for shipping rates because timeliness is so important for your online store. Without it, it's nearly impossible to predict the shipping amount to charge the customer. Certain shipping methods can deliver products faster than others.
Another major factor is the shipping carrier itself. Different carriers have different capabilities that, in turn, result in different rates. Many of them, if not all of them, have tables of shipping options with a range of distances, times, and prices. Companies can choose to utilize some or all of these options and let customers choose how they want their product to be delivered.
Online stores running on an ecommerce platform can integrate directly with the following shipping carriers.

List of Major Shipping Carriers
FedEx: This carrier needs little introduction. With an average of 14 million deliveries every day across more than 200 countries, FedEx is a truly global company and a household name.




USPS: Connect directly to the United States Postal Service to calculate real-time rates for domestic and international packages.


UPS: By registering an account with UPS (United Parcel Service of America), your store can connect directly to their web service to provide their real-time rates to your shoppers. To learn more about how to integrate your store with UPS for real-time shipping calculation, read this article.




Canada Post: The Canada Post Corporation is Canada's primary postal operator. Founded more than 150 years ago, the corporation delivers to over 16 million addresses, covering a larger area than any other national postal service on Earth.


Purolator International: This Canadian company provides shipping services to, from, and within Canada and the United States. Purolator International's near total reach to the country's addresses and their massive fleet of transport vehicles combine to give partners easier access to the Great White North.


Australia Post: The main and largest postal company in Australia, Australia Post has been keeping the continent connected for more than 200 years.




Correios: This state-owned company is also known as Empresa Brasileira de Correios e Telégrafos, or ECT. Correios has run the Brazilian post office since 1663. More recently, they have opened to eCommerce shipping around the world.


Royal Mail: For half a millennium, Royal Mail has been providing postal and delivery services to the United Kingdom. They provide a flat rate for delivering items of a certain size, regardless of distance –this is known as the universal service.
Parcelforce Worldwide: Part of the Royal Mail Group, this carrier operates in the United Kingdom and specializes in global parcel delivery. To learn more about how to integrate Parcelforce Worldwide with your 3dcart store, click here.


ReTrans Freight: This logistic management company was one of the first to operate in North America, but their reach currently stretches beyond the United States and Canada. After Kuehne + Nagel acquired it in 2015, ReTrans now has access to a network of 1000 locations in 100 countries.


TNT Express: Headquartered in the Netherlands, Thomas Nationwide Transport (TNT) has fully owned operations in 63 countries and delivers documents, parcels and pieces of freight to over 200 countries. In the United States, this carrier is now known as FedEx Express.


Freightquote: As a freight shipping broker, Freightquote provides rates from different carriers for truckload (TL), less than truckload (LTL freight), expedited LTL or intermodal. The top carriers supported are Reddaway, Roadrunner, Saia, YRC, NewPenn and Southeastern Freight Lines.
Echo: Echo Global Logistics is a freight shipping broker. With Echo you can manage your entire supply chain and receive a total transportation management solution with a dedicated team of transportation professionals to manage every shipment.


Saia LTL Freight: Saia LTL Freight provides clients with dependable one-, two- and three-day direct service. This can speed your delivery cycles and enable you to leverage the power of just-in-time distribution. All this can give your company a solid competitive edge. The company's direct service area features 147 terminals, handling more than 25,000 shipments a day.


Worldwide Express: The global logistics company is one of the largest authorized resellers of express shipping for UPS® and a trusted freight partner to more than 45 carriers. Worldwide Express handles millions of package and freight shipments for 30,000 small to midsize businesses.


Best Shipping Apps for eCommerce Websites
Advanced Shipping Manager


This carrier promises partners that they will have "complete control" over their store's shipping process. Advanced Shipping Manager provides many features, including Global Free Shipping, which allows companies to disable free shipping when desired.

ShipStation


With the ShipStation app, you can extensively customize your store's front and back ends, implement automation rules for most aspects of the site, and more. They also have a free mobile app, so you can run your store while on the go.


ReadyShipper


Created by ReadyCloud CRM, ReadyShipper software lets you take care of shipping tasks with less time and less effort. Quick printing of shipping labels and extensive automation options are just two of many helpful features.


ShippingEasy


This app can connect your company to highly competitive discounts for USPS service. Other features for ShippingEasy include free plans for smaller merchants, easy organization of information, single-screen multi-carrier shipping, and real-time updates.


ShipWorks


Not to be outdone, ShipWorks automatically gives signees a free USPS account with the lowest online rates available online. Among a variety of other features, their wide range of automation rules lets you schedule all kinds of shipping tasks.


Stamps.com


USPS has long counted Stamps.com as a trusted partner. That is why this company provides users with access to every single USPS mail class, meaning access to the fastest and least expensive shipping services they offer. On top of that, Stamps.com provides discounted rates.


Endicia


A subsidiary of Stamps.com, Endicia specializes in "internet-based postage services for eCommerce businesses of all sizes." In addition to less expensive USPS shipping rates, retailers can benefit from a range of other online postage services and solutions.


ShipRush


This service likes to promote a unique feature: it displays delivery options and carrier rates in the same single dashboard, making comparisons far simpler and easier. ShipRush also provides discounts for USPS, FedEx, and other carriers.


ShipMonk


This app is purpose-built to help small and medium-sized businesses grow with technological solutions. ShipMonk's team of "Happiness Engineers" is notable for providing top-tier customer support.


ShipCaddie


This app's features give you a significant amount of control over the shipping process, and the company's own experts can be called on to optimize your programs. ShipCaddie also offers a Loyalty Rewards Program.
No matter how you plan it, 3dcart offers the most complete real-time carrier shipping calculation. This comes standard with all 3dcart plans at no additional cost.