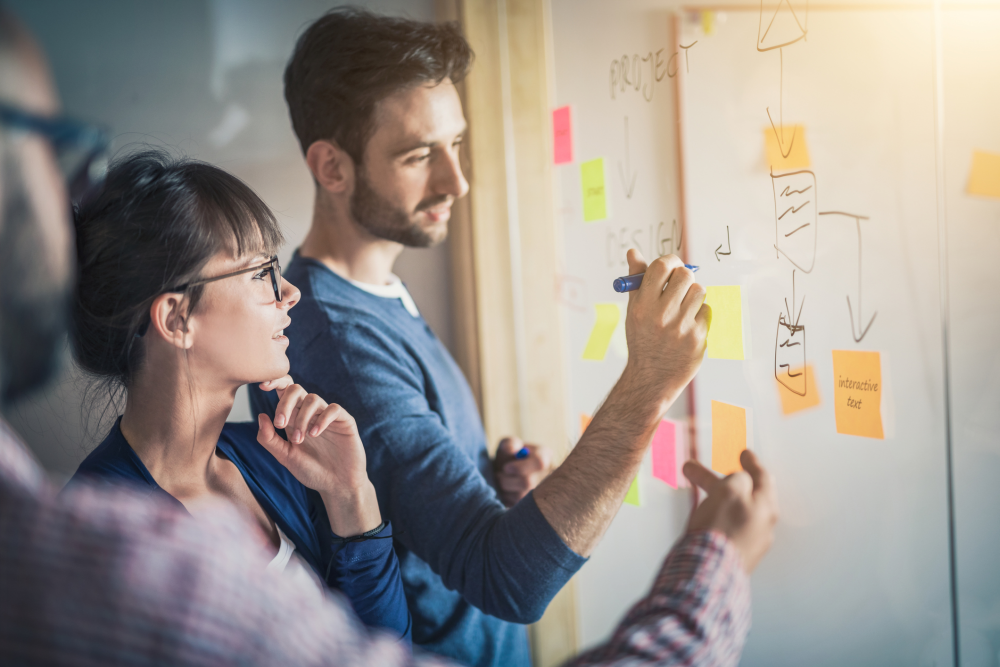 A website is a necessity for a business these days, but no matter why you've decided to build a website, there are a few conventions you should follow to make sure your visitors enjoy their stay. Of course, the beauty of website creation is that you have a lot of flexibility and you should create something that truly reflects your brand — but you want to do it in a way that presents your business in a good light and encourages visitors to browse, learn and convert.
To reach this goal, you need to be aware of the factors important to a website's overall effectiveness and usability.
Make sure you keep these elements in mind as you plan, design, and create your website.
1. Website Visuals
Your website's design comprises elements like layout, colors, and contrast. Each page needs to be organized in a way that makes sense to the viewer and draws their eye to the important content. Avoid clutter, jarring color choices, and poor contrast that either makes things too difficult to distinguish or so overly opposing that they're painful to look at.
Consistency is also important, so your design theme needs to carry through every page on your website. If a visitor abruptly comes across a page with a different look, they'll probably be confused or think they've accidentally left your site somehow. If your website includes an online store, a design change during checkout becomes suspicious — which is the major problem with a redirected checkout page such as the ones used by some eCommerce platforms.
2. Website Mobile-Friendliness
Today, people browse the internet on mobile devices more than ever before. As mobile popularity has grown, it's become a necessity to design web pages that will work equally well on any size screen. It's even more important to avoid programming that doesn't work on smartphones and tablets (such as Adobe Flash, which doesn't work on iOS).
Any website that isn't responsive to mobile devices will be at a disadvantage in two major ways. One, visitors will have a harder time using the site, which might cause them to give up in frustration. Two, the site will be overtaken by others in search engine results, as Google prioritizes mobile-friendly web pages.
3. Sensible Website Navigation
Visuals and mobile-readiness contribute to a website's ease of use, but the third aspect of that cannot be overlooked: easy-to-follow navigation. Website visitors have notoriously short attention spans, and you have to make every second count. You could have the most beautiful, fully-responsive website in the world, but it's still useless if a visitor can't find what they're looking for.
All your links need to be organized in a sensible manner that makes it clear to the visitor where to go next. This is doubly important for an online store, in which customers will expect to find products listed within a logical category structure.
4. Quality Website Content
Informative, interesting content is the backbone of any website. It's essential that you present your visitors with engaging content that will entice them to remain on your site and hopefully convert. Avoid keyword stuffing and always check your writing for spelling and grammar errors.
You should look at your content as an opportunity to engage your visitors and as a tool for increasing your search engine rankings. In addition to your front page, your About Us page, and your product and category pages, consider a blog. Blogging is another great means of adding relevant content that will attract both human visitors and search engines.
5. Website Security
If you're going to sell online, your customers need to know their personal data is safe with you. This includes anything sensitive like name, email, physical address, phone number, and of course credit card information. Your website needs full-fledged security features as well as an outward appearance of being trustworthy (and good content can definitely add to your credibility).
Website security includes encryption through an SSL certificate, PCI DSS compliance if you're going to accept credit cards, and possibly additional anti-fraud measures to protect both you and your customers. These features aren't all simple to implement if you're creating a website from scratch, which is why it's better to go with a secure website platform that has SSL and PCI compliance built in.
And There's More…
These five elements are extremely important for your website design, but the overall process includes much more to consider. We've put together an ebook that explains website creation from the initial planning process to the day of launch. If you want a complete primer in how to get your website off the ground with minimal hassle, we welcome you to download our free guide below.