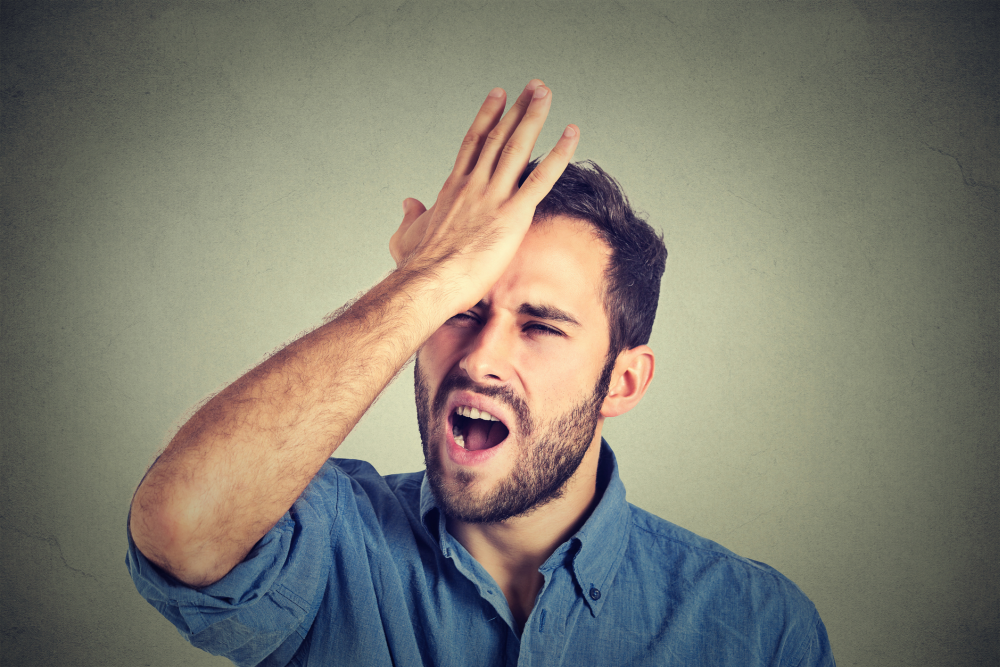 It's easy to be excited about selling on Amazon. Your products are out there in front of hundreds of millions of shoppers, and you're selling beneath the umbrella of one of the most valuable brands in the world.
But don't let your enthusiasm distract you from taking a careful approach to your Amazon sales. Just like any other business venture, you should approach selling on Amazon methodically so as to make the most of every one of your product listings.
To get you started, here are six common mistakes made by Amazon sellers. Read on so you can avoid making them too!
1. Poor or inaccurate product information
Your product information is extremely important for two reasons: one, it's the main way Amazon shoppers will find your products in the first place, and two, it's the catalyst that gives shoppers the confidence to buy from you rather than a competitor.
Complete, accurate product information is a requirement for success on Amazon. Always follow Amazon's Inventory File Templates to ensure your items are in the correct categories so they can be easily found via search, and include all the necessary details in your product descriptions. Images are a must, too, and they need to be high enough in quality that viewers will be able to see the important details. Follow Amazon's Image Guidelines as well.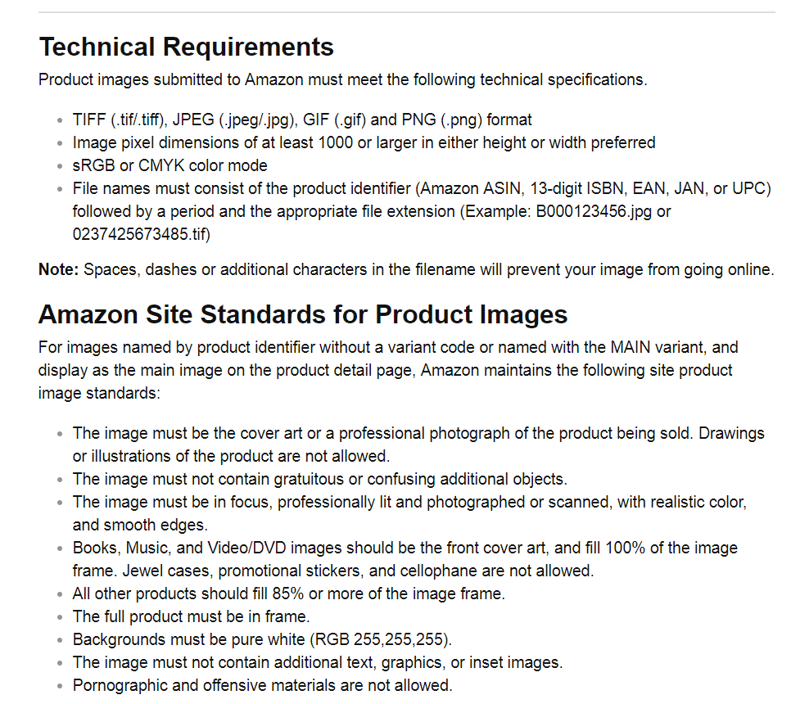 2. Ignoring the power of customer reviews
There are two main ways you can go wrong with customer reviews: by ignoring the feedback they present, and by not seeking them out in the first place. Customer reviews are a primary buying incentive on Amazon — in fact, 90% of customers say they rely on reviews when deciding to make a purchase. The more reviews you have, the better. If your customers aren't leaving reviews, ask for them!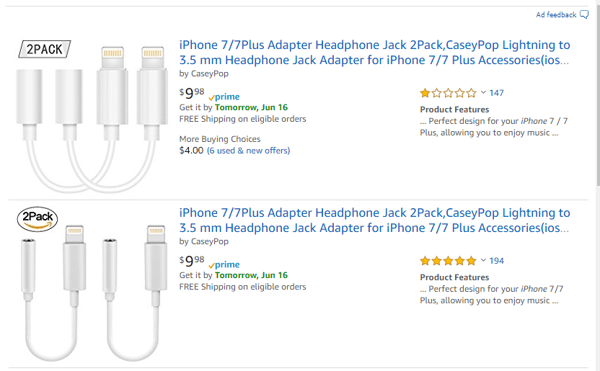 In this example from Amazon.com you can see very similar products, one with very good reviews and one with really bad reviews
Don't be afraid of bad reviews, either. They present a fantastic customer service opportunity and you can win back a customer for life simply by responding well enough to their problem. Bad reviews can also inform you when something's wrong with your products, whether a particular item isn't worth carrying at all, or if your customers just expected something different and you need to update the product description for accuracy.
Never pay for reviews or submit fake reviews, these can be spotted by shoppers and if reported to Amazon you might lose the ability to sell in the Amazon.com Marketplace. Sites like Fakespot.com allow consumers to check the accuracy of product reviews for any item listed in Amazon.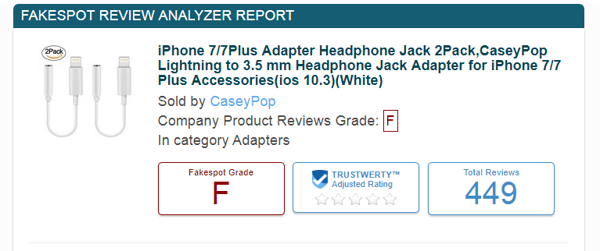 3. Slow or expensive shipping
Many online shoppers choose Amazon specifically because they're looking for fast, reliable, and inexpensive shipping. Amazon Prime is wildly popular for this reason, as even a monthly or annual fee doesn't deter shoppers from subscribing so they can get free two-day shipping for all their qualifying orders. It's important that you realize how high Amazon customers' standards are when it comes to fulfillment — it's a major part of their decision to choose Amazon over another retailer.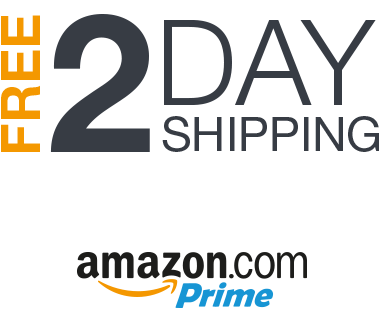 Source: https://services.amazon.com
In order to ship your products via Amazon Prime, you'll need to sign up for Fulfillment by Amazon, but what if your business can't afford the fees? You can still provide a "Prime-like" experience by offering reasonably-priced, timely fulfillment. Make a commitment to your shipping speeds and never break promises about delivery dates — if a customer can't get fast, reliable shipping from you, they'll buy from your competitors instead.
4. Responding too slowly to customer inquiries
What we said about expected shipping speed on Amazon applies to other customer experiences, too. When it comes to customer inquiries, Amazon gives you 24 hours to respond — regardless of the day of the week, the holidays, or any other factor. If you don't respond to customer inquiries within this time limit, you'll suffer a negative effect to your Seller Performance Measurement.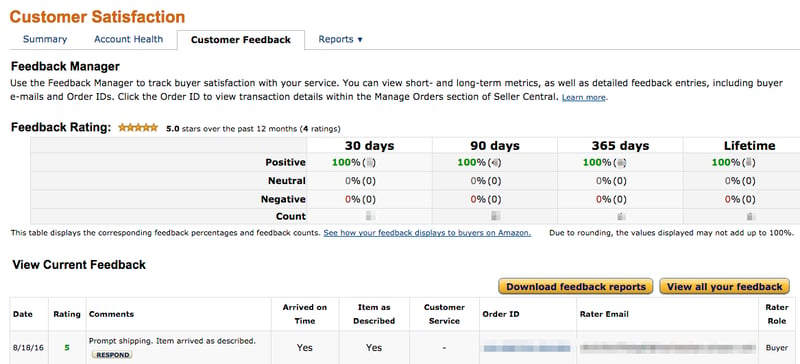 Source: https://www.ilovetoreview.com/seller-feedback-crucial-for-your-amazon-business/

To keep your Contact Response Time metric up, you'll need to check on your Amazon account over the weekend. This may require hiring staff or purchasing software that can generated automated replies for you.
5. Forgetting about taxes
Taxes are a fact of life, and you need to fill our your Tax Settings in your Amazon Seller Central dashboard right away, preferably before you sell a single item. You are going to incur a tax liability regardless of whether or not you collect sales tax from your customers, and since your sales are likely going to cover several states, this can get confusing. The last thing you want is to get surprised by the IRS to cover a large tax liability, so do what you can to make sure this doesn't happen.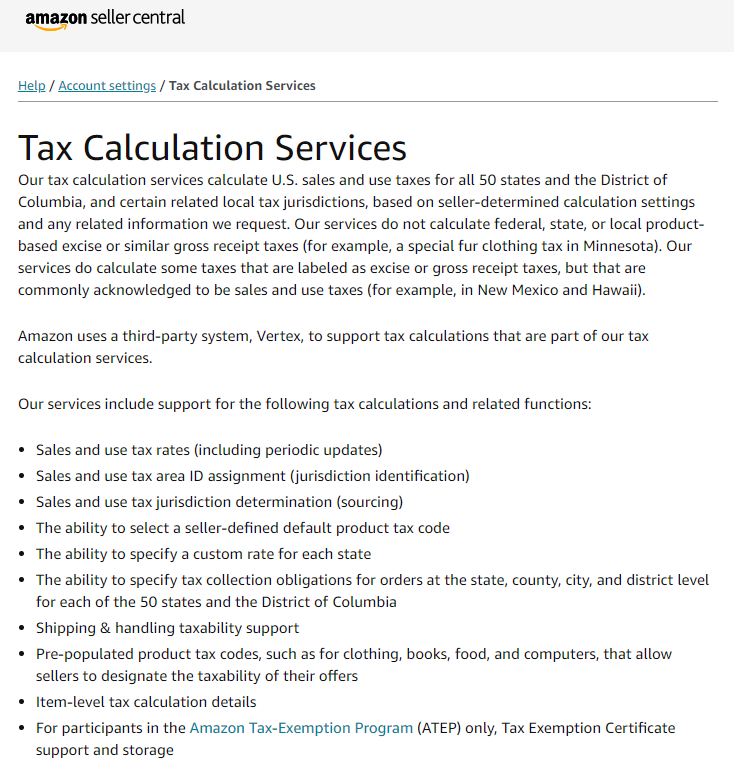 Amazon does offer a service for a small fee in which they collect the state tax on your sales, so if you're worried about getting it right, this may be a good option for you. Less worrying and fewer mistakes both mean more of your valuable time can be spent on running your business.
6. Competing with Amazon
Realize that when you sell on Amazon, you're not just competing against other sellers: if you sell any of the same items sold by Amazon Retail, you'll be competing against Amazon too.
Amazon is a giant — if it weren't, you wouldn't be interested in selling on its marketplace to begin with — and when you compete directly with a giant in its own lair, you're going to struggle. Your best course of action is to do some research first and learn whether Amazon itself carries the products you're interested in selling. The more popular your type of product is, the more likely you're going to face some direct competition from Amazon. It may be better for you to skip listing certain items on Amazon at all, perhaps selling them on your own eCommerce website instead.
If you're a brand selling on Amazon, make sure to learn how to use Amazon Brand Registry to protect your brand.
One way to bring some of the value of selling on Amazon to your own online store is by implementing Amazon Pay, which allows customers to check out using the payment and shipping information saved to their Amazon account. That way you can still attract and serve Amazon customers while benefiting from the trust these customers have in Amazon.
Learn More
If you're new to seller central, start with the beginner's guide to selling on Amazon, and you can then proceed to sharpen your eCommerce skills and sell more on Amazon, by downloading our free ebook below.