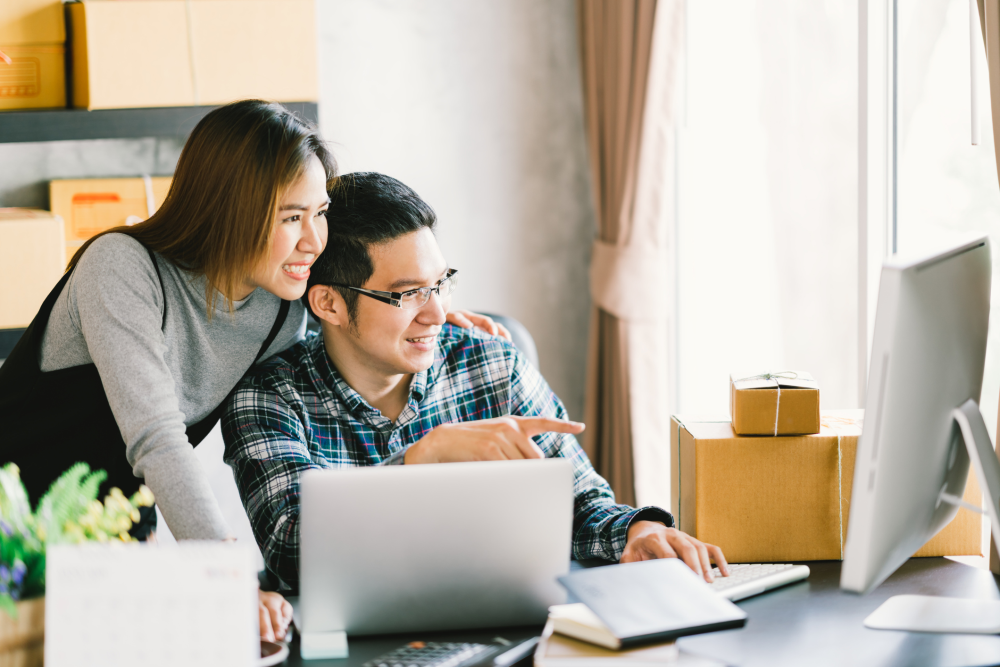 Selling on Amazon is an exciting prospect. Your products can be out there on the world's largest marketplace, where every day millions of shoppers hunt for their most-desired items.
If you want to start selling on Amazon as soon as possible, this guide is for you. We'll walk you through account creation, listing your products, and more. We'll also provide you with tips to help you build your Amazon strategy and get more sales.
To start, the first thing you need to do is create your seller account and set up your profile information. Here's how.
Creating Your Seller Account
Your Amazon Seller Account serves many purposes — it provides you with a seller profile where you can describe your brand and policies, acts as your informational hub for doing business with Amazon, and lets you connect your bank account to receive payment. Amazon requires all sellers to have a seller account. Here's how to create yours.
Choose Your Selling Plan
Amazon offers two different plans, your choice of which will depend on how much business you do. These are the Individual plan and the Professional plan. If you start as an Individual, you can still upgrade to Professional when you're ready, and if you change your mind you can downgrade back to Individual. This comes in handy if you want to "test the waters" and see if you're ready to be a Professional seller yet. The differences between the two plans are as follows.
An Individual selling plan works on a pay-as-you-go system, in which you are charged a $0.99 fee for each sale. However, your selling tools will be somewhat limited — for example, you can only create listings one at a time.
A Professional selling plan disposes of the per-item sale fee in favor of a monthly subscription of $39.99. For this fee, you get access to improved selling and listing tools, such as multiple listing creation via spreadsheet uploads.
Complete beginners would be fine starting with an Individual selling plan and moving up to Professional when they see the need. If you start selling 40 items a month, you'll be paying about the same as you would for a Professional subscription fee, so you may as well upgrade and start learning the advanced tools.
You can learn more on Amazon's Individual and Professional Selling Plans page.
Set up Your Amazon Seller Account
Once you know which selling plan you want to start out with, you can set up the rest of your Amazon Seller Account. You'll need to include the following information:
The name of your business to be displayed on your listings.
Your (or your business's) legal name and address for Amazon's records. If you're registering as a business, make sure you use the same exact information with which your business is registered with your state.
Your public contact information. This is how you can be contacted by Amazon and by your customers. You can enter separate emails and/or phone numbers for both, allowing you to dedicate a point of contact to customer service.
Your "ship from" location is just what it sounds like: the location your items ship from. This is shown under your listings to give customers an idea of where their items are coming from.
Your bank account information. This is where you enter your bank account and routing numbers to receive your payments from Amazon. You'll be paid for your sales every two weeks, minus any selling fees if you're an Individual seller.
The shipping options you'll offer. Choose the regions worldwide you'll be able to ship to, and state whether you'll offer expedited shipping.
Now you can move on to completing your seller profile.
Set up Your Seller Profile
Your Amazon seller profile will contain the publicly-available information about your business for your customers. They'll be able to learn more about you, see your customer feedback, review your policies, and more. Your About Me section will appear at the top of your seller profile along with your logo, while further information is divided among tabs below.
You have several options for creating additional informational tabs, such as a tab for FAQs, gift wrapping information, and more. At the minimum, you should complete the following information right away.
The About Me section is where you describe your business, your mission, and anything that makes you stand out from the competition. Customers will be reading this, so do your best and don't make any promises that contradict the policies you lay out elsewhere.
Your Seller Logo is shown next to your business name near the top of your seller profile page. You'll need to upload a logo meeting the file size and format requirements set by Amazon. You can find these (and further instructions for your seller profile) on Amazon's Store Settings help page.
The Returns & Refunds section is where you describe your return and refund policies. You still need to align your policies with Amazon's return policy, so you can just link to it (as many sellers do) and add additional information that applies. If you don't include any specifics, customers will assume that your policy is exactly the same as Amazon's, so make sure you explain if there are any differences such as return restrictions on specific items.
In the Shipping Rates section you define your shipping rates and what affects them, e.g. size and weight of items. If you use Fulfillment by Amazon (your products are sent from an Amazon warehouse) you can simply link to Amazon's rates here. Whatever you enter in this section should match the shipping options you've set up in your account.
Once you've completed your seller profile, you're ready to list your first item!
Listing Items for Sale on Amazon
Your first consideration when preparing to list an item is whether or not that item can already be found on Amazon. You can't make a new listing page for an existing item — if you do, Amazon will delete it — so you simply add your item to the existing page. All you need to specify here is the quantity of the item you're offering for sale, its condition, and your shipping options. Everything else is provided for you, including images and item details.
To help estimating sales volume and potential profit per product, ProfitGuru has created a great FBA calculator for Amazon.
To list a product that isn't yet on Amazon, the process is a little more involved.
Listing a Product Not Yet on Amazon
If you're listing a product that's new to Amazon, you're starting from scratch. You'll need to provide all the product information yourself, and the better you do at this, the easier it will be for shoppers to find your product.
Here's the information you'll need to include:
The correct product category will make your item much easier to locate via search.
The UPC or EAN are two different types of bar codes, and they are not the same thing. Your product may or may not have one of these, but if it does, including the number will make your product easier to find.
The ISBN if your product is a book that has one. Searching by ISBN is fairly common among shoppers looking for a specific edition of a book.
The SKU is a number you assign on your own to your products to help keep them organized.
The product title should be formatted in such a way that it's informative to the customer without being overly long. Don't stuff too many keywords into it — this doesn't help your listing come up in search, and looks spammy.
The product description and bullet points are the meat of your Amazon listing. The description should explain your product in such a way that the customer can tell if it's what they're looking for. Poor or misleading descriptions result in returns and bad feedback. Use the bullet points to list important descriptive details; they should be eye-catching and concise.
Product images should be high-quality, no smaller than 500px by 500px, and display your item on a white background. Multiple images are good for showing your product from multiple angles, and will further aid the customer in their decision to purchase.
You are allowed five search terms of up to 50 characters each. These can be either words or phrases, and serve as additional keywords for customers searching for a product like yours. Don't put in the manufacturer, UPC, or any other information you've already entered, as those are automatically added to your search terms.
To upload your new products, you can either use the Seller Central Add a Product Tool or upload multiple products via Excel spreadsheet. To access the spreadsheet, you must be a Professional seller and download the proper Inventory File Excel template for your products' category from Seller Central.
Amazon may take up to 24 hours to process your upload, but once it's processed your listings will usually be available to customers immediately.
Shipping the Items You Sell
Once your products are sold, they'll need to be shipped to the customer. You can ship items yourself, or use Fulfillment by Amazon.
Fulfillment by Amazon (FBA)
Fulfillment by Amazon is a system in which you send your products to an Amazon warehouse location, and upon a sale, your products are picked, packed, and shipped by Amazon staff. This takes much of the customer service burden off of you, as Amazon provides direct customer service for any sale fulfilled through FBA — and of course, the task of fulfillment is off your shoulders as well. You can also offer Amazon Prime and Super Saver shipping, which makes your products much more attractive than similar listings without these options.
To use Fulfillment by Amazon, you need to be a Professional seller, but there's no monthly fee beyond that. Instead, you pay fees based on number of products, their size and weight, and order processing. You can view all Fulfillment by Amazon fees here. There's also no minimum item quantity, so even a small Professional seller can utilize FBA.
If you also sell on other marketplaces like your own eCommerce website, you can fulfill your sales there through FBA too. This means you can keep all your inventory in one place, no matter how many marketplaces you're selling on. Of course, using Amazon's services together with your own eCommerce website partially depends on how well your shopping cart software and Amazon work together. The right eCommerce software will help you sell more on Amazon by providing a complete integration.
Fulfilling Orders Yourself
If you need (or prefer) to ship your items yourself, keep in mind that Amazon customers have high standards regarding fulfillment speed. You won't be able to offer certain shipping options right away as a new seller, but you can still ensure you pack and ship your orders promptly.
Amazon does not calculate shipping based on your customers' exact orders; rather, it uses standard rates based on the buyer's and seller's locations and the weight and dimensions of the product. Amazon charges customers this amount for shipping and then reimburses it to you later. Your reimbursement may not exactly match the amount you paid for shipping since Amazon "guesses" the rate.
What's Next?
We've explained a lot of what's involved in selling on Amazon, but there's more to it than just this beginner's guide. Check out our other Amazon articles for more tips, and for the full story download the free ebook below. You'll be more than ready to compete on the world's largest marketplace.