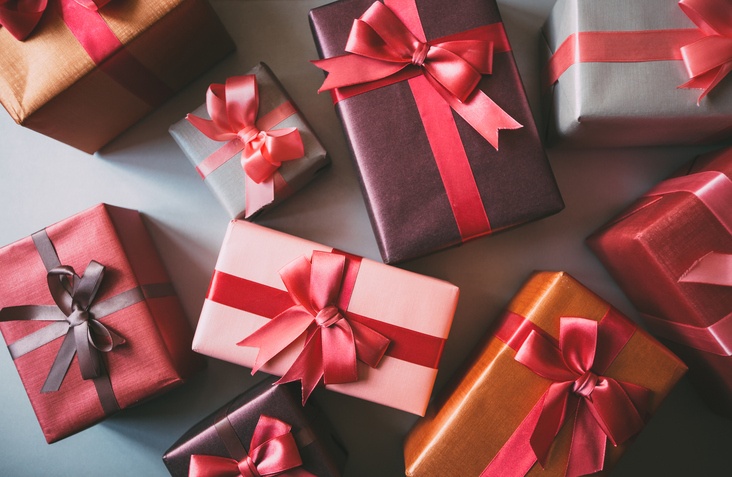 Gift wrapping is a very popular service for both online and offline merchants. Customers always appreciate saving time and effort, and professional gift wrapping is often the finishing touch a customer is looking for to make their gift truly memorable.
3dcart's platform allows you to easily offer a gift wrapping option on any products of your choice. You can even have multiple types of gift wrapping available. In fact, the system is so flexible you can use it in almost infinite ways to tailor it completely to your store. It may seem like an afterthought or a small convenience, but gift wrapping can help to convince shoppers to choose to buy from you instead of your competitors and to see your store as a great place for last-minute gift purchases. Here's how to leverage gift wrapping for your online store.
Getting ready to gift wrap
First of all, if you're going to offer gift wrapping, you will need a way to actually wrap the items. Depending on the scale of your business, you can do this yourself, get family involved, assign employees to do the wrapping, or otherwise work it into your shipping procedure. Simple gift wrapping isn't hard to learn (hint: use a ruler) and a quick online search will provide several great instructional videos. The most important factor is that even if the wrapping is very simple, it is skillfully done. Also realize that you'll need to keep a supply of wrapping materials on hand and store them appropriately (remember, you're not going to be wrapping every item; your gift wrap supplies are an investment to help you provide an attractive service to customers).
Be sure to read how to set up the 3dcart gift wrap feature, because you'll be creating multiple gift wrapping options.
Gift wrapping strategy
Most people think of gift wrapping in the context of birthday or Christmas presents, but you can go above and beyond. Cover the holiday season, of course; shoppers are extremely busy that time of year and they have a lot to wrap already. Also offer a year-round option for birthday presents. However, that's the bare minimum, and you can take a step further and turn your gift wrapping into a powerful opportunity for customer service.
Think of all the possible gift-giving holidays:
New Year's Day (festive patterns like bells, "Happy New Year" script, etc.)
Valentine's Day (red, pink, gold, silver, purple, blue; hearts or script like "love," etc.)
St. Patrick's Day (green, gold, black)
Easter (pastel green, blue, lavender, pink, yellow, white; provide both religious and general springtime options, e.g. Christian imagery as well as the usual eggs and bunnies)
Mothers' Day (pink, white; any color with a Mothers' Day pattern, e.g. the word "Mom")
Fathers' Day (blue, green; any color with a Fathers' Day pattern, e.g. the word "Dad")
Diwali (colors associated with light: white, orange, and yellow; patterns of lanterns or fireworks)
Halloween (black and orange)
Chanukah (blue and silver)
Christmas (red, green, silver, gold, purple; offer both Christian and secular options, e.g. Nativity scenes as well as Santa etc.)
Kwanzaa (black, red, and green)
There may be a couple in the list you didn't consider. Now, imagine being one of the only online merchants to offer gift wrapping specific to that holiday! It's possible to earn loyal customers based on the strength of that alone: you are telling the customer that they matter, and small things can mean a lot. Solidify your strategy by offering the holiday themes for a span of time around that holiday (or even year-round) to accommodate early or late shoppers.
There are also many gift-giving opportunities besides holidays:
Birthdays
Graduation or starting school
Weddings or engagements
Anniversaries (of all kinds)
Baby or bridal showers
Bachelor/bachelorette parties
Religious or cultural milestone (Confirmation, Bar/Bat Mitzvahs, Quinceañera, etc.)
Housewarming or moving
Reached a personal goal (of any kind)
Military (service branch birthdays, coming home, appreciation, etc.)
Retirement
Get well soon, sympathy, or recovery
Thank You or apologies
"Just because"
As you can see, offering year-round gift wrapping to help cover all occasions can be a great benefit to your customers, as most of these events can take place any time of the year. Think about how a shopper might feel when they realize you've provided a perfect gift wrapping option for their exact purposes, when so many other merchants overlook such amenities. You are telling the customer their time and needs are important to you, which will earn their loyalty. Combined with the convenience it offers, gift wrapping can be the tipping point toward making a purchase.
Naturally, all this varies with your industry and other specifics of your business, but now you have a solid foundation to determine your own gift wrapping strategy. Combined with other gift-shopping features, you have all the tools to attract, reward, and retain customers, and showing consideration for their needs is a step on the road to legendary customer service.