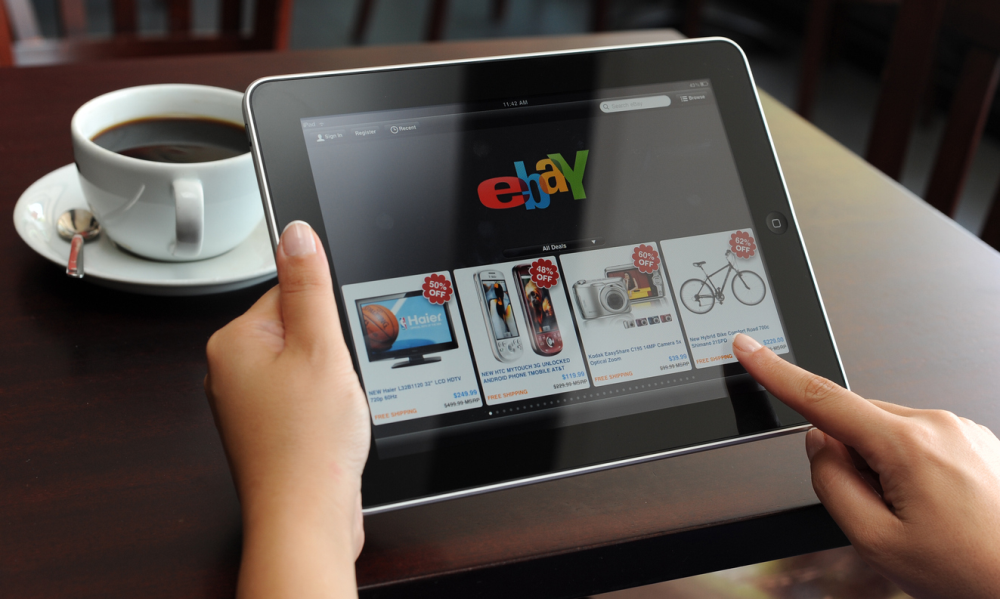 People love spending their money. However, the way they do it has dramatically changed over the past years. More and more customers are opting for online shopping rather than hitting the high street.
Exclusive online sales and offers, a wider variety of products, the possibility to compare prices, the commodity of buying with a touch of a button at any time and from anywhere, plus avoiding the queues are only some of the reasons that explain the rise in e-commerce.
In addition to starting your online store, one of the main channels for any ecommerce business is a establishing an ebay store.
So you've set up your new eBay store. What's next?
More and more retailers are diversifying their selling channels and making their way into online selling and online marketplaces such as Amazon, eBay, and Walmart etc. Whether we are talking about essential products or whims, the offerings out there are so rich that every little detail counts when it comes to attracting new customers and enhancing their loyalty. Setting up a new online store is easy. Making it work and generating profits is where things get a little more complicated. From choosing the right marketplace to using the right price optimisation software or efficient marketing tools, the success of your e-commerce store depends on a wide variety of factors.
In an attempt to boost their retailers' visibility, help increase sales conversions, and enhance customer loyalty, eBay has been running webinars that are useful to check out. It is worth noting that eBay puts at their retailers' disposal three types of shop subscriptions to choose from: Basic Shop, Featured Shop, or Anchor Shop. Check the table below to get an idea for each category:

N.B.: Prices do not include VAT
The advantages of opening an eBay shop
Selling your products using an eBay shop comes with a series of notable advantages. The most important is that you are selling your items not just on a renowned and trustworthy marketplace, but additionally, all your listings will be displayed in one place. In addition, you will get a unique store URL and a page that you can customise similarly to your own web store. eBay thus allows you to perfectly match your brand and values. Building a unique identity for your shop will differentiate you from your competitors and will help you make a long-lasting impression on your customers, enticing them to come back to your shop.
Each time a customer visits your store, he/she will only see the products you have listed. This translates into reduced competition. The easier product management, cheaper listing fees and access to useful seller tools allow eBay shop owners to get one step ahead.
Customise your eBay shop
eBay offers you the possibility to customise the whole structure of your online shop. For instance, you can personalise your product categories, thus ensuring easier listings management. To be more specific, if you sell PS4 video games, you can create a category for war games.
Shop designer is another notable feature you must take advantage of. From custom headers to fully personalised forefronts, cross-selling banners, or custom search bars, you can design your online shop in the way that best meets your needs and marketing strategy.

Source: eBay
A professional-looking shop will have a positive effect on your customers and will eventually translate into more sales and enhanced customer confidence.
Use SEO to increase traffic and visibility
Using SEO-optimised content for your eBay shop will increase visibility and drive traffic directly from search engines like Google and Bing. eBay ranks well in search engines so this translates into more sales. There are several strategies you can put in practice: use quality meta-descriptions, use keywords in your shop's name, and write keyword-rich products and shop descriptions.
Using as many inbound links as possible will also help increase traffic and visibility. Providing your customers with informative and fresh content about your products using blogs, reviews, or guides will help you define yourself as an expert and increase brand awareness as well as traffic. Make sure to include a link to your store in your biography or email signature too.
Improve your Best Match statistics
When a buyer is looking for a particular item on eBay, the default results order is called Best Match. This means that the respective buyer will be shown those products that are the most relevant to his/her search and that provide good value for money. Making your products show up in Best Match is a crucial aspect. In order to achieve that, make sure that your listings are not only complete but also keyword-rich and price competitive. Put yourself into the buyer's shoes and anticipate the keywords he/she is likely to use when searching for an item. Using good quality product pictures and accurate descriptions is likely to win you places in the eBay search rankings. Keep your shop competitive by offering fast deliveries, generous return time, and cost-effective postage services.
How to Become an eBay Top-rated Seller
Becoming an eBay Top-rated Seller is a great thing to work towards. Having the esteemed seller badge gives you added credibility and is shown to increase sales and increase the visibility of your listings. However, there are certain standards that you need to meet to become a top-rated eBay seller: a 30-day returns option, express delivery and a free domestic delivery option, as well as 1-day or same-day dispatches.
Keep your shop competitive and attract new customers using a quality price optimisation tool
Comparing prices before buying has never been easier. And why would a customer buy a product at a more expensive price than necessary? This means that, to remain competitive, eBay sellers need to update their prices constantly. Thanks to innovative tools such as price optimisation software, gone are the days when sellers had to adjust their prices manually hiring a full time employee to do this job.
Price optimisation software is designed to boost not only your sales but also, more importantly, your profits. Price optimisation allows you to automatically set optimal selling prices 24/7, even if you are not around. Price optimisation allows you to create pre-set strategies to match, go lower or go higher than your competitors' prices in real time, allowing you to instantly react, as your competitors change their pricing. This does more than just provide extra exposure in the eBay search rankings: it converts to higher conversation rates too.
Seller Republic – has been running since 2015 and provides eBay and Amazon Repricing, as well as analytics and reporting.
Keep your eBay Listings mobile responsive
In order to optimise your ebay listings for mobile, avoid placing product images in the description sections. Instead, use the eBay gallery to add them. Important tip: use only HTML5 and CSS to customise your listing templates. You can use up to 800 characters to describe your product. Though the description summary is generated automatically, you can still customise the text by editing the HTML tags of your listings.
Make the most of users' product reviews and aim for positive feedback
The new eBay 'product' reviews focus on the product, not on the seller. Positive product reviews – by both verified and unverified users – are always beneficial, enhancing consumer trust and confidence in the products you are selling.
Seller Reviews are important too. Put simply, your eBay seller feedback rate can be seen as an extension of your reliability and reputation.
Having a high percentage of positive feedback on eBay directly affects the position of your listings in the search results. eBay categorizes the highest rated sellers as 'top sellers' and places them first in search results. And this increases your chances of closing the sale.
Efficient E-mail marketing
There are certain eBay regulations you must be aware of when leading your e-mail marketing campaigns: you are not allowed to send marketing e-mails to eBay buyers who have not given you permission to do so. Sending out marketing e-mails will allow buyers to know when you list new products. Marketing e-mails can also be used to send out codeless coupons or to make your loyal and prospective customers aware of sales and special offers. You can use the Markdown Manager and the Promotions Manager to inform buyers of sale events or new product reviews. Building up a comprehensive e-mail list is crucial. And there are several tricks you can use to convince buyers to subscribe. Using your Shop template, invoices, or branded packaging to promote your newsletter can be beneficial.
You can also promote your product listings by enabling the eBay RSS feed. This way, search engines, subscribers, and eBay buyers will receive automatic updates on your listings.
Use all the eBay marketing tools to boost your business
eBay puts at your disposal a series of useful marketing tools: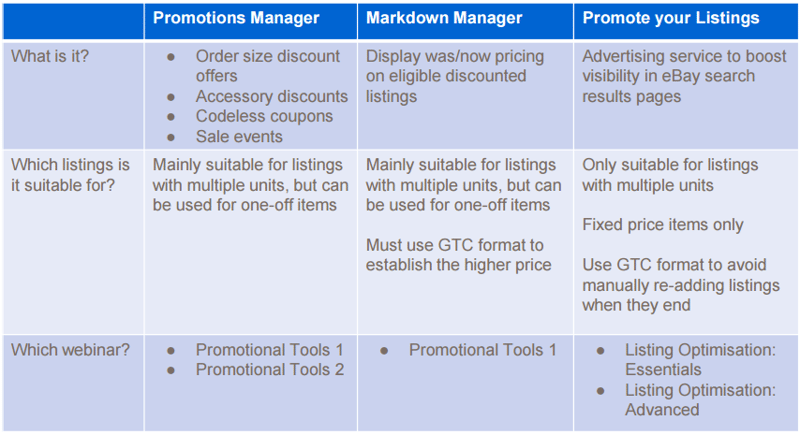 Designed to make selling on eBay effective and easy, these user-friendly tools will allow you to create, manage, and promote all your listings in a more efficient and profitable way. As more than 70% of all online global sales are currently processed via eBay or Amazon it is now essential to become an expert in these platforms.