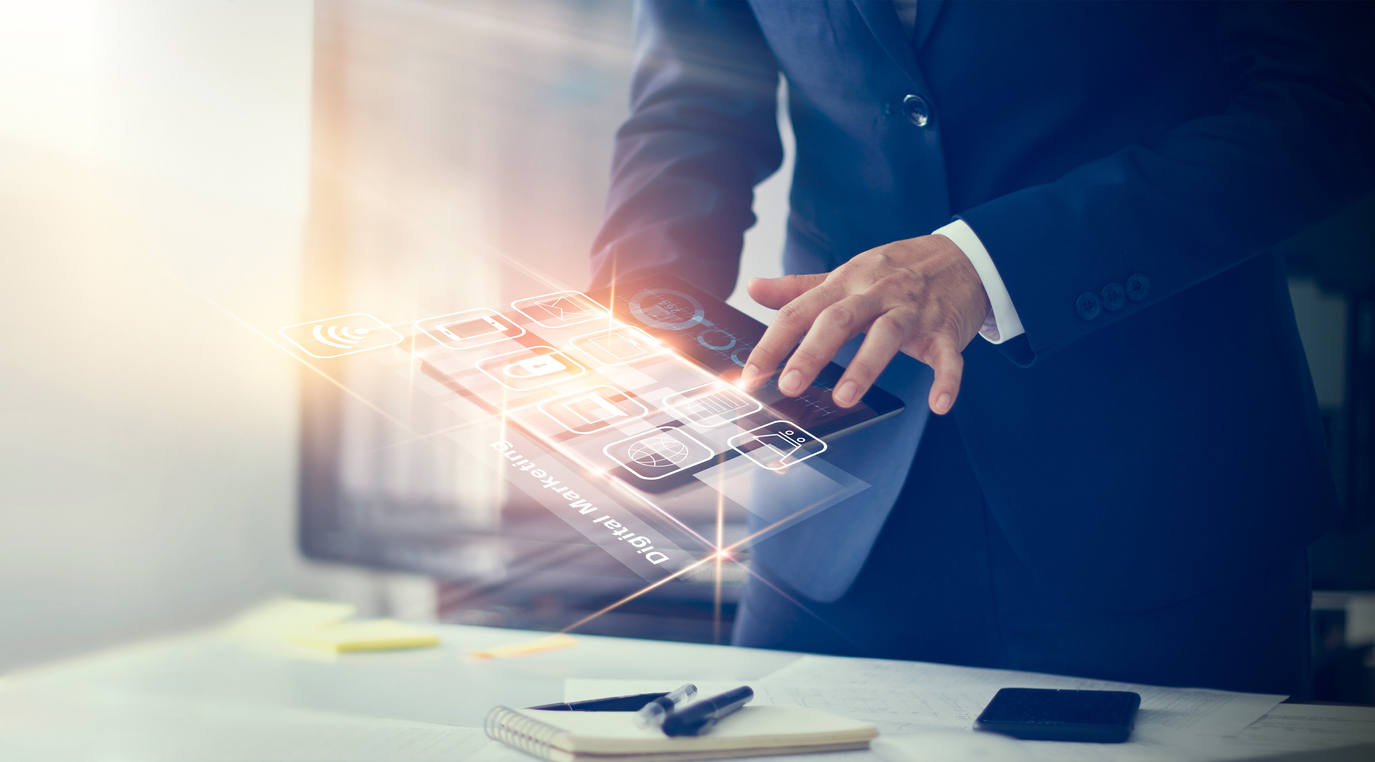 The growth of eCommerce has made the internet into the world's largest marketplace. Billions of people across the globe go online, sometimes multiple times per day, to keep up with current events, post on social media, play games, and of course to shop! It's now easier than ever before for brands to extend their reach far beyond their local community and even nationwide and overseas. Since the internet brings everyone together, all your potential customers all over the world may as well be your neighbors.
Of course, eCommerce has some significant challenges, too. Just because half the world's population uses the internet doesn't mean every potential customer will happen to find your website. After all, there's a ton of competition, and a successful eCommerce marketing strategy is a necessity for getting the word out about your business and earning customers who keep coming back. After all, shoppers won't buy from you if they've never heard of you!
Marketing your eCommerce store is a challenge in itself, but it's worth it. Whether you want to market to your local area or to the entire world, powerful eCommerce tools and techniques exist that can get your message out to any size audience. But just like any endeavor, you need to know where to start and how to follow through — and this guide will help you with that.
The 3 Stages of eCommerce Marketing
Successful eCommerce marketing is an ongoing task that can be broken down into 3 stages: planning, execution, and optimization. Proper planning ensures solid groundwork for you to launch your campaigns, while execution begins when you start to put your go-to-market strategy into practice. Optimization is the process of improving your marketing for better performance. Let's explore this whole process in detail.
Planning Your eCommerce Marketing Strategy
A successful eCommerce marketing strategy is naturally going to be a bit complex. There are numerous channels on which you can market, and several different approaches you could take. Plus, your business also has its own requirements based on your branding, budget, and other qualities. That's why marketing is the type of situation in which planning is essential in order to get the best results and the highest return on your investment.
Here's how to plan an effective eCommerce marketing strategy that will produce good results for your business.
Identify Your Goals
You might wonder why you need to take the time to identify goals for your marketing. After all, isn't it obvious? Your goal is to get more customers and make more sales. But that isn't all there is to it — you need specific goals to help determine your course of action. Think of it like a journey: the route you take depends on your destination.
Specific goals also help give you an actual target to work for. Of course everyone wants more customers, but "more customers" can be interpreted in different ways and it will help you to be more specific than that. Your goals can be increased traffic, sales, revenue, a higher Average Order Value (AOV), or even higher sales of a specific product. Other goals are fine too — just pick something that will work for you as a marker of success. As your marketing strategy evolves, you can set new goals or adjust your existing ones.
One goal you should always keep in mind is to pull in enough new revenue that your marketing easily pays for itself. This ensures you're not losing more money than you're making, and opens doors to future expansion of your marketing campaigns.
Evaluate Your Resources
Before you start marketing, you need an understanding of the resources at your disposal. These include funds, team members, and skills (e.g. photography — if you or one of your team is good at taking great product photos, this is an asset you can use for creating powerfully visual ads across multiple platforms).
The size and capabilities of your team will help you set realistic expectations as to what can be accomplished and in how much time. Funding will help determine which marketing channels are best for you to pursue and how much of your budget you can allocate to different types of paid advertising or other paid marketing tools. You can start with a smaller budget and increase your advertising spend when you start to see results.
Analyze Your Foundation
Your foundation is the infrastructure and software you have to work with, and it's a huge factor in the types of marketing you can do with efficiency. You need to evaluate the capabilities you currently have, as this will have a profound influence on the rest of your marketing strategy.
Your eCommerce Store and Platform
Some eCommerce software is much better for marketing because it includes built-in tools that streamline certain processes, such as sending emails or exporting data into product feeds. Another important consideration is whether your eCommerce platform can support the increased traffic and sales your marketing will generate. Several of the lowest-priced (or even free) eCommerce platforms are intended for smaller-scale use by sellers who are just starting out, so they may be lacking in the tools you need. If you discover limitations in this stage, you'll need to decide whether to upgrade your eCommerce platform or restrict your marketing to the level your software currently allows — which harms your growth.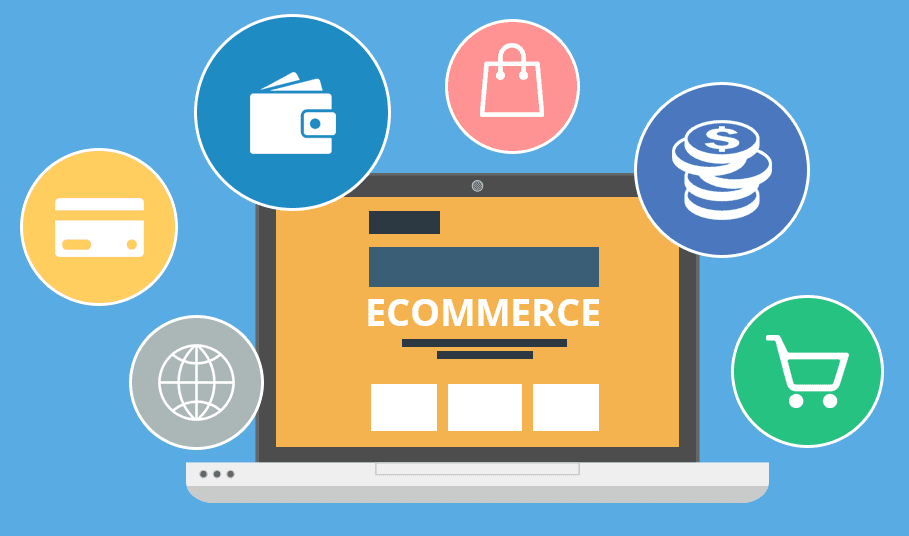 eCommerce Marketing Tools
eCommerce marketing tools include promotional features like a coupon and discount manager, email newsletter creator, and integrations with other platforms like social media. They can also include more advanced features that don't immediately seem relevant for marketing, but can play a strong role in your strategy. Before you get started, examine all the tools you have at your disposal including dedicated marketing and promotional features, but also the following.
eCommerce Processes
eCommerce processes refer to all the various tasks you'll need to perform to run a successful online store. The efficiency with which you can perform these tasks is strongly dependent on your eCommerce software and how it's set up. Some of the most popular eCommerce platforms are missing important tools, meaning you're facing a much bigger workload. Inventory control, order fulfillment, customer service, and other tasks can also become much more demanding as your business grows (say, if your marketing efforts are very successful). It's important that you have the proper tools for all these purposes, at any scale, so you don't get bogged down by your own growth.
Manufacturing and Product Sourcing
How can you run a successful eCommerce business if you have nothing to sell? No matter how you source your products, and whether you keep them in inventory or fulfill by dropshipping, you need to integrate your store with your suppliers. Always having product in stock means your customers will never turn away disappointed, so your brand will be seen as more reliable. Supplier integrations take different forms, but all assist you in adding and replenishing stock. For example, dropshippers can benefit from integrations that import product images and data from the supplier's website and forward all incoming orders to the supplier for fulfillment. Businesses housing their own inventory can benefit from purchase orders and other conveniences for quick replenishment. A good foundation here will give you the confidence to market more effectively and will also support the extra sales you'll make from a successful campaign.
Payment Gateways
The types of payments you accept can also play into your marketing strategy. For example, you can make note in your advertising that you accept your target area's favorite alternative payment method (like ZipPay in Australia). Offering Buy Now, Pay Later options via financing providers like Klarna, Sezzle, or Bread can also put you a step ahead of competition that doesn't offer these options. Think about the types of payments your customer base will most likely want to use based on what you know about them (e.g. if you have high numbers of mobile visitors you should add mobile-first payment methods like Apple Pay and Google Pay), and see if your eCommerce platform supports integrations so you can accept them.
Shipping and Returns
A great shipping process is crucial for building up your reputation as a brand. The ability to print pre-filled shipping labels right from your eCommerce store's dashboard is a great timesaver that also reduces mistakes, so you'll be able to get your orders out faster with fewer incidents. You should also have options regarding the type of shipping methods you can offer your customers, e.g. a selection of carriers, the options for real-time shipping rates or a simple flat rate, the ability to set up free shipping, and also the capability for free shipping as long as a minimum order threshold is met (a strategy proven to raise AOV). The way your business handles returns can make or break your reputation, so a Return Merchandise Authorization (RMA) system is also a great advantage. By standardizing your returns process, you protect your bottom line and provide better customer service.
Tracking Customers, Inventory, and Data
Information is the lifeblood of a business, and your eCommerce platform's ability to gather and report data will make a huge difference in your marketing strategy, and your day-to-day operations as well. Customer tracking via CRM (Customer Relationship Management) software will keep all your customer interactions, support incidents, customer service inquiries, and more all organized to provide a complete record of your relationship with any given customer. Inventory tracking and control will ensure you always know exactly how much you have in stock at any given time, and know when to reorder from your suppliers. Other data includes sales reports and other analyses of your website's performance to help you identify your strengths and address any weaknesses. The more tracking and data tools, the better — especially if they're easy to read and use.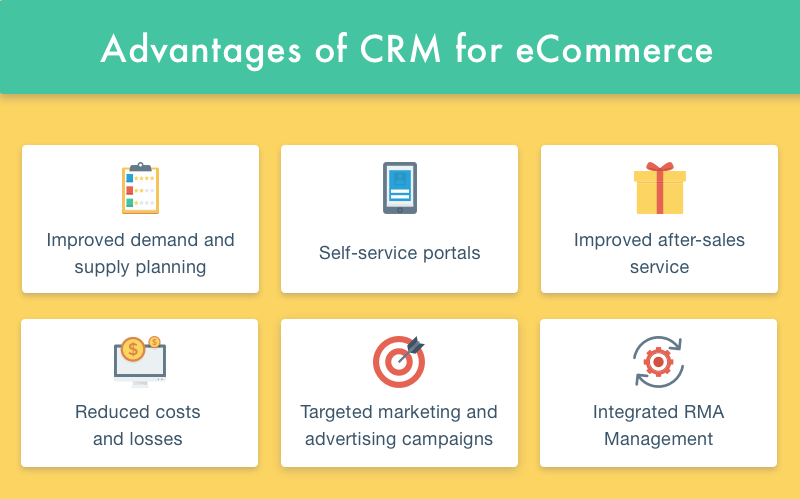 eCommerce Automation
As businesses get busier, so do their owners. While a brand new sole proprietor making a few sales a week has plenty of time to pack and ship each order, email the customers a thank-you, update inventory numbers, and handle countless other small tasks, doing everything manually quickly becomes impossible at any type of scale. eCommerce automation steps in to handle repetitive tasks that need to be done consistently according to predefined conditions, for example, automatically sending order confirmation emails, updating stock counts when orders are completed, categorizing orders that meet certain criteria, and more. The most famous automated marketing tools are email newsletters and autoresponders that email customers at specific times, but others exist too — like an advanced promotion manager such as Shift4Shop's, in which you can set automatic start and end dates and times for discounts to go into and out of effect. This saves you the trouble of turning the discount on and off yourself.
Marketing Channels
Marketing channels are different marketing methods that approach customers in different places, like email as opposed to social media. It's important for you to decide where you are going to market. A broader focus can potentially get you seen by more customers, but a tighter focus can allow you to put in more effort and produce better results from your chosen channels.
Focusing on one (or a small number) of channels first can help you nail down your marketing techniques, so if you decide later to add another channel to your marketing efforts, you'll be better prepared to make the most of your budget. Some marketing channels have a higher ROI (Return on Investment) than others, so it's wise to define your strategy before you take bigger risks. Marketing channels include email marketing, online advertisements, social media, and more. We'll discuss them all in depth shortly so you can choose the best ones to focus on at the outset.
The best marketing channels for your business can also be influenced by the demographic you are targeting.
Target Demographic
Demographics are a statistical breakdown of the human population into categories that can be based on age, gender, career, education level, life stage (e.g. childhood, adulthood, pregnancy, etc.), income, ethnicity, and every other variable you can think of.
Some of these demographics are obviously going to be more interested in your products than others, so marketing to the uninterested is pointless. You can never assume "everyone" will want your products, even if you do sell something everyone needs. Instead, you have to identify your ideal customer — the type of person who will be most interested in what you have to sell, and most likely to buy. Poorly-targeted marketing is a waste of time and money.
Your ideal customer is bound to be a member of more than one demographic. In fact, demographics are less like siloed categories and more like a complex interconnected web that describes a person's life. The more precise you can be when identifying your target demographic, the better — for example, "women in their 30s who own a home, have kids, and are interested in the arts" is far more precise than just "women."
You can also target multiple demographics at the same time, if your products have a broad enough appeal. You do this by segmenting your marketing efforts, which means running multiple campaigns, each of which are aimed at a different type of customer. Some types of marketing are easier to segment this way than others; e.g. social media marketing is far more targeted than Google Ads.
Don't be afraid to evolve your marketing strategy once it's in place. You may discover an unexpected audience, or gain more data that helps you further crystallize your best demographics. Pay close attention to the results of your campaigns and use that information to refine your marketing.
Important note: If you don't know who your ideal customer is, or who would actually want your products and why, your business has a serious problem that you may have to go back to the drawing board to solve. It's imperative that you identify your customers during the planning stage of your business. If your products themselves are not unique or particularly targeted (say, you sell typical office supplies that several demographics could need), you can instead tighten up your demographic with your Unique Value Proposition (UVP), also called a Unique Sales Proposition (USP). This is the quality that adds value and gives your business a specific appeal that separates you from your competitors, and can be anything from free shipping to the tone of voice you use in your marketing materials and website.
Another important note: Make sure you actually understand your target demographic. Even the largest businesses, with full marketing teams at their disposal, frequently release advertising that misrepresents their target audience or its culture and interests. The best example is any brand that sells products targeting kids or teenagers: you're guaranteed to see misused memes, outdated slang (or relatively current slang being misapplied), "trends" that don't exist, and other obvious proof that the business was just guessing what their audience actually likes. Don't use your target demographic's media or try to capitalize on trends without understanding them. At best, your business will look silly. At worst, this type of mistake turns your marketing into a painfully transparent attempt at pandering to an audience you don't really "get."
Execution of Your Marketing Strategy
There are several marketing channels for eCommerce, and depending on your strategy you could use one or all of them. Some marketing channels have necessary monetary costs, but others cost nothing but time. Of course, time is money, so it's best to know what you're doing so you or your employees can work efficiently.
We're going to go into detail about different marketing channels and help you understand the processes and best techniques.
Search Engine Optimization (SEO)
SEO is Search Engine Optimization, a variety of standards and techniques that will help your website appear higher in the list of results when an internet user searches for a keyword relevant to your business. Many people still balk at the idea of SEO because it comes across to them as hopelessly technical, but let's be clear: you absolutely need to optimize your website for search engines.
Online searches are an integral part of the process for online shoppers, with eCommerce statistics showing that 34% of customers start by looking for products on a search engine rather than immediately choosing a specific retailer. For larger purchases that represent a bigger investment, 81% of shoppers use search engines to research products before making their decision. SEO is essential for getting new customers.
Great SEO is essentially free advertising because it gets your website in front of the eyes of any internet user who searches for the products that you sell. This means it provides the best ROI of all types of eCommerce marketing.
How to Get Started with SEO
There are two types of SEO: on-page SEO and off-page SEO. On-page SEO consists of the optimizations you perform to the pages of your site. Off-page SEO takes place outside of your website and should be done after your on-page SEO is completed. Your first SEO step should always be to optimize the pages of your website.
Here's a quick overview of the features your website needs for effective SEO:
Mobile-friendliness (preferably through responsive design)
Fast loading speeds on all devices (the faster the better — visitors prefer a load time of less than 2 seconds)
Human-readable URLs with appropriate keywords (e.g. yoursite.com/mens-tshirts.html instead of yoursite.com/cat_18472.html)
Sensible, unique meta title and description tags for each page (title tags should be representative of what's on the page, not simply your store name or "Welcome to our site," etc.)
Schema.org markup to create rich snippets for your search results, which include extra information and are more likely to be clicked on the results page
Canonical URLs to define the "true" page out of many similar pages (e.g. so multiple pages of the same category don't get indexed separately, which is detrimental)
Customized robots.txt file to prevent certain pages from being crawled and indexed (like "View Cart," "My Account," etc. which are useless to search engines)
An XML sitemap to help search engines understand your website more quickly and index it faster
Sitewide HTTPS (the S represents a site secured by SSL encryption)
Unique, high-quality content using keywords relevant to your business and products (blog posts, page content, product descriptions, etc.)
301 redirects for any page that has been removed (visitors to the old URL will be redirected to the new one, and the SEO authority will mostly transfer as well)
Descriptive alt text for all images
It sounds like a lot, doesn't it? Fortunately, the eCommerce platform you use for your website may provide simple tools for making these optimizations, and may even handle some of them automatically. For example, Shift4Shop automatically provides responsive design and fast website speeds with its Core Template eCommerce themes, can generate XML sitemaps automatically, and provides an easy interface for customizing your URLs and making other optimizations. If you need to evaluate the SEO capabilities of your current eCommerce platform, take a look at our SEO-Friendly eCommerce Solution Checklist.
Before you can start your on-page SEO, you need to understand which keywords you should optimize for. Do keyword research to learn which search terms shoppers are using to look for your products, and go from there. We don't have the space in this article to go in-depth on how to do keyword research, but SEO experts Moz offer a detailed introduction.
Off-page SEO is more uncertain, as it means getting links to your website added to outside web pages. If others are willing to link to your website, Google takes that as a signal that you offer relevant, quality content, which is the primary factor behind higher search engine rankings. The social media marketing we discuss in this article is a type of off-page SEO, and you can also reach out to other websites to discuss ways to get backlinks, such as by writing a guest blog post for them. Of course, before you pursue off-page SEO in this way, your site should have something to offer and be relevant to the website you're contacting.
Paid Advertising
Paid advertising is usually what people think of when they think of marketing. It's no wonder; we're all familiar with paid advertising. Most of us see ads on websites and commercials on television every day. In this article, we're going to cover some popular and effective online advertising channels that can display your ads to some of the largest audiences in the world.
Advertising on Google
Google ads are spread across 2 different networks with different purposes: the Search Network and the Display Network. There's also the Google Shopping platform, which is different from both.
Google Search Network
Google Search ads appear alongside Google search results. They use Google's technology to identify the topics of the search by the keywords being used, and display ads related to those keywords. It's not an exact science, but it's a fairly reliable way to get your website advertised on Google.
Google Ads are a type of Pay-Per-Click (PPC) ad, meaning you are only charged if someone clicks on your ad, not just because it was viewed. To get visibility for Google Ads of any type you'll need to bid on the keywords, with higher bids securing better ad placement. Broad, extremely competitive keywords are often very expensive to bid on, while more specific long-tail keywords are usually much more affordable. However, if Google determines your website to be high-quality (especially the landing page a particular ad leads to), you'll be charged less for clicks.
Google Ads is the most popular PPC advertising system in the world, so as you can imagine, there are millions of ads all competing to be shown at any given time. Google decides which ads will be displayed by the advertiser's Ad Rank, which is a combination of the size of the keyword bid and the advertiser's Quality Score, a Google metric that measures relevance and quality of your web page.
Since relevance and quality matter, even if you can't afford to make the biggest bid on a keyword, it's in your best interests to optimize your landing page and the wording of your ad to make them as relevant as possible. Relevance will also help you as a seller because customers will have a clearer idea of what your ad leads to before they click on it. Since you're paying for every click, you don't want customers to back out the moment they see your landing page because it's not what they expected — you want them to stick around and convert.
Google Display Network
Google Display ads work in a very similar manner, except that they appear on websites that have installed the Google Ads platform (formerly Google AdWords). Display ads also include an image, as opposed to the text-only nature of Search ads. By default they're still chosen by keyword and Ad Rank, but you also have the option for managed placements, which gives you more control over the types of websites on which your ads will appear.
Google Display ads are a great way to advertise on other sites with a viewership that would be interested in your business. Stay as targeted as possible by managing your Display ads separately from your Search ads — don't use Google's "Display Select" option as it gives too much control to Google's guesswork. If you want to run both Search ads and Display ads, treat, budget, and test them as entirely different channels. To get the most from your budget, Google recommends that you fully separate your Search campaigns and your Display campaigns so you can build each of them independently.
Google Shopping Ads
Google Shopping (formerly Google Product Search, Google Products, and Froogle) works in conjunction with Google Merchant Center to allow you to sell products right on Google search results and within the Google Shopping platform. Google Shopping works similarly to other Google ads, but instead of displaying simple text advertisements, it shows full product listings from different retailers according to the search performed by the user.
Google Shopping Ads each include an image of the product, its price, the name of the retailer, and a star rating or other information such as "Free shipping." The ads appear at the top of regular Google searches and more listings are visible when the user clicks the Shopping tab beneath the search bar. The Google Shopping interface has filters for refining the search, such as price range, manufacturer, and more depending on the type of product.
To get your products into Google Shopping, you'll need a Merchant Center account and a product feed for exporting your products' data to Google in the right format. Depending on your eCommerce platform, you might already have an easy way to do this — for example, Shift4Shop has an integration with Google Shopping that handles the heavy lifting of organizing and formatting your data and keeping it synchronized.
Google Shopping Ads can be very effective because the customer can instantly see important information such as the price, rating, and any current discount. This removes the uncertainty of visiting your website first to see what you're offering; the customer essentially skips a step in the journey of gaining interest in your products. The included image also helps catch the customer's attention more quickly than plain text.
It's well worth your effort to use Google Shopping Ads, so make sure your eCommerce software can support product feeds. Even if you don't have the budget for PPC advertising just yet, at least you'll have the infrastructure in place when you're ready to go. There many ways to sell on Google, and working on all of them cohesively is the best bet.
Facebook and Instagram Ads
Millions of people use Facebook and/or Instagram every day, which makes them both great places to advertise. You don't even need an Instagram account, as your Facebook ads can be displayed on both platforms. (Although you'll want an Instagram account if you want to engage in organic marketing as we discuss later, you can still create and manage both Facebook and Instagram ads from your Facebook account.)
One of the best things about Facebook ads is how strongly they can be targeted. Since people on Facebook indicate their interests and demographics through Liking pages and filling out general personal information, you can target your Facebook ads directly to those who are most likely to show an interest in your business.
To get started, you'll need a Facebook account and a Facebook Page for your business. Within your dashboard, you'll find the Ads Manager in which you set up your advertising and define your daily budget. Facebook's advertising tools are quite robust and allow you to set up campaigns to meet specific goals.
Some types of Facebook ads require you to first create a Shop tab for your Page and load it up with products to sell directly on Facebook. This is a great sales channel that can be beneficial to your business even if you don't use it for advertising, as some customers on Facebook are happy to purchase from you without needing to take the extra step of visiting your website. Leading eCommerce software such as Shift4Shop allows you to export your products to Facebook from your online store, and even handle all your sales through your online store's dashboard. Your inventory, across both channels, will also be kept synchronized with Shift4Shop.
Remarketing
Remarketing, also called retargeting, is a type of advertising that targets people who have already been to your website. You've almost definitely seen it in the wild — when you go to a favorite website and see an advertisement for something you were looking at on Amazon last week, that's remarketing. It's a fantastic way to keep your website in the minds of customers and encourage them to remain engaged. The main benefit of remarketing is that it serves to remind customers about a product they've already shown interest in.
Remarketing works by having your site set a cookie on the visitor's computer which signals to other websites to display your ads if possible. This cookie is set by a small piece of software called a "pixel" that you install within your eCommerce software. For example, the Facebook pixel will cause your Facebook ads to display to customers who have previously visited your website. Pixels also track visitors who return to your website after clicking on one of these ads.
It's worth noting that, like with most of the marketing tools listed in this article, the ease of installing pixels depends strongly on your eCommerce platform.
Organic Social Media Marketing
Organic social media marketing consists of normal social media usage centering on your business and products. This includes creating posts, interacting with customers, and otherwise providing interesting social media content that raises awareness of your brand. Customers show a strong preference for businesses that will openly engage them on social media.
Now, even though we're using the word "marketing" here, don't just constantly promote yourself — that's a turn-off. Instead, offer valuable information and be open to answering questions and providing customer service. Once you master organic social media marketing, you're well on your way to building lasting relationships with your visitors and nurturing them into a loyal following.
Organic Facebook Marketing
A presence on Facebook is crucial for a business trying to advance in today's social media-driven world. Existing customers will often prefer to contact you on Facebook because of the personal, immediate nature of social media connections. New customers will commonly visit a business on Facebook to see reviews and evaluate how the business interacts with customers before they decide to buy. They'll also be able to see how quickly you respond to messages, so if you stay on top of your Facebook interactions, customers are more likely to shop from you knowing that they can get help quickly if they should need it.
Facebook also presents great opportunities for organically growing your business by sharing useful or entertaining content. It has the best click-through rate for driving traffic to a website, and the posts you make can easily be shared by your Page's visitors. This makes Facebook a great place to get the word out about new products and promotions, but you should also create and share content that's relevant to your customers or industry. For example, a hardware store could share DIY tips for home repairs that readers will share for the post's helpful, informative nature, whether or not they're interested (yet) in buying from you. This serves to spread brand awareness and simultaneously position you as an authority in your industry. It also presents your business as having a genuine interest in helping people with your products, rather than just selling to them.
Organic Instagram Marketing
Instagram has fantastic potential to build a brand, and has high viral potential — which basically translates to free, large-scale marketing. Learning how to effectively post on Instagram and interact with others on the platform is a huge advantage.
Since it's image- and video-based, Instagram is the perfect platform for lifestyle shots, which are photos that show your products being used in a relatable setting. These photos help customers picture themselves having a similar relationship with your products, and can be a seriously effective tool for inspiring them to buy. Lifestyle photos build associations in the customer's mind between your products and the general mood of the photo: sophisticated, or fun, or happy, or encouraging, and so on.
You can get double the mileage out of your Instagram lifestyle photos by using Shoppable Posts, which allow you to tag products within the image and sell on Instagram. Viewers who immediately become interested in the products being shown can tap the image to bring up more information about each product, and can then be taken directly to your website to make a purchase. To tag products in your Instagram posts, you need to add your products to your Facebook Shop tab and then apply through Instagram to get the feature activated.
The correct use of hashtags can also get your posts seen by people with relevant interests, so make sure the hashtags you use are fitting for your business, products, and the lifestyle you present with your posts. Don't rely on overly-specific hashtags that aren't likely to be used by others, as people on Instagram won't be likely to discover your content through them.
Some of your most loyal existing customers may already be on Instagram, posting their own photos with your products! If so, make sure you interact with them to show your appreciation for their loyalty and to help give their posts a boost — something every frequent Instagrammer appreciates. Tag them in a relevant post (using @) and consider contacting them for permission to reuse their images yourself. Comment on their posts and thank them for being your customer as well.
Organic Marketing on Reddit
Reddit is well-known for having a thriving community for almost everything and has a userbase numbering in the hundreds of millions. If you use Reddit properly, the potential for organic marketing is almost unlimited. It's not easy, but if you hit the right notes at the right time, your business can go viral with astonishing speed.
The different communities on Reddit are called subreddits, each of which is devoted to discussion of a specific topic. Each subreddit also has its own rules that must be followed in order for you to participate effectively, along with Reddit's general Content Policy. If you want to start marketing on Reddit, your first task is to find a few subreddits you want to target, subscribe to them, and get familiar with their rules. Then, take some time browsing the existing posts on the subreddit to get a feel for their culture. Some subreddits are far more open to straightforward marketing posts, so you won't have to worry too much about making an outright sales pitch. However, these are relatively rare and often harder to make a splash in. Other subreddits can be quite hostile to direct advertising, so you'll need to approach those differently.
The way you approach each subreddit depends on its rules and culture, which is why you need to spend time familiarizing yourself with what's considered appropriate and what isn't. In either case, Redditors are more likely to buy from you if they feel you're truly a part of the community, so invest time in it by answering questions and helping other Redditors. After all, if they're visiting a subreddit that relates to your industry, they may be seeking help with products you're very familiar with. Your goal is to position yourself as a thought leader within the subreddit so other Redditors will gain trust in you. Never try to present yourself as someone you're not, e.g. a third-party reviewer recommending your own site. Reddit can be very unforgiving about this type of activity.
One great way to learn "what works" on a particular subreddit is to view the top posts of all time. These are the posts that have earned the most upvotes, meaning they're considered the best posts in the community. Likewise, as you browse, always take a look at posts without a single upvote, especially older ones, since they've never accumulated upvotes despite their age. Unlike comments, upvote scores on posts can't go into negative numbers, so a post sitting at zero has received at least one downvote for any upvote it may have received. Posts with zero upvotes are representative of things the subreddit hates — and the comments (if any) can also be enlightening. Many subreddits will also show you the percentage of upvotes a post has received, so you can get an even clearer idea of the community's reaction. Seeing a post with zero upvotes listed and "20% upvoted" tells you that 80% of people who looked at the post downvoted it. It's a great way to learn what not to do!
Obviously, you want to drive traffic to your website by backlinking in your Reddit posts, but you'll need to use your discretion based on the subreddit's culture. Definitely don't include a backlink in every post, but look for opportunities to present your links within context that adds value to the conversation. Your posts and comments should always be high-quality and you should disclose that you're linking to your own site. On some subreddits, you should avoid linking to your site at all until you've proven your value as a contributor. Again, you'll need to use your discretion.
Reddit-specific promotions can simultaneously add value to your posts and present you as loyal to the community that you've become part of. An exclusive coupon code like REDDIT20 that provides 20% off at checkout has worked well for many businesses. Using the word Reddit in the code is a way of personalizing it to show that it's for the Reddit community. It seems like a small thing, but it signals that you're "giving back."
One final note about Reddit: of course you can build traffic slowly, over time, but don't underestimate the possibility of a massive surge in visitors to your site. All it takes is a single great post that makes it to the front page or otherwise garners tons of attention, and your site could pull in unprecedented levels of traffic all at once. Your website needs to be prepared for this with a powerful infrastructure to prevent it from becoming inaccessible due to this influx of traffic — Redditors have visited websites in large enough numbers to completely overwhelm them so many times that the phenomenon has earned the nickname "the Reddit hug of death." To withstand it, your website needs to be based on a powerful eCommerce platform like Shift4Shop, built to handle any amount of traffic, and without any bandwidth limitations or overage charges. Otherwise, your site could go down for extended periods of time and you could face a hefty overage fee.
Organic Snapchat Marketing
Snapchat is an enormously popular image- and video-sharing social media platform that can be especially effective if you're marketing to younger customers, as 53% of Snapchat users are below the age of 34 and the app has achieved a penetration rate of 94% among the 18-24 age bracket in the US. Snapchat has an immediate, personal nature that can help your business stay top-of-mind among your audience and keep their brand awareness sharp.
Snapchat "Snaps" consist of images or short videos that are only available on a temporary basis (although options exist for Snaps to be saved to the user's Memories for later viewing). Snapchat Stories are another option made from a series of chronological Snaps presented as a group. The platform continues to grow with additional features that keep its users coming back.
If you're looking for a fun, effective way to build a personal relationship with your followers, Snapchat is the perfect tool. Videos have a maximum length of 10 seconds, and it's not required or expected to have the world's best production values, so Snapchat fosters an atmosphere of humor, friendliness, and fun. Use Snaps and Stories to interact with followers and let them in behind the scenes. Even the most routine (or random) occurrences can be perfect for Snapchat. If you have a brick-and-mortar location, share video of events as well. Come up with fun ways to interact with your followers, teach them about your products and business, and keep them engaged. You can also release Snapchat-exclusive promotions and run Snapchat Ads to reward your followers for their loyalty.
The most important thing about marketing on Snapchat is to keep it up and work it into your routine throughout the day. Followers enjoy the feeling that they're being let in on something that's happening "right now," so frequent Snaps are a must.
Organic Marketing on LinkedIn
As a community of professionals, LinkedIn is a necessity if you're selling B2B (Business to Business) or at all interested in expanding into B2B sales. Thought leadership is arguably more important on LinkedIn than on any other platform, so it's crucial for you to share quality content like articles and blog posts. Expertise is highly valued, as unlike other social media platforms, LinkedIn is about business networking rather than socializing.
This is what makes LinkedIn so important for B2B — its users are businesspeople seeking profitable connections with other businesspeople. Users are actively looking for business relationships and products that can meet their needs, so your brand and products need to be exposed to them. Even if you're not a B2B seller, your business can still benefit, too.
Organic Twitter Marketing
In recent years, a rising trend has emerged of customers contacting businesses on Twitter — often once they realize they can't get a response anywhere else, or at least not in a timely manner. While originally customers took to Twitter as a last resort, it's now gained a reputation as a place where customers can freely interact with businesses, ask questions, and share feedback. Businesses have embraced this and use Twitter to keep up constant communication with their customers.
Twitter is great for hearing what your customers have to say and building up trust in your brand by publicly addressing any concerns they may have. That's why working Twitter into your customer service is a great benefit to your marketing strategy.
Of course, you can (and should!) also post Tweets yourself rather than just waiting for customers to contact you first. Share images, video, and short tidbits of news and information like tips and tricks, product updates, links to your blog articles, and more. While you can schedule your Tweets to ensure a regular flow of interesting content, make sure you check back frequently and respond to customers. The more responsive and active you are, the better.
Organic Marketing on Pinterest
Pinterest can be an effective marketing channel for certain types of eCommerce businesses. Products with a strong visual element, like apparel and fashion accessories, art and décor, and jewelry are great for Pinterest. So are hobby-related products, arts and crafts, DIY projects, and home and kitchen goods since Pinterest users are looking for inspiration. Baby products also do well, since new parents are often on the lookout for the very best.
A whopping 93% of Pinners say they use Pinterest specifically to plan their shopping, with 83% making a purchase based on Pins from brands. The vast majority of Pinterest users are female, and are actively looking for input and ideas as to what they should buy to support their hobbies, family, or other passions. This makes Pinners more open to marketing than users of any other social media platform.
Successful organic Pinterest marketing starts with your profile. Make sure it's fully branded with your logo and a link to your website. You can then start posting images, organized into Boards, which work similarly to categories. Each Pin can include a description and a link along with the image. Share photos of your products, lifestyle photos, and everything else that seems appropriate. Be creative!
If you come across your existing customers on Pinterest who have posted about your products, you can "repin" their Pins to add them to your own Board. This shows that you have an interest in your customers and that you're proud to show your products being used and enjoyed.
Other Platforms for Organic Marketing
There are a ton of other social platforms that may not be as popular but might be a perfect niche for your business. Forums are a great example, but as we mentioned with Reddit, you're more likely to get customers if you become a valued member of the community. Also like Reddit, forum communities often have vastly different tones, and can also have differing rules regarding advertising or marketing your business.
Make sure you spend time familiarizing yourself with the forum's culture before you decide to take the plunge, as a significant investment in time might be required before you're considered a trustworthy contributor. If forum rules allow it, you can start by adding a link to your website in your signature (and perhaps a coupon code), which will be appended to each of your posts. Readers who find your forum posts helpful are more likely to click to visit your store, and adding a special coupon code just for them can provide that extra push.
Influencer Marketing
The word "influencer" often immediately brings Instagram to mind, but in truth an influencer is anyone whom others look to for advice, inspiration, or knowledge on a topic. Influencers can be bloggers, reviewers, journalists, or any other type of thought leader.
Your goal with influencer marketing is to partner with them to your mutual benefit. Your business benefits by exposure to the influencer's audience, be they social media followers or regular readers of the influencer's blog or articles, and by being associated with the authority the influencer is perceived to have. After all, followers trust the influencer's opinions — that's what makes them an influencer.
The influencer can benefit in a few ways depending on how you work it out with them. For example, you could pay them directly, offer free products in exchange for promoting them, or set them up with an affiliate link so they receive a commission for any sales made through their blog or social media posts. An affiliate program is a good idea in general, as it allows any of your customers to promote your products on a commission-based model, and you don't need to pay anything but a percentage of the sales after they're made. Shift4Shop has a built-in affiliate program module as well as integrations with popular affiliate networks like ShareASale.
Email Marketing
Email marketing is still the most effective method to build up a base of repeat customers. It consists of sending out regularly scheduled email newsletters to a list of subscribers who have opted in. The purpose of the newsletter is to keep your subscribers thinking about your brand and to entice them to buy from you, so include coupon codes or notifications of upcoming discounts.
The trick to effective email marketing is to provide high-value content that subscribers will actually be interested in reading, whether or not they're thinking of making a purchase at the time. Instead of focusing solely on promoting your business, include helpful or interesting information about your industry or your products. Tips and tricks, fun facts, new product releases, and useful articles can all be great for newsletters. To keep it short and drive traffic to your website, post the article on your blog and include just a small blurb or preview in your email, with a link to the article.
You can also segment your email marketing list, which means to split up your customers into groups and send a different newsletter version to each group. For example, all customers who have purchased a specific product (or line or brand of products) could receive one version, while other customers could receive another. Subscribers who haven't yet bought anything could also receive their own version. Segmenting your email list allows you to more precisely target your newsletters to get the best results from each category of customer, by providing them with the most relevant content possible.
It's important that you build your email list correctly. Your subscribers need to be the ones who choose whether or not they subscribe, which is why they have to opt in. They must be able to unsubscribe at will, too. Don't sign anyone up without their consent, and whatever you do, never buy an email list. Even if it's a list of email addresses of people who signed up for another newsletter from a brand in the same industry as you, and therefore would probably be interested, you'd still be sending them unsolicited emails that are almost sure to be marked as spam or deleted with extreme prejudice. You're trying to build an email list, not make people resent or mistrust you.
Buying email lists can also cause your store to meet certain criteria that could get it blacklisted as a spammer. For example, spammers often send to giant mailing lists that nearly always include some outdated, nonfunctional email addresses that will cause the email to bounce back. A large number of bouncebacks, or repeated bouncebacks to the same email addresses, are hallmarks of spammers. (This is also why you should quickly remove bounceback email addresses from your subscriber list. Fortunately, Shift4Shop has several built-in features for helping prevent your store from being marked as spam by mail servers, including bounceback management.)
To correctly build an email list, give your customers plenty of opportunities and plenty of reasons to sign up. Let them opt in at checkout and through a signup field on your website. You can also use modals — unobtrusive "cards" or boxes that appear without the drawbacks of old-fashioned popups — from an app like 3dboost to draw attention to your newsletter and ask visitors to sign up before they leave your page. In the text surrounding the signup box, make sure you explain the type of valuable content and offers your newsletter includes, and how often you send it out. Subscribers like to know what they're getting into, since thanks to bad email practices, newsletters have the reputation of sometimes being literally impossible to unsubscribe from.
The frequency at which you send out your newsletters can vary, but any more often than "weekly" and you might be pushing your luck and trying your readers' patience. Quality is better than quantity, and a monthly or biweekly newsletter is fine as long as it works with your promotional strategy. If you have a frequent newsletter and you get bad results, like a lot of people unsubscribing (or deleting them without reading, which you can often see in the dashboard of your email newsletter service provider), tone down the frequency and turn up the quality.
Marketing Strategy Optimization
Your eCommerce marketing strategy needs to grow and improve through constant optimization. As you gain more experience with the channels you're using to market, you may discover new goals and your customers' reaction to one strategy may give you insight into another. When your marketing campaigns are already running and you're getting more visitors to your website, here's how to make the most of your traffic — and how to ensure it keeps increasing.
Conversion Optimization
Conversion optimization refers to the practice of improving your website to increase the number of visitors who perform your desired action, whether it's to make a purchase, sign up for your newsletter, or both. There are several ways you can optimize your landing pages, shopping cart, and website as a whole to increase your conversions.
First off, your site needs to be fast, convenient, and overall pleasant to use whether the customer is on desktop or mobile. User experience is crucial, as no one is going to stick around on a difficult, slow, or annoying website, no matter how compelling your marketing was. Checkout is the most important (and unfortunately, most bug-prone) part of any eCommerce site, so it needs to run as smoothly as possible.
It's a real shame to lose a customer right at checkout, after they've already put items in their cart, but it happens all the time. The majority of eCommerce shopping carts are abandoned with the purchase left unfinished. You can help prevent this by improving the function and features of your checkout and avoiding the issues that drive customers away at the last minute. Surprise shipping costs are the biggest culprit, for example, so adding real-time shipping rates visible in the customer's "View Cart" page can prepare them and prevent "shipping shock."
You can also recover many abandoned carts with a simple automatic reminder system for the customer, like a short email campaign that reminds them to return — possibly with a discount if they still don't come back right away. Shift4Shop's Abandoned Cart Saver is a good example of an easy system for setting up effective, automatic abandoned cart recovery campaigns.
Convincing customers to go through with checkout can also be a problem, as online shoppers are wary of data theft and fraudulent charges to their payment methods. You can build trust and offset these worries in a few ways. Being transparent and easy to contact is one, as customers will come to understand that you have nothing to hide and will get back to them quickly if they have a concern. You should also display trust logos on your website, which are seals of approval that verify that your site is safe, protected, and legitimate.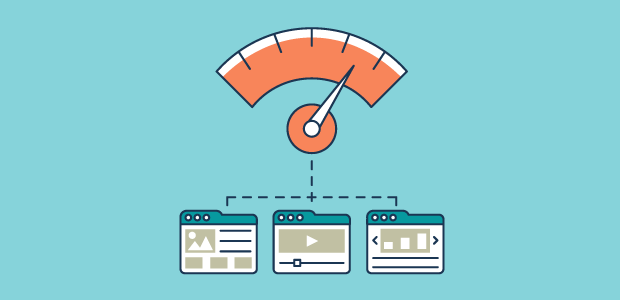 A/B Testing
A/B testing is a process in which you can determine which of two versions of an ad (or other marketing material, like a newsletter) works better. Half your audience is shown version A, while the other half is shown version B. For best results, only change one variable at a time for each test. This will help you determine exactly what changes produce better results.
When you've identified a clear winner between versions A and B, create another variant and run the test again to compare the winning variant against a new one. By constantly A/B testing, you'll be able to refine your approach and create more effective marketing.
The type of A/B tests you run will depend on the marketing channel involved. For example, on Facebook ads, you can choose text, images, CTA (Call to Action), targeting, and more. Your first A/B test could involve ads identical except for the image. When the winning image is clear, perform the A/B test again with 2 ads using the preferred image, identical except for the heading text. For newsletters, send your A version to one half of your subscriber list and your B version to the other, making sure to divide up your list so each half has an equal distribution of customer types so your customers' demographics don't exert too much influence over the test.
Every type of advertising and marketing can be A/B tested. Be diligent, and remember to only change one thing at a time, and you'll gain the knowledge you need to make your eCommerce marketing strategy more effective than ever.
Should You DIY, Outsource, or Hire for eCommerce Marketing?
Now that you've learned about planning, executing, and optimizing your eCommerce marketing strategy, your next step is to put what you've learned into action. But should you do it yourself? Go with an agency? Maybe even hire a new employee to handle it? It depends.
You can do your marketing yourself, and the main advantages of DIY marketing are the low (or nonexistent) impact on your budget, and the fact that your marketing campaigns will be run by the person with the most knowledge of your business — you.
However, some of these marketing channels are easier to run on your own than others. For example, even the smallest business is often capable of producing a biweekly email newsletter, but you may not have the time or expertise to really excel in all the marketing channels you want to pursue. Time is money, and you need to balance the amount of time you spend marketing so it doesn't hurt your ability to run your business. You also simply might not have some of the skills required, like the ability to craft a compelling Facebook post or Tweet. In this case, it's better to get outside help.
Marketing agencies know how the game works; they're deeply experienced and they have proven formulas on their side. They can bring great expertise to the table that can skyrocket your business. But an agency can be expensive, and may not completely understand your brand's voice or UVP or know how to relate to your customers. If you're interested in working with an eCommerce marketing agency, finding the right one is crucial. A one-size-fits-all approach, or a refusal to listen to you, are both warning signs, as is a tiny or nonexistent portfolio. Find the right marketing experts, however, and your traffic and sales can shoot through the roof.
Your third option is to hire staff to handle your marketing internally. This can provide the best balance of marketing skills and knowledge about your business. The main issues stem from the common difficulties of hiring employees: obtaining licenses, meeting regulations, finding the right person, needing to pay them, etc. — and if your business is small enough, you might not be ready to hire employees at all.
Ultimately, the choice you make and the channels you choose to pursue should reflect each other. For example, if all you can afford right now is DIY, stick to the marketing channels you can manage yourself at first and then expand from there when the time is right. You'll get better results if you focus on your strengths.
Conclusion
Marketing your eCommerce business is an ongoing process that can present plenty of challenges. But if you plan well, and start out with a solid strategy, you'll find your success growing. Remember to be patient, pay close attention to your results, and adjust your approach when needed, and you'll be able to reap the rewards.