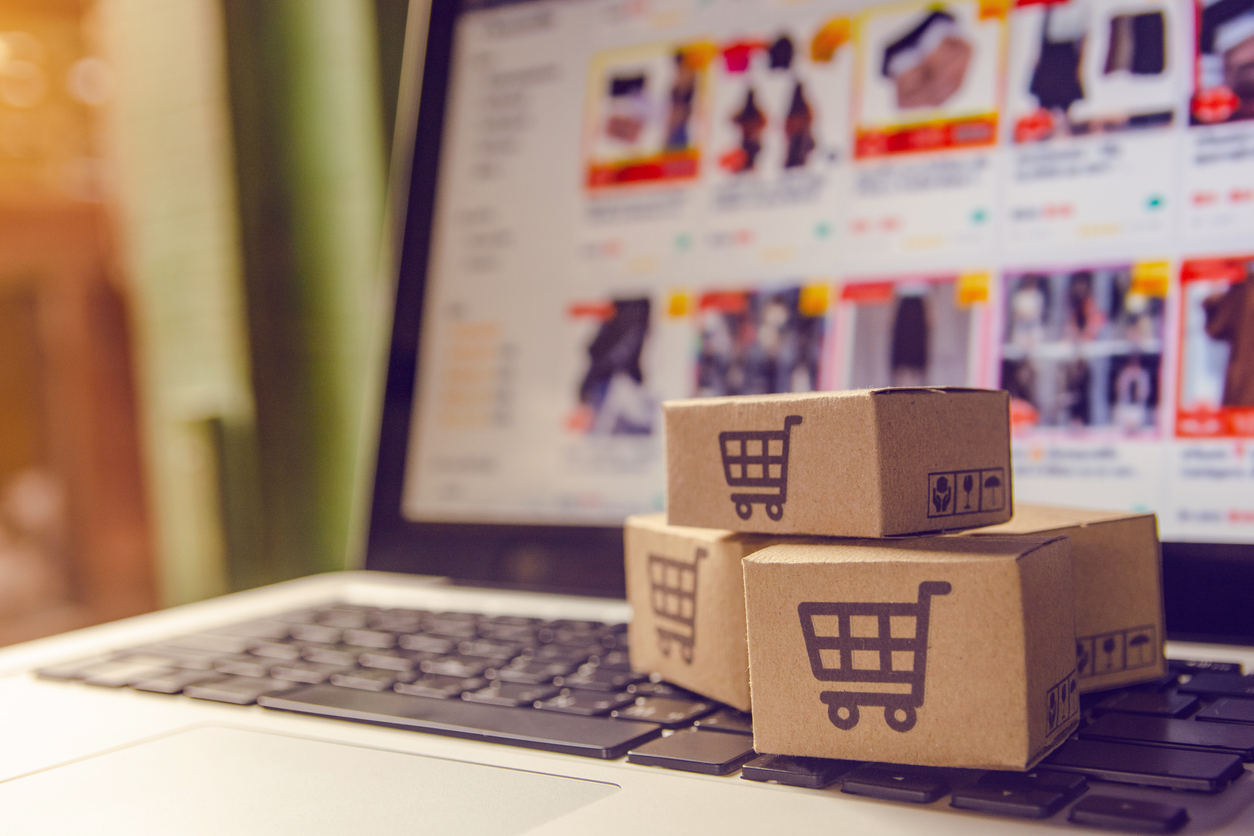 Amazon got its start nearly a quarter-century ago in 1995. Jeff Bezos started the company using his parents' life savings.
eCommerce has come a long way over the last 26 years though. Instead of risking everything you have saved and combining a bunch of different services to set up your store, modern eCommerce platforms let you do it all in one place for as little as $20 a month.
Let's answer the question "which eCommerce platform should I use" by looking at five of the top choices.
What is an eCommerce Platform?
Ecommerce websites have many different components that all work together to deliver the full experience to your customers. Some of the most important components include:
Website builder and designer
Shopping cart
Order management
Inventory management
Marketing tools
Search engine optimization
Hosting
Customer support
In the early days of eCommerce, you would have had to manage all these things separately. You would buy website hosting, hire a website designer to come up with the site design, build all your product and support pages manually, and track your sales and inventory with yet another tool.
An eCommerce platform puts all these pieces together in a single service.
Having them all in one place has several advantages. First, it makes your eCommerce websites much easier to manage. Instead of hopping from one service to another for each component, everything is done through a single control panel.
It also saves you a lot of money. Having to pay for all these components individually costs much more than getting them all from a single source. That cost-saving goes straight to your bottom line.
And one of the most valuable benefits of using an eCommerce platform is the ability to track everything accurately. When you make a sale, your revenue figures get updated, your inventory gets adjusted, your conversion stats get tracked, and your customer's contact information will be added to your mailing list automatically.
There's much less chance of losing data points when going from one step to the next. This gives you more reliable business intelligence that you can use to make decisions.
Which eCommerce Platforms We're Reviewing
We're going to look at some of the best eCommerce platforms in this review:
Shift4Shop
Shopify
BigCommerce
Yo!Kart
Quick eSelling
Volusion
Wix
Most of these platforms offer similar foundational features that every eCommerce store needs; but, there are some significant differences as well. Let's look at what each of them has to offer and their strengths and weaknesses.
Shift4Shop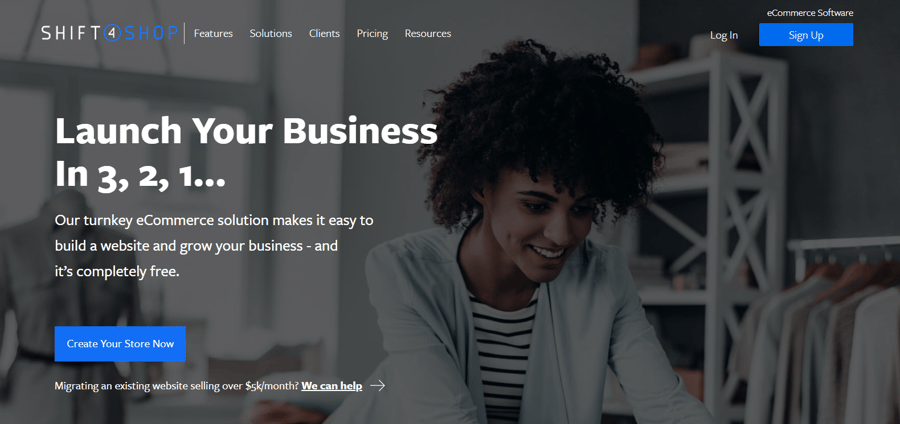 Shift4Shop is one of the most full-featured and affordable eCommerce platforms on the web, offering a free plan that has no limits. It was founded in 1997, in the early days of eCommerce. It powers tens of thousands of eCommerce sites and integrates with hundreds of other services for shipping, advertising, and other aspects of running a successful online store.
Shift4Shop is the most complete eCommerce platform, with many of its features either costing extra or not being available at all with the competition.
Inventory and Order Management
Shift4Shop lets you sell an unlimited number of products with all its plans. This includes both individual products and variants of each of them.
You can also have an unlimited number of orders with all plans and there's no limit on the amount of storage or bandwidth you use. This is especially important if you have a lot of product images or sell digital products, as either one can take up a lot of space. Most platforms have a limit on the included storage and bandwidth, with extra costs for going beyond.
Customer Support
All Shift4Shop customers have access to 24/7/365 support via live chat and email. This is invaluable when you're setting up a new store and run into questions you can't quickly find an answer for. Shift4Shop also has self-service support options, including a Knowledgebase and eCommerce University articles.
Design Options
The number of themes available in Shift4Shop is another one of its strengths when compared to the competition. It offers over 100 free themes that are easily customizable, giving you much more flexibility in the design of your site.
Compare that to other platforms, such as Shopify, which only offers 9 free themes. A limited theme selection means you either need to spend more money on a premium theme or your eCommerce store will look the same as many other sites.
Shift4Shop's themes are also optimized well for search engines, giving your site an extra SEO boost.
Apps and Add-Ons
Shift4Shop integrates with hundreds of other services so you can tie your store together with other software, including email service providers like MailChimp, shipping services like FedEx, and advertising platforms like Facebook Ads.
Many of the integrations included with Shift4Shop need add-ons or separate apps with other platforms. This makes it more complicated to set up since you're back in the "old days" of having to connect different services to run your store. Those apps and add-ons usually cost extra as well, so you end up paying a lot more than the cost of the plan itself.
Payment Options
One of the most critical pieces of any eCommerce site is the methods of payment. Your customers want a range of choices including PayPal, credit cards, Apple Pay, etc.
Shift4Shop comes built-in with direct integration to Shift4 Payments, a secure and flexible payment processor that supports major credit cards and digital wallets like Google Pay. They support more alternative payment methods, like PayPal, than any other eCommerce platform as well.
And best of all, you don't have to pay any extra fees to use your choice of payment provider. Other eCommerce platforms push you to use their payment service by charging extra fees for anything else. You can use any payment processor you like without transaction fees.
Pricing (monthly): Free with Shift4 Payments
Shift4Shop Pros:
Included features and flexibility
Top-notch customer support
Third-party integrations
Integrated payment processing
Lack of extra fees
Shift4Shop Cons:
Free plan is only available to U.S. merchants
Extensive features can take more time to learn
Shopify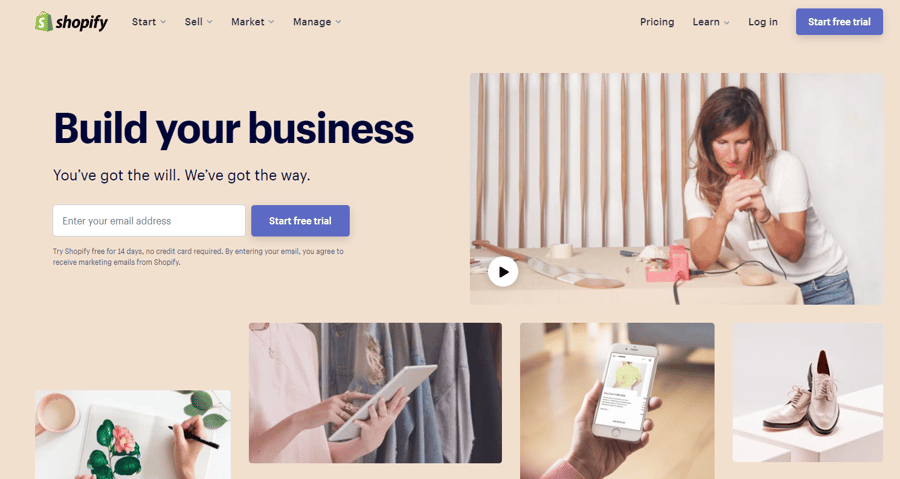 Shopify launched in 2006 and is probably the best-known eCommerce platform. Over 1 million businesses run their eCommerce store with Shopify and it has the largest network of third-party developers and support.
Part of the reason there's so much third-party support is to fill in gaps within Shopify's built-in features. Many of the things that are included with a platform like Shift4Shop have to be added separately with Shopify.
Inventory and Order Management
Shopify provides an unlimited number of products with all its plans. It doesn't support multiple options for any particular product though. Shopify also doesn't support related products, at least not without third-party add-ons. This limits your ability to upsell and cross-sell within your store.
One unique feature with Shopify is the Shopify POS which lets you set up a physical point-of-sale system for in-person selling through your Shopify store.
Customer Support
Shopify offers 24x7 support with all their plans. Support is available through live chat, by phone, through email, and via Twitter. Shopify is one of the few platforms that includes phone support with every plan, even the lowest level.
Design Options
Shopify's free themes are limited, with only 10 to choose from. The themes look nice enough, but the limited number means a lot of the stores that use Shopify look alike.
If you want a more unique design, you'll need to pay for a premium theme or hire a designer to create a custom design for your site. This is also the case if you want to optimize your site for search engines. Customizing your pages is possible with apps like AZEXO free page builder. Unfortunately, the built-in templates do not have very good SEO features.
Apps and Add-Ons
Shopify's third-party support is the best of all the platforms on this list. They have an extensive network of certified partners that can help with design, custom coding, and many other tasks.
This also carries over to apps and add-ons to add features to your store. Shopify has a lot of third-party support here as well, although that's partly because some of the standard features on other platforms need to be added separately.
Payment Options
Shopify has its own payment service called Shopify Payments that they push merchants to use. You can use other payment methods, but Shopify charges extra fees on top of the fees you already pay the provider. These fees range between 0.5% and 2.0% depending on your plan.
Pricing (monthly): $29-$299
Shopify Pros:
Extensive third-party support
Unlimited products
Solid support, including phone support on all plans
Shopify Cons:
Limited features without add-ons
Cost of adding required features
Extra fees for most payment services
BigCommerce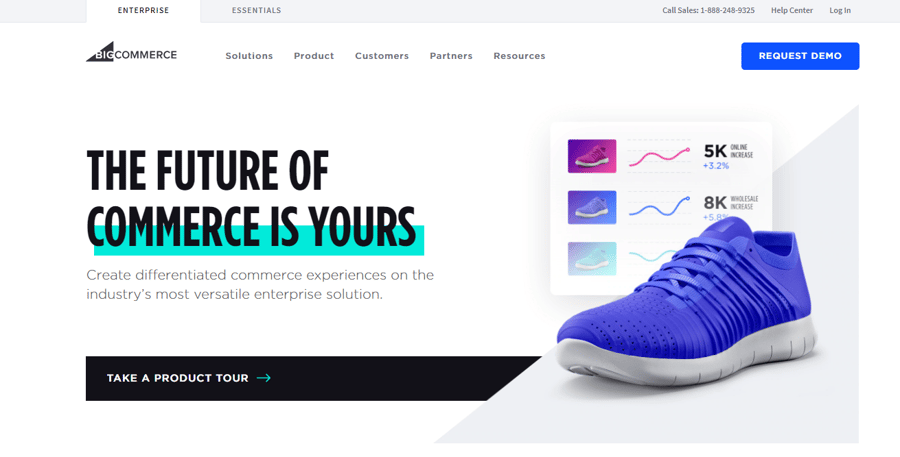 BigCommerce was founded in 2009 and has handled over $17 billion in sales for its merchants. This platform is focused more on the Enterprise market for large eCommerce stores.
They still offer similarly-priced plans to the rest of the platforms in this list, but their home page is all about the Enterprise-level services. You have to look closely to find their small business offerings.
Inventory and Order Management
BigCommerce provides unlimited products, orders, file storage, and bandwidth with all its plans. The catch with BigCommerce plans and pricing is the revenue limits they impose.
Each level of service has a limit on how much revenue you can process through your store. If you exceed the limit, you have to upgrade to the higher plan. This forces you into those plans, even if you don't need any of the extra features. While most eCommerce platforms do maintain revenue quotes before a plan upgrade is required, BigCommerce's limits are noticeably much lower. Compare that to Shift4Shop, which doesn't impose revenue limits on its free plan and scales up to enterprise-grade service at no cost, and you can see how cost-preventative BigCommerce can truly be.
Customer Support
BigCommerce offers 24x7 customer support by live chat, phone, and email. Like Shopify, they include phone support in all plans - even the base level.
Design Options
BigCommerce also provides a limited number of free themes with their service. You have 12 themes to choose from, some with 3 or 4 different layouts. There are over 80 themes available on the platform, but the rest are premium themes with an extra cost.
Once again, the limited number of themes means it's harder to customize your site, meaning it will end up looking like many other sites hosted on BigCommerce.
The themes they provide are optimized well so you will get the benefits of good SEO with this platform.
Apps and Add-Ons
BigCommerce has strong support for third-party integrations through add-ons and apps. Like Shopify, many of these add-ons have an extra cost associated with them and are only necessary because the features are not built into the platform itself.
It also has a large certified developer network available to help with customization and integration of other services with your store.
Payment Options
BigCommerce supports over 65 payment gateways that serve more than 100 countries. Like Shift4Shop, BigCommerce doesn't charge any extra fees to use these payment services, so you only need to pay the fees they charge.
BigCommerce also offers a special deal on credit card processing through PayPal; if you don't already have a payment system in place, this can be a good way to get started.
Pricing (monthly): $29-$249
BigCommerce Pros:
Plenty of third-party support
Unlimited products, orders, and storage
No additional payment fees
Solid 24x7 support through multiple channels
BigCommerce Cons:
Limited features without add-ons
Cost of adding required features
Low limits on how many sales you can process on each plan
Enterprise focus misses the mark for small businesses
Yo!Kart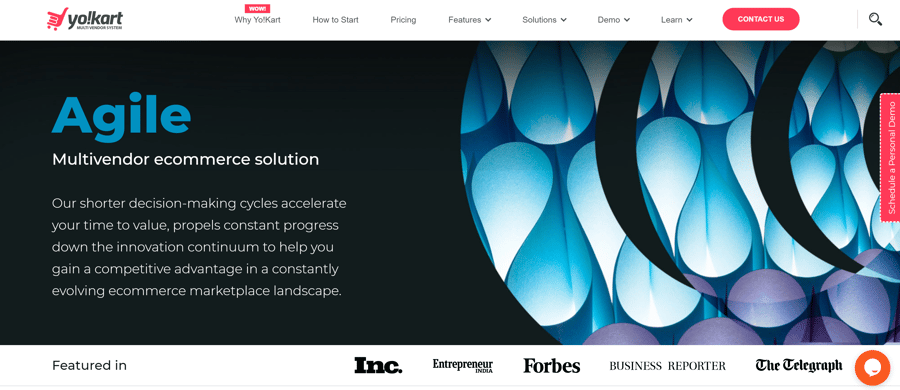 Yo!Kart launched in the year 2015, making it a fairly new entry into the eCommerce industry compared to other platforms in this list. Yo!Kart's platform is a self-hosted, license-based, & customizable solution with features that allow startups, SMBs and Enterprise level businesses to start an eCommerce marketplace like Amazon or Etsy.

Yo!Kart is equipped with the latest features and functionalities that are essential for an online marketplace. The User Interface of the platform has been developed keeping in mind various user personas. The platform has been through over 1,000 automated tests, and it has cleared with a 100% pass rate for more than 1 million products & 250 concurrent users.

The platform has a demo where you can test out the website's functionality. Their sales representatives also offer a one-on-one demo to explain the system better. However, Yo!Kart does not have a free-trial option available.
Inventory and Order Management
For managing inventory and orders, Yo!Kart has well-defined modules that help with seamless management and control. One such feature is catalog management that standardizes the products being uploaded to the marketplace. It also helps to reduce duplicity of data and cut down the process of adding the same product multiple times by different sellers. However, additions of products in the catalog for the admin is tedious work, as it includes multiple information and steps. Sellers can add products in the catalog with admin supervision.

The order management feature allows the owner and vendor of the website to manage the fulfillment and statuses of the orders. Shipping API's integrated within the order management module also help the admin in fulfilling the orders efficiently.
Customer Support
The Yo!Kart team can be rated as one of the best among most other eCommerce platforms in terms of customer support. The team ensures the client receives answers to all of their queries after purchasing the platform. Yo!Kart also provides ample literature in the form of manuals, FAQ's, and user guides. Moreover, Yo!Kart comes with free technical support to all their clients for 12 months.

A dedicated project manager is assigned to the client and communication is open on all major channels like Skype, phone, email, in-person, and more.
Design Options
Yo!Kart does have ready-made themes that are designed for various industries such as grocery, fashion, liquor, jewelry, etc. but these themes are available at additional charges. If the charges of the themes are compared to the price of the platform, then it might be on the expensive side.

Since it is a customizable multi-vendor platform, it allows you to change the look and feel of your website and/or apps according to your business requirements. The different packages of Yo!Kart allows for customization of some of the main pages.
Apps and Add-Ons
Yo!Kart is pre-integrated with essential API and add-ons needed for the business to run successfully. API like a currency converter, language translation, SMS gateway, Google Merchant API, Google Firebase, Google Analytics/Tag Manager, Facebook Pixel, QuickBooks, Mailchimp, and ShipStation are already integrated into the system. The platform can be integrated with any API or tool to suit your business requirements.

Mobile apps are readily available for Android and iOS for the buyers & sellers with additional features catering to mobile users.
Payment Options
Yo!Kart offers a limited number of payment gateways with the system, pre-integrated with more than 15 payment gateways which are available at no additional cost. These payment gateways cover the ones which are used globally. If there is a business requirement for any other payment gateways, the Yo!Kart team will include it at extra charges.

Pricing (One-time): 3 payment plans (starting at $999)
Yo!Kart Pros
Fully customizable & scalable
User-centered design
Ready to launch apps
Lifetime license, no recurring fees
1-year free technical support
Yo!Kart Cons
It takes time to learn/familiarize with Yo!Kart's platform
Themes are slightly expensive
Quick eSelling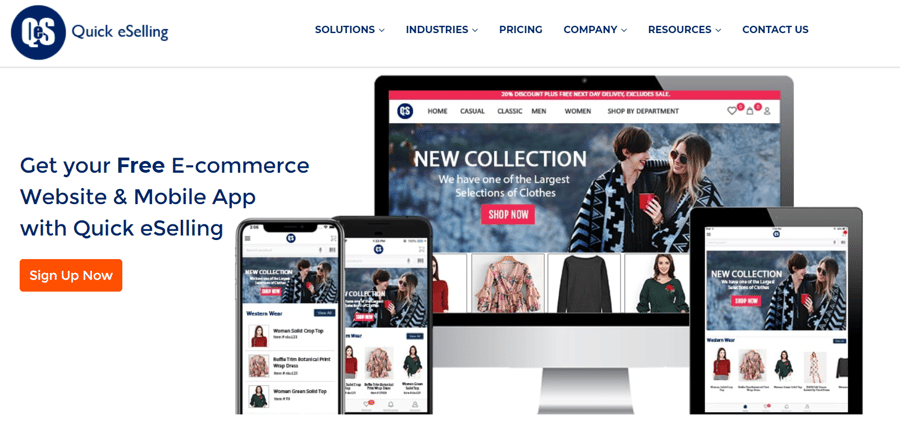 Quick eSelling is the best free ecommerce platform launched in 2015 to facilitate B2B and B2C eCommerce business needs. It comes with an easy-to-use CRM to manage your website and a mobile application, from a single dashboard. It has all the standard eCommerce features such as multiple payment gateways, multi-currency, responsive design, advanced order management, etc. that you need to run a successful online store. The platform is free to get started with, quick to set up, secured, robust, and beginner friendly.
Inventory and Order Management
Quick eSelling syncs the records of items and their quantities with placed orders. Orders can be managed with its easy-to-use interface that allows for upselling and cross-selling of products. The number of products in a store will vary according to your chosen plan. For example, you can upload up to 1000 products in the free plan. You can upload your products, along with images and details that will be displayed on the product's inner page. The product page has out of stock and price drop notifications as well.
Customer Support
This platform offers customer support by phone, email, live chat, and training. The online guides provided by Quick eSelling are also helpful for self-serve customer support. For higher plans, an account manager is assigned for customer support. Training videos are also provided on-demand to the customers.
Design Options
Quick eSelling has a set of inbuilt themes that can be used by customers. All the themes are easy to preview, publish, and switch. Inbuilt themes can be customized upon customer requirements. Additionally, themes can be customized from scratch at the custom cost.
Apps and Add-Ons
Quick eSelling provides ERP integrations and eCommerce marketplace integrations like Amazon to merchants. The platform comes with a variety of built-in features and plugins, but some merchants may need to get some features custom-developed which aren't built-in.
Payment options
Quick eSelling supports cash on delivery, cash & carry, credit cards, debit cards, and e-wallets. It also provides integrations with major payment gateways including PayPal, CC avenue, and Paytm. There are no charges for integrations.
Pricing: Free (5% transaction fee)
Quick eSelling Pros:
Free to get started
All standard eCommerce features are inbuilt
Quick to set up
Easy to use
Automated marketing solutions
SEO ready
Quick eSelling Cons:
Limited themes
Customizations at extra cost
Volusion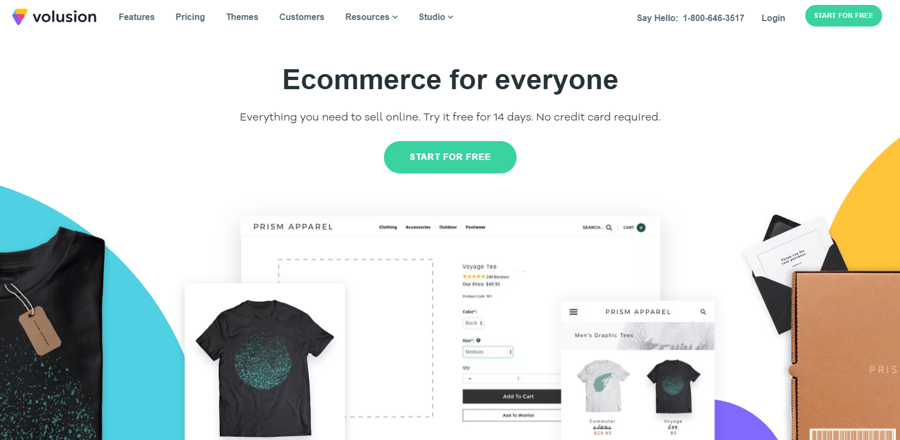 Volusion is another early entry in the eCommerce world, having launched in 1997. The platform is more focused on small businesses than BigCommerce, but has similar restrictions on how many sales you can make at each price level.
Volusion also has a lot of extra fees for features that are required for any modern eCommerce store, such as SSL certificates and PCI compliance fees. These things are necessary for the security and peace of mind of your customers, so you don't have a choice but to pay the fees.
SSL certificates are also necessary if you want your site to show up in the search results since Google is starting to block sites that don't have one.
Inventory and Order Management
Volusion limits the number of products you can add to your store on all plans except the top Business package. Its Personal plan only supports 100 products and the mid-range Professional plan support 5,000.
Like BigCommerce, Volusion places very low limits on the total sales you can process at each level of service. You're forced to move to a higher level if your sales exceed the limit, even if you don't need any of the other extra features. These sales limits are easy to reach, meaning that plan upgrades can come much earlier than you may have expected. For scale, their Business plan costs $299/month, but imposes a low yearly sales limit of $500,000.
Customer Support
Volusion offers a different level of support in each of their plans. The Personal plan only provides online support, the Professional adds phone support, and the Business plan includes "VIP" support, which is another way of saying the lower plans get treated as less important.
Design Options
Volusion only includes 11 free themes to choose from, once again limiting your options and forcing you to either spend extra money or have a store that looks like many others.
Even its premium themes are limited though, with only 34 to choose from. In most cases, the themes look a bit dated, so you'll probably end up spending money on custom design work as well.
Apps and Add-Ons
Volusion has a limited number of integrations available and doesn't have nearly the support from third parties that other platforms can offer. If the feature isn't built-in, you'll quite likely have to spend money to have it custom-developed (or go without it).
Payment Options
Volusion's limited integration also extends to its supported payment gateways. It supports less than 40 payment providers, limiting your options considerably.
There aren't any extra transaction fees though, so you'll only pay the payment service, not the eCommerce platform as well. However, like Shopify, Volusion offers their own proprietary payment service called Volusion Payments - transaction fees start at 2.15% + 30¢.
Pricing (monthly): $29-$299
Volusion Pros:
No extra processing fees
Good SEO tools
Supports recurring payments
Volusion Cons:
Volusion pricing includes too many extra fees - SSL certificates, PCI support, etc.
Doesn't support digital downloads
Limited theme selection
Limits on how many sales you can process on each plan
Wix
Wix is a popular website builder that added eCommerce capabilities to its platform, but it has limited eCommerce support compared to the rest of the platforms in this list.
It also has storage limits with each of its plans, which can limit the number of images and the amount of information you can store on your site.
Inventory and Order Management
Wix lets you accept payments on your website, but it's not set up for managing more than a handful of products. There are no inventory management features to speak of and you're not even able to issue refunds through your store.
Customer Support
Wix has good customer support, but only offers support through an online ticketing system. It has a large knowledge base of information if you want to find your own solution; however, there's no option for live support, chat or telephone.
Design Options
The range of themes available with Wix is its strongest selling point. It's more focused on being a site builder than an eCommerce platform and it shows in the range of themes.
Apps and Add-Ons
Wix has a large app market with both free and paid options. However, the majority of these apps aren't built for eCommerce stores. Most of them are intended for use on content-based sites, not eCommerce sites.
Payment Options
Wix offers a limited number of payment integrations, focusing mainly on credit cards and PayPal. Once again, with eCommerce being more of an afterthought, there's a limited amount of support for this important component of your store.
Pricing (monthly): $20-$35
Wix Pros:
Large number of support articles on the Wix support site
Large selection of attractive themes
Wix Cons:
General lack of important eCommerce features
Most add-ons aren't relevant to an eCommerce store
No live customer support options
Storage limits
Which is the Best eCommerce Platform?
After comparing these five eCommerce platforms, we believe Shift4Shop is the best option for nearly every eCommerce store. With more built-in features than the rest, a much better selection of themes for your website design, a full-featured free plan, and top-notch customer support, you'll be getting the best platform for your eCommerce store.
But you don't have to take our word for it. Sign up for a free store today and check out all the features for yourself.