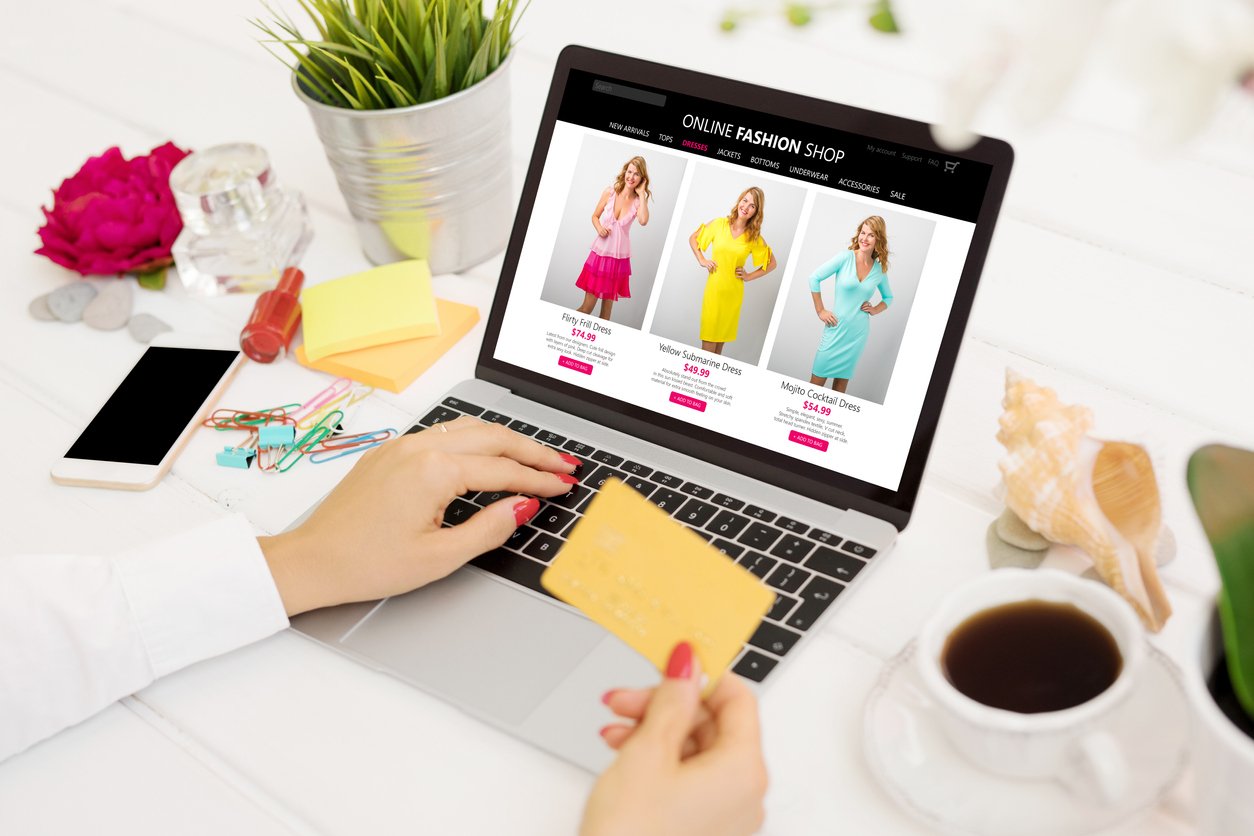 If you sell products online, I bet the following thought has crossed your mind more than once:
"How can I get consistent (and hopefully free) traffic to my product pages?"
The answer, of course, is search engine optimization, or ecommerce SEO in this case. Given time and effort, optimizing your product pages is truly worth it.
A study conducted by Chitika revealed that the first result on Google searches receives almost double the impressions of the second result.
Almost double!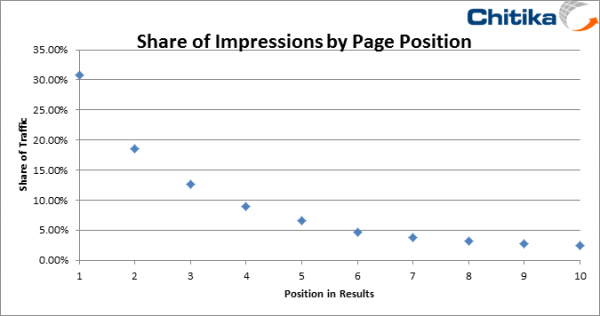 The higher you rank, the more product you will sell, period.
But, unless you're an SEO veteran, it can be very confusing to know what to do and what not to do. The internet is full of conflicting and often outdated search optimization tips and tricks.
In order to save you from all that confusion, today we'll cover every little thing you absolutely need to know about effective product page SEO.
Let's dive in!
Optimize Your UX For Better SEO Results
We're no longer in the "bronze age" of the internet. Ugly looking, keyword-stuffed pages no longer show up in search results. Private blog networks don't work. You get the idea.
These days, UX and SEO are inseparable.
Google favors your page when your visitors start spending time on it and hitting the "Purchase" button frequently.
That, of course, is the whole point of offering great UX (user experience) from an SEO standpoint.
Better UX generates lower bounce-rates, better time-on-page, and more conversions.
As you might imagine, that leads to better organic exposure. So, it's a positive feedback loop.
Let's cover some of the most important ways you can improve the user-experience on your product pages.
Employ HD imagery
Online shoppers want to "feel" the product -- by seeing it from different angles, touching it, and smelling it.
They hate with a passion when they can't. Research has revealed that right after paying for shipping, not being able to "try" the product is the second most hated aspect of online shopping.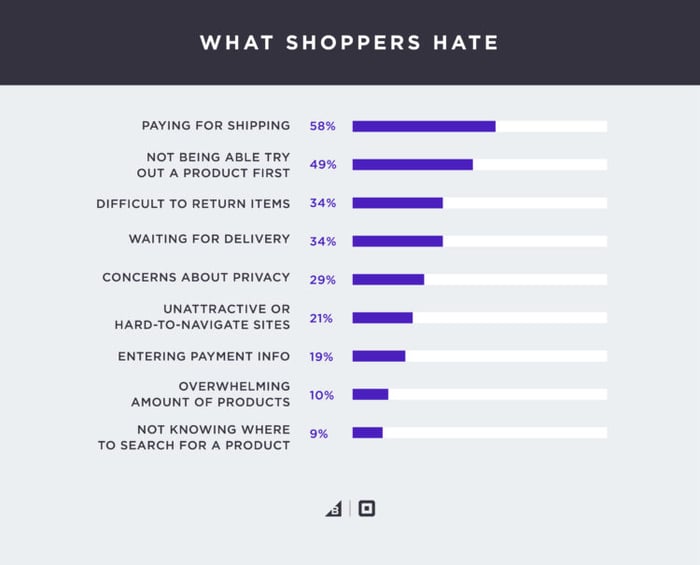 No wonder the first thing they expect is to see is a nice clean image of what they're going to buy. Furthermore, good luck trying to sell product if your images are pixelated or grainy. Users expect clear, high-resolution images.
Having an HD-quality, well-lit feature image on the product page is non-negotiable. If you feel that your photo could be better, ditch it and take another one.
On top of that, go ahead to include another 3 to 4 HD-quality photos so that customers can get a better appreciation of the product by looking at it from different angles.
If you stopped here, you should be alright. But if you want to take it to the next level, consider using 360-degree shots.
These images offer even more flexibility in terms of viewing angles, and it can be both fun and engaging for potential customers.
Here is a great example to learn from.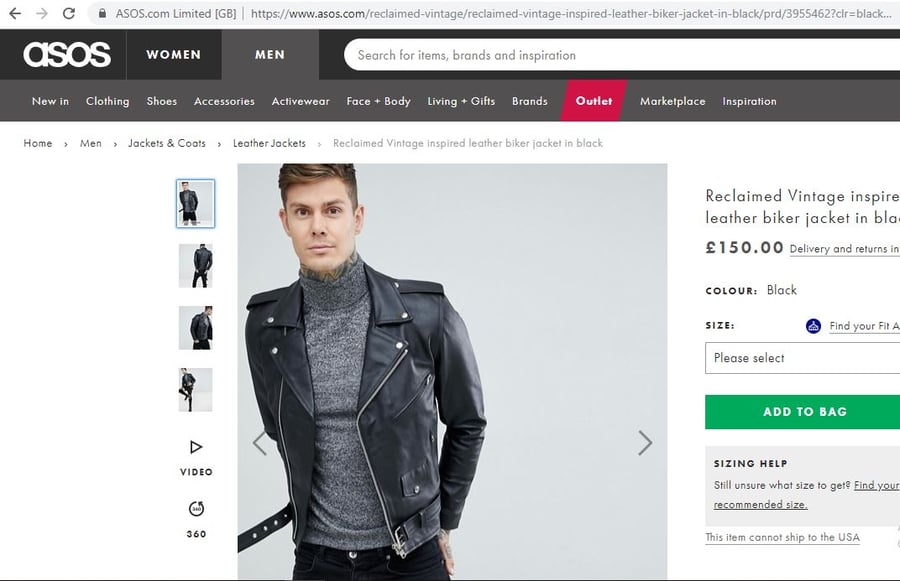 Featured image? Check. Quality? Check. 360-degree and product video? Check.
Asos takes the art of using images to perfection.
Gather user reviews
Ever read Persuasion by Robert Cialdini? (If not, give it a read.)
Social proof is one of the fundamental pillars of persuasion. This means that it's far easier to sell any product or service if it's already been purchased and talked about by people beforehand.
For brick-and-mortar local businesses, this usually means word of mouth. But, when it comes to online, we're talking about user reviews.
According to Econsultancy, reviews can increase sales by 18% on average.The same research also concluded that user reviews are 12 times more trusted than sellers' descriptions.
Long story short, you need to implement a user review feature if you want to truly optimize your product pages for better exposure and more sales.
Even the most basic approach will work, but if you want to stand out and add some creativity, it wouldn't hurt. Check out how Two Leaves and a Bud has innovated in this regard.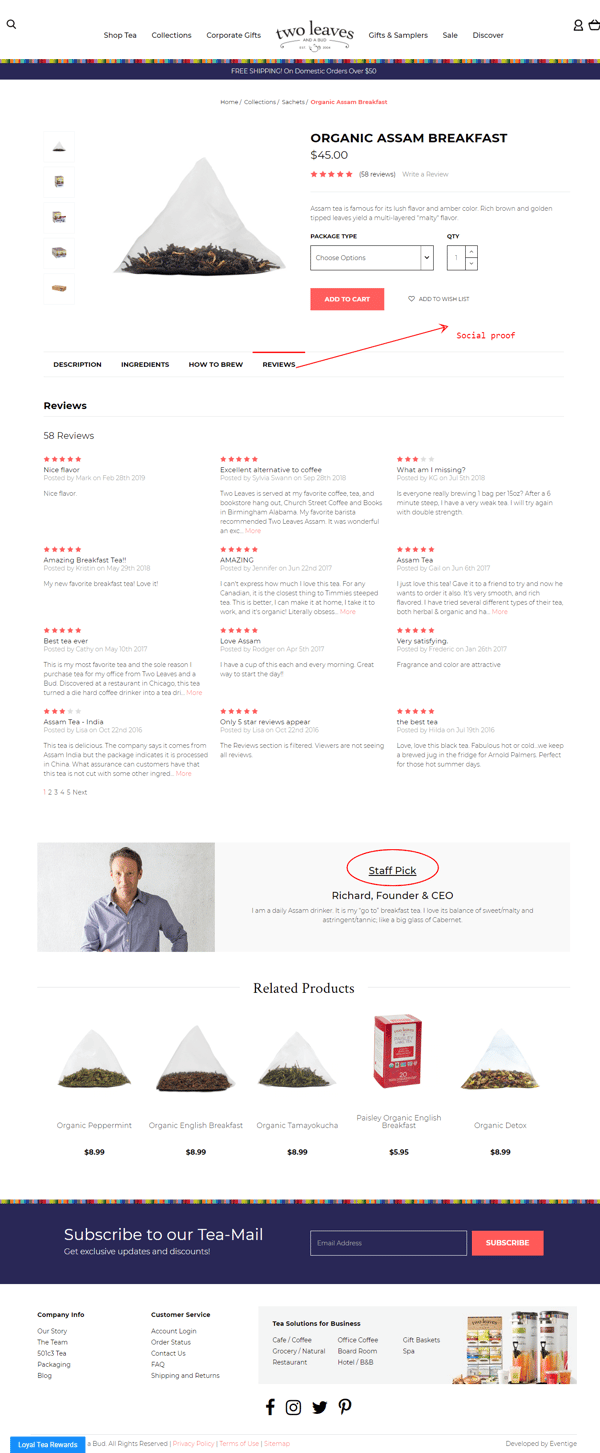 As you can see, they've included a "Staff Pick" section, right next to buyer reviews. That's a brilliant way of humanizing your company and making it more relatable.
Leverage targeted product suggestions
Most e-commerce sites have a section dedicated to similar products for a reason.
Inviting visitors to check out a new set of products increases the chance of conversion and time spent on the site. Both of these factors directly influence SEO.
You can display suggested products on the page in 3 ways:
Similar products: Products which belong to the same category of the featured product.
People also viewed: Products which piqued the interest of the previous visitors. According to a study by Marketing Sherpa, this kind of recommendation generates 68% of total e-commerce sales.
Related products: Products which may not be in a similar category but fit a theme.
Rely on real-time data (gathered using cookies) or historical data to determine which specific products to showcase and in what order.
Develop appealing user videos
One of the main advantages brick-and-mortar stores have over online stores is that buyers can see, touch, and feel the products.
The internet is full of horror stories of massive mismatches between what was shown and what people unboxed. For over 50% of e-commerce buyers, this is the biggest concern.
While online stores usually can't physically present items to potential buyers, we can certainly get close.
Product videos are likely the single best way to do this. Almost 80% of buyers feel more confident to make purchases after watching videos. And 58% of buyers trust brands with product videos more than the alternative.
It's also worth noting that product page videos can generate traffic via video search results!
If you don't have them set up yet, start by using product videos shot by manufacturers. No excuses, please!
That being said, creating product videos on your own is always better. You will have total control over the script, storytelling and production.
Take a look at GiantTeddy's product pages for inspiration.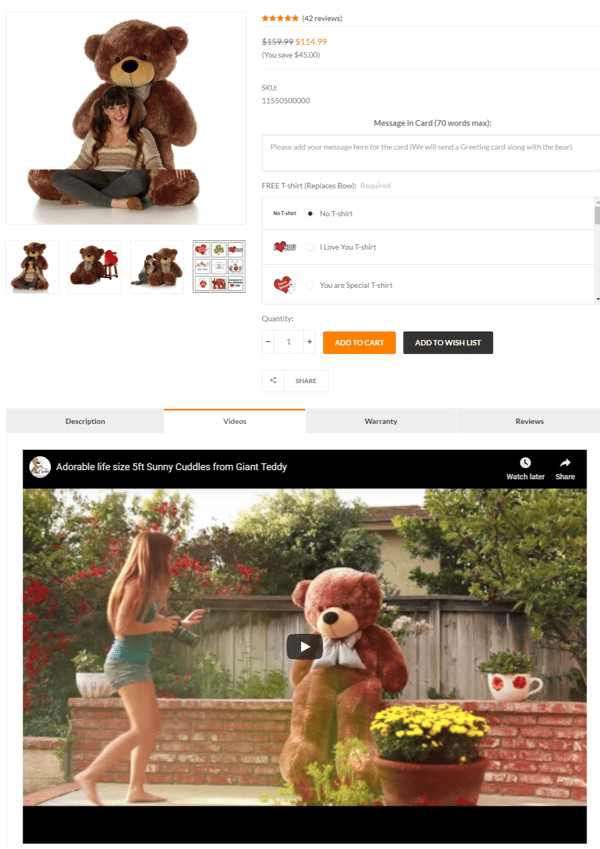 Let users customize their products
If you are offering items in different sizes, colors, and shapes, allowing customers to design their own products dramatically improves the experience.
Smart personalization is red hot for a reason: it gives consumers the power of choice!
Keep in mind, the shorter and smoother each option is, the more likely it will get customers hooked. You don't need to offer hundreds of colors or accents. A few carefully selected options should do just fine.
Fossil is a great example of product customization done right.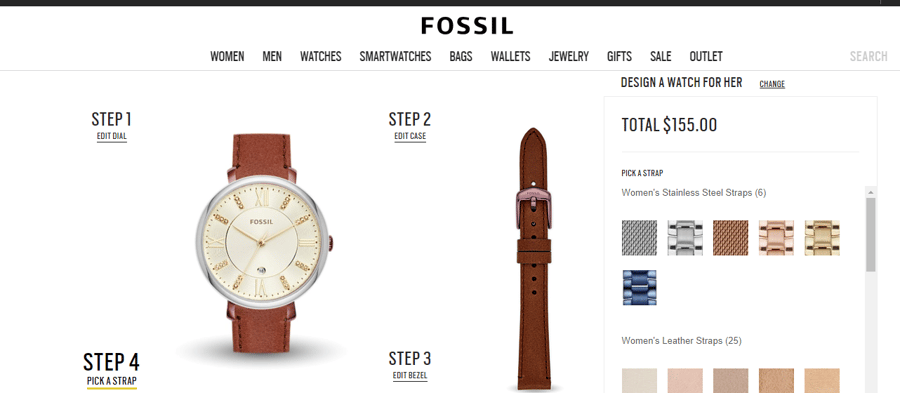 Optimize Description Texts
Look at any large e-commerce website and you'll see that they've written all of their own product descriptions.
They didn't just copy and paste them from manufacturer sites.
Given that they likely have hundreds of items for sale, why on earth would they go through the trouble of writing descriptions for all of them? Simple, it increases sales and repeat visits.
A well-written description serves 3 purposes:
It provides info about the featured product.
It helps Google's algorithm understand what the product page is about.
Most importantly, it enables you to include keywords and make the text persuasive using copywriting principles.
Some new marketers delude themselves into thinking that copying and pasting product descriptions from manufacturers' sites is "good enough.
Spoiler alert: it's not.
Apart from having subpar content, if the manufacturer's site has a higher domain authority (it probably does), Google will completely ignore your own product pages.
So… what's the take-home lesson? Always write your own descriptions!
In case you are bored with "Amazon-style" long walls of text, you can always play with site design to make descriptions more creative and concise.
The folks at Bonne Gueule really know how to spice up otherwise bland product descriptions.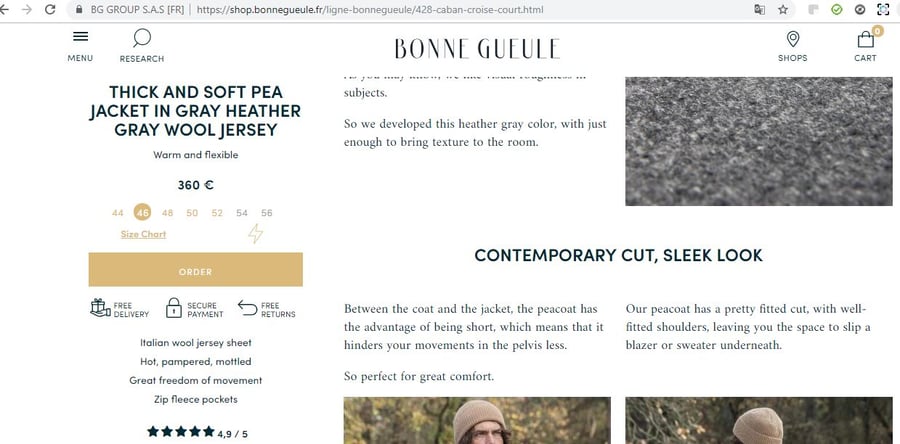 Do Your Keyword Research
While UX is important, the ultimate success or failure of your SEO efforts will likely depend upon the results of your keyword research.
Without putting in the required time (or hiring an expert or agency to do it for you), you're condemning yourself to literally take shots in the dark.
To be fair, keyword research is a fairly complex subject, and one that requires a complete guide of it's own. We've written just that for those of you that are looking for a more in-depth read.
But let's cover the basics here, so you'll know enough to be dangerous!
Start by looking at your products and services. Type some of them into Google, and see what some of the suggested searches are.
Track all of them in a spreadsheet, and then use a free tool like Answer The Public to see what questions people have about your target keywords.
Next, you'll need to get some data about the keywords you're interested in. Particularly, you need to know search volume and how competitive they are.
Many marketers chase after very competitive & high volume terms. In general, this isn't a sound strategy for most eCommerce store owners.
You likely can't outrank e-commerce giants like Amazon.
Instead you want to look for "long-tail keywords." That just means that they're slightly longer keywords, that are focused and likely a bit lower volume.
By taking this approach, you'll have a fighting chance to rank for targeted keywords.
Keep in mind, there's an art and science to keyword research. You want to find the balancing act between low-competition and decent search volume. There's no magic formula.
But remember, if you choose smart long-tail keywords, the traffic will be high-quality, and more likely to convert!
For an example, check out how Perfect Keto focuses their product page copy on a few specific keywords.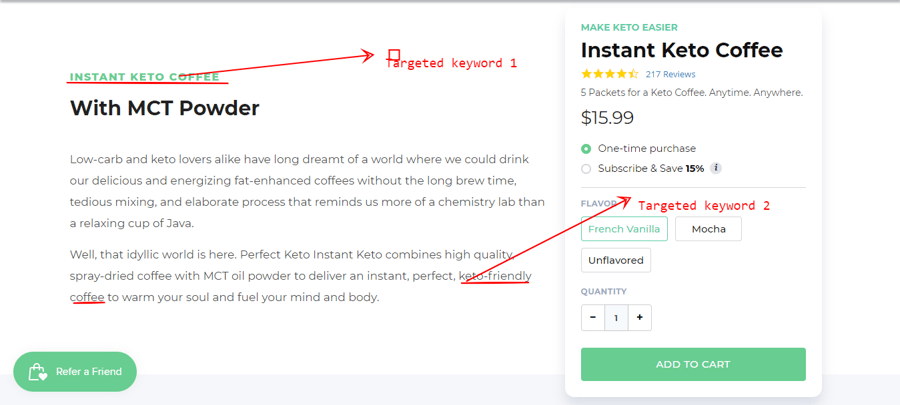 Notice how they are targeting relevant keywords by optimizing well-written content. The following should come as no surprise...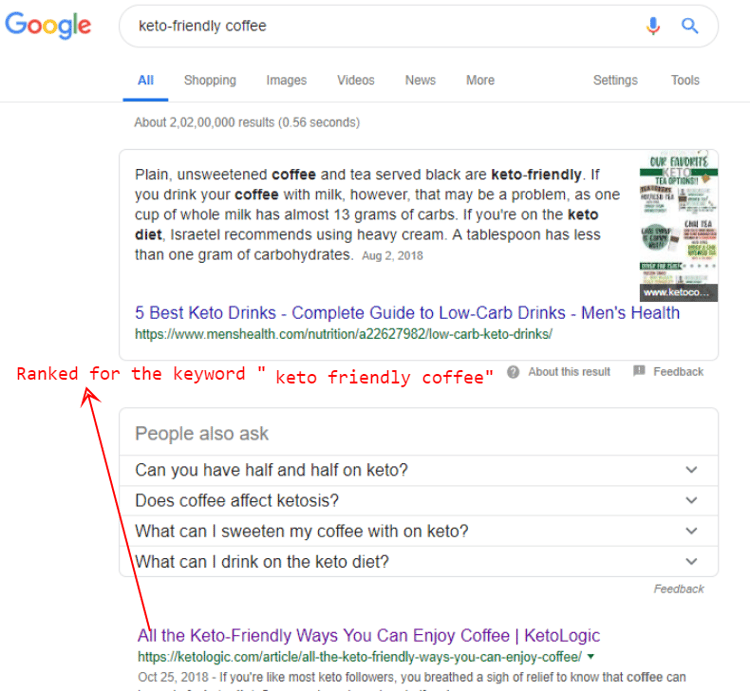 Top ranking for the term "Keto-friendly coffee." Nicely done! Also...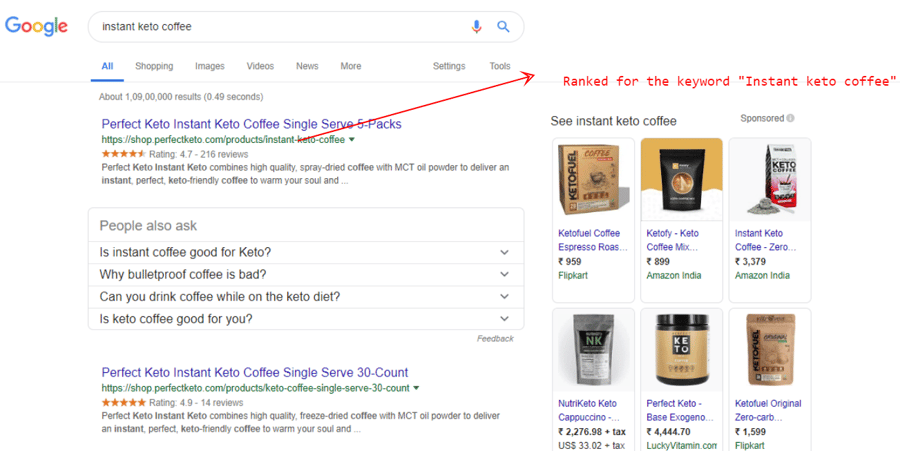 #1 ranking for the second keyword we highlighted: "Instant Keto coffee."
Writing unique descriptions for each product can be tedious, but it's a small price to pay for securing top rankings.
Add Schema Markup
Take a look at these two listings...

Even if that first result were lower down the page, you can bet it would have a higher click-through rate because of those beautiful review stars!
They're attention-grabbing and they offer more info right off the bat.
Schema markup is one of the underrated aspects of product page SEO. It is, simply put, a way to highlight certain data about your product for improving your snippets on search engine result pages, or SERPS, and helping Google understand your page.
Schema markup has been shown to increase click-through-rates by up to 30%. That means more traffic, more sales, and better rankings.
The truth is though, you will need to learn how to use it. Or, have access to an on-demand webmaster of course.
So, rather than get into the nitty-gritty of how to code it in this article, we'll refer you to this complete guide courtesy of 3dcart.
Here are some of the most common (and recommended) properties you can include in your markup:
Name
Description
Offers<price
Offers<PriceCurrency.
Whether you endeavor to do this yourself, or hire a developer to help, it's well-worth the investment.
Avoid "Keyword Cannibalization"
Considering how often we see this problem crop up amongst our clients, it's surprising that the SEO community doesn't talk about it more often.
In short, keyword cannibalization refers to a specific situation that arises when multiple pages from the same website target the same keywords.
As you might imagine, it can confuse the Google algorithm, and all too often the "wrong" pages may end up ranking higher than your most important pages.
In the case of eCommerce stores specifically, Google could push less profitable product pages (or long-form content) higher up in the SERPs than your top-rated product pages!
Bad news, right?
Don't worry though, there are a few ways you can deal with keyword cannibalization:
De-optimize
Suppose you have two product pages optimized for the same keyword. You don't want to delete either of them because both of them bring traffic.
In this situation, you can de-optimize the page of lesser priority. The best way to do that is to edit the content and remove/alter the pages that target undesirable keywords. Giving internal links rich anchor text can also help.
Merge
What if de-optimization failed to do the job and the issue still persists? Next, you might consider merging two pages.
You can take both pages, merge their content to make one "super page" and employ a 301 redirect for the page you're removing. That way you won't lose any potential SEO value from the deprecated page.
Delete
If one low-quality page eats up a profitable page, don't hesitate to hit the delete button. Sometimes it's the fastest and easiest way to fix an issue.
Use canonical tags
You might also end up in a situation where you can't or won't remove any pages, even if they're very similar/
Using canonical tags is likely the only way out in this situation.
In a very practical sense, canonical tags are a way to tell search engines which version of a URL you want to be indexed.
Suppose you have two links:
• https://www.abc.com/men/red-tshirt/
• https://www.abc.com/men/red-hot-tshirt/
First, pick the url you want to rank. We will call it the canonical. For this example, we'll treat the shorter URL as the canonical.
The next thing to do is add a rel=canonical link from the non-canonical page to the canonical page.
It would look something like this:
<link rel=" canonical "href="https://www.abc.com/men/red-shirt/" />
You can think of canonical tags as a sort of redirect for search crawlers only.
Your visitors won't be redirected. But, the search engine will count both URLs as the single canonical version of the URL.
Earn & Build High-Quality Links
From the earliest days of search engine optimization, there have been link-building strategies, schemes, and experts.
These days, it's a balancing act. If you try to cut corners and employ cheap or out-dated methods, you can easily end up getting your site devalued or deindexed.
Invest time and energy in earning high-quality links and the benefits will be tangible.
Here are three commonly used white-hat ways to start building links to your eCommerce product pages:
Find competitors' backlinks:
Stalk your competitors' backlinks profile using tools like BuzzSumo or Ahrefs. You'll find a list of sites/forums that have linked your competitors' product pages. Reach out to those website owners to get your link placed in their content as well.
You can ask your manufacturer to link back to your product pages. Many manufacturers have a page that mentions every store (online or offline) that stocks their products. If you are not already mentioned, you can reach out to them and request inclusion.
Niche bloggers often link relevant products (not affiliate links) to their site. This is a huge opportunity!
Follow their content and reach out to them for links or even influencer marketing. Backlinks from popular niche blogs will certainly win you the favor of Google's algorithm.
Optimize Your URLs
URL structure is a soft SEO factor, but it definitely matters. Although this is technically a part of UX, it deserves its own callout.
Take a look at the following URL:

Kind of a pain to read right? Doesn't make a whole lot of sense.
Now, to be fair, Amazon doesn't need to worry about this kind of thing, but you do.
Customers tend to click more on links that look like they are from a reputable website.
Rebrandly discovered that, with more "genuine looking" structured URLs, click-through-rates can improve up to 39%. Given the fact that 63% of visitors prefer sharing on dark social channels, this increased CTR makes a real difference.
So roll up your sleeves and start tweaking your product URLs.
I'd suggest you follow this pattern if you are new to the SEO game:
Yourdomain.com/category/sub-category-1/Sub-category-2/product
Pretty easy, right?
Here are some more rules for the perfect product URL:
Keep it short and simple.
Include targeted keywords and product attributes, like the color.
Don't use "a," "an," or "the" in the URL.
Stick to lowercase letters.
Fossil pays attention to its URLs; check out this beautiful organization!

Spend Time Picking Smart Images
As we covered earlier, images are a crucial part of your product pages. You would be doing yourself a disservice if you don't pay attention to them.
Like URL structure, optimizing images isn't going to make or break your SEO -- at least not directly. However, image quality and size do influence UX and site speed -- two top tier ranking factors.
So, improving your images should definitely be on your SEO to-do list.
Getting the best out of your images isn't rocket science. All you have to do is:
Size down your images: Any decent product page has at least 3-4 HD-quality images. However, large HD quality image files slow down site speed.
Apps like TinyPNG help to eliminate this issue. These image optimizing apps leverage compression, which can dramatically reduce file sizes without compromising image quality.
Use Alt text: Alt text has only one purpose. It helps search engine crawlers understand what an image is showing to users. So, be sure to include your relevant keywords in these!
But remember: don't keyword stuff. Just use natural language and variations of your keywords as appropriate.
Use meaningful image names: Name your image file in a way that it makes sense. That means IMG10336 isn't going to cut it.
Take a few minutes to properly title your images (inclusive of your keywords when appropriate) and your images are likely to start showing up in Google image searches.
Improve Your Meta Descriptions
Think of each product page meta like a tweet about the page. It's got to be 160 characters or less, and should both entice viewers to click and accurately describe what the page is!
While it is definitely easier to use a cookie-cutter meta description, it's not going to help you much. You're probably noticing a pattern here…
Instead of cutting corners, invest time in writing unique meta descriptions for at least your most important and high-profit product pages.
Use your keywords naturally, optimize the text length, and be convincing!
Some things that can help earn a click and a new visitor are:
Discounts
Free shipping and warranties
Any special offers
Take a look at this snippet to see what I mean...

Great callouts, clean and easy to read, and it includes the keyword I typed into Google (Mens sweatshirt red).
Conclusion
Give yourself a pat on the back if you made it this far. I know it's a lot to take in.
The truth about product page SEO is that it takes time, hard-work, and persistence.
However, if you take the first steps, and make a regular habit out of including the tips and tricks above, you'll be well on your way to dominating the search results.
Good luck!