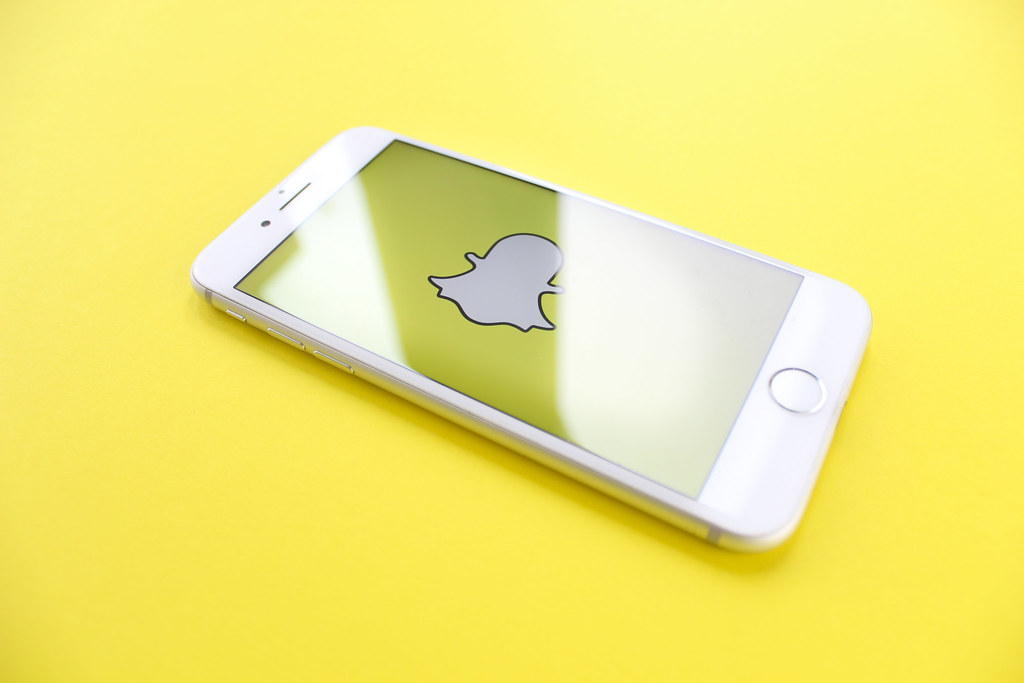 When Snapchat hit the scene back in 2011, it shook the social media world by taking an entirely unique approach to social sharing. Today, Snapchat is one of the largest social media apps in the world and has influenced almost every other social media platform to adopt similar practices.
Unfortunately, many advertisers still seem to underestimate how powerful Snapchat is. Let it be known that ignoring the potential of advertising on Snapchat is a mistake – especially since the app is leading the way in terms of branded media engagement and targeting technology. If your business is looking for a new way to reach a younger audience, then advertising on Snapchat is the way to go. So, let's take a look at how Snapchat Ads really work and how your business can take advantage of them with the Snapchat Ads Manager.
What are Snapchat Ads?
Like most other social media platforms, Snapchat allows advertisers and business owners to pay for ads that will be shown to its users alongside organic content. But, just like Snapchat is a unique social media app, its ad platform offers exclusive forms of advertising that allows your brand to engage with audiences in a new and fresh way. Here's a few of the best Snapchat Ads that you can find in the Snapchat Ads Manager.
Snap Ads
If you're just starting out with advertising on Snapchat, then focus your energy towards creating great Snap Ads. These ads are full-screen vertical videos or images that last, at most, 10 seconds and play with sound. Sandwiched in between Snapchatters' stories, these ads are meant to make a quick impact and will be where you'll see most of your impressions. Each Snap Ad includes an option for users to swipe up and see more information, which can either be more in-depth content (like longer videos up to 10 minutes) or a link to your website – all while still in the Snapchat app.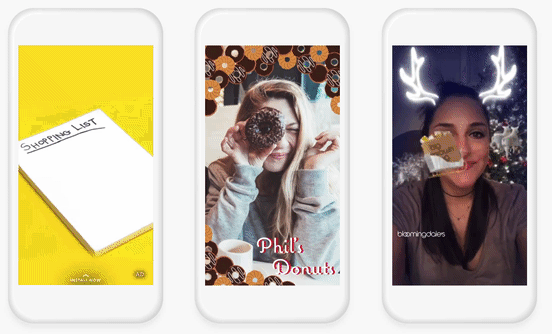 Collection Ads
Similar to Snap Ads, Collection Ads fall between Snapchatters' stories. However, as the name suggests, they showcase a series of up to 4 different products within thumbnails to help users easily learn more about your products, or even buy one that they like. Advertisers can create Collection Ads easily by uploading their product catalog or feed into the Snapchat Ads Manager via a CSV file import.
Story Ads
Rather than popping up in between Snapchatters' own stories, Story Ads show up in the Discover Feed of the Snapchat app. Story Ads are much more flexible and allow for longer advertising time, giving you the opportunity to upload anywhere from 3 to 20 consecutive images or videos. Story Ads are a great way to showcase a series of products in a bite-sized, easy to consume way in more time than a Snap Ad or Collection Ad.
Filters & Lenses
Best used to build brand-awareness, filters and lenses are fun tools that Snapchatters can use when they're creating snaps. Sponsored lenses can use AR technology to interact with a user's face or surroundings to bring them a fun, interactive experience with your name on it. Geo-filters can be added to a user's snap after it's taken, typically only available in specific geographical locations that you determine. Filters and lenses are best used for brick-and-mortar stores that want to make people nearby aware that their brand exists in a unique way.
Dynamic Ads
As the newest addition to Snapchat's ad roster, Dynamic Ads are meant to be an evolution of Collection Ads that use advanced targeting powered by the Snap Pixel. Advertisers can use built in templates to create different types of ads that are purely designed to advertise your products. Dynamic Ads benefit greatly from custom audience retargeting because they allow advertisers to select specific audiences that are then automatically targeted for prospecting or re-engagement.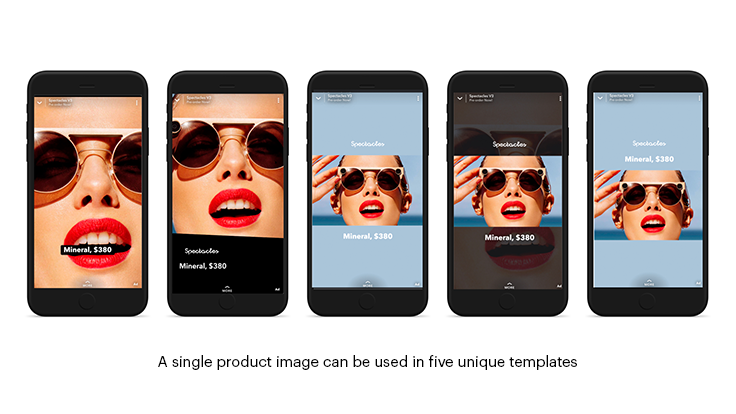 These ads are "dynamic" because they automatically adjust themselves whenever your products change in price or availability, meaning you don't have to change every ad whenever your products change. You also don't have to create a new ad for every product because that's done for you too – all you need to do is upload your product catalog and your ads are kept up-to-date automatically.
Why Should You Create Snapchat Ads?
There's a long list of unique benefits to advertising on Snapchat, which can be mostly boiled down to three main positives: a huge audience, strong targeting, and engaging experiences.
Access to a Huge Audience
Snapchat is easily one of the most overlooked platforms by advertisers – especially when you consider how large it's audience really is. Reaching 90% of all 13 to 24-year-olds and 75% of all 13 to 34-year-olds in the US, and garnering an average of 210 million users daily, Snapchat is an app that you can't ignore as a digital advertiser or eCommerce merchant. But Snapchat's audience isn't just huge; their users are also dedicated to the app, spending an average of over 30 minutes on it and creating over 3.5 billion snaps daily. If you're looking for a powerful way to get in touch with a younger, more engaged audience, then you need to look into advertising on Snapchat.
Extensive Targeting & Retargeting
Snapchat Ads allows advertisers to hyper-segment their ad's audiences so that ads get delivered to the right users. You're able to segment your ads to target based on age, gender, language, net worth, relationship status, and much more. To get even more specific, you can retarget Snapchatters who've already seen your ads by building Custom Audiences based on data unique to your business. Snapchat supports audiences built from your customer lists, lookalike audiences, saved audience templates, third-party audiences (using Oracle and Nielsen data), data from your Snap Pixel and more.
Highly Immersive Ad Experience
Unlike most other social media platforms, Snapchat gives ads full screen exposure within the app. When you create an ad for Snapchat, you're not just putting together a small static graphic that can be easily overlooked by a casual user. With Snapchat Ads, you're creating audio-visual experiences that call Snapchatters to engage with your brand and the products or services you have to offer. Snapchat Ads have sound and are usually animated in some way, taking over a user's entire screen with a visually interesting representation of your product. Calls to action are embedded within the ad and easy to interact with, encouraging the user to learn more and shop.
How to Create Ads in the Snapchat Ads Manager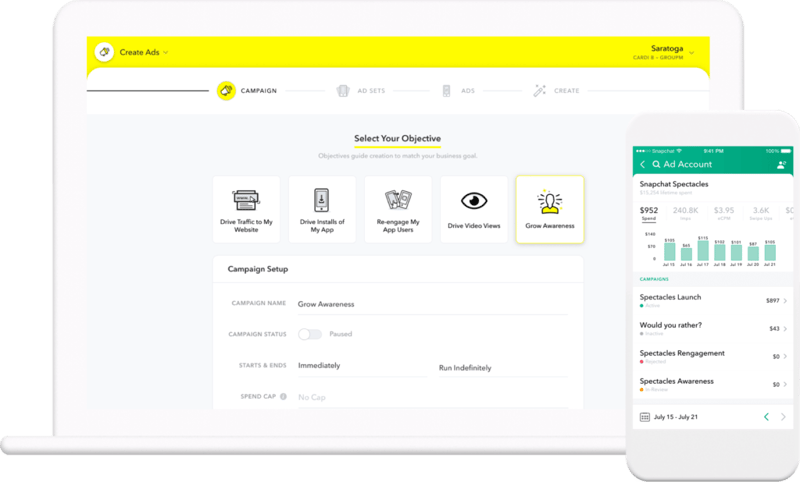 So, let's get down to business: how do you start creating Snapchat Ads? Just like their app is easy-to-use, so is Snapchat's Ads Manager. Once you've made an ad account, you can get started creating campaigns, choosing audiences, and determining budgets in the Ads Manager. Let's get into the three most important things you'll need to advertise: a Snap Pixel, Snapchat Ads, and campaign monitoring.
Install Snap Pixel
Similar to the Facebook Pixel, Snapchat provides advertisers with a Snap Pixel that can be installed into their website for real-time campaign tracking. The pixel is a piece of JavaScript code that can measure the effectiveness of their campaigns across multiple devices and sessions. Designed to show advertisers how many Snapchatters are taking actions on their site after coming across one of their ads, a Snap Pixel is a great way to measure direct response goals within advertising campaigns. Snap Pixel is also incredibly useful for setting up retargeting campaigns by allowing you to target individuals who have already seen and interacted with your brand.
To install a Snap Pixel, follow these steps:
Navigate to "Snap Pixel" within the Snapchat Ads Manager.
Click on "Create my Snap Pixel."
Click on "Set up my Snap Pixel."
Copy and paste the Pixel snippet code into your website's <head></head> tags.
Upload Your Product Catalog
If you're running an online store, you'll want to create product ads that directly promote what you're selling. Three types of Snapchat Ads can be product ads: Collection Ads, Snap Ads, and Story Ads. Before you can create these ads, you'll need to have uploaded your products into the Ads Manager.
By uploading your store's inventory via CSV file, you can create product ads directly within the Snapchat Ads Manager that stay synced to your line-up in real-time. To upload your product catalog, follow these steps:
Select "Catalogs" in the Ads Manager.
Click "Create Catalog."
Download the CSV file template and fill in your product information.
Upload the completed file to the "Upload Catalog" section.
Now that your product catalog is uploaded, you can create product ads!
Create Your Ads
Within the Snapchat Ads Manager, you have two options to create an ad with: Instant Create or Advanced Create. Instant Create, like the name would suggest, is a quick and easy way to make a single Snapchat ad in less than 5 minutes. Today, we'll take you through how to use Instant Create:
Click on "Quick & Easy."
Start designing your Snap Ad by giving it a name, adding your brand name, and writing a headline based on the product you want to advertise.
Ensure that Snap Pixel is enabled.
Toggle the Shareable option depending on whether you want Snapchatters to share your ad or not.
Either upload your own media with the "Upload" button or build off of pre-designed creative templates with the "Create" button.
If creating a Snap Ad with Create, then select a template and add required assets such as logo, product frame, images, price, product name, etc.
Select your desired ad attachment (website, app install pages, AR lenses, etc.) and Call to Action.
Specify who you want to target your ad towards by selecting locations, ages, genders, interests, and more.
Add all duration and budget details, including goal and bidding preferences.
You also have access to a more detailed method of creating ads with the Advanced Create tool. This option is meant for all types of Snapchat ads Snap Ads, Story Ads, Collection Ads and Filters.
Manage Ads & Monitor Campaigns
Once your ads are up and running, you can use the Snapchat Ads Manager to monitor your campaign's overall performance and download metric reports. There are a few different types of metrics that you can look at from within the Ads Manager, so we'll go through the most important ones:
Delivery Metrics: These will be your total impressions, 2 second & 15 second video views, number of completions, and average screen time.
Spend Metrics: Here you can monitor your total ad spend, eCPM (average cost per 1,000 impressions), and eCPV (average cost per qualified video view).
Attachment Metrics: These include total attachment view time, number of swipe ups, swipe up rate, eCPSU (average cost per each swipe up), and average attachment screen time.
App Install Metrics: This section is only relevant if you've added an app install page to your ads, as it tracks number of installs, install rate, and eCPI (average cost per each app install).
Conversion Metrics: Here you can monitor how your ads are converting by looking at return on Ad spend, purchase value, number of purchases, number of saves, number of times a user added items to their cart, page views, searchers, sign ups, content views, app opens and more.
Wrapping Up
When it comes to social media marketing, it's not about being on every single platform known to man. You need to know and understand your audience and determine what platforms they're using so you can stick to being present on those select few. If you're mainly B2B and your target audience is individuals in their 50's and 60's, then advertising on Snapchat probably won't get you the ROI you're looking for. But, if your business is looking for a way to target and engage with a young audience that's mobile-savvy, then building Snapchat Ads is definitely something you should look into.