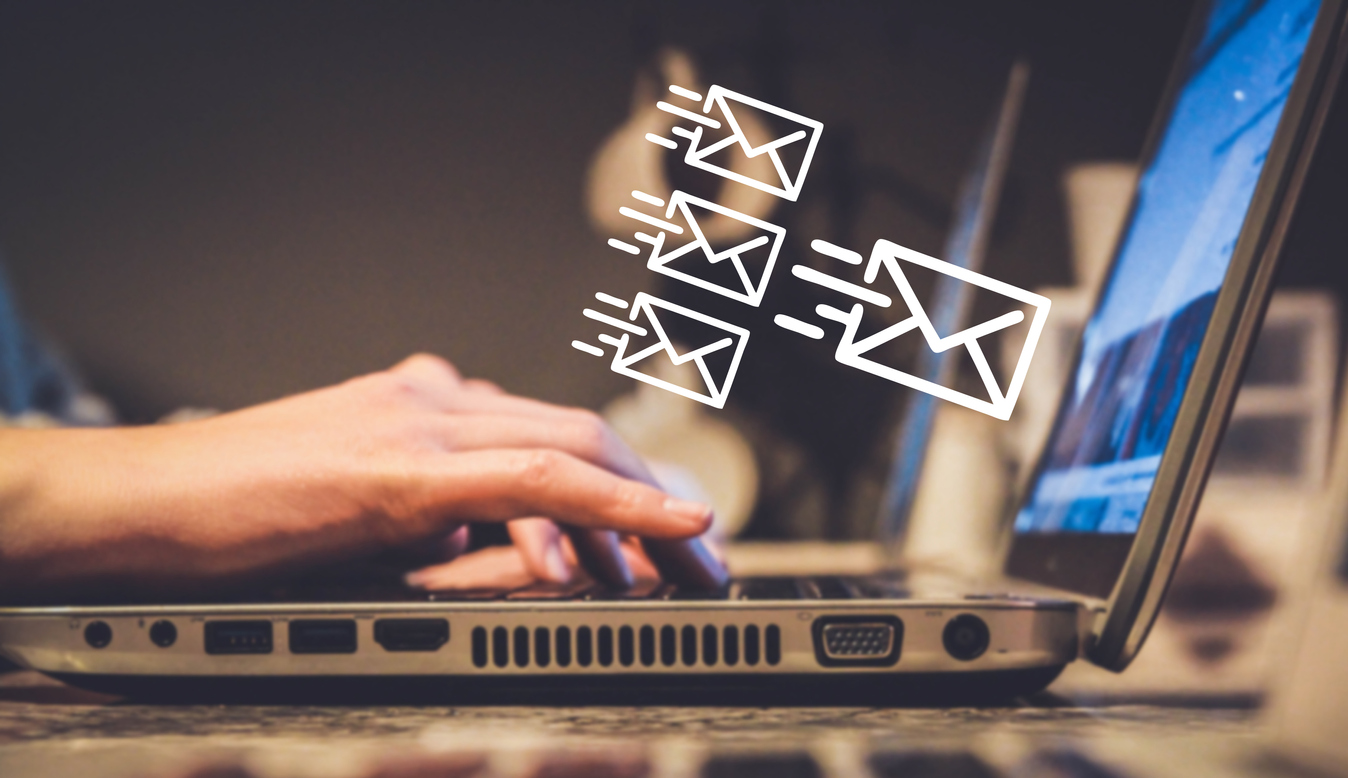 "Is email marketing dead?" I know people are searching Google for an answer to this question every year. But for the moment, let your search engine, fingers, and keyboard rest. Email marketing is very much alive. Better yet, if you understand how to use it, it's a powerful tool for increasing your ROI (return on investment).
How powerful? I've been working with clients across many different niches — from Herbal Apothecary brands to Costco-like wholesale businesses (but online), and they all have one thing in common, email marketing. One of my mid-size clients achieved $300,000 in sales in their very first year of email marketing.
Today, I want to share a gold nugget and not just any gold nugget — an automated one. Here are 5 automated emails that increase your ROI.
Where is email today?
Before I jump in, since we're talking about ROI, and there is a steady flow of searches in regards to whether or not email marketing is alive, I wanted to clear the air. If you're aware that email marketing is alive and kicking, I recommend that you still read this part as it'll share some valuable information on where email marketing is today, and where it's going.

According to my beloved Moz Pro account, we can see that between 11-50 people are searching for "is email marketing dead" every month. I'm positive I could find a lot of key phrases with similar intent and steady search volume, but this was to show that there are people out there who are doubting email marketing.
Here's the kicker: email marketing is ALIVE! In fact, according to Radicati, email traffic has grown 5% year over year between 2015-2019. So, if you've found yourself among these 11-50 people searching for the state of email marketing, know this: "It's a unique channel, with NO competitor!" Sure, there's social media, Zoom, and others, but they aren't competing with email. They are their own separate channels for consuming content.
The only thing about email marketing that is dead is bad email marketing. Now that I have your attention, let's jump in to see how you can do what I like to call "great email marketing!"
#1 Welcome Email
Your welcome email is the very first email someone receives after signing up. When you're working your craft and creating this email you need to consider the actions the subscriber took prior to getting your email. Sounds pretty simple, right? Well, it is. Aligning your messaging in your welcome email to the thing that prompted someone to sign up in the first place is crucial to your success. Let's look at an example from My Musso.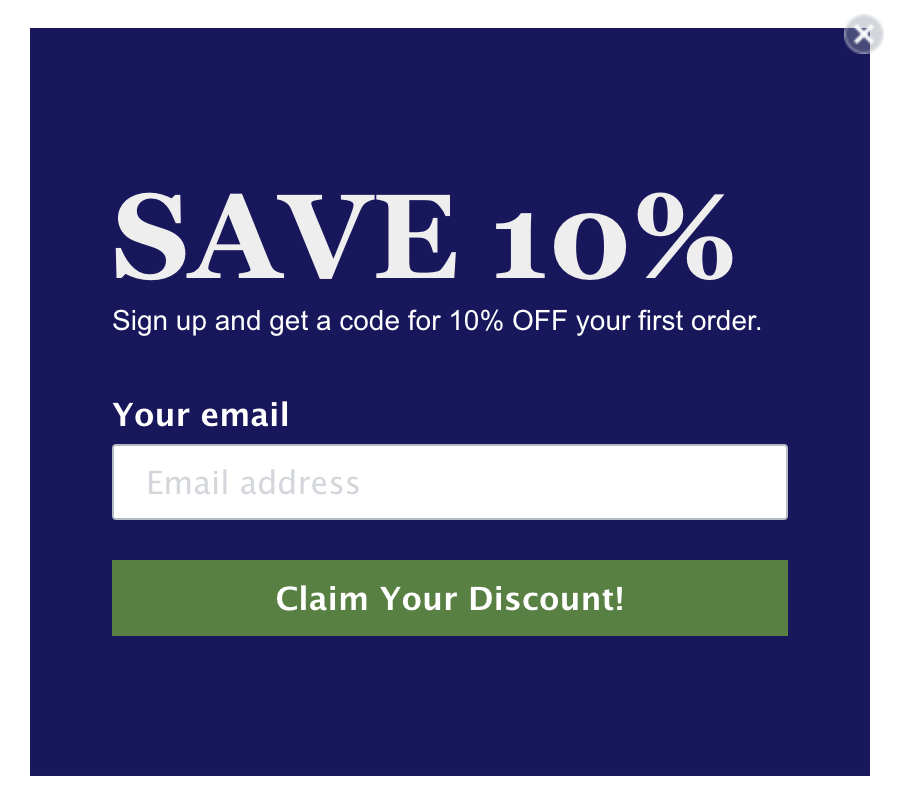 The image above features a simple pop-up form that offers visitors, who have not made a purchase yet, a 10% discount in return for their email address. Immediately after visitors sign up for your offer, we can automatically send out an email that thanks them for signing up, and of course, provides their discount code.
According to Hive.co, this type of email typically receives over a 90% open rate. Yes, it is due to the subscribers wanting their discount code. But isn't it lovely to start your relationship that way? With a potential customer excited and impatiently waiting for their first email from you. That's why we don't showcase the discount code on the pop-up after someone signs up.
On the other hand, you may want to show the discount code on the pop-up itself if you have deliverability issues with your email. This will take a lot of stress off of your support team, and avoid discouraging customers from purchasing.
#2 Nurturing Leads Email
Now that you've captured those emails, it's time to start nurturing your leads. Those who signed up to receive your discount code have shown interest in your product or service. But they haven't necessarily been compelled enough to purchase your product. This is where your lead nurturing emails come into play. There is no set limit on how many emails you should send after the initial signup. In fact, for some clients, I create 7 emails, while for others, I create 17!
The number of emails you create to nurture your leads depends on the complexity of your product or service, the narrative of your brand, your price point, and your unique buying cycle. Here are some ideas to get you started on thinking about how you can nurture your prospects:
Explain your product in depth
Share reviews
Share more about your brand
Share what happens after they place an order
Share your core values
Remind them about their discount
Ask them what's holding them back from placing an order
That's a quick 7-lead nurturing email flow that you can start using for your business. As people continue to engage with your brand and grow more familiar with your email messaging, they will move closer to purchasing.
Once a subscriber converts and becomes a customer, be sure to have them exit your flow. You don't want to continue sending lead-nurturing emails to people who have already made a purchase with your brand. I'm sure you see this happening often; you've already made a purchase with a company and they continue to send emails that don't acknowledge the fact that you are a paying customer.
Personally, I find this concerning as a customer. It can lead to negative emotions when you don't acknowledge that a purchase has been made. Here are just a few examples of what I mean:
The customer may think you don't have a record of the order.
The customer may worry that they won't receive their order.
If the customer already received their order and you continue to send these emails you may see increased unsubscribe or spam rates.
Think of communication with your email marketing as a real-life relationship. You put in all this effort to become good friends with someone and once they decide to start hanging out with you and putting in the same effort you pay no mind. You risk breaking the illusion that your emails are one-offs created personally for that specific person. We'll go over what to do after someone converts later on in this post.
#3 Browse Abandonment
Browse abandonment emails are a great way to recapture the attention of someone who recently viewed a product or details page on your site. Sometimes people continue to scroll, viewing the different options available, while never actually clicking on a product. However, the subscribers that receive this email showed enough interest in a product to jump over from a category or list page to the product page itself.
After viewing the product page, the prospect didn't add the item to the cart. Instead, they left the site, went idle (spent 30 minutes on the site and ended the session), or went to look for other products and then left the site. Either way, they did not add the item to their cart. So, we want to double-check with them if they're sure they aren't interested in your product. You can send them an email that showcases a few of the items they viewed before leaving your site. In some cases, subscribers will return to purchase or even find something different on your site that they want more!
#4 Abandoned Cart
By now, you should be able to notice a trend. Every email occurs after someone has taken a specific action on your site. The abandoned cart email works the same way. We know this happens: a site visitor comes to your site and adds something to their cart, but doesn't purchase!
There are so many reasons as to why customers abandon carts. Maybe they changed their mind, they didn't remember their payment info, didn't like the shipping charge, or maybe life simply got in the way. Regardless, reducing cart abandonment is crucial for every eCommerce store. Email is a very effective tactic.
To combat cart abandonment, we can set up an automated email that sends after an hour or so to the person who abandoned their cart. The email should feature the items they left behind and some compelling copy to help seal the deal.
However, like many of the emails mentioned here, this doesn't have to be a one-time send, especially when you have the ability to set up an automated series of emails.
Here is an example of an Abandoned Cart Series you could be sending:
Wait 1 hour - Send Reminder
Wait 4 hours - Send Reminder - Maybe a light discount
Wait 12 Hours - Send Reminder - Maybe a deep discount
Once a subscriber enters this email series the clock is ticking! The longer it takes to get them back to the site to complete their purchase the less likely it is to happen. Therefore, we start adding additional incentives as time moves on.
You can take this a step further by segmenting out your cart abandoners by cart value. You can send larger discount deals to subscribers who had higher cart values vs. those who had lower cart values.
#5 Post Purchase
Lastly, and this is one of my favorites, the post-purchase email. You can set this email up as a single one-off automated send, or you can set it up as an entire series of emails sent over time (which I recommend). Once a prospect converts, you can send them emails about what's happening with their order, and I don't mean transactional emails. Once that first order is placed, it means your prospect has already moved through the sales funnel, become a customer, and has entered the retention and loyalty flywheel!
At this stage you want to build your customer-brand relationship with stories of how you carefully pick and package items for their order, invite them to follow you on social media, or even have your CEO introduce him or herself. You'll be overjoyed to see how many customers place their second order within 7 days of placing their first one.
Post-purchase emails are a great way to avoid leaving money on the table when it comes to your business and email marketing. Not only do they help your ROI and increase sales attributed to your email marketing, but they also keep the relationship between your brand and your customers alive and growing.
When your email marketing moves with your customers, you're creating a stronger relationship one open at a time!
Final Thoughts
I hope you enjoyed learning about these 5 emails you can start sending to increase your ROI. To send these automated emails, I recommend Klaviyo, which you can integrate with Shift4Shop, which has a lot of these emails already built in. So, stop missing out on valued customers, and most importantly, stop thinking email marketing is going away — because it isn't!