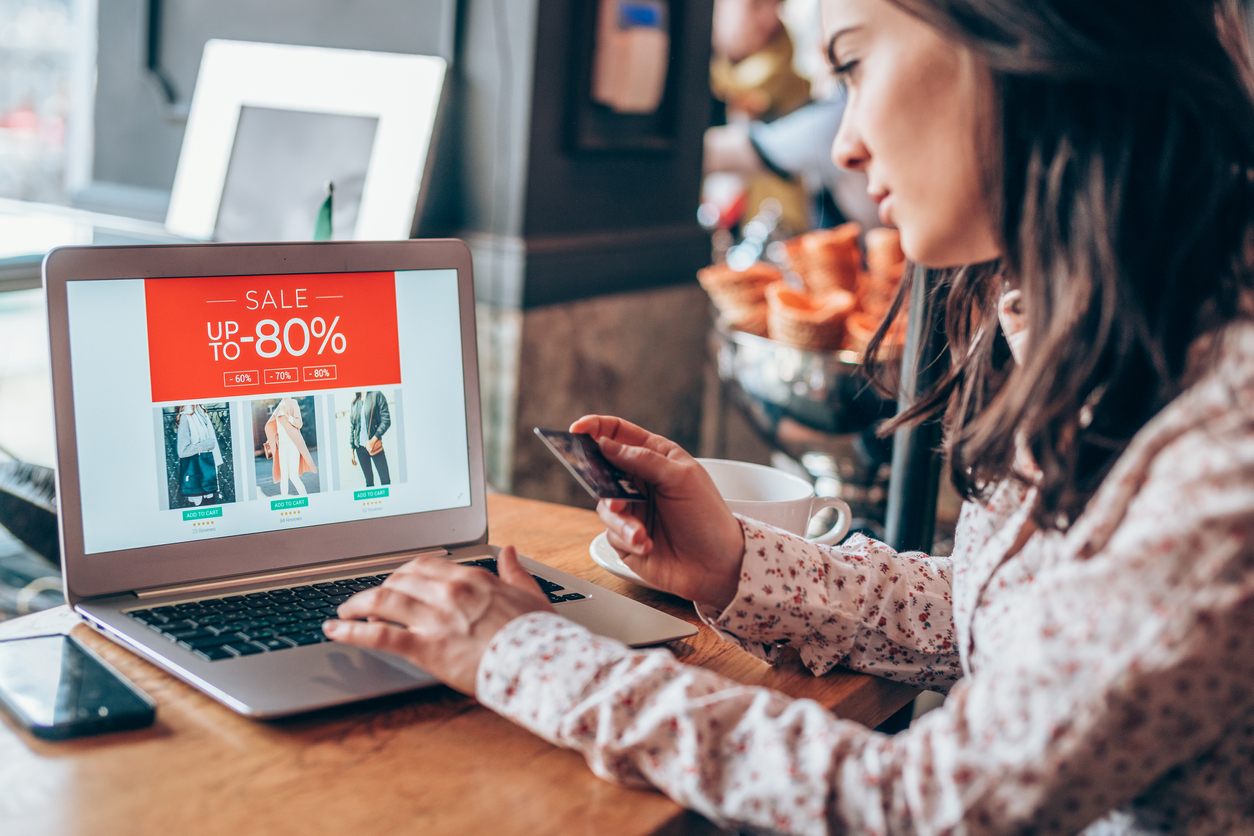 Today there is no longer discussion about whether your online store should or shouldn't offer discounts. This is because the best discount strategies can help you increase your conversions and retention rates. However, poorly implemented discount strategies can destroy your business in the long run.
Almost 88% of Americans use discount codes when making purchases, while 64% won't buy anything until they get a discount. That makes us ask a question: what defines a successful discount strategy? To get an answer, we should determine what a discount strategy is and how pricing psychology works and affects customers without hurting your revenue.
What is a Discount Strategy?
A discount strategy is a campaign for eCommerce businesses to generate more leads by selling their products at a lower price. The main goal is to sell products in high volumes using discounts. It can be an excellent way to launch new products, retain loyal customers, and secure new customers in bulk.
As a business owner, you need to build and plan your discount marketing strategy with the right approach. However, it won't be a good idea to regularly run discounts as it can squeeze your profit margin, hamper your business dealings, and show a lack of confidence in your product.
Your discount pricing strategy will scale your business to improve sales and profits if you get it right. Pricing significantly influences the consumer buying process, so let's figure out how pricing psychology affects your customers.
How Discounts Affect Consumer Buying Behavior
You can generate sales and increase customer trust when you offer incremental discounts. But when you give deep discounts, you can hurt your sales and result in a plateauing effect. People find massive discounts suspicious and start recognizing your products as low-quality, which will lead to a drop in sales and brand distrust.
So, it's essential to define the optimal discount level for an eCommerce business to reach the optimal outcome. Try to provide discounts at the end of the purchase funnel. Giving exclusive offers and different coupons at the onset of the consumer journey can freeze their enthusiasm to make purchases based on these offers.
Make sure that customers are looking for emotional comfort while purchasing. Discounts allow them to rationalize the action. Be selective with the discounts if you want to encourage brand-positive customer behaviors.
Top 10 Discount Strategies for eCommerce Businesses
To make the most of your marketing efforts regarding discounts, here are the most effective discount pricing strategies you should practice.
1. Use Discounts as Incentives
Using discounts as incentives can create more value for your customers than just marketing purchases. It means that they need to take specific actions to access a discount. These actions can help you grow your business and attract new customers to buy your products.
The benefits can be diverse and don't need to cost money. Incentives for your customers can encourage them to share your products on social media or recommend them to friends.
You can also create a pop-up to offer new customers to subscribe and get a discount for their first purchase. That way, you can make visitors buy something and build a list of new prospects that you can turn into loyal customers.
Another good way is to give multi-buy discounts for customers who purchase a particular number of products to increase sales. Moreover, you can cross-sell and offer related goods based on customers' choices together with a round discount if they buy that product. For example, you can encourage people to spend up to $150 from your online store to get a particular discount.
The best way to tell your customers about your discounts is through email marketing campaigns. An effective campaign can improve brand awareness and drive sales without costing a fortune in ad spend.
2. Leverage Flash Sales
Flash sales are a great way to generate conversions and sales. This short-term discount on products can help entice your customers to impulse buy and check out other non-sale products from your online store to complete their purchase journey.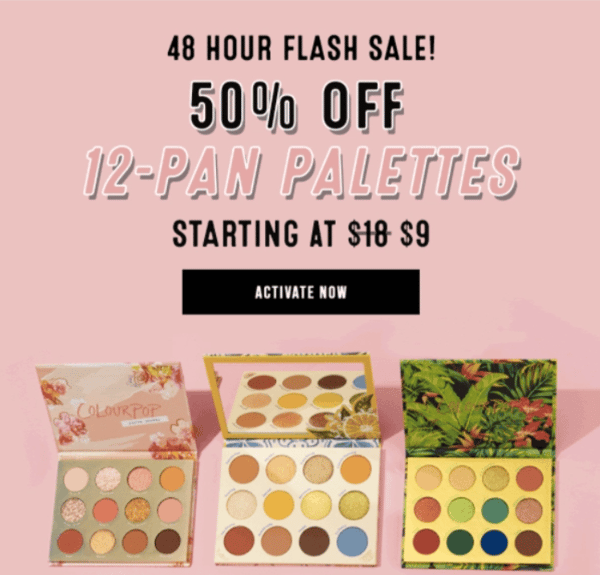 Source: SleekNote
Thanks to the exclusivity and urgency, online shoppers tap into the FOMO effect, which results in impulse buying. You can use a countdown clock or timer next to the discount to increase this effect. You can also decrease the discount per time period according to your strategy.
Before running a flash sale, define what you want to achieve. Whether you want to attract new customers to your eCommerce website, boost customer loyalty, or show new in-demand products. Make sure that short sales create a sense of urgency and encourage customers to act immediately. The shorter the sale, the better.
3. Give Seasonal Discounts
Seasonal discounts can be applied to specific products at certain times to align with Christmas, Easter, or other holidays. For example, a lot of brands and coupon directory websites run Black Friday and Cyber Monday campaigns where they get creative with their discounts.
Offering discounts during these seasons can result in a surge in customer traffic and conversions. It's important to take strategic measures and streamline your marketing operations beforehand to capitalize on this opportunity. With the help of third-party software, you can automate your marketing processes, gather data about your successful campaigns, and generate sales.
For a better user experience, you can create a landing page including all of your seasonal deals. Once they land on your page, they can look through all available discounts and make their buying decisions.
4. Offer Volume Discounts
It's well-known that the more consumers purchase, the more they spend. Volume discounts can encourage people to buy in bulk because each item will typically cost less. Loyalty programs and cards can also be instrumental in applying discounts to bundled products.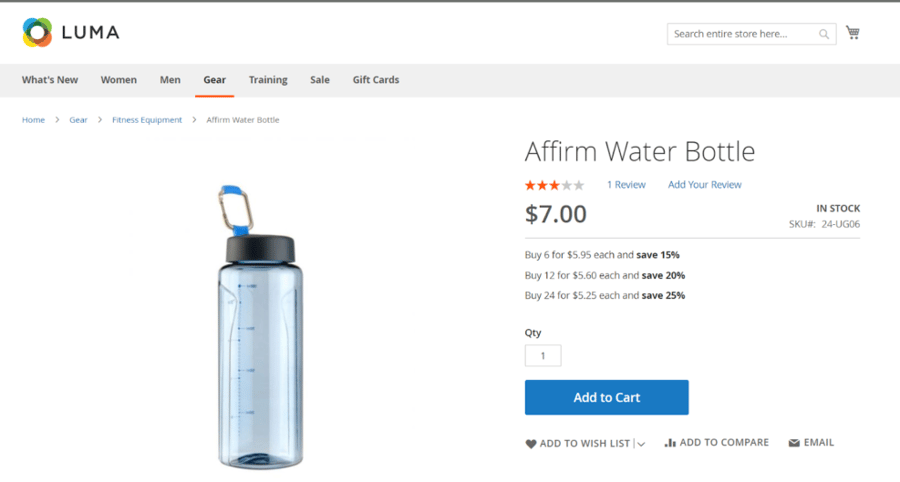 Source: LinkedIn
For example, Luma offers a 15% discount for online shoppers to buy six water bottles, 20% for 12 bottles, and 25% for 24 bottles. The main idea is that the more items customers buy, the more they spend and save — it's simple math.
5. Use Promo Codes to Stop Cart Abandonment
Did you know that 57% of online shoppers leave their online baskets because of hidden charges or high shipping costs? However, they could return if you provide promotional offers and discounts. This reminds customers about their initial interest in your items and motivates them to complete the purchase.
You can send retargeting abandoned cart emails where you can offer discounts on the products they abandoned. Another good way to proceed through the checkout process is to show a pop-up with a discounted product they were about to leave. In addition, you can suggest other related products with better offers. Here is how Birchbox encourages customers to complete their purchase with a 10% discount:
6. Reward Loyal Customers
Rewarding your loyal customers will increase their chances of returning to your website and boost customer lifetime value. According to Accenture, 57% of customers spend more on brands that they are loyal to. On top of this, 54% of them are more likely to return to your store and complete another in the future after the third order.

Source: Givz
Instead of spending time on getting new clients, reward your loyal customers for their continued businesses. For example, you can provide a special offer after every third order, a gift for their next purchase, or a discount if customers refer their friends. You can also create incremental discounts. The more they buy, the more points they get that they can cash in for rewards. This approach should encourage them to spend more to reach that threshold.
Once you start caring for your loyal customers, you can grow your business and better understand their purchase history. This data can help you to customize your offers and create personalized rewards for each customer.
7. Create a Discount Offer for New Visitors
Not all people buy on the first visit. So, your mission is to nudge them in the right direction. Giving them a discount for their first purchase creates a lasting impression. And, if you couple first-time customer discounts with a money-back guarantee, you will level up the playing field.
Try to motivate customers to provide information, like their email address, in exchange for a discount or free shipping. This allows you to create potential avenues for marketing, killing two birds with one stone.
Another great way to offer discounts is through videos. You can create any explainer or production videos about your products to let them better understand your business and take action.
Make sure that these offers are highly targeted at new visitors. Otherwise, you can ruin the user experience with these pop-ups and videos. In addition, add exclusivity to your offer by personalizing the videos based on the customer group that you're targeting.
8. Provide Pre-Order Discounts
When you launch a new product, you can generate leads and maximize your sales by offering early-bird discounts for customers. Many online stores promote these discounts to bring in organic traffic and offset the costs of these products.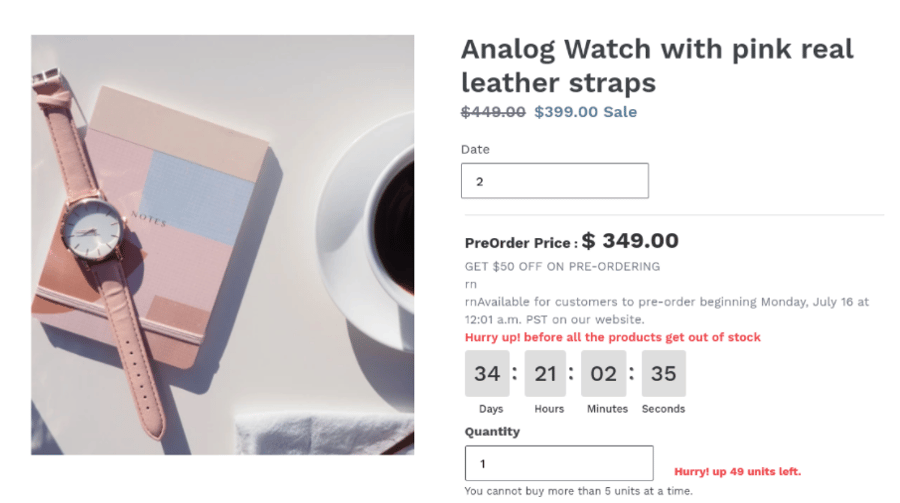 Source: Webkul
However, you shouldn't offer large discounts on new products. Try to find a balance and stay competitive. Make sure that the discount is only a small percentage of the total cost of your product. People want to get more value for their money, so try to build a trusted image and encourage them to go through with the purchase.
9. Create Event Special Offers
If you present your products at special events, you can provide something extra for attendees afterwards. Customers are more likely to take advantage of exclusive deals at the right time.
You can send targeted emails to these attendees with your special offers in an effort to promote products related to the event. Remember to include the link to your target product pages in these emails. Create tracking links to see how many visitors use your discount and take action.
Instead of promoting all of your products, focus specifically on the ones that you promoted at the event. That will make your offers more exclusive and personal. As a result, this specific visitor segment will also find your messaging more attractive. Alternatively, you can give gifts or free samples if your attendees visit your website.
You can also give special discounts to those who take a specific action. For example, have them complete a poll, submit a testimonial for your event, or send out tweets with the event hashtag to receive a discount.
10. Offer Free Shipping
One of the most sought after discounts online is free shipping. Based on this survey, shipping costs pushed to 52% of shopping cart abandonment.
Free shipping is a great way to stand out against your competitors and motivate your customers to buy more, even if your products are expensive. Most online stores have order minimum thresholds before qualifying for free shipping.
Pro tip: Mix up your options and let your customers choose. You can offer free shipping with paid upgrades for faster delivery or flexible shipping rates based on location, weight, or price. If you can't afford 100% free shipping, you can provide these options.
Bottom Line
Offering discounts is all about balance. It's best to test out different types of discounts to find the right fit for your business. Once you gather valuable data from researching and learning about your consumer behavior, you can offer discounts without worrying about losing money.
A well-executed discount strategy starts with clear objectives to increase sales and attract new customers. Knowing relevant buying trends, sales history, and customer acquisition costs can help you personalize your strategy for your target audience.