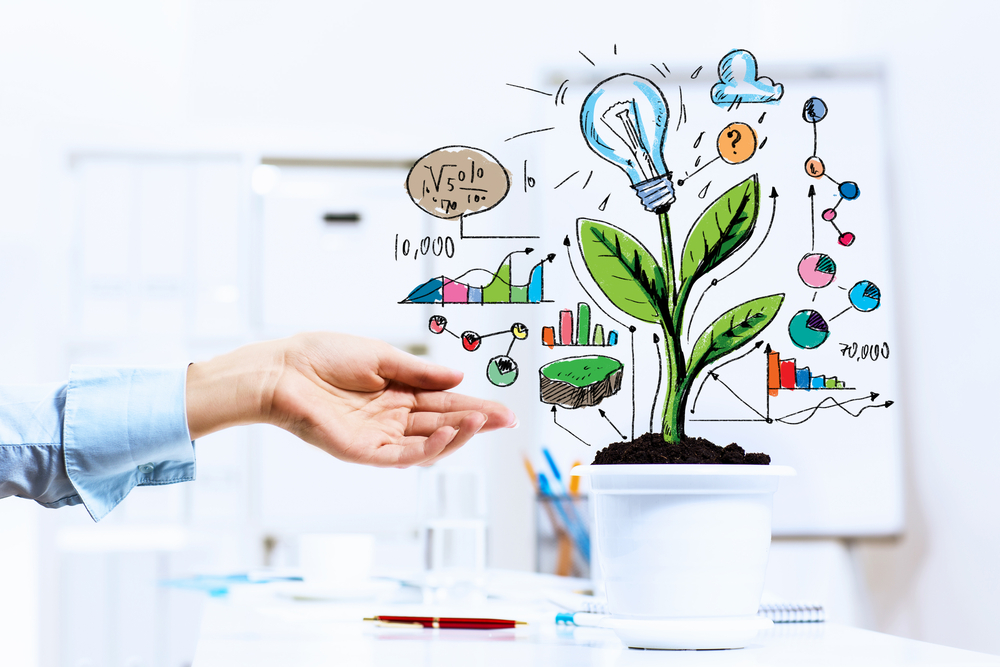 If you're getting ready to launch a startup, you're probably experiencing a great many things. A huge rush of excitement, anticipation, and probably some stress and uncertainty. After all, 80% of small businesses fail, and the initial steps you take pre- and post-launch are crucial to your long-term success. All too often, making a mistake can lead to backtracking that most businesses just can't afford. Starting a business always involves tons of decision-making, and to make the best decisions you need to be as informed as possible.
One of the most important decisions you can make is also one of the hardest: how to build your website. With literally hundreds of website builders available, choosing between them can seem like an impossible task. We can at least narrow that down for you right now: if your startup is going to sell products online, use a dedicated eCommerce platform.
An eCommerce platform is essentially a website builder made for creating an online store above all else. Most include additional behind-the-scenes features for helping you run your business. However, there are so many eCommerce platforms available today that it's incredibly time-consuming to research and compare them all yourself — especially when you're trying to launch a startup! This is why millions of business owners simply choose their eCommerce platform without putting much real thought into it. Instead, they choose based on criteria like these:
I have heard of this platform before.
This is the most popular platform.
[Other company] uses this platform.
Stores on this platform look very nice.
This platform is easy to set up.
You get the idea. Unfortunately, none of these are good reasons to use a particular eCommerce platform because none of them judge the platform on its actual merits.
Whether or not a specific eCommerce platform is good for your business depends on the features the platform has. There are some features you'll need right from the beginning, and others you'll probably need later. Unfortunately, when you're just starting out, it's also difficult to foresee every feature your business is going to need in the future. In the beginning, most entrepreneurs just look for the basics, including an easy setup and an attractive store theme, and end up locking themselves into a platform that has limited capabilities. Of course it's possible to change your platform later, but it's so much easier to do it right the first time.
That's why we've put together this detailed list of the features you should look for when choosing the best eCommerce platform. You may not need every single feature from this list on the opening day of your business. But once you start to grow, you'll need these features already in place and waiting for you to need them. Otherwise your business may suffer as you hunt for a solution — and sometimes these setbacks can do irreversible damage.
Let's look at the features an eCommerce platform needs to make it the best online store software solution for your business.
Great Online Store Design, eCommerce Themes and Templates
Even though templates alone are not a reason to choose an eCommerce platform, the choice of available themes is still very important. You're a business owner and not necessarily a web designer, so you need an easy way to create a fully-functional, well-designed website without the need to develop it from scratch.
eCommerce themes or templates are pre-existing store designs that can be applied to your website. Most eCommerce platforms have a theme store, often including both free and paid themes. If a platform lacks a theme store, it's intended for custom design only.
You need to judge eCommerce themes based on how they look, how well they work, and how easy they are to customize if needed. When you visit an eCommerce platform's theme store, watch for the following.

• A Variety of Attractive Themes
Variety may be the spice of life, but it's also important for eCommerce theme selections. The more options available, the better the chance you'll find a theme that can work for your business immediately. Some platforms only offer themes that look overly similar to one another or only use certain colors. It's much better when you have many choices that are vastly different.
Themes should be not just distinctive but attractive. Customers do tend to judge websites on appearance, so the better a given platform's themes look, the more immediately attractive your website can be. If a template looks amazing right out of the box, it also means less work for you to do on customization.
• Responsive Design
Web browsing has undergone a mobile revolution, with the majority of users preferring to browse from their smartphones or tablets. In fact, the proportion of mobile users is growing every year, so any website that only works well on a desktop computer is going to be left in the dust.

Responsive design is the ideal method for making a website mobile-friendly. Instead of creating a separate mobile version of a website and redirecting mobile visitors to it, a responsive design adapts to each device by resizing and shifting all the elements on screen. Google recognizes responsive web design as the best solution for mobile compatibility and will often rank responsive sites higher than others.
• Customization
While a great out-of-the-box theme design is important, it's just as important to have the ability to customize your template. A good eCommerce platform will let you edit your store's theme as needed, so you can make it truly yours — and prevent your website from looking too similar to other brands using the same theme. Of course, it's almost unheard of for a platform to not allow you to add your brand's logo at the very least, but you may find yourself restricted from making any other changes.
Always check up on the customization tools and options available for editing themes on any given platform. Drag-and-drop WYSIWYG editors are nice, but the real signal of unlimited customization potential is complete access to the theme's code. Even if you don't know how to code websites yourself, and you're perfectly fine with a default theme right now, code access means a developer can create a fully custom website for you in the future — which isn't possible on some platforms.
• User Experience
Who's going to spend the most time looking at your online store's theme? Not you — your customers. That's why their user experience is crucial.
Your store needs easy, convenient navigation to help visitors find what they're looking for right away, with as little clicking and scrolling as possible. It should also load quickly and run smoothly. Both are important for your conversion rate, as is your theme's actual layout, which can help draw the customer's attention where you want it. Conversion focus is an essential part of online store design and should never be neglected.
Example Theme
Let's look at an example of a well-made free eCommerce theme: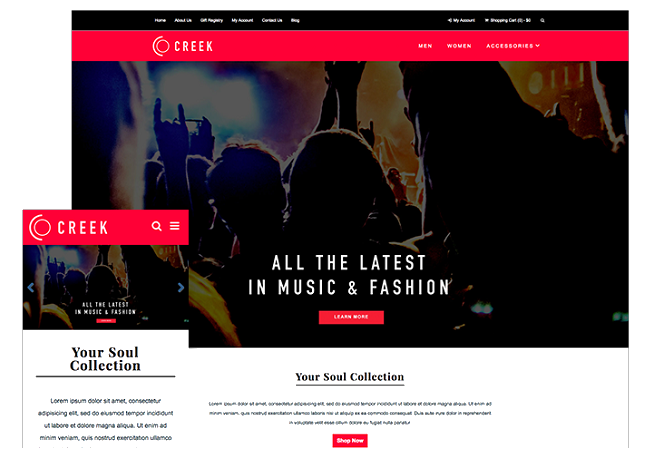 Creek is a great online store theme in many ways. It immediately presents the visitor with an eye-catching hero banner and supporting CTA (Call to Action). The hero banner can also rotate to present additional images, so you can display a variety of new releases, promotions, and more. Below that is a text area, waiting to be filled with a keyword-rich introduction to your store.
Lower on the page is another place for a banner, followed by large images of featured products. The navigation menu is "sticky," meaning it stays in place while the visitor scrolls on the page, which is very convenient. The design is also fully responsive — and fully customizable via access to the HTML and CSS that comprise it.
We're not saying you need to choose a theme that looks like this one, but you should make sure any theme you use has similar qualities that help promote your brand and make your website easy for customers to use.
You see more theme examples here: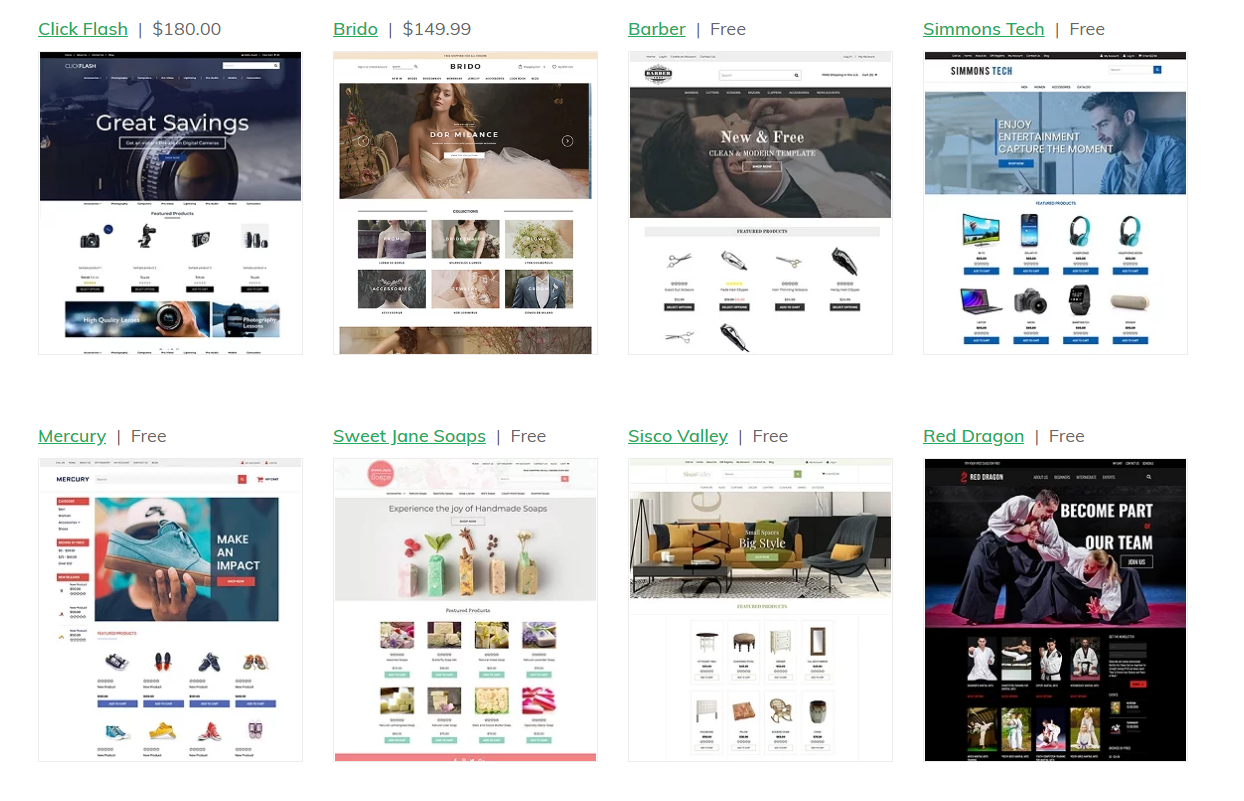 Features Every eCommerce Startup Should Have
Now it's time to open up the ideal eCommerce toolbox and see what's inside. These are all features you should look for when evaluating an eCommerce platform for usage by your business. Some are features that will help you give your customers a better shopping experience, which helps you make conversions and earn loyalty. Others are tools for running and maintaining the various aspects of your eCommerce website.
Marketing Features
Marketing does not simply mean "paid advertising" — it's a complex field covering a wide variety of techniques. The right marketing tools will help your business get seen by customers who are truly interested in what you have to offer, and encourage them to keep coming back.
• Easy SEO Tools
It's impossible to look into website creation today without hearing about SEO. SEO, or Search Engine Optimization, is a set of techniques and standards for raising the ranking of your website's links within search results on Google, Bing, and others.
SEO comes across to many people as being hopelessly technical. It doesn't help that there's a great deal of inaccurate and outdated information still being passed around. This is because the best SEO tactics frequently change to ensure that users see the most useful, relevant information at the top of their search results, and older SEO guides aren't always updated when these changes take effect.
SEO is how you tell search engines what your website is about and how relevant it is toward any given search keywords. Good SEO also helps tell search engines how many pages your website has, how to index them (and which ones to leave out), how your links should actually look on SERPs (Search Engine Results Pages) to make them appear more "clickable," and more.
You do this by correctly optimizing the following:
Page title tags: the title of a page as it appears in SERP entries, and has the side effect of making your site more user-friendly by accurately naming each page so users can recognize them in their browser tabs and bookmarks
Meta descriptions for each page: the description in your SERP entry
H1 headings: the main heading of each page
Schema.org structure data: special formatting for SERP entries to include specific data from a page (like product pricing and ratings)
ALT tags: descriptive tags attached to each image, useful for accessibility and image search
Page URLs: the web address of any given product page should be human-readable
301 redirects: automatically redirect users (and SEO) from an old, deleted URL to a new one
Canonical URLs: define the "real" page out of a set of near-identical pages, e.g. so Pages 2 and 3 of a category don't needlessly appear beside Page 1 in SERPs
XML sitemap: list all your site's important pages in a format that helps search engines crawl and index them faster
Robots.txt: control which of your pages are indexed and how (there's no reason to have utility pages like "Log In" or "View Cart" showing up in people's search results)
If this is giving you a headache or filling you with dread, you understand why it's so important to have easy-to-use tools that take the technical side out of SEO. Use an eCommerce platform that lets you customize meta tags and URLs without touching a line of code, generate and automatically update your XML sitemap, and manage all the rest of your SEO requirements in a simple interface. If any of your SEO is handled automatically, such as ALT tags and product page URLs being generated from the associated product's name, that's even better — but make sure you can still customize them too.
• A Built-In Blog
Content marketing is one of the most powerful tools your business can use. By posting interesting, relevant content on a regular basis, you build up authority in your niche and start earning brand recognition. Content is also great for SEO, with many experts considering it the most important aspect of them all.
The best way to regularly add content to your website is through a blog. While there are many blogging platforms available, there are advantages to using a blogging feature that's built into your eCommerce software. For one, your blog's design will be guaranteed to match the rest of your website's theme, complete with the navigation menu leading back to the rest of your site for easy shopping. Another huge advantage is that having your blog under the same domain as the rest of your store will ensure that all the SEO authority you gain through your blog posts correctly carries over to your main website.
• Cart Abandonment Prevention
Online shopping cart abandonment is when a customer adds products to their cart, but then leaves the website without completing the transaction. This is extremely common — in fact, eCommerce statistics show that the average cart abandonment rate is 74%, making it a huge burden across the world of eCommerce.
There are tons of reasons a customer might abandon their cart. Sometimes there's an issue with the website, like a slowdown at checkout. Other times, the customer is surprised by the total price of their order, which is most likely to happen if the website doesn't display shipping rates until late in the checkout process. And of course, some customers pause mid-transaction for any number of reasons and then simply forget to come back.
Since shopping cart abandonment is so prevalent, your eCommerce platform needs to include tools to help counter it. Other features help as well, like real-time shipping rates to prevent customers from being unpleasantly surprised, but you still need a set of abandoned cart recovery tools to target the transactions that are still being abandoned. Sometimes, all it takes is a popup that appears when the customer is about to leave the page, or a reminder email sent after their cart has been abandoned for a day or more. If you can customize these notifications with one-time offers to make them more enticing, even better.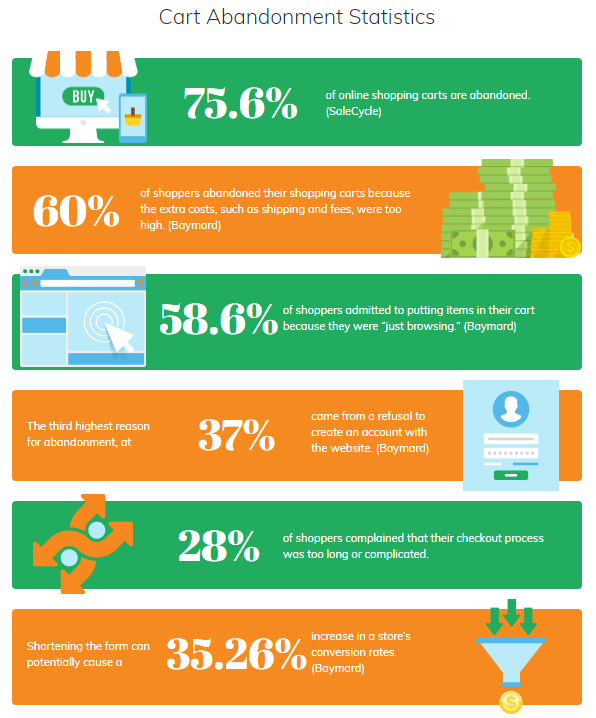 • Email Marketing Campaigns
Email marketing is one of your best tools for increasing customer engagement, especially when your email newsletters are relevant and interesting rather than just promotional. Your eCommerce platform should have built-in functionality for setting up email campaigns that can be sent to different segments of your customer base as needed.
Be aware that some eCommerce platforms don't include hosted email addresses for your business, so you'd need to set up professional accounts with a third-party provider. It's better to use an eCommerce platform that includes hosted email because it saves time and money. It's more convenient to have your online store and email accounts under the same provider, plus you won't have to pay extra to get professional business email addresses (e.g. person@yourstorename.com) as you would if using a third-party provider.
• Flexible Coupons and Promotions
If there's one single eternal truth about customers, it's that they love a good sale. Promotional events are exciting for shoppers, and big sales are nearly mandatory at certain times of the year — especially around the holidays. Your eCommerce platform needs to include tools for creating and running promotions that are highly visible to customers and easy for you to manage. You'll need flexibility, so you can control exactly which products go on sale, how deep the discount is, and how long the promotion lasts. The more types of promotions you can create, and the faster you can set them up, the better.
A great eCommerce platform for a startup lets you create a promotion for individual products or quickly set up a store-wide or category-wide sale, exclude items from specific manufacturers, set quantity restrictions, and more. You should be able to define whether a discount is a percentage or exact dollar amount, set up BOGO (Buy One Get One) deals, and otherwise control all aspects of a promotion. It's also important to be able to set start and end times for your offers so you don't have to turn them on and off manually, like when the clock strikes midnight after a 24-hour mega-sale.
Importantly, customers need a fast way to see all on-sale products at once. Your eCommerce platform should dynamically create a category that includes all items currently included in a promotion. This means all your sale products will be available on a single page as a shortcut for bargain-hunting customers.
• Countdown Deals
The senses of urgency and scarcity are very powerful motivators. FOMO (Fear of Missing Out) is equally strong. These are all deeply ingrained in human psychology, which makes them extremely effective in marketing — and the countdown deal hits all three marks.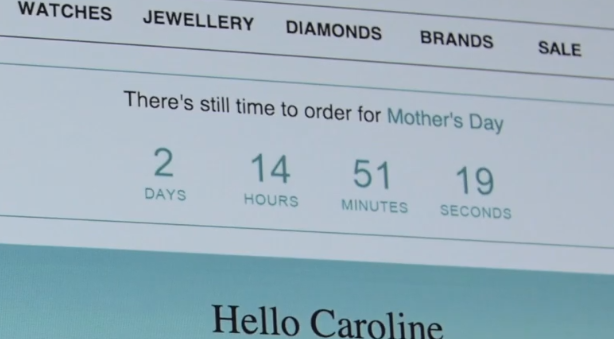 A countdown deal is a limited-time deal with a visible timer that ticks toward 00:00:00 every second. These countdowns are most effectively used in a couple of ways: the daily deal and the group deal. A daily deal is generally a 24-hour deep discount on a single item. A group deal is a discount that only takes effect if the number of participating customers reaches a predefined minimum within a set time limit.
Daily and group deals are fantastic for selling off harder-to-move inventory and getting the word out about your store. Group deals in particular are likely to be shared by customers trying to get their friends and family to participate so the discount will take effect, which can draw new customers to your website. If you want to run these types of promotions, your eCommerce software needs to provide the tools for setting them up. It's also crucial that these types of deals appear right on your homepage to catch visitor attention instantly.
• Easy Checkout
In eCommerce, friction refers to anything that makes it harder for a customer to buy from you. Reducing friction is a priority for increasing conversions and reducing cart abandonment. To this end, your checkout should be as smooth and easy as possible. It needs to work quickly, with minimal page load times, and be simple to understand. The layout must be convenient and obvious with no confusing elements, like text fields or check boxes in odd places. A single-page checkout is preferable for many stores, but some eCommerce platforms don't provide the option for one.
Your checkout page(s) should be customizable as well, so they can visually match the rest of your store. A checkout that looks too different from the rest of the site can make customers suspicious.
• Upselling and Cross-Selling Features
To upsell is to convince a customer to buy a higher-end product than the one they've selected, or to upgrade it in other ways (e.g. adding a warranty plan). To cross-sell is to convince a customer to add related items and accessories to their cart to complement the product they've chosen. Both are effective ways to increase your AOV (Average Order Value).
Below you can see an upsell of accessories: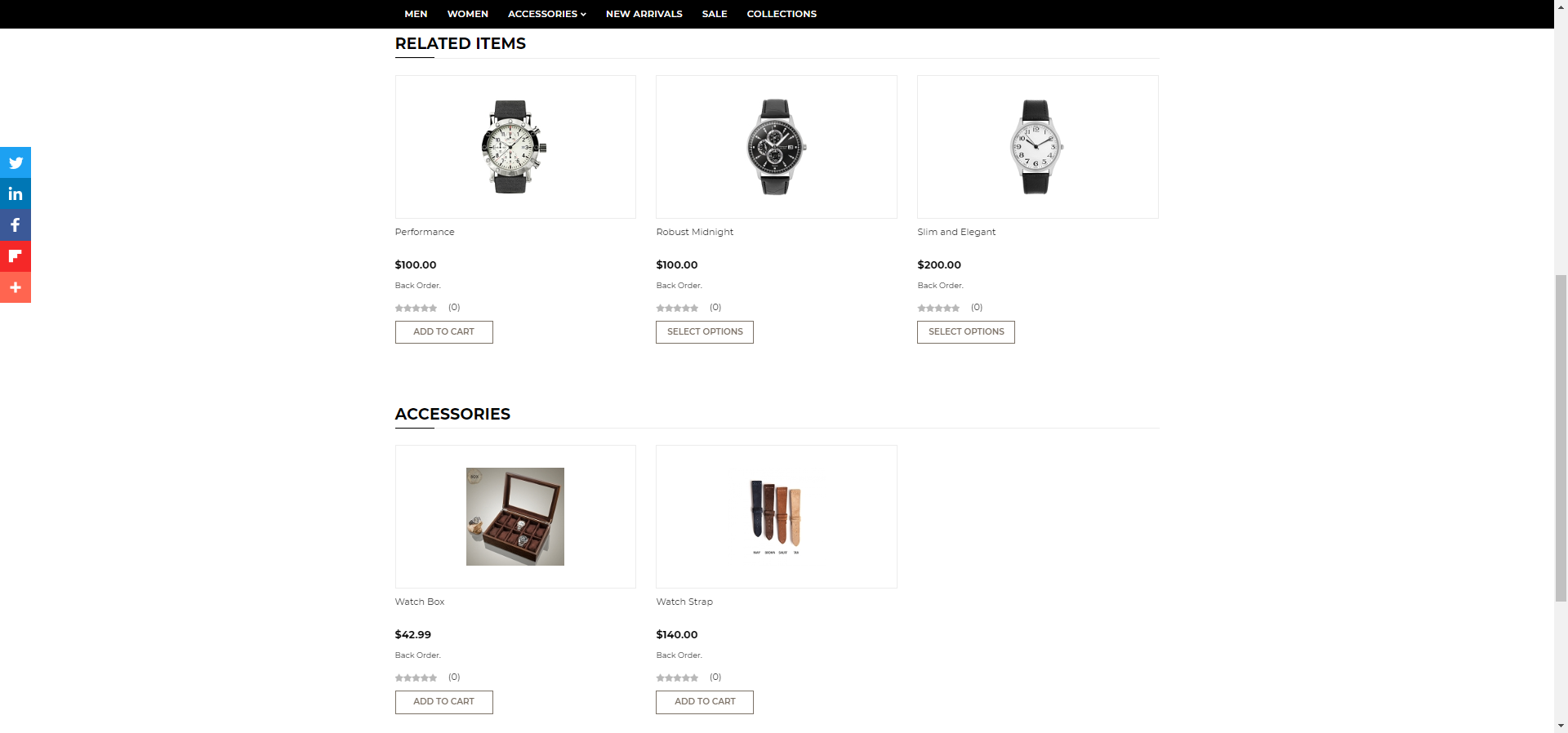 Your eCommerce platform should make upselling and cross-selling easy. You should be able to display related items and upgrades right on a product page. It's also very helpful to work cross-selling into your promotional emails by notifying customers of products that go well with their recent purchase. In order to do this, your eCommerce software needs to make customer purchase history available for use in your email campaigns.
Shipping Features
It shouldn't come as a surprise that shipping is one of the most crucial parts of eCommerce. After all, unless you only sell digital products, shipping is the only way customers will receive their orders! This means poor shipping features can be a huge weakness for your store, but it also means great shipping features can be one of your strengths. In other words, shipping can make or break your eCommerce business.
• Integration with Multiple Shipping Carriers
You should be able to run your business according to its needs and make decisions without being hindered by your eCommerce software. The shipping carrier you use should depend on the needs and preferences of your business, not because it's the only one that works with your platform. Always look for multiple shipping carrier integrations when evaluating an eCommerce platform for your business. These integrations make it far easier to ship your products using your carrier of choice.
Don't give a free pass to an eCommerce platform that only supports one carrier just because it happens to be the carrier you want to use. If you end up needing to switch to or add another carrier later, you'll be just as stuck.
If your platform integrates with multiple carriers, you'll also be able to give customers more choice as to how they receive their items. Some customers do have a strong preference for one carrier over another, and others are outside the service area of particular carriers. Since customers aren't going to buy something they can't reasonably get delivered to them, offering more carrier options can get you more sales.
• Real-Time Shipping Rate Calculations
Earlier, we mentioned surprise shipping costs as a leading cause of cart abandonment. If the price of shipping isn't added to a customer's order until late in the checkout process, they're extremely likely to be turned off by the jump in price. The fact that tax is often added at the same time doesn't help matters, but shipping is the main culprit.
The antidote to "shipping shock" is to display real-time shipping rates right in the customer's "View Cart" page. This way, they can watch their shipping charges update as they add or remove products from their cart. Customers who can see their shipping costs in real time are likely to tweak their orders to reach a shipping rate they're comfortable with, making them far less likely to abandon their cart.

• Shipping Label Printing
To fill out customer shipping information by hand is to invite mistakes. It's also time-consuming, and as a business owner, you already have enough to do. It will save you tons of time if your eCommerce platform lets you print shipping labels right from your admin dashboard, prepopulated with the customer's address. This becomes even more important once your business starts to grow, as the more orders you get each day, the more efficient you need to be.
• Support for Free, Flat-Rate, and Custom Shipping Methods
Your eCommerce platform should support extra shipping methods beyond the rates provided by the carrier. Free shipping is incredibly popular and can lead to more frequent orders. Free shipping dependent on minimum order size is also very effective and can increase AOV as customers add more to their carts to qualify.
Some businesses prefer to use flat-rate shipping to simplify matters, sometimes with multiple levels available to represent larger or heavier orders. This can actually lead to more products being added to an order — if the customer can add a few more items before the shipping rate goes up to the next level, they may do so just to get the most value out of that shipping charge.
Other shipping methods are more situational. For example, your business could offer same-day delivery to local customers only. This would involve setting up a custom shipping method restricted by ZIP code. If you have a brick-and-mortar location, in-store pickup could be handled in a similar way.
Of course, your eCommerce platform needs to support customizable shipping methods in order for you to use them.

• Easy Markups for Extra Handling Costs
Some products require special care or preparation before shipping. This most commonly takes the form of additional packing materials or extra time taken to prepare an order. You may want to add a markup to your shipping rates for these items to offset the cost of these extras. There may be other situations in which you need to mark up shipping as well. Your eCommerce platform should make it simple to add a shipping markup to any product.
Inventory and Product Management Features
The way your eCommerce platform handles inventory has a huge effect on every part of your business: how easily you can keep track of how much stock you have, how good the shopping experience is for your customers, and much more. Ideally, your eCommerce software should have all the tools you need to manage your products and present them to customers in the best possible light.
• Product Pages
Every product needs its own page on your website. This means you have plenty of room to describe each product, list its features, display images, and more. Having all your products lumped together on a single page severely limits the amount of information you can provide.
Good eCommerce platforms take product pages very seriously. Look for features like customizable sections for information, unlimited product photos, video embedding, and image zoom capability. Extra features like product reviews, related products, Q&A sections and more should all be displayed on the relevant product page, not hidden elsewhere.
• Product Options and/or Variants
The meaning of "options" and "variants" can change depending on the eCommerce software. Some use the terms interchangeably to mean the different selections you can make on a product (like size or color). Others use "options" to mean the type of selection and "variants" to mean the choices available within that selection (e.g. "Size" and "Color" are the options, while the individual sizes and colors are the variants).
See example below: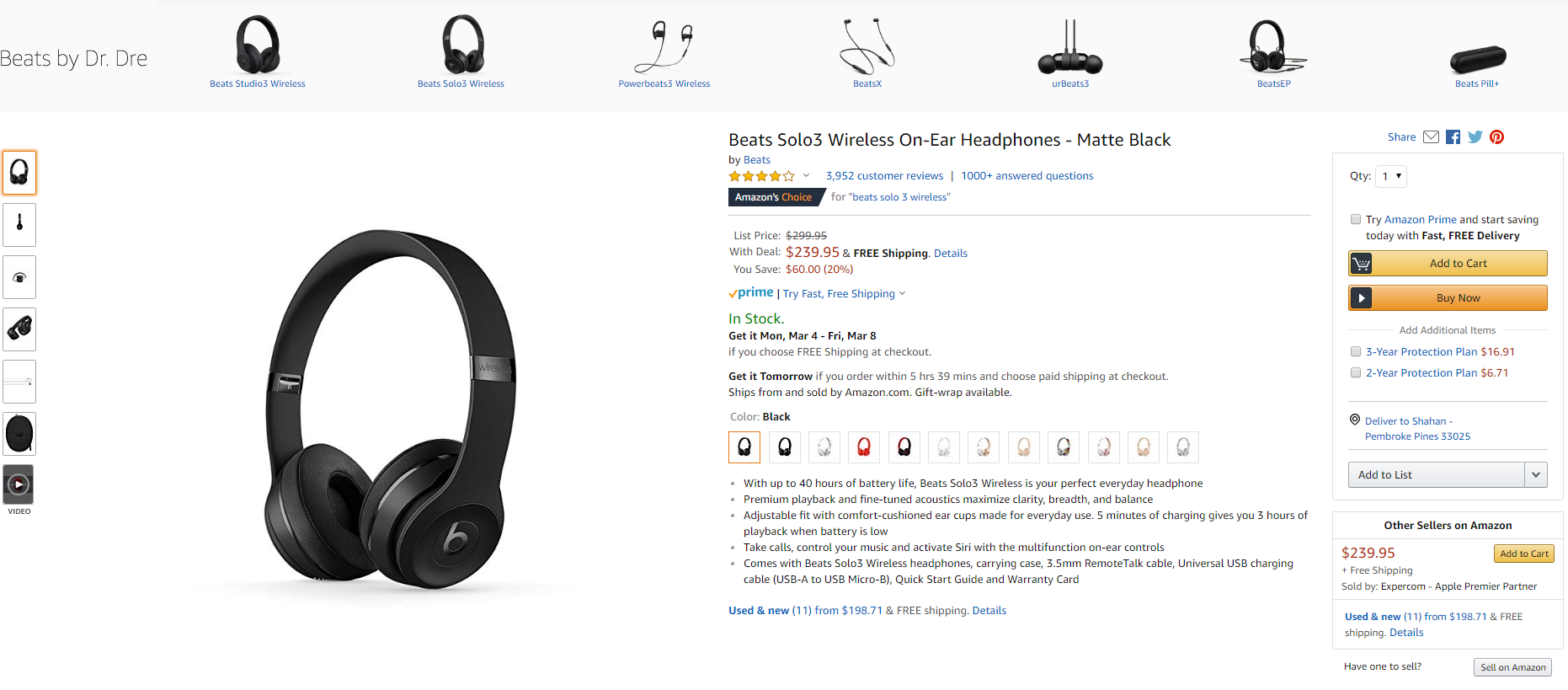 No matter which terminology an eCommerce platform uses, the way it handles product options and/or variants is extremely important. Some eCommerce software doesn't have options or variants at all, meaning you have to list each variant of each product separately. Others restrict the number of variants you can have per product, meaning you still have to split the product into multiple listings if it has too many variants for your platform.
Splitting products like this makes it harder for customers to shop, since they're only seeing some of the available options at any given time. It can also make your sales and inventory numbers harder to understand. For best results, use an eCommerce platform with no limits on product options and/or variants.
• Unlimited Categories
Categories exist to help your customers find what they're looking for, faster. While it's not recommended to categorize products more than two categories or sub-categories deep, some businesses may need complex categorization just to make their online store make sense. Some eCommerce software gives you a limited number of categories or otherwise impedes you by not allowing categories to be listed under other categories (creating sub-categories). Look for an eCommerce platform that lets you set up categories and sub-categories without restriction.
Here are two examples of the use of categories below within the homepage and the product page: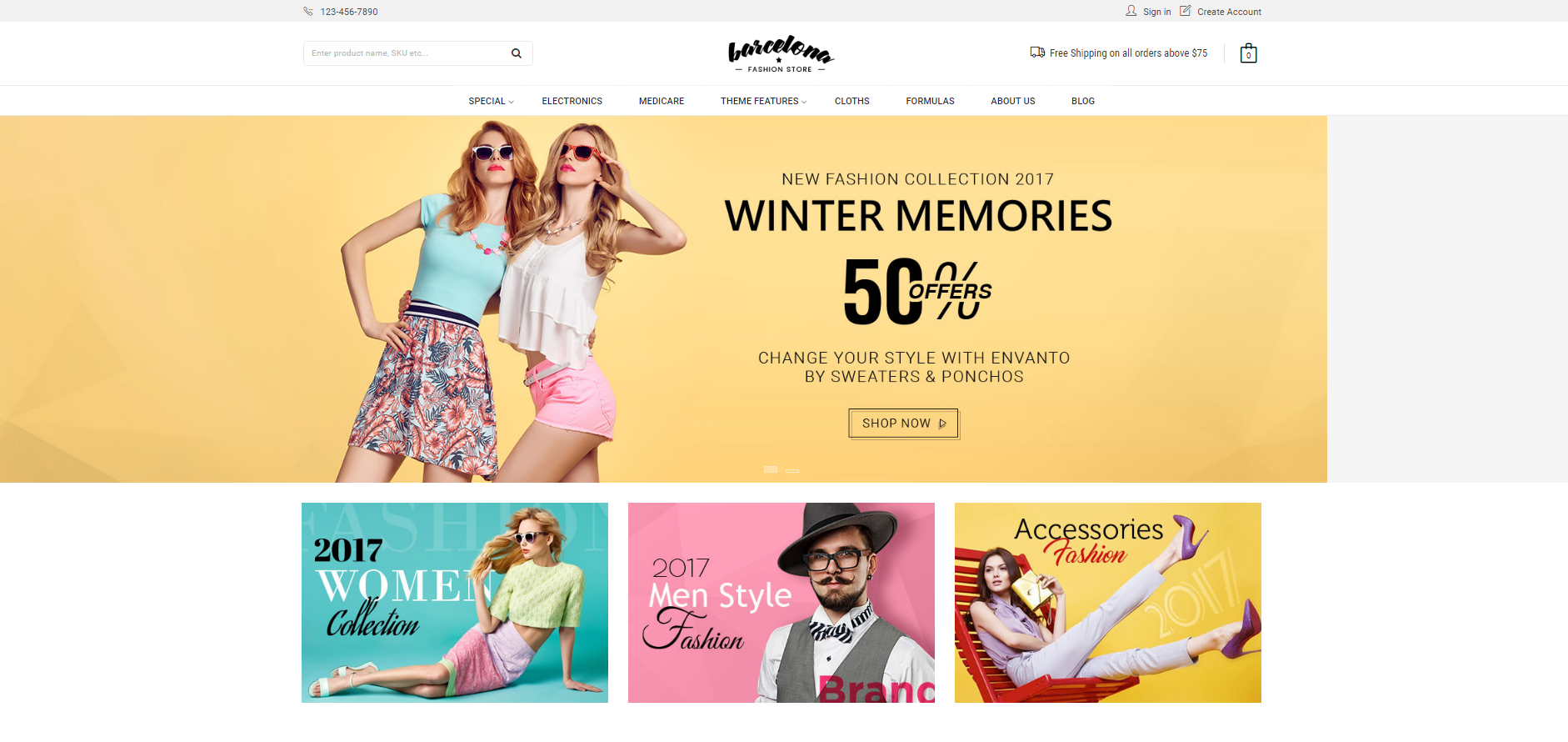 Here you can see categories on the left and sub-categories within the page on the 3dcart Barcelona website template:

• Inventory Control
How many of a given product do you currently have in stock right now? What happens if a customer buys the last one? Inventory control answers both of these questions and more. Robust inventory control features will make your life as a merchant a lot easier. You'll be able to track your stock, add more when it comes in, and never be in a position to accidentally sell more products than you can actually fulfill.
The best eCommerce platforms take inventory control even further, and give you extra features like the ability to specify what happens to a product on your website when you run out of stock. If you use eCommerce software with advanced inventory control features like these, your products will automatically display a different option in place of "Add to Cart" when stock runs out, such as a backorder notification or a button to let customers sign up for a waiting list.
• Stock Alerts
Stock alerts are a method for your eCommerce software to inform you when your inventory numbers fall below a predefined level. This helps prevent your products from going out of stock, as you'll be alerted when a product's quantity reaches a specific number, not simply when it falls to zero. This will give you time to replenish your inventory and prevents you from needing to constantly monitor stock yourself.
• Product Identifiers (SKU, UPC, Etc.)
Product identifiers are different numbers or codes that each represent a specific product. The most familiar product identifier is the Global Trade Item Number (GTIN). Different countries have different names and formats for their GTINs, with many including the United States referring to them as UPCs. A UPC or GTIN is the number that appears on the bar code of products purchased in a store.
UPCs are universal (in fact, UPC means Universal Product Code) and are issued to manufacturers by a central agency. The SKU (Stock Keeping Unit) is different, as SKUs are identification codes applied by individual businesses to keep track of products within their own warehouse. Even the format of the SKU can vary by business, to include numbers, letters, and some punctuation.
Product identifiers make it easier to track inventory and stock numbers, define which products in your store come from which manufacturer, and more — plus, if you're going to sell in person with a barcode scanner, you'll need a way to connect your barcodes to the right products within your system. That's why you should use an eCommerce platform that lets you assign SKUs, GTINs/UPCs, and even other product identifiers as needed.
• Bulk Order Support and Pricing Levels
If other retailers become interested in selling your products, you'll need a way to let them order in bulk at wholesale prices. This is essential for B2B (Business to Business) transactions and can be an important part of sustainable growth.
You should have flexibility with bulk pricing so you can set a minimum quantity for a bulk purchase, and have the option to create multiple pricing levels for different sizes of bulk orders. The ability to set up customer groups is also very helpful for presenting B2B buyers with different options than regular consumers, including custom pricing or products visible only to one type of customer.
• Release Dates and Preorders
If you're planning to release a new product on your online store, it's extremely helpful to be able to assign a specific release date for that product to appear. This way you can set up the product page at any time beforehand and let it become available on a predefined date.
You may also want to let customers preorder certain items. This is a great way to build up excitement about new releases and gauge customer interest in a new product before it's released. Customers who preorder are signaling that their interest in a product is great enough that they're willing to commit to buying it even though they're going to need to wait a while to receive it.
Your eCommerce platform needs two main features that work together to make preorders possible: the ability to set up and designate products as available for preorder, and a tokenized payment gateway to authorize preorder payments. When the product is released, funds from preorders are captured and the product's page should adjust automatically to reflect that the product is now available.
Here is an example of how Amazon does preorders: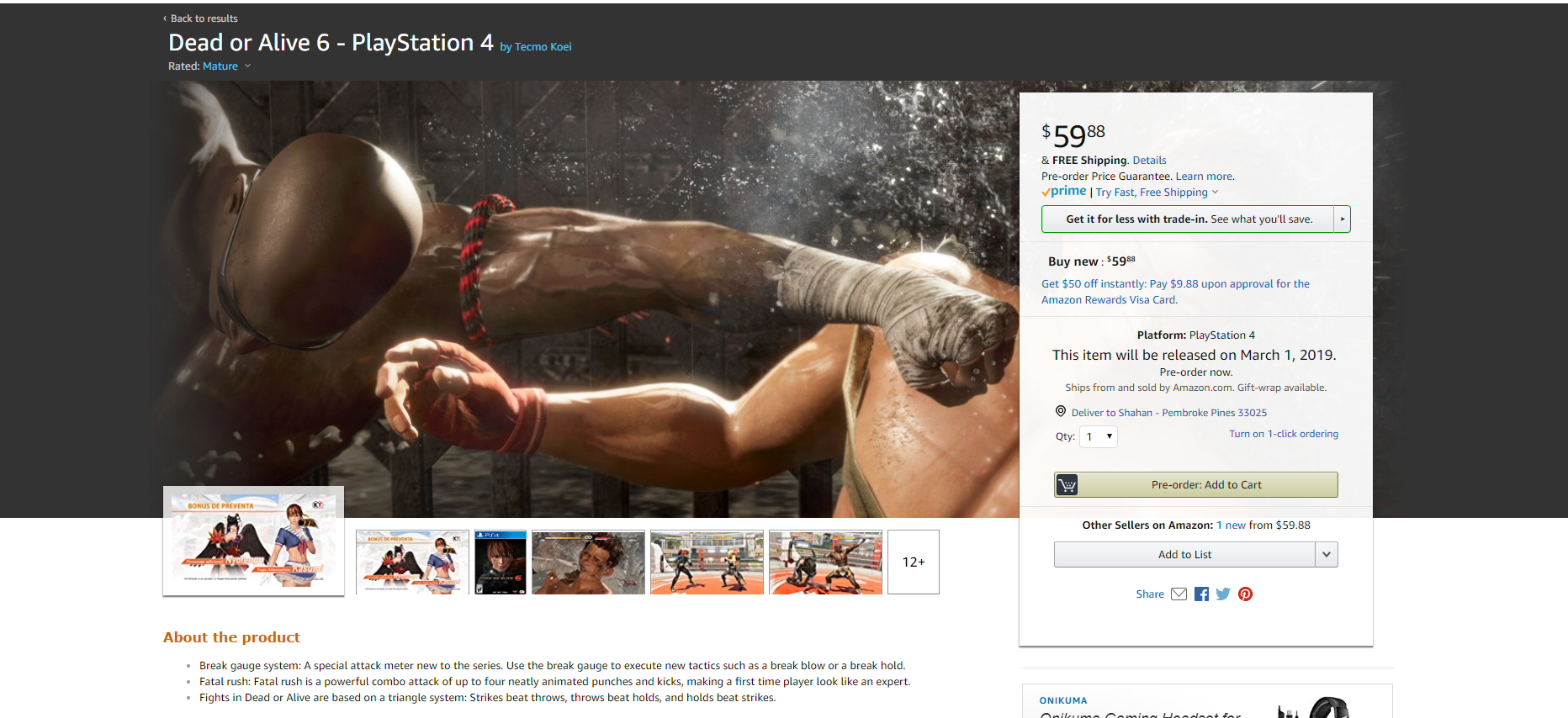 Customer-Focused Features
Customers keep your business alive, so your eCommerce platform needs to make it easy to manage them, interact with them, and help them. Your online store should be a friendly and convenient place to shop, no matter what industry you're in. Provide customers with all the conveniences and social proof they need to decide to buy from you.
• Optional Customer Account Creation
Your eCommerce platform should support customer accounts, so they can create a username and password to view their order history and update their information. Unless your business model absolutely requires the customer to log in, consider also offering guest checkout for people who hate the idea of coming up with yet another password. You can still encourage them to make an account by giving them an opportunity during checkout — at that point, they've already decided to be your customer, so they'll be less reluctant to sign up.
• Customer Groups
We mentioned customer groups as helpful for splitting up your B2B and B2C (Business to Consumer) customers, but their usage goes far beyond that. The fact is that, even if you sell a very niche product, there will still be enough variety among your customers that you'll benefit from approaching each segment a little differently. It's extremely handy to have customer grouping tools in your eCommerce platform so you can interact with (and market to) different parts of your customer base in different ways.
• Product Reviews
Social proof is the concept that people look to others for help with their decisions, and there's no clearer example than product reviews. The vast majority of customers look at reviews and star ratings while choosing a product. They want to know what owning the product is like, what problems might come up, whether it fits their exact needs, and so on. If you don't have a review section available right on every product page, you're telling your customers you don't want people talking about your products. That's a terrible message!

Product reviews should be easy to access (on the corresponding product page) and easy to skim (star ratings help show review scores at a glance). Other valuable features for product reviews are helpfulness ratings (to send the most useful reviews to the top), buyer verification (to show that the reviewer actually bought the item), and review management options like CAPTCHA verification, automatic or manual approval, and the ability to hide stars on products that don't have any reviews yet.
• Product Questions and Answers
It's getting more common to see Q&A sections on product pages, in which customers can post their questions and receive an answer from other customers or a store employee. These Q&A sections are very helpful in the customer's decision-making process, and can also help you write better product descriptions.
Product Q&A features are best if both customers and store administrators can post answers, and if there are helpfulness ratings for questions. From the maintenance end, it's nice to be able to see all unanswered questions laid out in your dashboard. A great Product Q&A feature is rare among eCommerce platforms — often only available through a third-party app with an extra charge, and many don't have the functionality outlined here. If this feature is important for your business, look carefully.

• Wish Lists
Wish lists are a customer favorite. Some people like to use them to create shopping lists for themselves, just to keep track of products they want to buy. Others use wish lists to help their friends pick out gifts for them — which means they'll be sharing their wish list on social media. Finally, some customers like to create multiple wish lists so they can do both.
A wish list feature is very helpful, especially if you can offer your customers freedom in how they use it. Let them make multiple wish lists as they see fit, and give them an easy way to share their lists to social media. This encourages customer loyalty and increases sales by helping customers remember to buy products they wanted, and increases awareness of your brand due to wish lists being shared.
You can also use wish lists to gain some insight about your products. For example, if a product has low sales but gets added to lots of wish lists, that's a signal that the product's price may be a bit too high.
• Gift Registries
A gift registry allows people to create a list of desired gifts for a big event, so their guests have an easier time shopping for them (and aren't likely to all buy the same thing). Gift registries are most commonly associated with weddings, but they're also very popular for baby showers, graduation parties, housewarming, and more. And don't immediately assume that a gift registry is useless in your industry — the most popular items added to wedding registries on Amazon are all under $50 and span a variety of product types.
A gift registry may be great for your store, but look carefully: some registries can actually hurt your sales. Buggy or frustrating gift registries, registries that can't be deleted or edited, registries that are restricted solely to one type of event (e.g. every registry automatically says "Wedding" on it), and registries that are hard to share with others can all turn shoppers away permanently. Your eCommerce platform's gift registry needs to avert all these problems — and should also only suggest items from your own store. Believe it or not, some gift registries pull suggested products from everywhere, sending customers straight to your competitors.
• Manual Order Creation
Even in the age of eCommerce you can encounter a situation in which you need to create a customer's order for them. Maybe they're having technical difficulties and decided to call you to see if they could place their order that way. Or maybe you're already expecting phone orders to be a regular part of your business!
In either case, you need manual order creation within your store's administrator dashboard, and you should also be able to easily tie a manual order to an existing customer in the system, no matter how they ordered before.
• Loyalty Program with Reward Points
Customers love rewards, and if they can earn points on every purchase, they're likely to come back for more. Look for a reward point system that lets you automatically award points based on dollar amount spent, and also gives you the option of distributing points for certain customer actions, like creating an account on your website. You should be able to disqualify certain products from awarding points or being purchasable with points. It's also quite helpful if you can configure exactly how much each award point is worth.
• Extra Website Pages
A good eCommerce website has more than just product pages: it needs additional information to back it up. Many customers head straight to the "About Us" page as soon as they arrive on the website of a company that's new to them. Your return policy, privacy policy, and shipping policies also need a prominent place on your website. You may also want to create other pages with additional product information or other content as needed.
These pages are more than just helpful to your customers — they're also a part of your content marketing strategy, and can help you earn search engine rank.
Here is an example of a theme that does it well: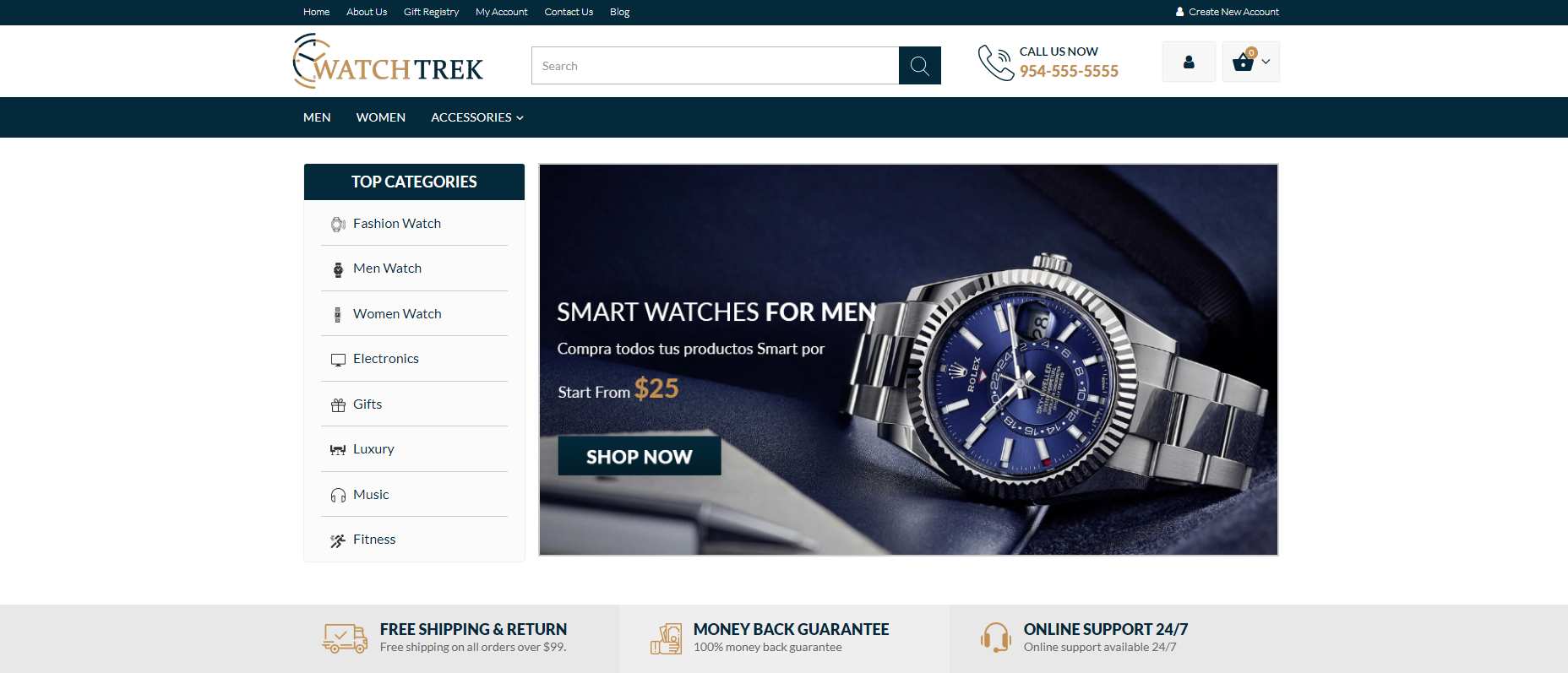 Return Management Features
One of the first things you have to accept about selling products, whether offline or online, is that returns are inevitable. Even if you have top-quality products and a high rate of customer satisfaction, someone down the line is eventually going to want to make a return, or at least an exchange for another product.

Of course, there are measures you can take to keep your return rate low and your customers happy, but you do need tools for handling returns when they happen. Returning a product is often a sensitive customer service situation that can have good or bad ramifications depending on how you handle it. When your first return happens, it's a bad, bad idea to be caught out without the tools to process it to both your and the customer's satisfaction.
• Refund Capabilities
Believe it or not, some eCommerce platforms don't have built-in functionality for issuing a refund to a customer. You may still be able to refund them through your payment processor, but this wouldn't be reflected in your online store's dashboard, which would throw off your accounting. For example, if your store's records show $1,000 in sales, but didn't record the $200-worth of refunds you issued (because you issued them directly from your payment provider without your eCommerce software being involved), your online store's sales reports would show you as having made $200 more than you actually did.
Fortunately, the majority of eCommerce platforms do have refund capabilities, but we feel it's important to mention because refunds are among the situations that new business owners often don't think about until they come up. The last thing you want is to struggle to issue a refund while your customer grows impatient — that could result in a chargeback, which hurts your business.
• RMA (Return Merchandise Authorization) System
An RMA system helps you manage returns and exchanges by requiring communication between you and the customer in order for returns to be processed. This strengthens your return policy by establishing a strict procedure for making returns — which stops unexpected return merchandise from showing up at your doorstep in unsalable condition.
With an RMA system, the customer initiates the return process by filling out a form stating the reason for their return (item arrived damaged, not what I expected, etc.) and how they would like to resolve it (refund, replacement, exchange, etc.). If you accept the return, you can then send the customer an RMA shipping label, paid for by either you or the customer depending on your policy. Most RMA systems let you specify a return eligibility time period that is used automatically, so a customer won't be able to try to use the RMA if it's too late. The best RMA systems let you override this time period on individual products, so you can have different return time limits on different products if necessary.
The best RMA systems also give you extra control, like customizable reasons and resolutions, and the ability to request additional information from the customer. File upload capabilities are also important for requesting photo proof of the product's condition — whether you want to determine that it is in fact broken, or that it's still brand-new and unopened and can be resold. The RMA process protects your business by helping you avoid accepting returns that shouldn't have been accepted and by establishing a strict process.
• Store Credit
Store credit is an alternative to issuing money back for a return. Instead, the customer receives a dollar amount of credit they can only use on your store. This helps prevent you from losing sales, and can be the answer to complicated return situations. Some customers actually prefer store credit because it means they can buy something else more quickly, without needing to wait for their refund to come through.
Store credit can also be a great customer service tool if your eCommerce platform lets you issue it whenever you want, without strictly tying it to a return.
Accounting and Reporting Features
A successful business knows how much money it brings in, how much it spends, where its customers are coming from, what they buy most often, and more. This information helps you identify strengths and weaknesses and formulate strategies, but you can't use data you don't have access to — and that's why your eCommerce platform needs these features.
• Detailed Reports
You need to know more than just how many products you've sold. You also need information that can help you identify trends among your customers whenever possible. The more data you can see at once, the better.
The reporting features of many eCommerce platforms are either severely lacking or completely nonexistent. These metrics can provide countless advantages — from helping you plan your marketing strategies to knowing what weekday is best for starting a big promotion — so you should never use a platform that doesn't provide great reports.
• Google Analytics Support
Connecting your store to Google Analytics will provide valuable information about where your customers are coming from and how they're finding you. Google Analytics itself is free to use, but not every eCommerce platform lets you connect your store to it. Use one that does.
This can be a source of valuable eCommerce data for you. Below is an example of just some of the information it can provide you with.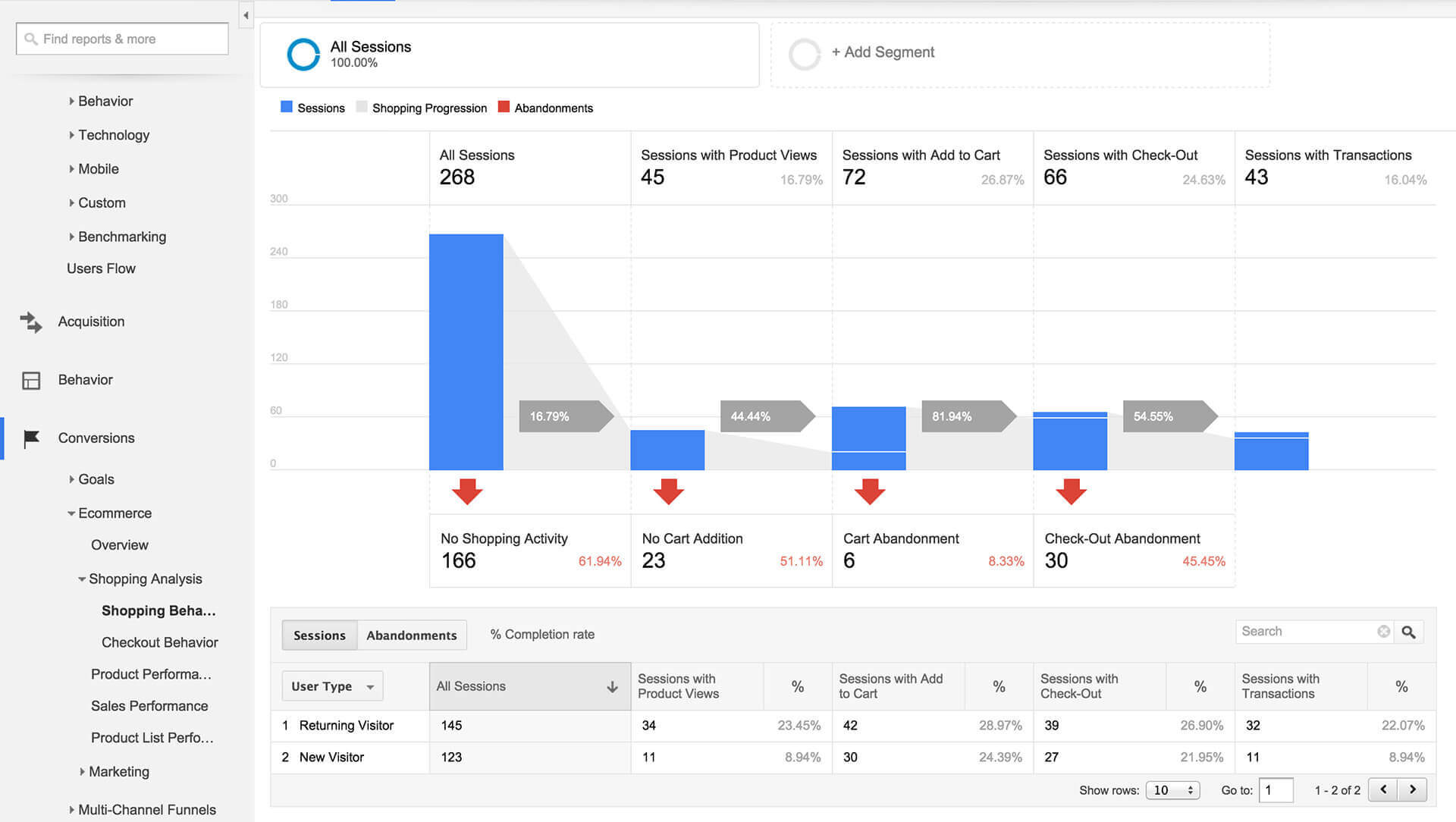 • Sales Tax Management
Taxes can be tricky, especially when you're selling online across states and even countries. The last thing you want to do is to collect an insufficient amount of tax and then end up having to make up the difference out of pocket later. A built-in tax management feature will help you collect the proper amount from every sale, no matter where you and your customers are located.
• Product Costs
The cost of a product is what it costs your business to buy or make it. Every product in your store should have its cost clearly listed for proper accounting purposes. eCommerce platforms that don't let you define product costs can leave you in the dark about how much profit you're actually making.
Apps and Integrations
Most eCommerce platforms today have an eCommerce app store. In the app store, you can find additional features or enhancements to add to your online store's functionality, usually at a price. An integration is a connection between your eCommerce platform and another provider's software or service (for shipping, marketing, payment, etc.) to enable them to work together.
Understand that apps and integrations are not exactly the same thing. Integrations can often be built directly into the eCommerce platform, simplifying the process of connecting a different service to your online store. Apps can vary widely in purpose, although some apps do exist to help connect different services when a native integration doesn't exist. Sometimes features from an eCommerce platform's higher-tier pricing plans can be bought separately as apps so you can access that feature without upgrading your whole plan. However, some platforms' app stores are entirely separate from their main feature set, meaning there's no such overlap.
As you evaluate eCommerce platforms you'll find that they all treat their app stores a little differently. Don't take the size of a given platform's app store at face value — a high number of apps doesn't mean a better platform, it only means that there are lots of apps. When you take a closer look, you may realize that most of those apps exist to cover weaknesses in the eCommerce platform's out-of-box functionality — at an extra price, of course.
A good understanding of apps and integrations is important in helping you judge the overall long-term value of an eCommerce platform. For starters, you don't want to need to pay extra for apps to access features you could get elsewhere as part of the base package. In the long run, you don't want to see your costs skyrocketing as you start to need apps to scale up your business. On the flip side of that, it's also bad for business if you can't branch out due to a lack of apps and integrations. The ability to extend functionality as you grow or as needed is important to every startup — just make sure that you can do so on your own terms, by fully understanding what's included in the platform and what you'll have to pay extra for later.
Now that we've shone a light on apps and integrations in the eCommerce world, let's look at the types of integrations you need, whether they come built-in or as an app.
• Manufacturer and Distributor Support
Your eCommerce platform should enable you to connect your store with your manufacturers as needed. The most obvious examples are dropshipping suppliers like Doba and print-on-demand services like Printful (which are also technically a kind of dropshipping).
This integration opens up an exchange of information between your store and the supplier, which makes it easier to add the products to your store and sends the orders you receive to the supplier for fulfillment. When a customer places an order, you simply forward the order to your supplier and they take care of the shipping, with you keeping the difference between the supplier's price and your own markup.
• Shopping Feeds and Social Media
A huge portion of online shopping today starts with a search engine. Customers will search for a product or related keywords and compare the different options that appear in their search results — and in fact, this method is part of the FTC's guidelines for safe shopping for consumers. Google has made this process even easier with Google Shopping, a product comparison engine that displays offerings from numerous websites complete with product images, star ratings, pricing information, and more. These listings can also be used to create Google ads which can appear at the top of search results.
But Google can't pull all the pertinent information on your products by itself — and that's where shopping feeds come in. Shopping feeds compile information about your products and export that information in a way the destination marketplace "understands." An eCommerce platform with shopping feed support will be able to generate this information from the products on your website so you don't need to do it manually.
Here is an example of what Facebook can do when you upload your products to their platform: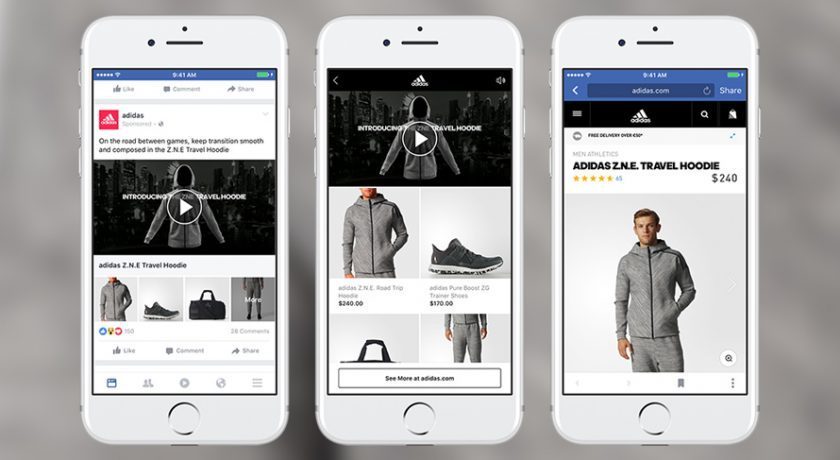 Social media is also becoming popular for shopping, and Facebook Business Pages can sell products directly from their Shop tab. Rather than set up your Facebook store manually, you can build it in a similar way as a shopping feed, as long as your eCommerce platform supports this connection. Having products for sale right on your Facebook page is beneficial to your business, so look for an eCommerce solution that includes Facebook Shop integration. This will allow you to export products from your website to your Facebook store and keep your inventory numbers synchronized between them.
• Multichannel Sales Integrations
If you decide to expand your business to sell across multiple marketplaces, integrations with these marketplaces will be very handy. Selling products from your online store on Amazon, eBay, or another marketplace is much simpler if your eCommerce platform can synchronize your inventory between all these sales channels. Being able to expose your products to huge audiences, who may otherwise not be aware of your business and website, is a huge advantage — especially when it doesn't take much extra work on your part. If eBay is one of your targets, you can save even more time if you use an eCommerce platform that can generate eBay listings right from the product information on your store.
Buy Buttons are another fantastic multichannel selling tool, as they can be placed almost anywhere. An eCommerce platform with a Buy Button feature will let you generate a small piece of code you can paste onto any website that lets you edit HTML and add JavaScript. This code creates a widget that customers can click on to buy the product. With Buy Buttons, you can make almost any website into another sales channel, including social media that isn't normally for selling, like Tumblr.
Payment Gateways
eCommerce would be impossible without online payment processors, and there's a whole world of them out there — each with potential advantages to your business. Look away from eCommerce platforms that stick you with a single payment method or penalize you with transaction fees for using the "wrong" one. It's far better for you to use a platform that gives you a ton of choices for accepting payment without trying to push you towards one or another.
With 3dcart you would get well over 100 different payment gateways available to you.

• Credit Card Processing
Credit cards are still the most popular payment method online, even with other alternate methods gaining in the market. A good eCommerce platform will give you several options for accepting credit cards with a large list of providers to choose from. If you already have an existing relationship with a payment provider, you shouldn't have to switch to a different one just because your platform doesn't support the one you use.
• Digital Wallets and Alternate Payments
Digital wallets are a type of service that lets customers save all their payment information in a secure account and then check out using that account instead of their actual credit card number. This means customers don't have to enter their card numbers on unfamiliar sites (or at all), as long as the site accepts the digital wallet they use. These are growing in popularity alongside other alternate payment methods like PayPal. Amazon Pay, Google Pay, and Apple Pay are all great examples.
• Financing Options
Customers are more likely to make larger purchases if they know they can finance it over time. Issuing this type of credit used to be more difficult for retailers, but now it's much easier with the advent of services like Klarna, Bread, Sezzle, and others. These providers all work a little differently, but each allows you to extend financing options to your customers at no risk to your business. Klarna even has an invoice feature to let customers pay for their order after they receive it, while you are paid up front.
• High-Risk Payment Processors
Any highly-regulated industry carries an extra element of risk to the payment provider, because if the seller breaks any laws the payment processor can be subject to penalties as well. Industries that spawn an unusually large number of chargebacks are likewise risky because the payment provider stands to lose money. That's why many payment providers are unwilling to work with stores that sell these types of products. Alcohol, tobacco, firearms and accessories, nutritional supplements, adult products, and more are all designated as high-risk industries for one or both of these reasons. If you're selling in a high-risk industry, you need a high-risk payment processor, no question about it.
• Other Payment Methods
We still haven't covered all the payment methods businesses accept today — eChecks, wire transfers, cryptocurrency and even old-fashioned money orders sent through the mail can be preferred payment methods for some businesses. Ultimately, the payment processors you need depend on the structure of your business and the types of your customers. If your eCommerce platform supports a wide variety of payment methods, it can only help you.
Security and Compliance
Security is a must to protect both your business and your customers from illegal activity. Your online store must meet certain security standards to continue operation. An SSL (Secure Sockets Layer) certificate is an important first step, and encrypts information as it passes to and from your store — but you need more than that. Some eCommerce platforms handle security better than others, and will cover everything in this list. Others are only partially secure and leave the rest to you, so it's crucial that you understand what these features are. If you're considering a platform that doesn't handle a certain security aspect you know you won't be able to manage yourself, mark it off your list and look elsewhere.
• PCI Compliance
PCI compliance is a set of rigorous security standards a website must meet before it's allowed to take credit card payments. These standards cover a wide variety of security concerns from all angles, right down to scheduling inspections on the online store's web server to ensure there are no vulnerabilities. As you can imagine, remaining PCI compliant is an enormous investment in time and money. Fortunately, some eCommerce platforms are PCI-compliant right out of the box, and manage all of this for you behind the scenes.
• Fraud Prevention
Fraud is rampant in eCommerce. Fortunately, many eCommerce platforms offer tools for helping protect your business — but not all platforms have all the fraud prevention features you need. There are many types of fraud and you need to be able to detect, and prevent, all these situations before they happen.

Stolen credit card numbers are the most obvious example, often distinguished by a mismatch between the billing and shipping information. Strange purchase patterns can also be a sign of fraud, including a stolen card testing method called "carding." Chargeback fraud is another type, in which customers receive their product but file a chargeback with their payment provider anyway. To fully protect your store from fraud, you need to address all these issues while ensuring methods are in place to prevent false positives.
Automatic fraud detection systems can help identify orders with fraudulent characteristics and flag them for your review. This notifies you about potential fraud while still giving you a chance to judge whether or not the order may be legitimate even though it had suspicious traits. A reporting system that shares information among merchants is a wonderful tool for marking certain known buyers as safe or unsafe. Detection of unusual payment behavior, like numerous small transactions in quick succession, can be identified as a sign of carding and blocked. As for chargeback fraud, your online store should be able to provide enough detailed records, including order delivery confirmation, to help you win those cases.
Always investigate the fraud prevention tools available for an eCommerce platform, even if they carry an extra charge. It's worth it for your business.
• Trust Badges
Your online store must not only be secure, it must appear secure. Even with the ever-increasing popularity of eCommerce, customers have real concerns about shopping online. Large data breaches, theft of credit card information, and potential scams are all risks customers sometimes aren't willing to take. This is why customers need to trust both the security and the honesty of your website.
While some security features are obvious — like your SSL adding a notification to the browser address bar that the site is secure — you can make your website look even safer by displaying trust badges. Security concerns can be eased with badges representing safety precautions like PCI compliance and anti-fraud apps; these badges tell the customer that their data is safe from being intercepted by hackers.
Here is an example of some common trust badges: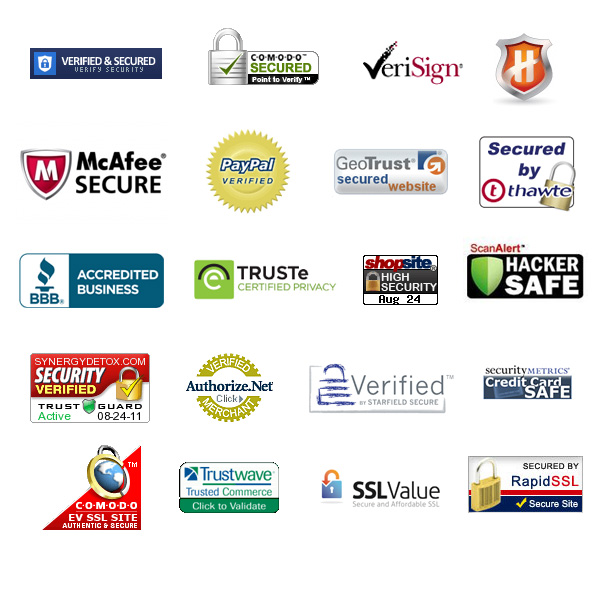 Other badges inspire confidence in your business's legitimacy and reputation, which can be the decision-maker for a first-time customer. These include BBB Certification, the PayPal Verified seal, and Google Customer Reviews (formerly Google Trusted Stores). These badges tell the customer that your business is real and you won't be disappearing with their money.
Credit card and other payment logos also fit neatly with your trust badges as a means of instantly communicating to your customers about their payment options — plus, these logos add a bit of authority as well. You could also consider adding custom badges to notify visitors of your most attractive policies, like free shipping.
Of course, your eCommerce platform needs to make it easy for you to add the badges to your website, including more complex badges like Google Customer Reviews.
The Intangible eCommerce Features Every Startup Needs
We've discussed the tools and features your eCommerce platform should have to help you run your business. Now we're going to look at the features that aren't tied to a specific functionality in the platform, but rather to its overall usability.
• Simplicity and Flexibility
The easier it is to use your eCommerce software, the smoother your business operations will be. The more flexible your software, the more options you'll have for taking advantage of every possible strategy and opportunity for your business.
Unfortunately, many eCommerce providers see simplicity and flexibility as opposite ends of a scale. A platform could be extremely easy to use, but so limited that it impedes your business. It could be incredibly flexible and customizable, but so hard to understand that you'll need a full-time web developer (or more than one) to get anything accomplished at all.
Other eCommerce software providers have made it their mission to eliminate this problem by creating very flexible, customizable platforms that are still quite easy to learn and use. This isn't a compromise — it's the best of both worlds. This is the type of platform you want.
• Scalability
Some eCommerce platforms are only good for very small businesses, while others are only useful for large international enterprises. This intersects with the simplicity/flexibility issue above, but is more about how well the platform itself works for different business sizes. Your eCommerce platform needs to cater to your business at every stage, not cap your growth with a low product limit or struggle to run when you start getting heavy traffic.
The best eCommerce platform is one that grows along with your business, supporting your website with powerful infrastructure that keeps it all running smoothly no matter how many products or customers you have. You should be able to start out with a plan that fits your budget and move to higher tiers when your business's needs demand it. Above all, you should never feel that your business is the wrong size for the eCommerce software you use, no matter how young or how successful your startup is.
As you grow, you may need to hire more staff to help run your eCommerce website, so you'll also need the ability to create logins for them to access your administration dashboard — without giving them access to everything. Your platform should support extra staff users with fully-configurable permissions.
• Support and Additional Services
Great eCommerce providers take customer support seriously. You never know when you'll need help, so look for platforms that offer at least one free support channel with every plan. Some eCommerce providers charge extra for support, sometimes at pretty painful rates, so always check to see what support methods are included.
You may also need additional services to help you grow, like custom features for your website, a fresh theme, SEO help, or even a writer for your blog. Check to see if an eCommerce platform offers extra services or can get you in touch with other experts. No need to go looking for help on your own if you can find it through your provider!
What Are My Options?
After reading this article, you may feel a bit at a loss. That's a lot of features. They're all useful, most are important, and many are absolutely vital. How are you going to find an eCommerce platform that includes them all?
We did mention earlier that your business may not need all these features right at the outset — but if you do need them later, and they're not available, your business could hit a wall. So it's still in your best interest to choose a platform with all these features to help prevent problems down the line. That doesn't make your search any easier, though.
However, we can narrow it down for you. There are only a handful of eCommerce platforms that have more than a few features from this list, and some of them only have partial implementations — e.g. real-time shipping rates from a single carrier, not multiple ones. But there's only one eCommerce platform that has all the features, and meets all the tangible and intangible criteria from this article: 3dcart.
Does 3dcart Really Have All the Features I Need as a Startup?
Every business is different. Unusual situations do occur. It's possible your business needs a unique solution that hasn't been implemented before in any platform — but it's not likely. In any case, 3dcart does have all the features outlined in this article, as well as many more that we haven't even touched on.
If you choose 3dcart as your eCommerce platform, you'll have access to the best and most complete set of tools and features in the industry. You'll be able to run your store with ease, from initial setup and onward, so you can focus your attention where it counts: on running your business.
Attract customers with a beautiful shopping experience that will have them coming back for more, and entice them with rewards and promotions to earn long-term relationships and recurring sales. Get more traffic with the best SEO tools available, and reach millions of potential customers with multichannel sales tools.
Versatile marketing campaigns, a massive selection of integrated payment providers, and multi-carrier shipping integrations ensure you can target the right customers, accept your preferred payment methods, and deliver on your promises — and powerful reporting capabilities provide all the data you need to refine and improve your website and business.
3dcart also maintains a live, US-based support staff 24/7/365, including holidays so you can get the help you need at any time, for free. There's also a 15-day free trial available (no credit card needed) to give you a chance to try the software without a commitment.
Your business's success relies on the capabilities of your eCommerce software. There's no need to scour the internet in search of a platform with all the features you need: it's already here.