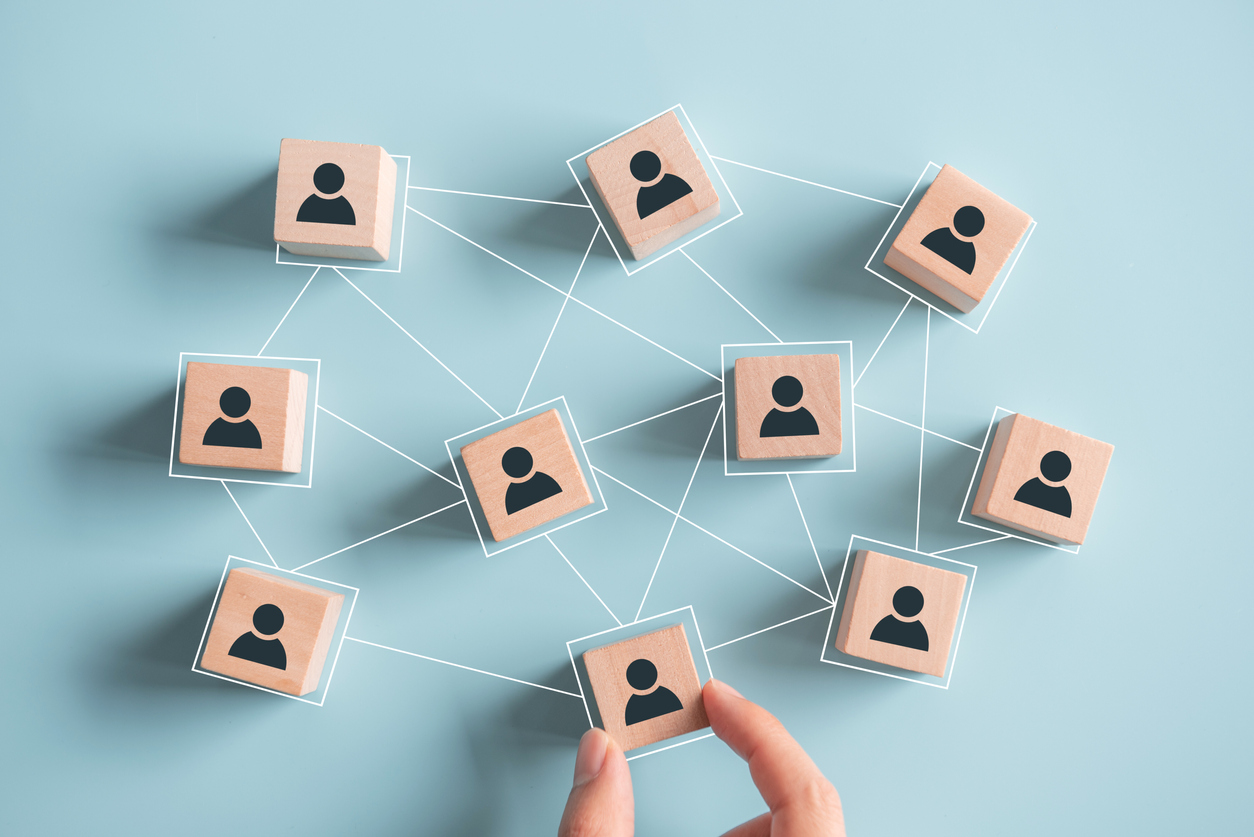 When it comes to human resources (HR), few things can make life simpler than the right software. From recruiting to hiring, and then evaluating and tracking performance, HR software allows teams to function better. That means less back and forth and fewer unnecessary emails to remind everyone of what's going on. Additionally, great HR software ensures that other aspects of business operations are streamlined, including payroll, benefits, time tracking, etc.
For online businesses, especially those that operate fully in the digital space, HR software provides another necessary function. It allows for remote operations to take place — and to still be as productive and efficient as office settings (if not more so). By giving employees and team members a workspace "hub", HR software increases a business's productivity, as well as its profitability.
With numerous HR management software available for you to choose from, there is no shortage of options for online businesses large and small. And, when you do your research, you'll also find HR software that delivers exactly what your business needs, no matter how specific that might be, including things like smart reporting and even fingerprint identification.
But what exactly does HR management software do?
One of the most important roles HR software plays is automation. By streamlining manual tasks and organizing information and data, this software keeps businesses operating smoothly — even when everyone is working in different places.
Some of the most important roles of HR management software include:
Organizing data
Storing information online securely
Developing workflows
Tracking progress and approvals
Time-tracking
Employee training and development
Employee compliance and satisfaction
Managing performance
Setting and tracking goals
Managing benefits
On-boarding and off-boarding employees
Integrating 3rd party applications
Auditing data changes
Generating custom reports for teams
Clearly, HR management software can wear many hats in your company, from managing employees to reporting data. But, how does that apply to your business in particular?
How will my online business benefit from HR software?
By implementing the right HR management software for your digital business, you can start to see dramatic changes in the way your business operates. Not only will you and your team feel more organized, but workload, time shifts, and overall morale will be better managed, so productivity and efficiency will improve as well.
Some of the other benefits of using HR software include:
Fewer mistakes
Enhanced organization
More efficient processes and systems
Improved feedback and responsiveness
Advanced analytics
More accurate planning
Improved ability to follow specific industry-related rules and regulations
By streamlining your business operations with HR software, efficiency has the potential to skyrocket. Now that we understand just how beneficial HR management software can be, let's take a look at the 10 best HR management software for online businesses.
The 10 Best HR Management Software for Online Businesses
1. Monday.com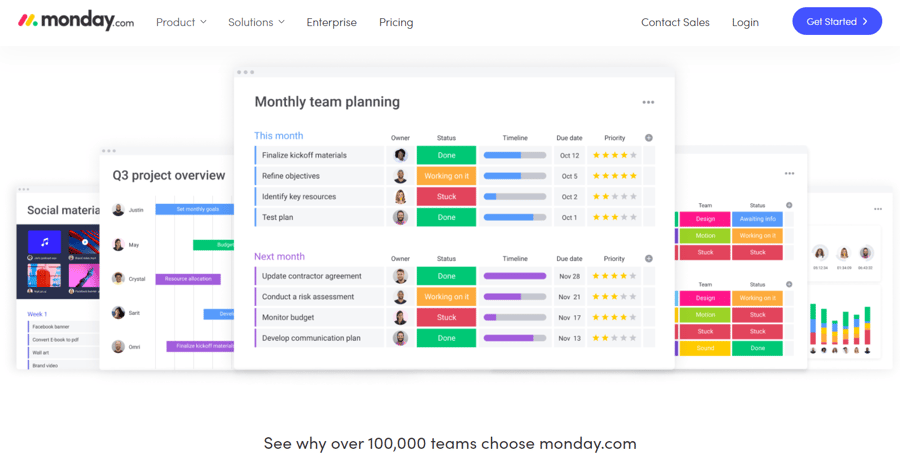 One of the most well-known HR management software in the world, Monday.com allows businesses to better communicate and collaborate from anywhere in the world. Used by both digital businesses with remote teams and teams working within a physical office space, Monday enhances the way projects are assigned and completed through its unique Boards and Columns system.
Regardless of the industry, Monday allows teams to work more efficiently. This is especially true because it connects to a variety of third-party applications, including all of those that your team already uses for day-to-day operations.
Although most HR software can perform the tasks Monday performs, one of the reasons it has become so popular is that it organizes everything in a visual way that is easy to understand and manipulate. By being able to visually see what everyone in the business is working on, teams can function more harmoniously and, therefore, get even more done (while enjoying the work, too).
Monday is relatively affordable, with plans starting at $8/month for each "seat". Plans are highly customizable as well, so you can pay for exactly what you need.
2. BambooHR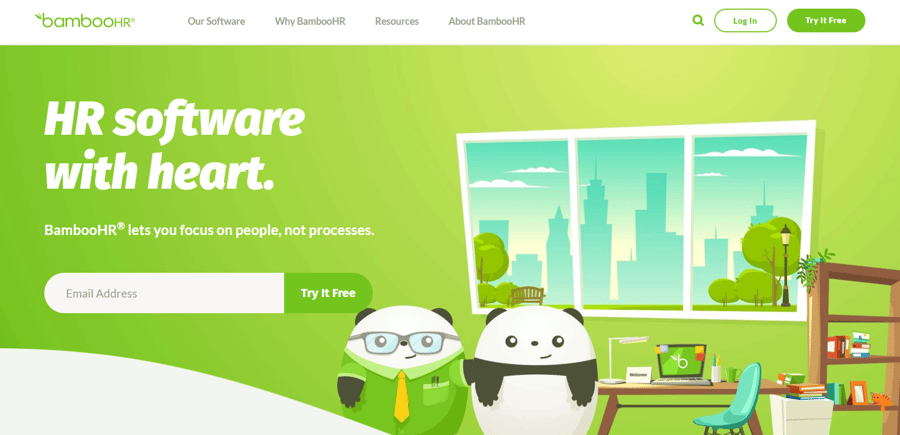 A great software for smaller and medium-sized businesses, BambooHR is incredibly user-friendly, making it easy to adopt — even when your business is already up and running. Visually beautiful, BambooHR also delivers on a variety of important HR tasks, giving your business the ability to organize personnel and their information in a unique way. Although it has fewer features than Monday, this simplified software solution gives many businesses exactly what they need without being too complex.
Pricing for BambooHR is based on quotes, so you will need contact their team to find the exact cost for your business. Their pricing is divided between two packages: Essentials and Advantage. The main difference between the two packages is the addition of hiring and onboarding features, telephone support, advanced components, and additional integrations.
3. OnPay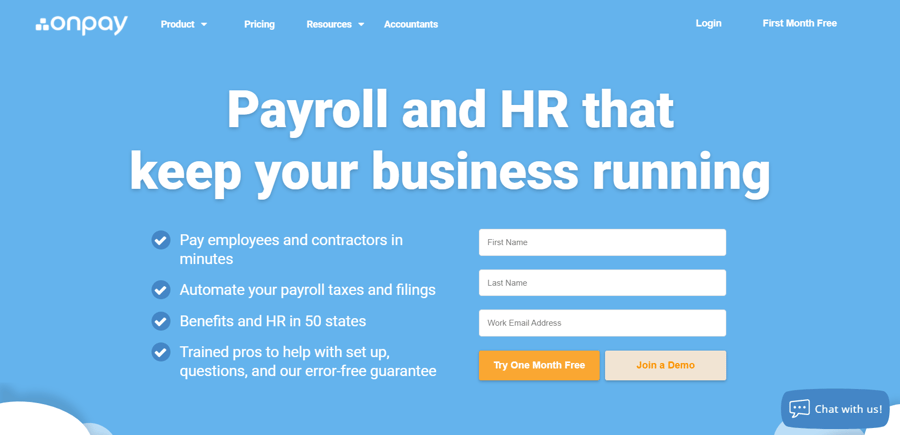 Another solution for small and medium-sized businesses, OnPay is known for being a great payroll software that can be customized for your organization's unique needs. Cloud-based, OnPay makes processing payroll simple — it will even automate filing your taxes and other payments. Designed specifically for HR roles, OnPay allows for insurance, benefits, retirement plans, and contract pay all to be tracked and handled in one simple system.
Relatively affordable compared to other payroll solutions, OnPay ensures that everyone on your team (including yourself) is taken care of each and every month. Pricing starts at $40/month and increases based on the amount of people on your team. To test out the software, OnPay also offers a one-month free trial.
4. Freshteam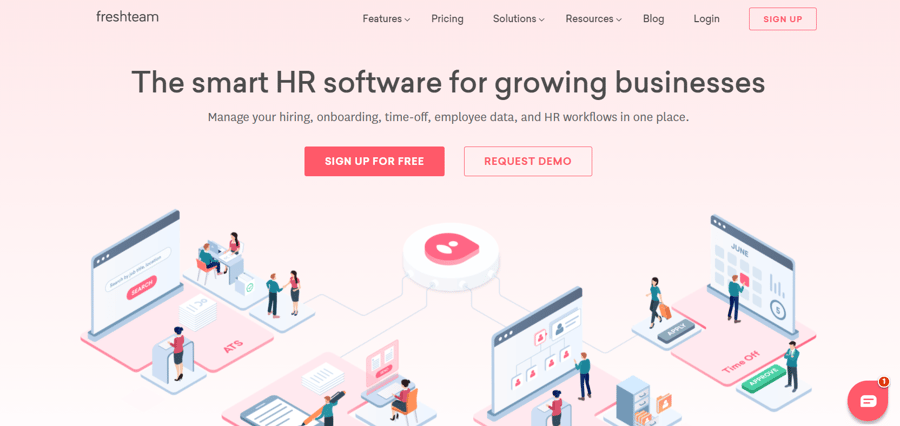 Although Freshteam delivers on all necessary HR roles, one of the best features of the software is that it tracks applicants and the recruitment process for your business. If your company is regularly hiring people, including contractors and part-time employees, then Freshteam is a great solution. Affordable compared to other HR tools designed for acquiring talent, Freshteam ensures that potential hires are properly assessed and then brought in to the team efficiently so that no one's time is wasted.
The Freshteam software streamlines HR tasks because it allows for communication to happen across applications without needing to leave the Freshteam platform. And because it's secure enough to store employee and applicant information, Freshteam is a great platform for digital businesses that are regularly hiring.
Freshteam is part of the larger company Freshworks, which offers solutions for customer and employee engagement. You can start using Freshteam for free if you have under 50 employees – paid plans start at $75/month (or $50/month on a yearly plan).
5. Rippling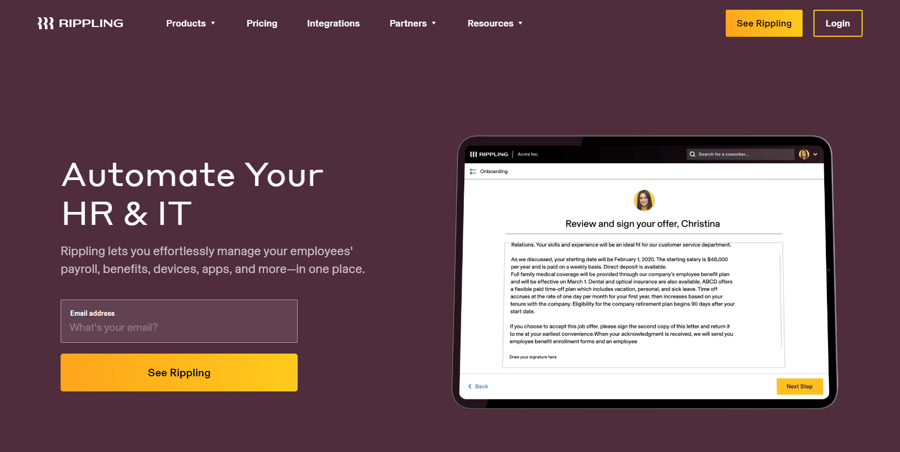 One of the best software available for automating HR tasks, Rippling can handle everything from on-boarding new talent to running payroll. Capable of integrating with over 500 diverse applications, Rippling is known for its security, which will make storing your digital information easier. Like most HR management software, Rippling helps companies increase their productivity by offering a single system for all operations, including HR. By streamlining various workflows, Rippling makes every process of your business easier, including on-boarding new employees, which is traditionally costly and time-consuming.
Pricing for Rippling starts at $8/month per user, with custom pricing quotes available tailored to your business size and needs.
6. Paycor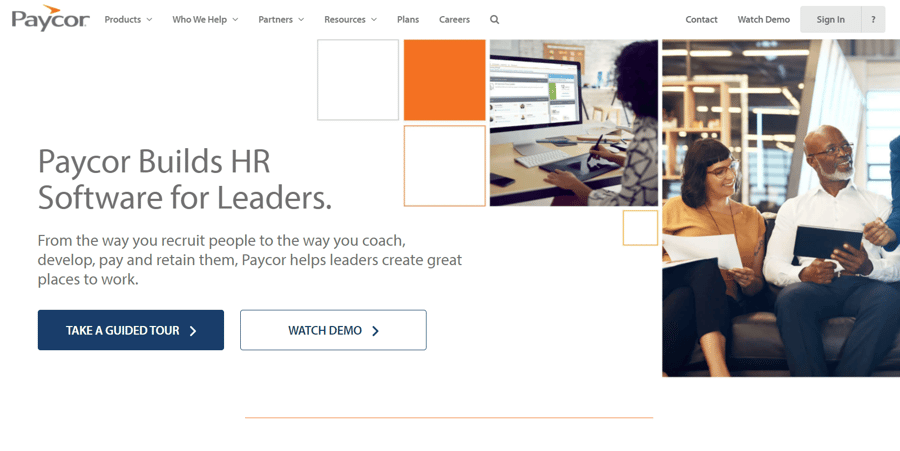 Officially a HCM (Human Capital Management) system, Paycor is ideal for handling three main tasks of HR: recruitment, resources, and payroll. Designed to be intuitive, Paycor improves all business processes and has a reputation for being one of the best tools for helping digital companies scale. With more than 30,000 businesses using Paycor since 2005, the software has grown and evolved over the years, continuing to provide HR solutions that ultimately reduce the cost of operations so that businesses can remain competitive in their respected niches.
Paycor paid plans start at $99/month for basic functionality, and can go as high as $199/month. Each plan is built for certain business sizes, so determine which is best for your team and budget.
7. WorkBright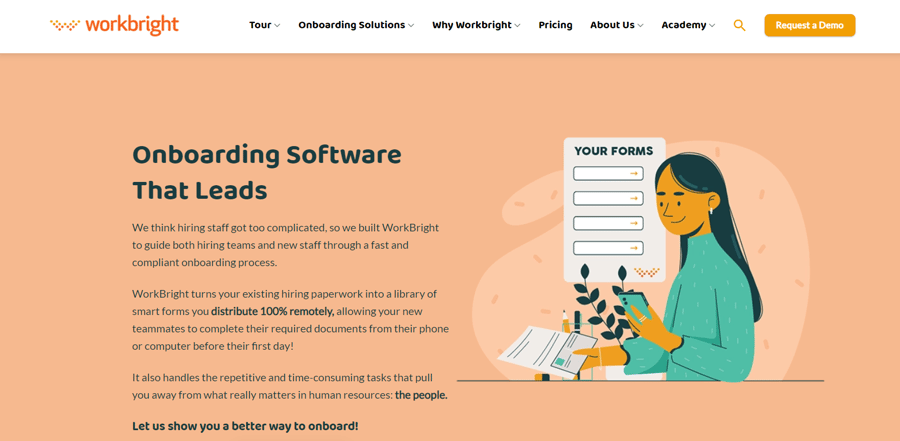 Designed for on-boarding new team members, WorkBright is a cloud-based software that is brilliant with mobile devices (something not all HR software is). Allowing new team members to upload all of their documents digitally, WorkBright keeps systems tight so that your business never gets out of step. Businesses that use WorkBright enjoy being able to customize hiring pages so that their brand is accurately represented, as well as all of the necessary information conveyed for a position.
Prices for WorkBright start at $158/month and increase based on business size. They offer custom quotes to best serve the needs of your business.
8. eSkill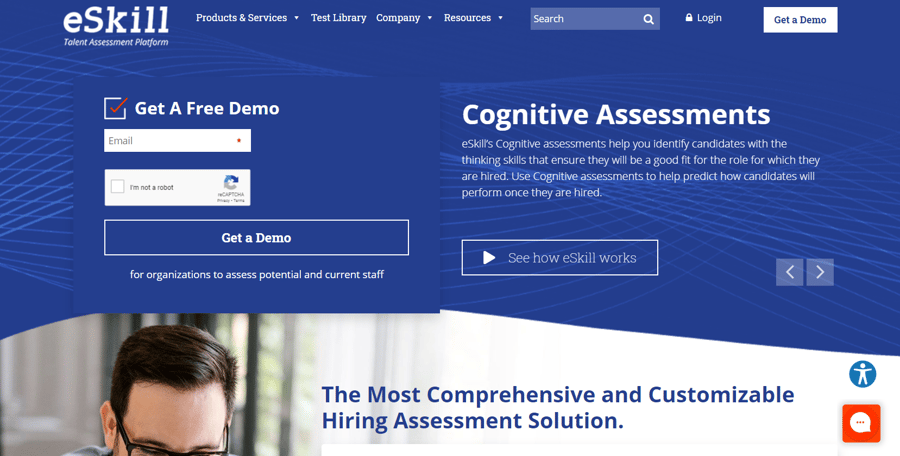 When it comes to hiring new talent, eSkill is an amazing software to have for your business. Not only does the platform provide a variety of accurate tests for your new hires or prospective applicants, but it also allows you to create other assessments that can be used in later stages, which means you can keep track of employee satisfaction, as well as their performance.
To help you develop the right tests, eSkill uses a vast portfolio of knowledge, including things like behavior assessments, skills testing, video interviews, and even job simulations, all of which help ensure that you're hiring the right person for the job. Depending on your needs, you can choose tests that have been previously prepared by the team at eSkill or you can create your own, mixing and matching questions, as well as adding in your own specifications.
One of the more expensive options on this list, eSkill plans start at $850 for their Basic 25 test result package. Prices can increase up to $5,000 depending on need – custom quotes are available as well.
9. Sage People

A great HR solution for businesses of all sizes, Sage People helps acquire the best talent, as well as manage teams, run payroll, and process benefits. By centralizing HR tasks, Sage People gives businesses the ability to perform at a higher level. And because it's secure, you can store employee data, making it easy to access information at a moment's notice. Information stored on Sage People can also be accessed by employees, which cuts out the middleman in a lot of HR situations.
Pricing for Sage People is based on requests only, so feel free to submit a request to find out how much it may cost for your business needs.
10. Hibob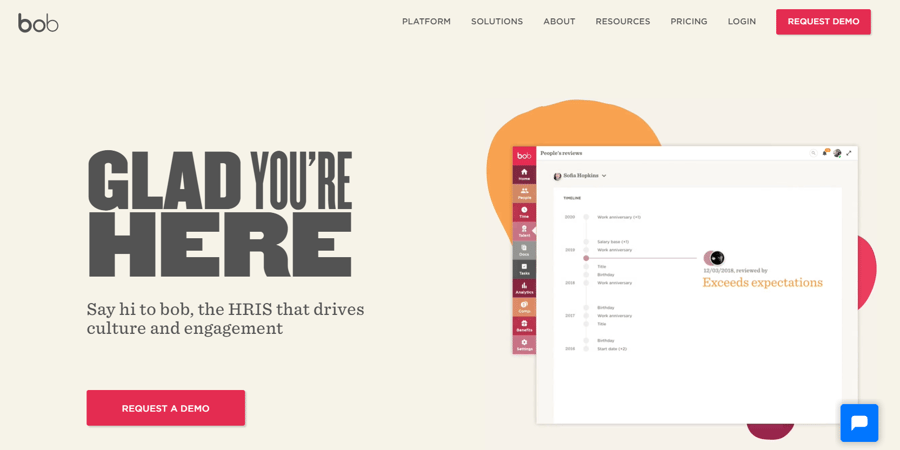 One of the most creative HR management software solutions, Hibob is a great way to effectively manage teams through a variety of automated tools. Additionally, Hibob encourages team engagement, which allows companies to be more productive while simultaneously improving employee satisfaction. Hibob also offers data analytics, payroll, and other reporting tools. Through the platform's main hub, businesses can automate a variety of daily processes, organizing information and encouraging collaboration across the organization.
Hibob bases pricing on custom quotes, so you will need to submit a quote request to get your custom pricing.
11. Recruiterflow
Recruiterflow is one of the highest-rated recruitment agency software out there in the market. The platform is best-known as one of the most easy-to-use and powerful solutions for recruitment agencies. Building on this reputation, they offer a collection of tools to help recruiters source faster and manage their hiring pipeline more effectively. At the heart of Recruiterflow's platform is an ATS & CRM; A visual dashboard for recruiters to see what's happening in their pipeline, track candidate's entire journey, collaborate with other team members, add reminders, sync calendars, and more.
Features like a chrome extension, automated email sequences, easy interview scheduling, well-designed scorecards, and automated reports enable recruiters to increase candidate sourcing, hire the right talent faster, and streamline the entire recruiting process in a heartbeat. What makes Recruiterflow stand out from other recruitment CRM tools is its minimal learning curve; the platform is designed for every recruiter - regardless of their experience with ATS & CRM. So, it's no surprise that it's widely used by recruitment agencies.
You can sign up for a 14-day free trial or schedule a demo to understand the platform better. Pricing for recruiting agencies starts at $69/month per user. Plus, you can also get a custom price for your business depending on your requirements.
Conclusion
HR management software is by far one of the easiest ways to start increasing productivity for your business while also making everyone's life easier. Without this kind of software, businesses, especially those operating digitally, would be unable to effectively manage teams, streamline processes, and scale operations. Incredibly versatile, there is a HR management software that's right for your business, no matter how big (or small) your company is today.