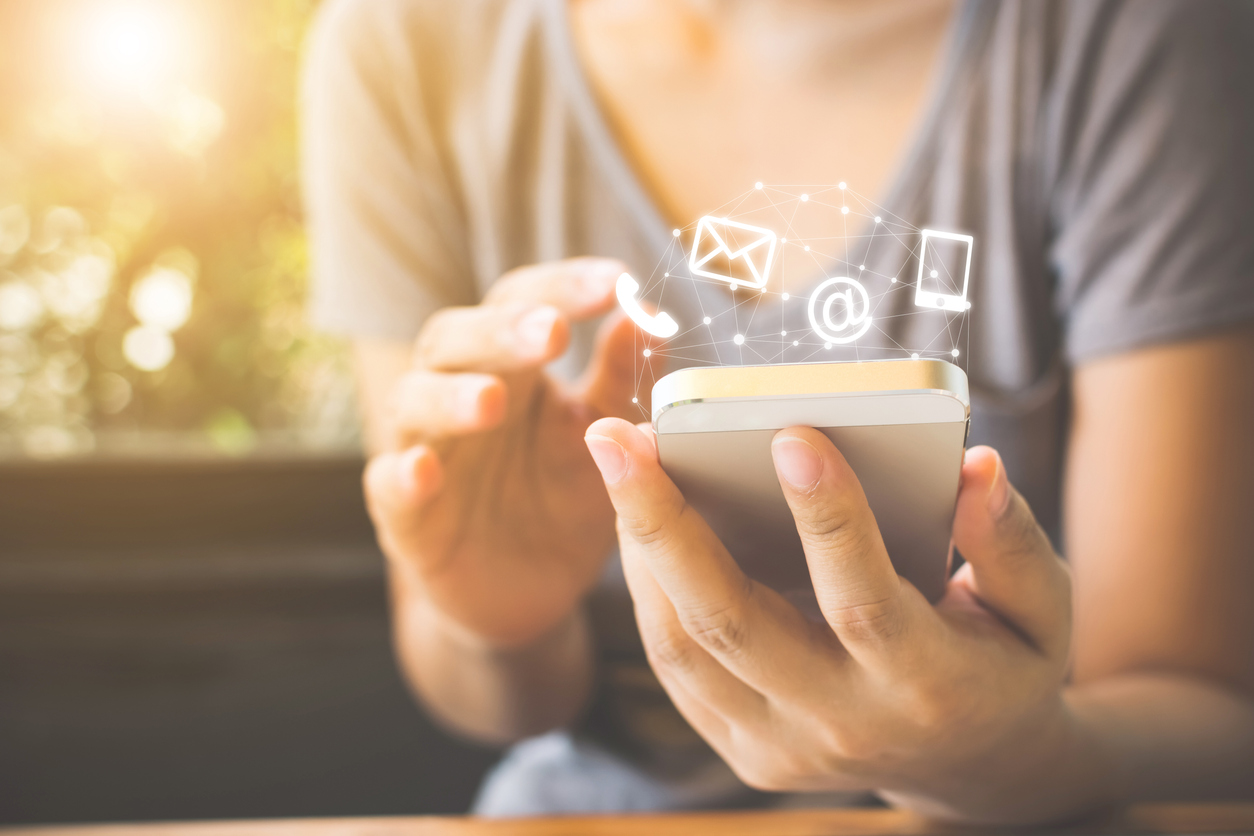 Email marketing is one of the best, most important methods for marketing an eCommerce business. Understanding effective email marketing is the key to growing an audience of recurring customers. Of course, the effectiveness of your email marketing can strongly depend on the tools you use to run it. Your email marketing platform has to equip you with the right features and capabilities to set up effective campaigns.
Mailchimp has been one of the most popular email marketing tools for many years. But are there better solutions out there? Many eCommerce business owners seem to think so, as Mailchimp alternatives are growing in popularity. This article will discuss the best of them.
What is Mailchimp?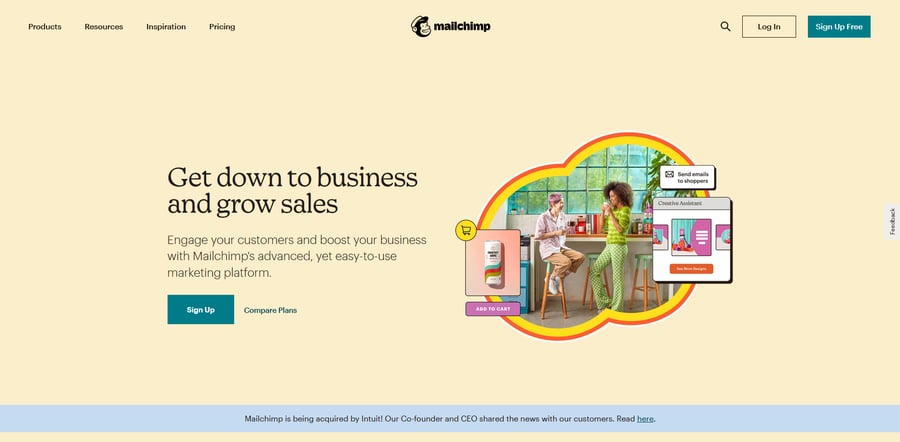 Mailchimp is an automated email marketing platform that allows users to create email campaigns and manage mailing lists. It's easy to use, allows a lot of freedom in email design, and has solid reporting features to help you understand how well your campaigns are performing. It also offers a free account.
While Mailchimp has been extremely popular for years, some business owners feel that it's starting to get a little behind the times. Users report that new features are slow to be added, and other email marketing platforms have expanded with new capabilities that Mailchimp doesn't have. Others are unhappy with the pricing structure — the free plan is limited to 2,000 contacts, but after that, it gets a little confusing.
The next plan is Essentials, which starts at $9.99/month based on 500 contacts, which means you'll already be paying much more than that if you've already exceeded the 2,000 contacts available in the free plan. After that, you have Standard and Premium plans with pricing also based on the number of contacts. These plans also unlock additional features. So, your choice of Mailchimp plan depends on both the features you need and the number of contacts you have. Mailchimp has a cost calculator on their pricing page to help you figure out how much you'll need to pay, but even with this tool available, many business owners simply feel Mailchimp is too expensive.
Mailchimp's support has also caused some dissatisfaction because it's become harder to access. While they do provide online tutorials and you can get support by email, some users are looking for more — like the ability to talk to a support representative in real-time.
Why Might You Want a Mailchimp Alternative?
Just like any other software, email marketing platforms vary. While they all serve the same general purpose, they're not all exactly alike. Different email marketing software can offer a slightly different set of features. While most have some tools in common, these tools might work in a different way depending on the software. There can also be other differences, like the look and feel of the user interface. Tasks might be faster or take longer, the pricing could be different, and overall each can offer a different experience despite being based on the same general idea.
You might look for a Mailchimp alternative simply because Mailchimp itself doesn't do everything you need it to do, or you might dislike something about how it works. Or perhaps you're unsatisfied with its pricing model or available features like we covered in the previous section.
You may also be struggling with their abuse prevention system Omnivore. Since it's AI-powered, there is a slight margin of error — occasionally, it flags legitimate accounts as false positives. Fortunately, with an accurate email verification service, you can easily solve the MailChimp Omnivore warning problem.
Regardless of why you want to use an alternative to Mailchimp, you have many options available.
When choosing an email marketing platform, you need to consider the following aspects:
Pricing and how it can fit into your budget
What features are available
Whether it works with your other eCommerce software (through an app connection or built-in integration)
Whether or not you find it easy to use to accomplish your email marketing goals
The quality and availability of support if you need help
Finally, if you end up with multiple choices that all meet the above criteria, which solution simply "feels" the best to use
This list of Mailchimp alternatives will help you discover the best email marketing software for your business.
AWeber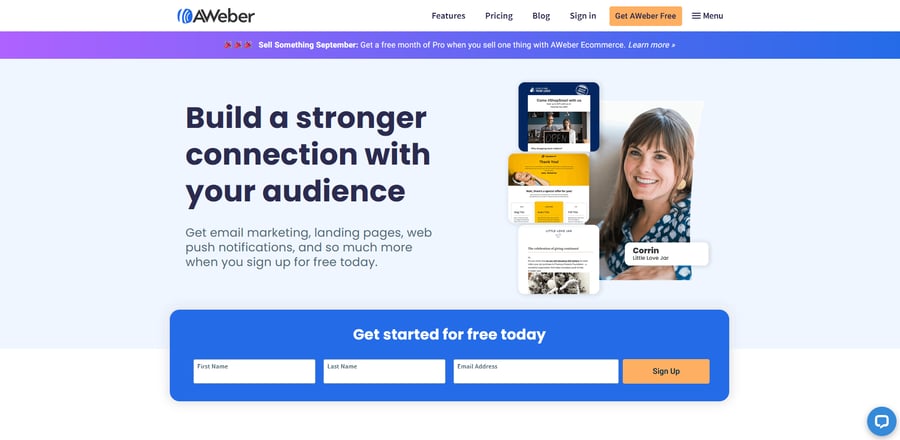 AWeber is one of the most well-known email marketing platforms. It's been around a few years longer than Mailchimp (AWeber started out in 1998 as opposed to Mailchimp in 2001), and has a long history of being a reliable solution for businesses wanting to run a growing email list.
Pricing: AWeber used to offer a 30-day free trial before requiring a subscription fee, but now you can get a free AWeber account for life that supports up to 500 subscribers and includes most of the features. The rest of the features are unlocked all at once as soon as you start paying, which makes it simpler than Mailchimp. After that, the pricing does increase based on the number of subscribers, which starts out very similarly priced to Mailchimp but ends up costing much less than comparable Mailchimp plans at higher levels.
Features: AWeber's email creation shines, as it allows you to create several types of email messages (including a Draft mode, which you can finish and send out later). These include automated campaigns, email follow-ups, plain text emails, A/B testing, and more. There isn't much you can't do with AWeber. However, its segmentation tools fall a little behind Mailchimp's, and Mailchimp's autoresponder setup is slightly better. If you need to send out affiliate links, be aware Mailchimp has strict policies that restrict them, while AWeber has no such restrictions — if your business is heavily dependent on promoting affiliate links, this could be the deciding factor.
Email Design: AWeber offers over 700 email templates, compared to Mailchimp's 100. However, some people who have tried both AWeber and Mailchimp don't use templates at all, and actually prefer Mailchimp's ability to design emails from scratch. So which is better depends on whether you think you might actually use any of these templates. For newsletters, though, AWeber beats Mailchimp by providing an easy-to-use visual builder while Mailchimp requires you to work on the backend.
Ease of Use: AWeber varies in whether or not it's easier to use than Mailchimp — for example, AWeber's subscriber list import feature is harder to use than Mailchimp's. But AWeber makes it much easier to create signup forms (which Mailchimp requires HTML knowledge for). In general, though, AWeber is not that difficult to learn, and some of the learning curve is just inherent in having more options in some places.
Support: AWeber's support is better than Mailchimp's, with live chat and a toll-free support phone number. This is in addition to online guides and other resources like Mailchimp offers.
Overall, AWeber is a solid alternative to Mailchimp with a long history and powerful features. Their good support, high deliverability, and fair pricing make AWeber a great solution.
Constant Contact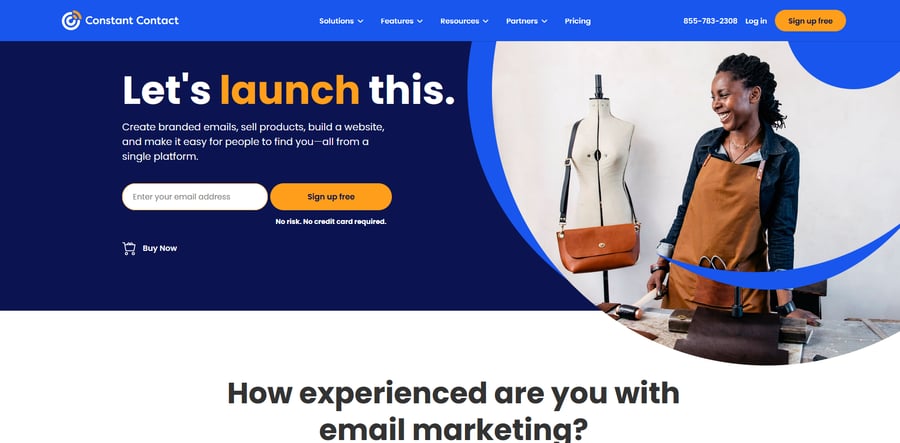 Constant Contact is another well-known email marketing solution with a history going back even farther than AWeber — to 1995, in fact. However, it's not nearly as commonly used as either Mailchimp or AWeber. This may be due to its pricing or its features, both of which have been compared negatively to other solutions. But Constant Contact also has some strengths of its own, which its loyal userbase relies on.
Pricing: Constant Contact offers a 30-day free trial, but not a free account. It offers 3 plans with a starting price ranging from $20/month to $195/month, with the exact price dependent on the number of contacts. Like Mailchimp, the different plans also include different features, so you'll have to choose based on both the features you want and the number of contacts you want to have. The pricing is overall higher than Mailchimp's.
Features: Constant Contact is a little behind in features when compared to Mailchimp. There's no built-in A/B testing, signup forms aren't very customizable, and reporting is limited as well. But Constant Contact also has its own features that Mailchimp doesn't, including Action Blocks which allow you to directly embed items into your emails. These can be coupons, polls, or even products — meaning you can sell a product right from an email. This is also extremely useful for nonprofit organizations, which can embed a donation widget into emails through the Action Blocks system.
Email Design: Constant Contact offers 200 templates (twice as many as Mailchimp), and some users consider them better-looking in general. Mailchimp's templates are more flexible, but this may not matter to you if you like the ones offered by Constant Contact. You can still edit Constant Contact templates, and despite Mailchimp's being more flexible overall, Constant Contact offers more design tools and an easier-to-use drag and drop editor.
Ease of Use: Constant Contact is very close to Mailchimp in ease of use, but falls slightly behind since parts of the user interface appear a bit outdated.
Support: Constant Contact does support right, with 24/7 access to support by phone, email, and live chat. They're proactive about support as well and will call you when you sign up to ask how they can help.
Ultimately, whether or not Constant Contact is best for you depends on whether it can help you accomplish your email marketing goals better than Mailchimp — i.e. whether you find features like Action Blocks more important than Mailchimp's better automation, A/B testing, or other features. Some users consider Constant Contact a hidden gem, while others view it as inadequate. It all depends on your needs.
HubSpot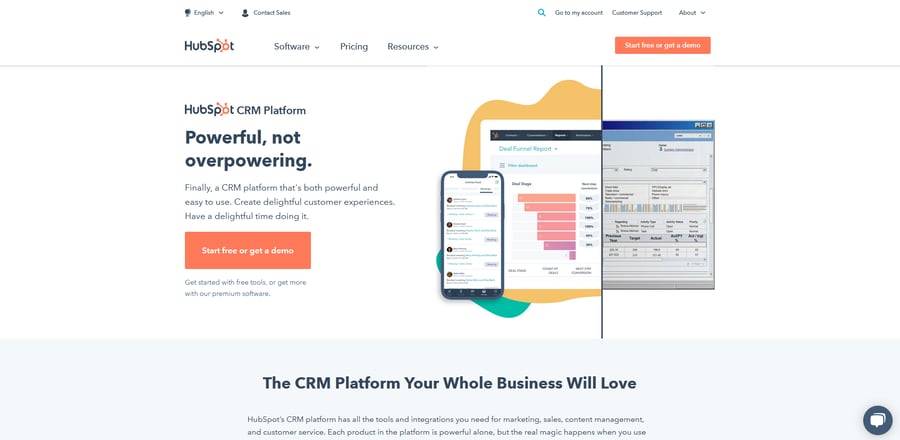 The first thing you need to know about HubSpot is that it's more than just an email marketing platform. It also includes a CRM (Customer Relationship Manager), blog, sales tools, website builder, and more. Some businesses get a lot of use from these combined services, but there's no need to switch your entire website to HubSpot if you just want email marketing.
Pricing: Many HubSpot services are available for free, including email marketing. Check out HubSpot's free and starter plan pricing page and you'll see that the free email marketing plan is quite generous, with up to 2,000 email sends per month, and much more. However, the rest of the pricing can be confusing and tends to be quite high.
Features: As we mentioned, HubSpot is much more than an email marketing service. It offers tons of features like inbound marketing, integration with Facebook Messenger, detailed performance reporting, and much more. To get the most out of some of these features you would need to use other parts of the HubSpot platform, but you can still access many for free or at a low cost if you choose the right plan.
Email Design: HubSpot offers fewer templates than Mailchimp (only 45), but its email design tools are much more flexible. They're also easy to use, with familiar drag-and-drop functionality.
Ease of Use: HubSpot is vastly more powerful than Mailchimp, which automatically makes it more difficult to use. However, the dashboard is organized pretty well, and once you've climbed the initial learning curve it can become second nature to set up your HubSpot campaigns.
Support: HubSpot offers a wide variety of support resources, but your ability to contact a representative is dependent on the plan you're using. Free plans only give access to the community forums, while Starter plans can contact HubSpot directly through email and live chat. To get phone support, you'll need to upgrade to Professional or Enterprise.
HubSpot offers great email marketing tools, but may be too much for a small business that doesn't want to fully migrate its website to get as much use out of each dollar as possible. However, it's extremely powerful and definitely worth a look.
Omnisend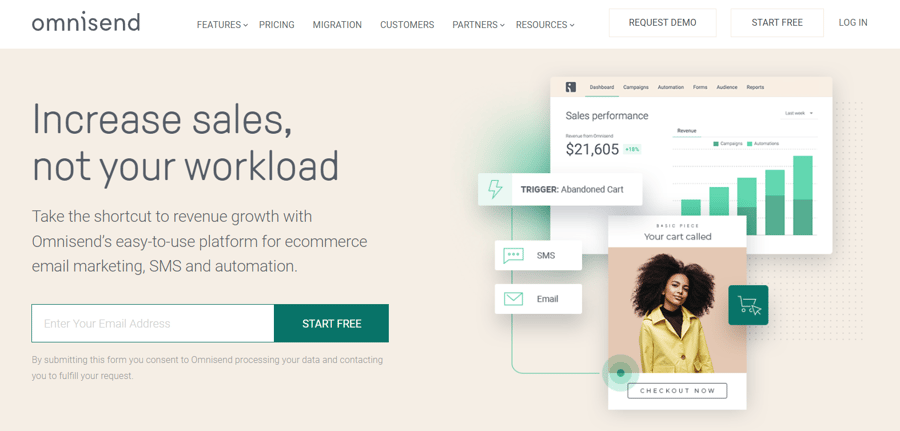 Omnisend is an email and SMS marketing automation platform built specifically for eCommerce merchants. Lauded for ease-of-use and a clean interface, Omnisend allows you to quickly set up and launch automated workflows that incorporate several channels at once.
Pricing: Omnisend skews a bit more affordable than other comparable automation platforms. It offers a free plan for up to 250 subscribers that allows you to send 500 emails per month. The free plan also allows you to use email automation, push notifications, SMS, and all list-building tools. Omnisend's paid plans are subscriber-count based, with the Standard plan starting at just $16 per month. The Standard plan increases the email count up to 6000 emails per month and includes unlimited push notifications, a customer success manager, and 24/7 live chat support. From there, the Pro plan starts at $59 per month and offers unlimited emails, advanced reporting, a dedicated customer success manager, and 24/7 priority support.
Features: A rising star among marketing automation platforms, Omnisend offers a full suite of features that allow eCommerce businesses to implement their email strategy. From dynamic forms to pop-ups and landing pages, the platform offers everything you need to begin building your subscriber list. However, where Omnisend really shines is in the automation itself. With a visual workflow builder that employs the same drag-and-drop builder used throughout the platform, it's easy to know exactly when each customer is receiving their next message. Incorporating email, SMS, and push notifications directly into your automation workflows, Omnisend's automation has more versatility than any other on the market.
Email Design: Like Mailchimp, Omnisend employs an easy-to-use drag-and-drop builder, so you can build emails in a matter of minutes. It also allows you to create and save email blocks, so you can simply drag and drop a saved block from a previous campaign to serve as a template. You can build your own templates in Omnisend, but it also offers a bunch of templates, not only for individual email campaigns, but for automation workflows, landing pages, and pop-ups to help inspire you. Omnisend also includes eCommerce-friendly features, such as the Product Picker, which allows you to pull merchandise directly from your store and drop it into your email without having to copy and paste.
Ease of Use: Omnisend uses a drag-and-drop builder for all features across the platform. Everything is visual and easy to understand. From list importing to enabling your first automation workflow, Omnisend makes it easy to get up and running.
Support: Unlike Mailchimp, support starts at sign up with Omnisend. Even customers on the free plan are offered 24/7 email support. It also offers an extensive knowledge base for self-service support, and the Omnisend Academy is great for both beginners and advanced users to learn how to use the vast features to their full potential. Live chat and priority support is offered to paid plans, with customer success managers helping at the Standard plan once you have more than 60K contacts.
On the whole, Omnisend makes for a great Mailchimp alternative. With an ease-of-use and pricing comparable to Mailchimp, and features that go far beyond what other marketing automation platforms offer, it's worth checking out.
MailerLite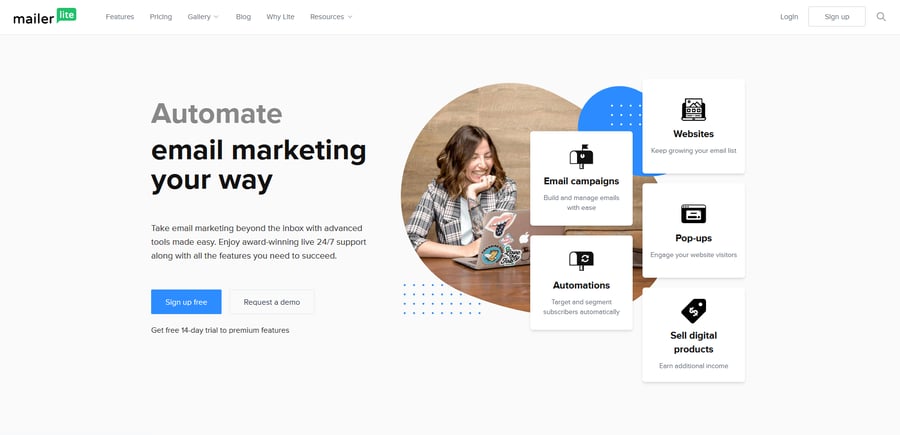 MailerLite is a lightweight email marketing solution that dispenses with bells and whistles to focus more strongly on efficiency. This doesn't mean it's bare-bones, however — just that MailerLite is built to be easier to learn and use, making it a great choice for those who don't want to learn a complex system and just want to get their emails out quickly.
Pricing: MailerLite offers a free plan that supports up to 1,000 subscribers and 12,000 emails per month, and is only missing a few features from the paid "Premium" plans. Premium plan pricing is completely dependent on the number of subscribers, starting at $15/month for up to 2,500 subscribers. If you have under 1,000 subscribers and just want to unlock the Premium features, you can do so for $10/month. MailerLite also offers some "Add-ons" that are paid separately from your subscription, like SitesPro which lets you create unlimited websites and landing pages for an additional $10/month.
Features: MailerLite hasn't skimped on features, and provides all the essentials including list management (which is more robust than Mailchimp's), automation, reports and analytics, and more. Even with the free plan, you can also build up to 5 landing pages if you need them. But one thing that really makes MailerLite stand out is that you can view the interface in multiple languages, including English, Spanish, French, Russian, Polish, Ukrainian, Lithuanian, and more. This is a strong contrast to Mailchimp which is only available in English.
Email Design: MailerLite doesn't include templates in its free plan, but you may not even need them since their email design tool is so easy to use. A simple drag-and-drop interface lets you quickly put together professional-looking emails with logos, images, text, and more.
Ease of Use: MailerLite is extremely user-friendly — even easier to learn than Mailchimp, which is known for being simple to use. MailerLite is probably one of the easiest email marketing platforms of all. The only barrier is that you need to go through an approval process when you sign up, but this is to keep the spammers out.
Support: MailerLite doesn't offer phone support at all, and users on the free plan can only get support via email. Paid plans can also access live chat. Both email and chat are available 24/7.
If you're looking for a simple and affordable, yet effective email marketing system, MailerLite is definitely a solid contender. It's especially worth checking out if you're new to email marketing and you're not ready to make a big investment yet in either time or money. It's fast to learn, and available for free, so you're not risking much by giving it a shot. It may also be the best solution for you if you want your interface in another language.
ConvertKit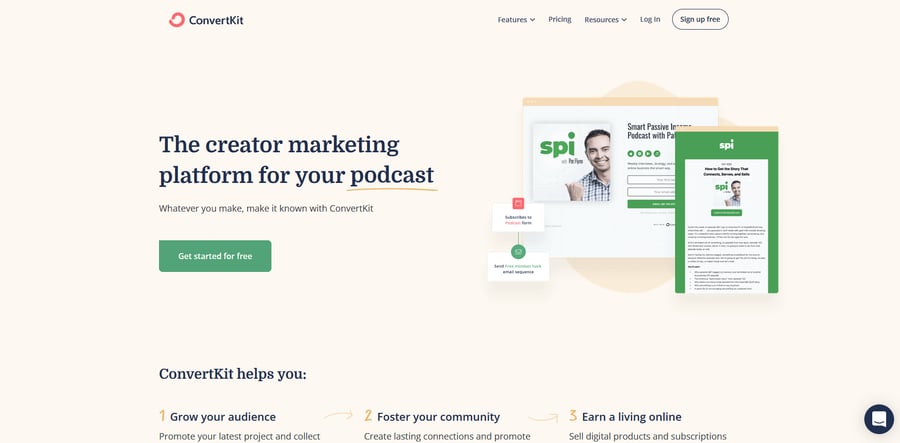 ConvertKit is a more specialized email marketing platform — it's specifically made for content creators, such as bloggers, musicians, podcasters, and more. This focus makes it a bit different from the other email marketing solutions we've covered, as content creators have different needs and their audiences expect different things from their emails.
Pricing: ConvertKit starts out with a free plan that supports up to 1,000 subscribers. Its paid plans appear a little confusing at first, since they appear to top out at 300 subscribers, but that's just the number available for the displayed price. At the bottom of the comparison table on their pricing page, you'll find an adjustable slider to see how the pricing changes based on how many subscribers you have. You won't technically need to pay for a plan until you exceed 1,000 subscribers, but you may want to anyway to access more features.
Features: Since ConvertKit is geared toward content creators, it offers a slightly different feature set than other email marketing platforms. Email segmentation uses tags rather than lists, and reporting is quite limited. However, it has one of the best automation workflow tools available, which makes it easy to set up an entire campaign for subscribers to receive. It also has dedicated tools for selling digital products and subscriptions, which fits with the idea of being an email platform for creators.
Email Design: ConvertKit is extremely limited in email design. They only offer 3 options: text only, "Classic," and "Modern." They went this route because their own research showed that simpler emails tended to perform better, but you may be disappointed with such limited options — especially if the content you create is normally highly visual. Still, you can do enough to get your point across, including embedded images and video.
Ease of Use: ConvertKit is quite easy to use, though if you're coming from another email marketing solution it might take you a bit of time to get used to the differences. Since ConvertKit is made for creators, this specialization can take a bit of adjustment if you're used to more broadly focused email marketing systems.
Support: ConvertKit offers free courses to help you get started, and live chat and email on all plans (although availability is limited outside of office hours). They can also help you migrate your existing subscriber list for free if you decide ConvertKit would be a better solution for you. However, there is no phone support.
Like with some of the other solutions in this article, whether or not ConvertKit is right for you depends on the needs of your business. If you're a content creator, it's worth taking a serious look at it. However, regular eCommerce businesses won't get much from it that they couldn't get elsewhere, and it does lack some features that a typical business would want.
Ready to Switch to a Mailchimp Alternative?
The success of your business's marketing is strongly dependent on the tools you use, and email marketing is one of the most crucial methods. So, if you're not getting what you need from your current email marketing platform (whether it's Mailchimp or something else), it's time to look for an alternative that can serve you better. Remember to compare the following:
Pricing
Features and integrations
Ease of use and email design quality
Support
Each of these is an important aspect of how well an email marketing solution can work for you, including whether it fits into your budget and provides you with all the tools you need. Once you thoroughly understand your requirements, it will be easier to compare different tools and services so you can decide on the best. Whether you pick one from this article, or another, or decide to stay with Mailchimp after all, you can be confident you've made the right decision.