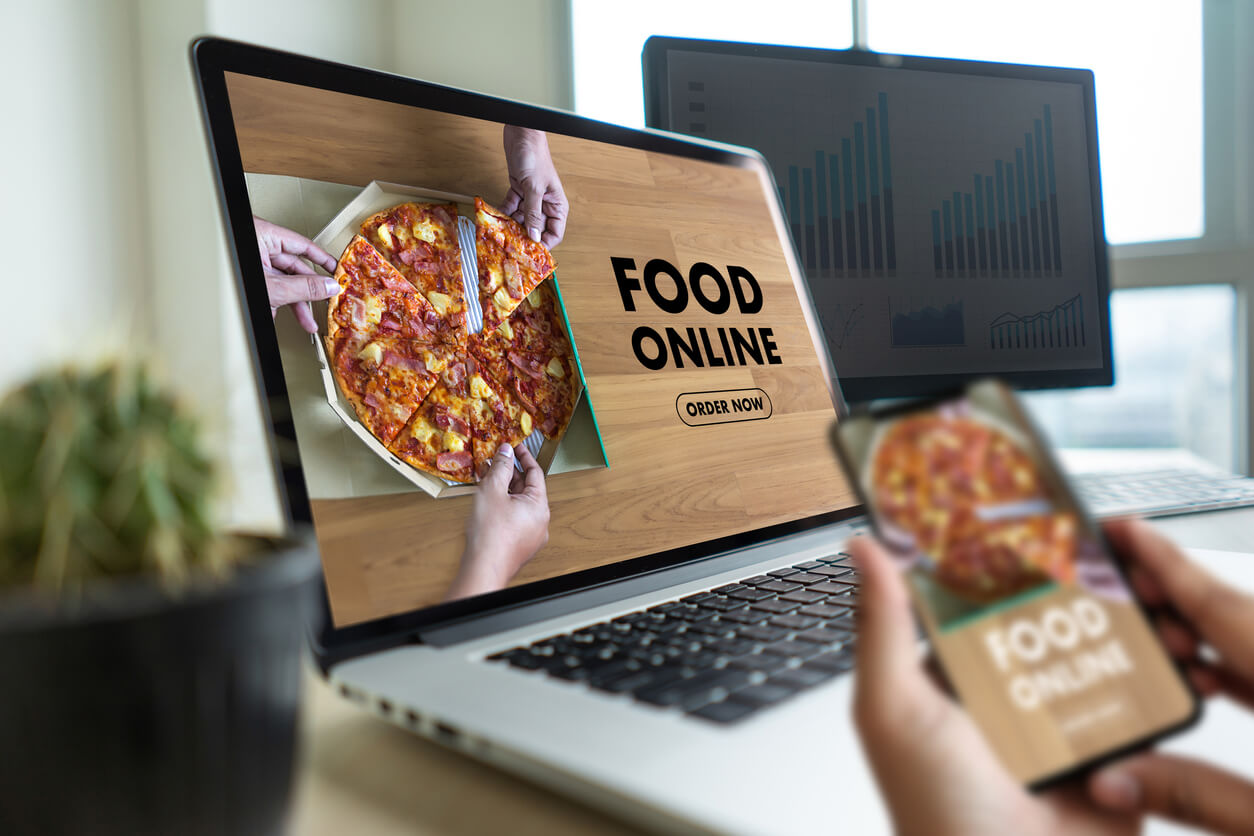 Are you a restaurant owner who wants to accept online take-out and delivery orders?
Maybe you're suffering from revenue loss because of lockdown. Or maybe even before COVID-19, you wanted to offer delivery and take-out to attract more customers.
As the global COVID-19 pandemic continues, many restaurants have had to adapt to new methods of communicating with their customers. These methods are primarily online.
You could always go with a delivery app, but these have problems of their own.
The fees from delivery apps can be crushing. They can hover around 30% of the total cost of an order, which some restaurants simply can't afford.
But delivery apps aren't your only option. Building a website for your restaurant can save you from the third-party platform fees that eat into your budget.
If you don't have a website, or have one without online ordering capabilities, you must research restaurant website builders. The solutions available to your business will amaze you.
The best website builders for restaurants are attractive and straightforward out front. But in the backend, they're streamlined like a well-oiled machine. Pick the right restaurant website builder, and you'll be swimming in online take-out and delivery orders in no time.
Keep reading to learn why a fully functional website is crucial for your business. Then, get an overview of the best restaurant website builders available to you.
Why Your Restaurant Needs a Website
Restaurants around the country have had to close their dining rooms during statewide shutdowns. Even as dining rooms open, many customers are taking precautions. They are only comfortable ordering online for take-out, delivery, or curbside pickup.
Delivery services have helped many restaurants stay in business during this tumultuous time.
Even once the threat of the pandemic subsides, it's vital to continue to leave online delivery and take-out options available. They're necessary for those who seek convenience.
Restaurants must move toward eCommerce sales models with many avenues for customers to order, pay, and receive food. They will be able to withstand financial and socioeconomic crises. Those who put their trust in traditional sales models will suffer.
If you're providing online and delivery services through one of the big three third-party platforms — Uber Eats, DoorDash, or GrubHub — you may be processing orders, but they're taking a healthy chunk of already slim profit margins.
You should also be wary of releasing control over your customer experience and the quality of your food to someone out of your control. Imagine your expertly prepared food delivered to a customer 45-minutes late, cold, and soggy. Bad delivery experiences with third-party platforms can hinder customers' views of your restaurant. Yes, even though it's not your fault.
Take Online Orders with the Help of These Restaurant Website Builders
You don't need a third party to take online orders for take-out and delivery. All you need is an eCommerce platform for a restaurant with a Point of Sale (POS) system and employees that can deliver. Then, you will possess the means to tackle this on your own.
While training employees on new responsibilities and integrating everything will take work in the beginning, in the long run, you'll save money. Plus, everything stays under your control.
Whether you want to create your first restaurant website, or you're looking for a trustworthy solution to improve your existing website, the following restaurant website builders can help.
1. WordPress
WordPress is a popular free, open-source website builder. Open Source means you have maximum access and authority over your website. However, you'll also be responsible for all the technical details, like software updates.
WordPress.org is not restaurant-specific — it serves businesses from different industries. As a WordPress user, you have access to thousands of themes. Some are free, while others are premium, paid versions. You can use a restaurant theme to create an SEO-friendly website for your business.
Within WordPress, there are drag and drop features you can use to build pages. They help you design your website in a simple fashion. You don't need to have any knowledge of web design or development to build your website quickly.
There are also over 50,000 WordPress plugins available, and many are entirely free to use. With these, you can add eCommerce functionality and other features to your website. This will take some research, as not all will play nicely with each other.
While WordPress itself is free to use, you must pay for your domain name and fees associated with hosting the domain.
While WordPress offers endless potential solutions, there are drawbacks we've already lightly touched upon. They can be summed up by saying you need to familiarize yourself with an entirely new system. With maximum control over your site, you're responsible for managing it, which can be challenging for those who aren't familiar with the platform.
2. Wix
Wix is affordable and has smart solutions for business owners who want to build a website. You can have a fully optimized website quickly with no need for coding knowledge.
A useful Wix feature for restaurant owners is its online ordering system. With this eCommerce integration, you can take payments online, and Wix doesn't receive a commission.
The platform also offers a feature that allows customers to make reservations through your website. Email alerts are sent when a customer makes a reservation to keep you on track.
Building your website on Wix is free, but some of the add-on services come with a monthly subscription fee. The fees depend on the packages you select for your website.
Wix also has other limitations that might make it unsuitable for your business. For example, it integrates with very few payment providers.
3. Weebly
Weebly is an easy-to-use choice for those looking to build restaurant websites. While Wix doesn't allow you to change your templates and create unique content, Weebly does.
Weebly offers a restaurant system add-on that provides customizable menus, online ordering, and table reservations. Plus, there are more than 200 creative apps that include restaurant-themed features.
You have the option of selecting a free plan with Weebly, but restaurant owners are better off with the premium plans. With the premium version, you'll have what you need to take credit card payments and build a sales-optimized website. You'll also receive access to advanced marketing tools and analytics.
However, if you're looking for more advanced features, Weebly is not the most cost-effective considering what you get for your monthly fee. If you don't mind its limitations, it can still be a fine choice.
4. GoDaddy
GoDaddy offers GoCenter ADI — which they say is the fastest way to go live with your new website. For busy restaurant owners, time is valuable, and launching your website with GoDaddy really is as easy as 1, 2, 3.
With artificial intelligent design, you'll have an AI assistant helping you to establish your restaurant's website. You'll be asked questions about yourself and your restaurant, and then the assistant will provide the web design it deems appropriate. It's almost as if someone is reading your mind.
With a range of mobile-optimized templates with handy features, you can customize menus, take online orders, and integrate with OpenTable for reservations.
Hosting with GoDaddy gives you the ability to easily add high-quality photos of your menu items to each template. There isn't a free version of GoDaddy hosting, but you'll find plans in every price range and a responsive customer service team to answer your questions.
5. FlavorPlate
While the website builders we've discussed thus far are generic builders who work with different sectors, FlavorPlate is just for restaurants.
FlavorPlate is an excellent choice for newbies without technical knowledge or website building experience. It offers a basic set of tools within a clean, minimalistic platform.
Creating your online menu is easy, as you can drag and drop menu items to arrange or rearrange the order.
The platform offers easy ways to manage your photos and PDF files. You can also easily connect your social media channels to FlavorPlate.
If you host events at your restaurant, you'll be pleased with the handy calendar tool. It showcases upcoming events to visitors. You can also fully customize the style of your site with CSS.
6. Let's Eat
Another platform aimed at restaurant owners, Let's Eat offers a wide range of services to take your website to the next level. With a low subscription fee, you get a custom domain, coupon generator, menu builder, event calendar, Facebook connectivity, and more.
Let's Eat is designed for beginners, but it can also work well for seasoned web design professionals who have experience building websites.
Creating your website with Let's Eat only takes a few minutes and doesn't require any coding skills. It's a one-size-fits-all platform that focuses solely on creating websites for restaurants. For this reason, all of its features are prioritized concerning the restaurant niche requirements.
With Let's Eat, you can customize printable coupons that your patrons can download for use at the restaurant. You can also create separate profiles for employees for security.
You'll also find built-in web statistics that will help you monitor the reach of your website.
Finally, there's the Let's Eat Marketplace, which helps you get free or paid services from other providers. Integrations allow you to provide online ordering and take reservations, among other services.
7. Squarespace
Another famous website builder is Squarespace. It's free to sign up, and it offers a no-obligation free-trial period. You'll only need to enter your credit card if you choose to move forward with a plan.
Squarespace has a plethora of resources for people who are new to website building and management. Their support section is full of guides to help you create and launch your website.
When you join Squarespace, you'll be prompted to pick a theme immediately. They have restaurant-related themes ready to choose from. With sitewide footers, you can input necessary information related to your business. Here is where you would list your address, contact numbers, opening hours, and social media handles.
The themes come with descriptive banners, blocks, and images so that you can easily visualize your website and make the most out of the available space.
Squarespace also offers an OpenTable integration, which allows your customers to make reservations on your website. You'll receive emails with the phone numbers and reservation details.
It's also super easy to get in touch with your patrons using Squarespace once you connect your social platforms. Interacting with your customers and asking their opinion is easy. It's even more effortless to promote the latest version of your menu with the help of your social platforms, driving traffic to your website.
8. PageCloud
PageCloud is a popular website building platform for restaurant owners because of its eye-catching and fully customizable templates that make it easy to create online menus, photo galleries, contact pages, and more. PageCloud's intuitive drag and drop editor allows you to create a high-performing, beautiful website that showcases your restaurant's style.
You have access to unique features that help your restaurant's website stand out. PageCloud's Sections act as building blocks that can be added anywhere into your website, giving you full control over your layout. Responsive website design ensures better website performance on desktop and mobile.
Applications such as OpenTable, UberEats, TripAdvisor, and various social media platforms can be easily integrated into your website. PageCloud supports hundreds of third-party apps that help you reach your clientele, book reservations and promote your restaurant.
PageCloud offers a 14-day free trial. Check it out to either launch a new website or improve upon your existing website using its seamless website migration tool.
9. Shift4Shop
While Shift4Shop can be used for any type of online business, it's a great restaurant website builder. What's even more exciting is the free, unlimited plan, which includes enterprise-grade features at no cost.
To get the basics out of the way first, Shift4Shop is an all-in-one eCommerce platform protected by secure Level 1 PCI hosting. This level of security is the same one used by large financial institutions, so you can feel confident that your customer data is safe in case of a breach. In fact, PCI compliance is required before you can accept credit cards online.
An "all-in-one platform" means you don't have to install anything: just log in and start building your website. Credit card processing is also ready to go, through Shift4 Payments.
And during these uncertain times, you can remain reliable to your customers with 99.99% uptime and 24/7 monitoring. Shift4Shop has data centers and points of access across the US, guaranteeing the performance of your restaurant's website.
As for features, Shift4Shop provides the tools for you to take orders online for delivery or pickup. It only takes a few minutes to define the ZIP code range to which you can deliver. For pickup, there are actually multiple ways you can do this. You can use the ZIP code restriction, or use our dedicated In-Store Pickup module, which streamlines the entire process.
It's equally simple to set up delivery fees or tipping.
Online ordering is fast and painless for your customers, no matter whether they're using a desktop computer or a mobile device. Shift4Shop integrates with more alternate payment methods than any other eCommerce software in the industry, so you'll be able to offer your customers plenty of choices for payment.
Shift4Shop also lets you create unlimited products and categories, so your menu can be as big as it needs to be, while staying organized. You can even sell merchandise and souvenirs alongside your menu offerings.
For website design, Shift4Shop offers a wide variety of free and premium eCommerce themes. Every theme can be fully customized to meet the needs of your business, with several already set up for restaurants out of the box.
With access to inventory and customer data, plus detailed reports for insight into how your business is performing, you'll have total control over your restaurant. And rich marketing and SEO tools help customers find you in the first place.
Shift4Shop is the most powerful and flexible SaaS (Software as a Service) eCommerce software available today, and that's why it's the best for building your restaurant website.
Build Your Restaurant's Website Today
As you can see, there are restaurant website builders for all types of owners and businesses alike. Do you want a general, one-size-fits-all solution, or something that allows you to customize your website with special tools?
Having a tailor-made website building solution will save you time, effort, and resources, guaranteeing the success of your business. However, before you make a decision, it's best to do the research. Then, you can choose the ideal builder that suits your business's needs.
If you're ready to create an online food ordering website for your restaurant, sign up for Shift4Shop today. There's no reason not to try the platform of choice for over 25,000 online retailers.