For any business to grow, the most crucial part is to know the highest demanded item and product in the market. On Amazon, sellers often get stuck with this question. Well, here is the answer to what you've been looking for – a list of the top selling product categories on Amazon in 2019 and some best practices to reach this goal.
Amazon is one of the most popular online buying hubs for people around the world. Many of the countless services provided by Amazon make it a dominant player in the worldwide eCommerce industry. A few of them are:
Easy Online boarding of sellers and vendors
All possible payment and fulfillment options
Fastest delivery ever (FBA)
Storage/warehouse facilities
Subscription based services like 'Prime'
Advertising and marketing tools and so on and so forth
Statistics by eMarketer provide an insight into how Amazon has succeeded in capturing a major portion of US markets: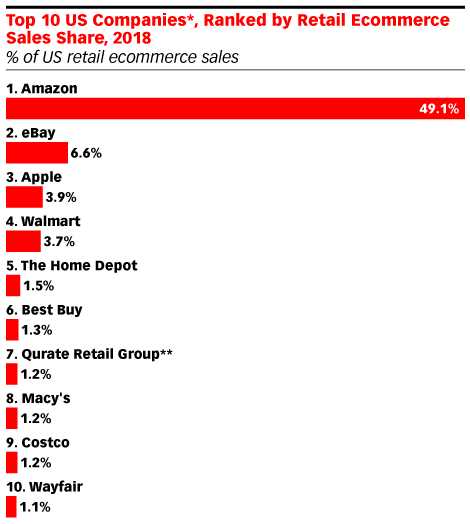 Why should you know about Best Selling Categories on Amazon?
If you're a seller who is sincere and has big business goals to achieve, you would never think of ignoring the knowledge of what products trend at what time in your marketplace. Losing such crucial information would mean losing millions of consumers who might have acted as your customers.
Some Insights into the Top Product Categories on Amazon in 2019
According to the latest online data available:
As of 2019, Amazon has 119,928,851 products.
The largest category in consumption is Books, with numbers reaching 44.2 Million.
Electronics account for 10.1 million of listed products.
The third top position is held by Home and Kitchen with the toll reaching up to 6.6 million.
Fourth is digital music, with 6 Million.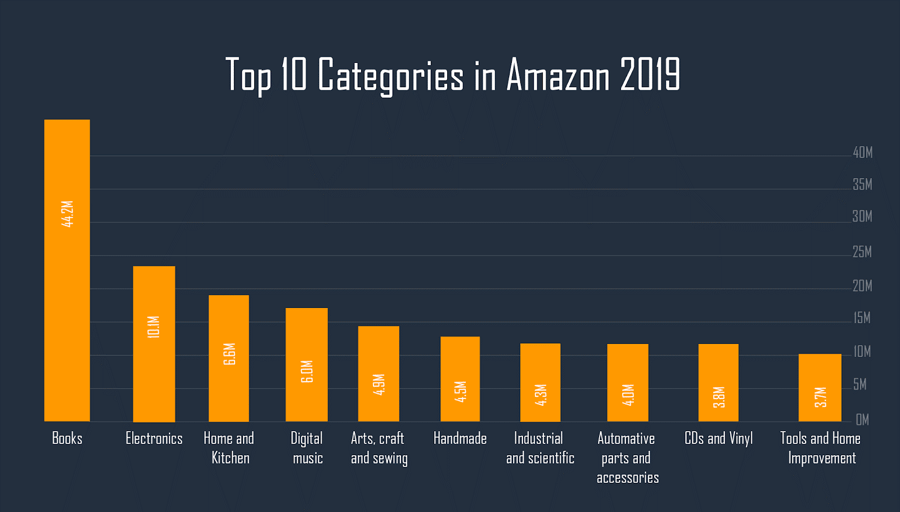 Did you know that, every month, 197 million unique people from around the world visit Amazon.com on their devices?
Additionally, 50% of all Amazon revenue is generated by third-party sellers.
Now, let's look into the major categories of Amazon's best-selling products:
Amazon's Best-selling Books by Genre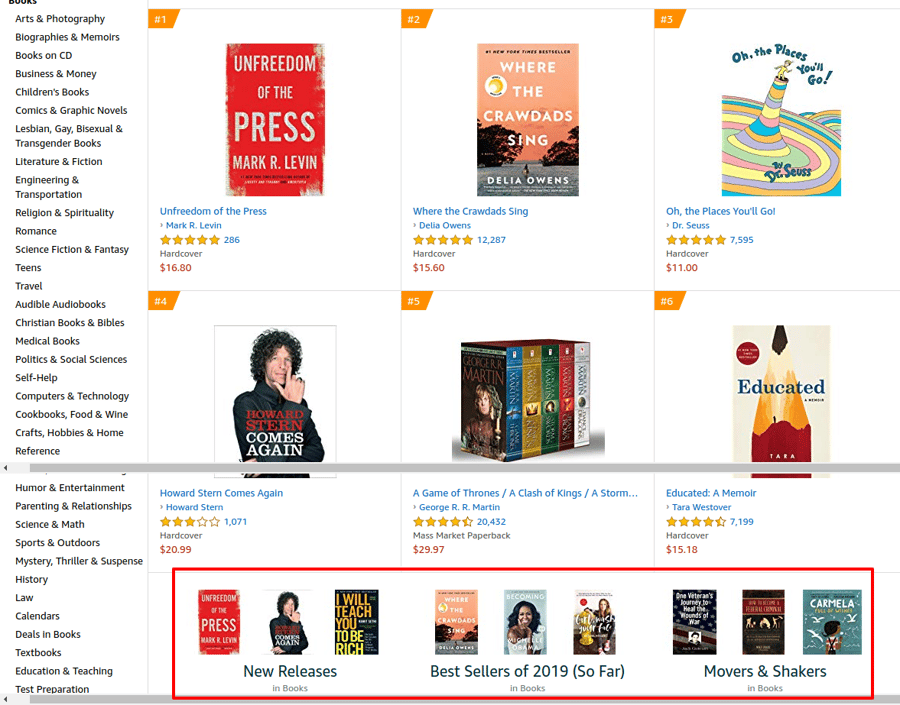 The image in the red box shows some specific categories to explore. As a seller, you should be exploring each of these categories to understand the consumer intent, interest, and ways that you can optimize on that.
Best Sellers in Religion and Spirituality
"The Weight of Ink" by Rachel Kadish
"Girl, Stop Apologizing" by Rachel Hollis
"Half Finished" by Lauraine Snelling
"When You Are Near" by Tracie Peterson
Best Sellers in Science Fiction and Fantasy
"Alternative Theologies: Parables for a Modern World" by Jim Wright
"Ishmael" by Daniel Quinn
"City of God" by Saint Augustine of Hippo and Marcus Dods
"Left Behind" by Tim LaHaye and Jerry B. Jenkins
Best Sellers in Comics and Graphic Novels
"Marvel 5-Minute Stories" by Marvel Press and DBG
"Avengers vs. Thanos" by Jim Starlin
"The Zodiac Legacy" by Stan Lee
"Battle Angel Alita" by Yukito Kishiro
Best Sellers in Travel
"Spying On the South" by Tony Horwitz
"A Bite-Sized History of France" by Stephanie Henaut
"Marco Polo" by John Man
"Midnight in Chernobyl" by Adam Higginbotham
Amazon Best Sellers in Electronics 2019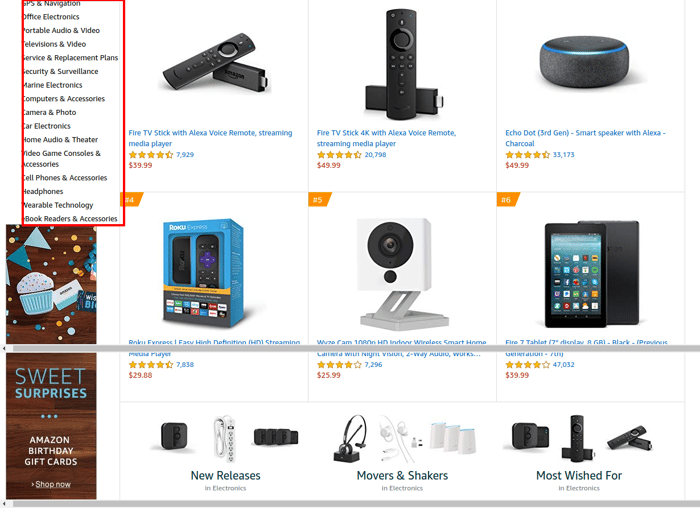 Don't be limited to what pops on the screen. Explore the categories highlighted in red to know what people demand in different categories and how you can create your niche within these opportunities.
The top four categories with best-selling products in electronics are mentioned below:
Best Sellers in Electronic Accessories and Supplies
San Disk
Amazon Basics AA Platform Batteries
Apple Lighting Jack Adapters
Apple Air Pods Charging case
Best Sellers in GPS, Finders, and Accessories
Key finder and phone finder
Activity Tracker Watch
GPS Running Watch
Tile Pro with Replaceable battery
Best Sellers in Portable Audio and Video
Echo Dot (Generation 3)
Weather Alert Radio
Echo (Generation 2)
Wireless Bluetooth Speakers
Best Sellers in Televisions and Video
Fire TV Stick with Alexa Voice Remote
Roku express streaming media player
Video Secu ML531BETV Wall Mount
HD Digital TV Antenna
Amazon Best Sellers in Home and Kitchen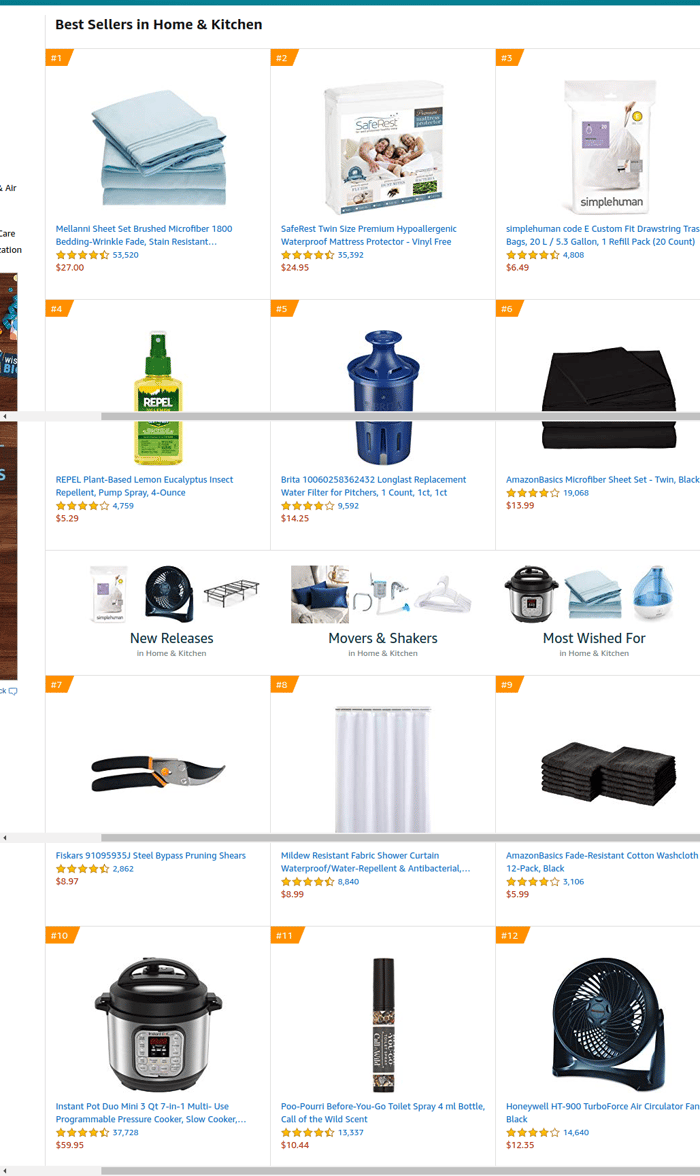 This is the list of the top 12 best-selling categories in Home and Kitchen. Amazon lists each of these broad categories into subcategories based on their function.
Look below for these subcategories:

Some of the major categories with best-selling products in Home and Kitchen are:
Best Sellers in Kid's Home Store
Nestl Bedding 3-piece Sheet set
Summer Infant Contour Changing Pad
YnM weighted blanket
California Design Den 400Cotton sheet set
Best Sellers in Kitchen and Dining
Bounty Quick Size Paper Towel
Water Filter for Pitchers
Instant Pot Duo Mini3 Programmable Pressure cooker
Dixie everyday paper plate
Best Sellers in Bedding
Mellani Sheet Set Brushed Bedding
Safe Rest Twin Size Premium
Amazon Basics Microfibre Sheet Set
Zinus Shawn 14 Smart Base Mattress
Best Sellers in Bath Products
Mildew Resistant Shower Curtain
Amazon Basics Fade Resistant Cotton Washcloth
Renpho Bluetooth Body Scale
Amazon Basics Quick-Dry Towels
Amazon Best Sellers in Digital Music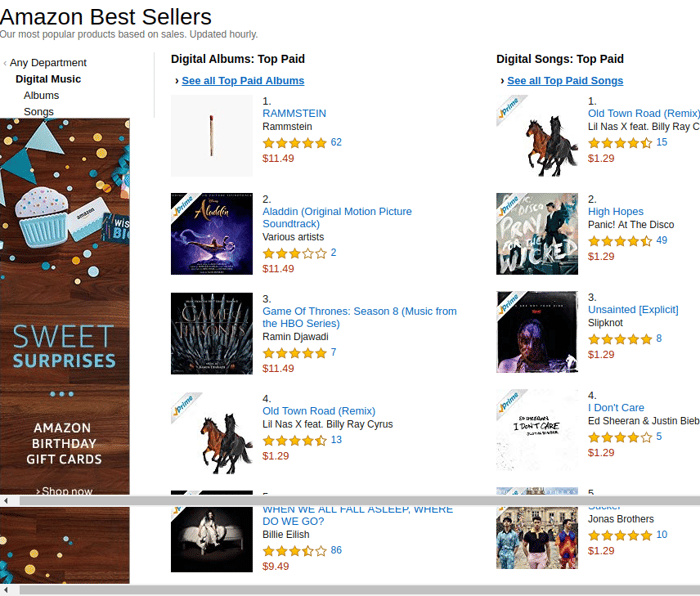 Digital music has been divided into digital albums and digital songs. You can look at as many as 100 top digital music categories, however, the top 4 from Albums and Songs are listed below:
| | |
| --- | --- |
| Albums | Songs |
| RAMMSTEIN by Rammstein | Old Town Road (Remix) by Lil Nas X feat. Billy Ray Cyrus |
| Aladdin (Original Motion Picture Soundtrack) by Various Artists | High Hopes by Panic! At The Disco |
| Game Of Thrones: Season 8 (Music from the HBO Series) by Ramin Djawadi | Unsainted [Explicit] by Slipknot |
| Old Town Road (Remix) by Lil Nas X feat. Billy Ray Cyrus | I Don't Care by Ed Sheeran & Justin Bieber |
Key Note About Amazon Best Sellers:
The Amazon Best Sellers categories are tools that helps you to understand which products are in trend at the current moment.
The data contains 100 items to explore in each of the categories.
The data is changed on an hourly basis, which means that you cannot rest assured about the products you just analyzed on Best Seller. However, you can keep in mind the broad categories that keep hitting the list on top.
How to Achieve the Amazon Best Seller Rank
There are certain questions that you must know the answer to before jumping the gun and setting goals to be an Amazon's Best Seller page.
What is Amazon Best Seller Rank?
It is a rank assigned to each of the product among millions of similar product of its category. The rank assigned to a product is based upon the reviews, ratings, seller services, etc.
When a product does extremely well and absorbs the highest number of consumers in a particular hour, it is given the best seller rank by Amazon in a particular category.
Amazon Best Seller Rank is also decided on the pre-sales history of the product. Amazon has also moved a step ahead to even check the future success potential of the product.
This ranking changes on an hourly basis.
Look at one such example of Clarks Men's Tilden Cap Oxford Shoe


The ranking of the product is mentioned in the description of the product. Take a look:

Do note that the Amazon ranking is different for different category of the same product.
Now let's understand this through a best seller product: Water filter for Pitchers, which is a best seller in Home and kitchen.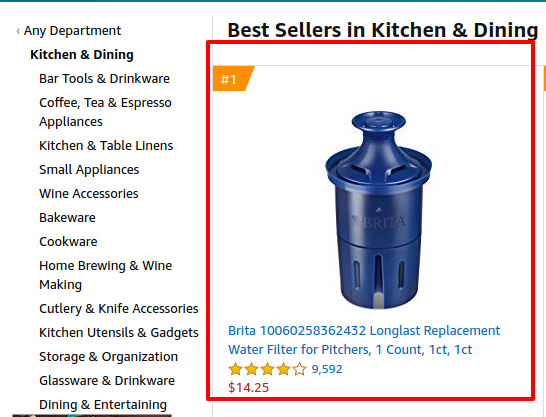 Through the above image, you can see the rankings which are #1 in two categories. The ratings, feedback, and reviews are all excellent. Now, let's hop onto some best tips to increase your customer base on Amazon and reach the Amazon Best Seller position.
Four Expert Tips to Getting an Amazon Best Seller Rank
Design Robust Marketing Strategies- Standing out among millions of competitive sellers online is a hard nut to crack. But obviously not impossible! Good marketing strategies can help you a lot.
Do social media promotions. Create awareness about your brand online and let people know that you exist for better reasons.
Establish your brand authority.
Use Amazon advertising campaigns and allow people to click on your products, scaling up your conversion rates.
Optimize Amazon SEO and use keywords as efficiently as possible. This allows Amazon to pop up your product whenever a relevant keyword is typed by the user.
Study Your Target Audience - Study the buying preferences and patterns of your target audience and pitch the products that suit these trends. Keep track of what sells more and at what time. This will help you to decide which product to sell in which country, thus boosting your sales.
Provide Good Pre and Post Services - Pre and post services pretty much include everything. Right from giving customers their favorite payment methods to responding to their feedback and sending them a follow-up email. Such pre and post practices instill a sense of care and loyalty in the mind of the customer. Make them feel special.
Good Performance Always Pays - Good performance is always recognized and awarded on Amazon. Amazon keeps track of the reviews, feedback, ratings and number of sales made by you. Products fulfilling all these parameters are offered the category of Amazon's Best Sellers rank, as they've been shown to attract a huge customer base several times.
What Not to Expect from Amazon Best Seller Rank
There are certain myths about earning the Amazon Best Seller Rank. Most of the sellers depend on best seller rank, or BSR, exclusively for their sales growth. However, experts say that you also need to opt for other strategies to get more sales.
The second myth is about the visibility of your product. Winning BSR does not increase your product display on search engine result pages, or SERPs. It's actually the SEO-friendly product description that captures that SERP space.
Many sellers believe that winning BSR is all to get sales on Amazon, but this is not true. Amazon best seller rank changes on an hourly basis. Flip your sales strategies to remain as the first choice of the customers.
Conclusion
There are several tools and tech-solutions that help you find out the best-selling products, analyze trends and consumer preferences, and enable you to see more than 100 products on Amazon. People's choices and preferences will keep changing with time. As a seller, be ready for these changes and keep yourself up-to-date with the changing trends so you don't fall behind when trying to reach your customers.