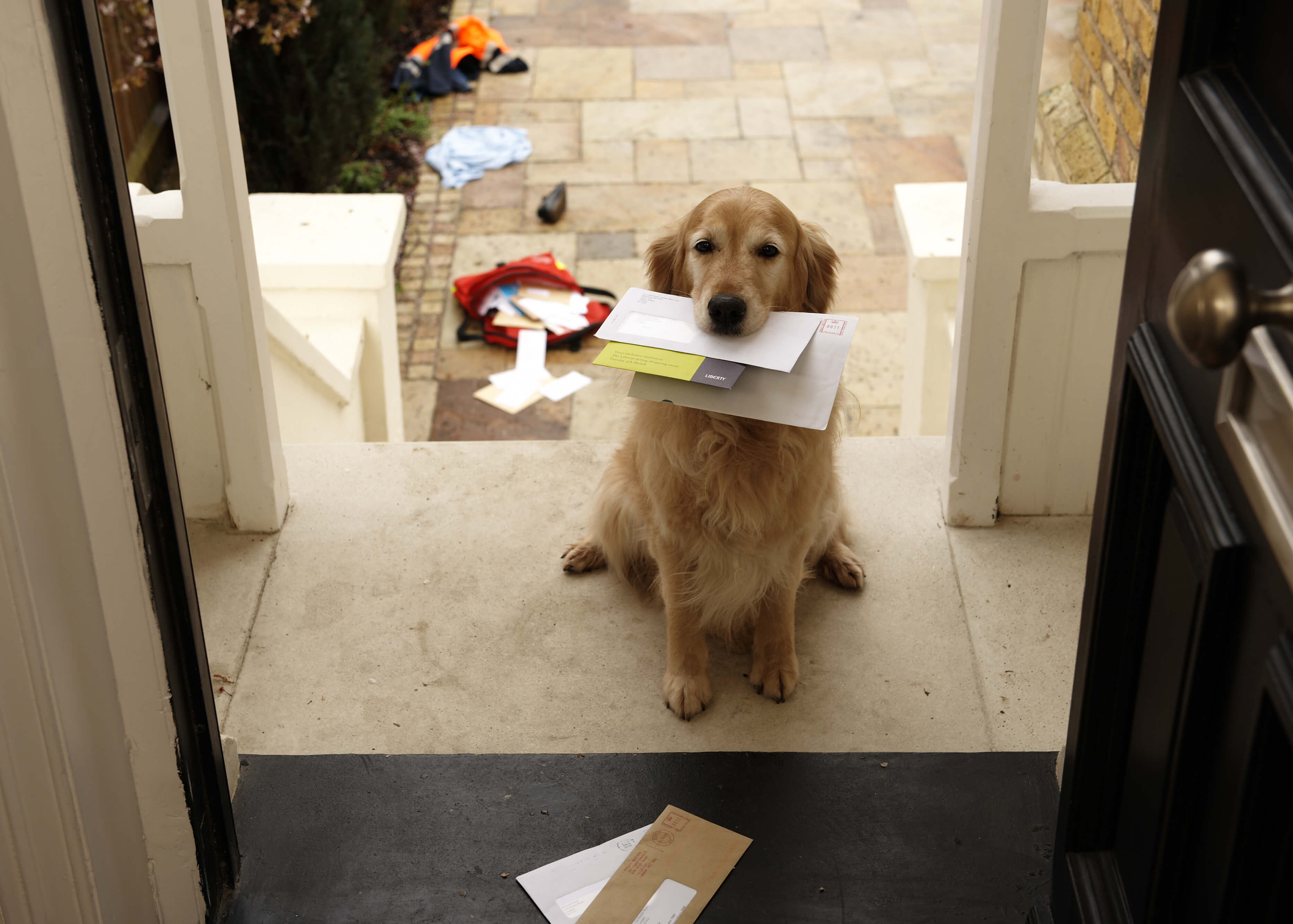 The welcome email, typically triggered upon joining a mailing list, is one of the most important emails a customer will receive during the course of their relationship with a business. As the crown jewel of any retailer's email marketing effort, the welcome email sets the tone for the type of relationship a business hopes to build with its customers, and can serve to aid or hinder a brand's image.
Whether a welcome message is presented in a magazine style ad or more of a hero image representative of a business's website, a well-designed welcome email aims to inspire brand loyalty and entice its recipient with a sense of exclusivity, excitement, or other powerful emotion. According to a study by Experian, welcome emails not only generate 4x the total open rates and 5x the click rates of all other promotional emails, but they also have a transaction rate 9x higher than bulk mailings! With welcome emails less likely to be regarded as spam, and frequent strong call-to-actions, it's really no surprise that this single email can produce such phenomenal numbers.
A welcome email is not only a golden marketing opportunity, but a cause for celebration too! You've secured yourself a subscriber, and it's up to you to do everything you can to keep them – starting with the very first email your customer will receive from your store.
Let's take a look at some of the ways you can optimize and customize your Welcome Email to start increasing opens and conversions today.
Use the Word "Welcome" In Your Title
The word "welcome" sets your introductory email apart from other promotional emails, and ideally should be the first word to appear in your subject line. But the word "welcome" alone isn't enough to appeal to your customer. Spend time A/B testing to see which alluring subject line best matches your store's brand and image. You may want to opt for humor, excitement, or something a bit more subdued if you're selling elegant or luxury products.

Send Your Email Promptly
The majority of retailers send out their welcome emails immediately after sign up, and for good reason too! Customers who have just signed up for a mailing list have expressed genuine interest in a brand, an intent to purchase, and a request to build a relationship. Unfortunately, this window of opportunity is relatively small. A welcome email arriving days or even hours later not only poorly represents a company, but will more than likely result in the loss of a potential customer.
Personalize Your Greeting
There are numerous ways to collect emails for your mailing list, including the checkout process, a sign up box on your home page, or a pop up box that advertises a strong call-to-action. If you're able to acquire your subscriber's name, feel free to use it in your email. Customers have a stronger reaction to content when a message appears to be tailored specifically to them. A name at the start of an email allows a brand to individually connect with a shopper, despite it being an automated message.
Request for Whitelist
Once you've acquired a subscriber's email, one of the first things you'll want to do is ensure all future promotional emails land in the customer's inbox instead of their junk folder. Asking a recipient to add your email to their white list, either via the header or footer of the email, is a great way to accomplish this. Consider adding safe sender instructions in your email for recipients who may not be familiar with the process.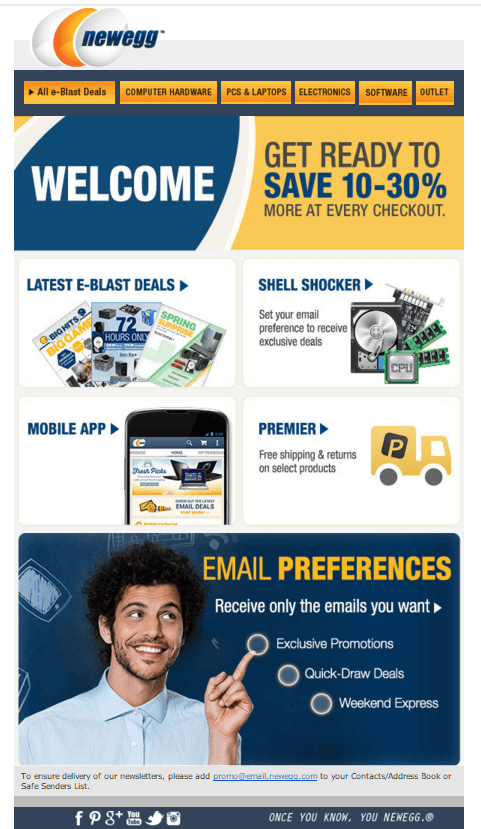 Request Information for Personalized Emails
Your subscribers may have all signed up on your home or checkout page, but that doesn't mean they all share the same interests or preferences. Depending on the type of product(s) you sell, you may benefit from personalizing future emails. You can accomplish this by acquiring additional information from your subscribers, such as what types of emails or what kinds of products they're interested in.
A subscriber is less likely to feel "spammed" when they receive information personally tailored to their shopping habits, rather than receiving mass generic emails that may not contain offers or information deemed valuable.
Set Expectations and Reinforce Value
Once a subscriber has signed up for your newsletter, it's only polite (and logical!) to give them a glimpse of what's to come. Most retailers typically include a rather vague message akin to "Now that you've subscribed, you'll be the first to know about our future products and deals." Consider spicing up and reinforcing your mailing list's value with additional perks that'll really incentivize shoppers to always open future emails.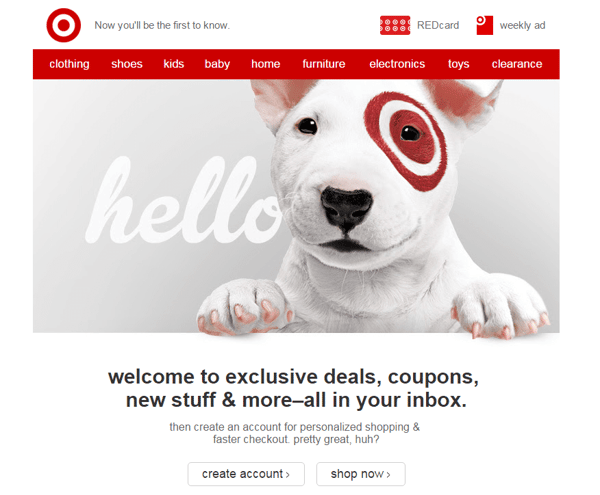 Promote Social Pages
Your social media pages are (hopefully) up-to-date information-hubs that reflect the latest news, sales, and discussions. Give your subscribers a chance to follow your brand by promoting your Facebook, Twitter or other social accounts right in the footer or header of your welcome email. Reinforce the value of these pages by giving readers a taste of what can be expected by following your page, such as sweepstakes, exclusive product previews, and more.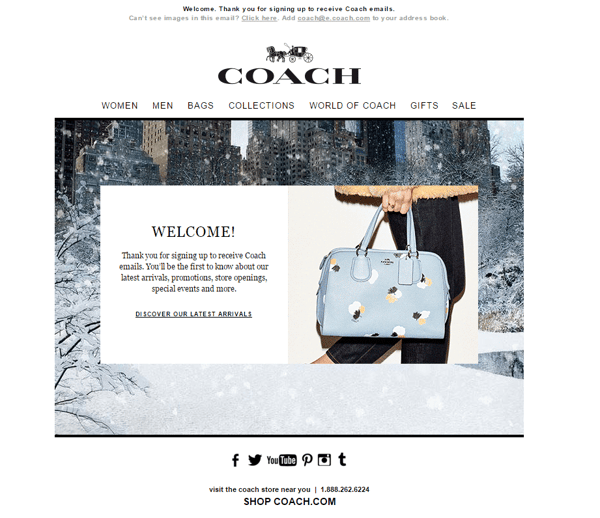 Evoke a Powerful Emotion
The design of your welcome email, from color palette and font to images and copy, should elicit a powerful emotion that resonates with your store's brand. You may want to adopt a humorous, elegant, or edgy vibe that matches your image and product.
When crafting your email, ensure all components create a cohesive message that reflects your business's tone and message. Your brand should always maintain a consistent image, so don't stray too far from your already established marketing tactics and designs.
Showcase Content Marketing
If you're in the business of creating new, awesome content to bolster your SEO efforts, why not promote it right in your welcome email? Show subscribers that you're actively engaging, creating and discussing important issues related to your brand, product or industry. Today's shoppers are looking to purchase from business's they trust, and few measures can instill such a powerful emotion like an active online presence.
Tell Your Story
Aside from your About Us page, your welcome email is perhaps the greatest place to share your business's unique or exciting story. Telling your story is a unique tactic for differentiating your brand from your competitors, an essential marketing tactic if you're competing in shark-filled waters. Providing readers with a memorable recap or highlight of your business's early days can help promote brand loyalty and establish a personal connection with readers.
Appeal with an Offer
Countless retailers offer vouchers or incentives to push their visitors to sign up for their mailing lists. It's perhaps the single most popular welcome email tactic – and who can blame them? It's a tried-and-true tactic that's continued to lure in deal-and-discount hunters for years. Whether you're offering a free product, a one-time use percentage-off coupon, or free shipping, an offer is an excellent way to start building a positive lifetime relationship with new subscribers.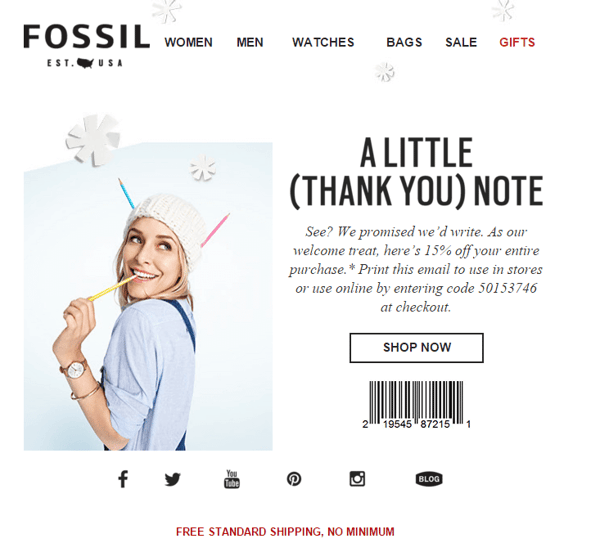 Ensure Mobile-Friendliness
An increasing number of emails are opened on mobile devices, with recent reports suggesting that mobile email opens have now surpassed desktop (54% for mobile!). Consequently, it's of paramount importance that you go the extra mile to ensure your welcome email looks awesome not only for desktop readers, but for your mobile readers as well. Failing to deliver a memorable mobile experience will not only make your brand appear out of touch with today's trends, but will probably result in countless lost sales too.
Hit the Drawing Board
If you're not satisfied with your welcome email's opens and conversions, try your hand at some of the above strategies. Not all of these tips will necessarily work for your business's approach, so it's best to run some A/B testing to ensure your email works with your brand and image. Most importantly, like all other aspects of your eCommerce store, keep your email's content fresh and up-to-date for optimal impact and maximum conversions.