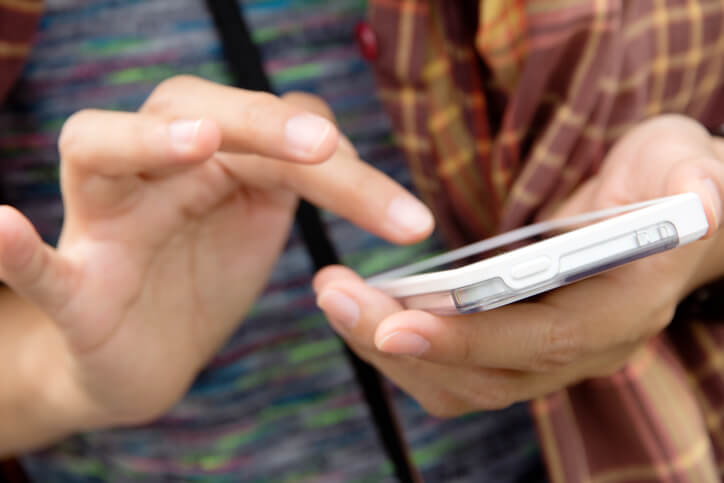 Are you looking to diversify your marketing, but you're unsure of what's the most effective at driving sales? SMS marketing may be the solution that you're looking for.
With SMS marketing, your business can get in touch with more customers than ever before. Best of all, you can do it in a way that garners high engagement rates, open rates, response rates, and more. Used by major businesses in every industry, SMS marketing may be a good fit for your business.
How exactly can SMS marketing benefit your online store? And how can you leverage SMS messages to get the best bang for your buck? Let's take a look at how you can make text messages work for you.
What is SMS Marketing?
SMS marketing is a form of marketing that utilizes text messages. SMS, which stands for "short message service," gives businesses the ability to send texts to customers that provide their mobile phone numbers.
You may be familiar with email marketing – SMS marketing is very similar. Customers much choose to "subscribe" to your text messages, just like they would subscribe to an email newsletter. Text messages also serve many of the same purposes as emails usually would. Promotions, order notifications, new products, and more can be included in a text.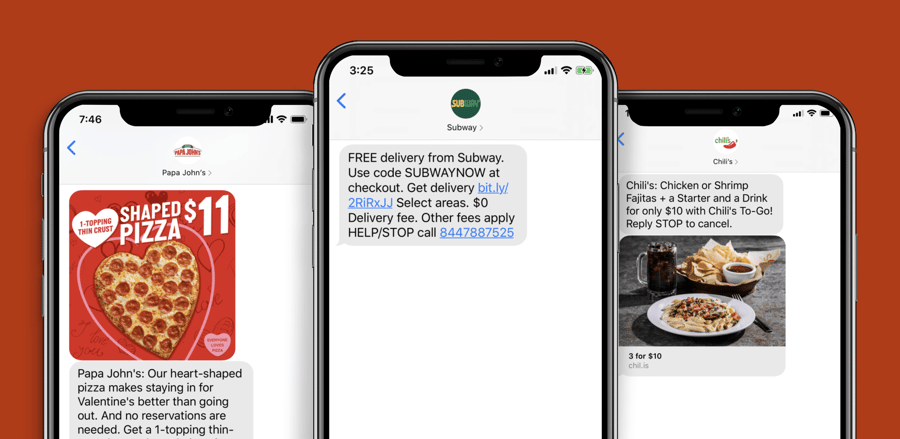 Source: Tatango
If you're already using email marketing for your business, you may be wondering if there's any benefit to using SMS marketing. If they serve a similar purpose, what's the point? In reality, text messages are faster, more convenient, and (in some cases) more effective than email in certain situations.
Mobile marketing as a whole is on the rise for eCommerce businesses. In fact, 68% of businesses have already integrated marketing on mobile into their overall strategy. If you haven't considered mobile in your marketing strategy, SMS marketing could be a good start.
However, before you start sending texts to your customers, there are a few things to keep in mind:
Don't send text messages to your customers without permission. This can actually give your business legal trouble. Even if they provided their phone number, they may not have given you express permission to send them texts.
Provide users a way to opt-out of text messages from you. It's illegal to not give that option to your subscribers. Most marketing texts will include a way to opt-out of texts by replying with a code, like "STOP" or "OPTOUT."
Tell the recipient who you are when you send a text. Chances are that customers haven't saved the number they're receiving your texts from in your phone. To avoid confusion, include your business name in the texts you send.
Use the right SMS marketing tool. Some of the most popular tools for SMS marketing include OptinMonster, ActiveCampaign, and Sendinblue. Choose the option that's right for your business.
4 Benefits of SMS Marketing for eCommerce Businesses
Using SMS marketing for your business can result in many benefits, from higher conversions to better engagement. Let's dive into exactly how those benefits can look for your business.
1. The mobile audience is larger than ever.
67.1% of the world population has a mobile phone as of 2021. This means that 5.27 billion people have access to a mobile phone – most of which can send and receive SMS messages. As more people adopt digital technology, this number will only continue to grow.
It should be obvious by now that mobile phones are not just tools for communication – they're a mainstay in all of eCommerce. In fact, in the last 6 months, 79% of smartphone users made an online purchase with their mobile device. This shows that shoppers are already using their phones as shopping centers, which makes SMS marketing the perfect strategy to take.
2. Customers engage more with SMS messages.
Email marketing still remains one of the most effective forms of marketing. However, it's not all-time the best. While emails have an average open rate of 20%, SMS messages have a much higher open rate: 98%. That means that nearly every single text message sent is opened, giving SMS marketing much more power.
Not only are text messages opened more, but they're also read faster. Research states that, within the first three minutes of receipt, 90% of people read a text message. This gives SMS messages something that emails don't typically have: haste. Text messages are uniquely beneficial for anything you want to get to your customers quickly, whether it's a flash sale or an order confirmation.
Now, if you were asked what form of customer contact receives the highest response rate, phone calls may be your answer. They're direct and instant, right? However, research shows that response rates for SMS messages are 295% higher than phone call response rates. Users would much rather respond to a text than answer a phone.
Not only do SMS messages reach more customers, but they also engage more of them. If you're reaching customers without receiving any engagement in return, your ROI won't meet your goals. SMS's high response rate, sitting at 45%, makes delivering those marketing messages worth it.
3. SMS marketing works well with other channels.
With so many marketing channels available to businesses, it's a wasted opportunity to not make them work together. SMS marketing works especially well with other channels, especially email and social media.
Through text messages, you can encourage users to subscribe to your email newsletter – and vice versa. Incentivize this with the promise of exclusive savings and offers. SMS messages can also give you an opportunity to remind customers to read your latest email. Whether you sent an order confirmation or an appointment reminder, you can share that with your SMS subscribers.
SMS messages can also promote your social media channels. Include quick links in your texts, like "click to Tweet" links, that make it easy for subscribers to share your business on their own profiles. You can also promote your text subscription on social media with an incentive to signing up, similar to what you would do with your email channel.
4. Customers can be segmented for dynamic targeting.
As soon as a customer opts into your SMS marketing program, you can start gathering important information. This data, alongside other information you've collected on other channels, can help you to segment each customer. Segmentation allows for more personalized, targeted ad messages – which generate 58% of all revenue.
With customer data, you can start targeted segments based on a variety of factors. These can include:
Demographics: Target your messaging based on age, gender, education, behavior, and more. Different segments may prefer different types of messages, so keep track.
Location: Differentiate your messaging based on geographical location. Change the language in your text or advertise products based on the local weather.
Order History: Send order confirmations, subscription reminders, or back-in-stock notifications for products in a customer's wish list.
Best SMS Marketing Messages That Drive Sales
Now that you see just how beneficial SMS marketing can be for your online business, let's see how those messages look in action.
Abandoned Cart Reminders
As of 2021, the average cart abandonment rate is 69.57%. Regardless of your industry, you will eventually deal with cart abandonment on your online store.
There are many reasons why a customer may abandon their cart. The leading causes are unexpected shipping costs (60%), being forced to create an account to checkout (37%), and the checkout process being too complicated (28%).
Whatever the reason for abandonment may be, you can bring customers back by reminding them to check out with a text. Abandoned cart texts can include reminders of what was in their cart, incentives to checkout (like free shipping or a discount code), and even a link that takes them right back to their cart.
Here's a great example of an effective abandoned cart reminder text: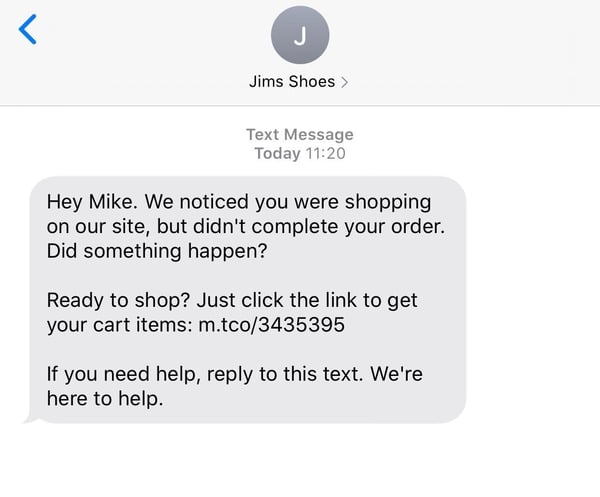 Source: ManyChat
Limited Time Sales
If you're running a flash sale, seasonal sale, or any other sale that has a time limit, then you can reach out to customers quickly with a text message. Because texts are delivered and read so quickly, they're the perfect form of communication for a time-sensitive subject like a sale.
A good sale reminder text can both foster a sense of urgency and provide a clear avenue for participation.
In your text, include a short description of the sale and a link that takes them directly to the sale on your site. Your website should have a page dedicated to the sale, that includes just the items that are on sale, so that it can be linked to in marketing materials like texts.
The text should also state how long the customer has before the sale ends. You can send multiple texts about the same sale if it takes place over a long period of time – one when it starts and one when it's close to ending should do the trick.
Back in Stock or Product Launch Notifications
When launching a much-anticipated new product, customers want to know when it's available as soon as possible. Similarly, products that have been out of stock on your site likely have many customers waiting for their return. You can use SMS messages to notify customers in both of these situations.
Before the product is available on your site, let customers know that they can sign up for a text notification that goes out as soon as they can buy it. This adds a level of exclusivity to your text message program. By informing your text subscribers first, you're adding value to the text – especially if there's a chance that the product may sell out quickly.
Order Confirmations
Customers like to keep track of their orders and feel secure in the fact that it's on its way to them. One of the best ways to keep customers up to date on their order is through text. These order notifications are short and time-sensitive, making quick texts the perfect channel for them.
You can send out update texts to customers when their order has been received, shipped, and delivered. Customers may also appreciate a link to track their order within the text. This adds an extra level of comfort, as they can track in real time exactly where their order is in relation to its destination. In this way, update texts can also improve trust in your business, increasing customer satisfaction and brand loyalty.
Conclusion
SMS marketing is a unique way to engage your customers and boost sales for your online business. Not only does it give you access to a huge audience, but your texts also have a higher chance of being opened and responded to than any email you can send. Your targeted marketing can benefit as well, helping to improve your efforts across all channels.
Like any form of marketing, SMS marketing only works if it's done well. If your texts to customers are annoying, too frequent, or not valuable to customers, they'll opt-out of them right away. What's worse, they may even come to think of your business in a bad light.
To get the most out of SMS marketing, follow a strategy that strikes the perfect balance with your customers and business goals. With the right foot forward, you can start turning texts into sales.