Email still ranks as the most effective inbound marketing channel, converting higher than both search and social. Monetate's infographic, featured below, depicts just how much more effective email is than its inbound brethren - ranking highest in both average add-to-cart-rates per session and average conversion rates per session.
Even though, email marketing is extremely effective, studies have shown that consumers open just 20% of email messages. So how do you get your emails to stand-out in your customers already-bombarded inboxes?
Here's some tips on how you can increase open rates and tap into email conversion power today:

1) Segment, Segment, Segment - As the infographic puts it "Don't Batch and Blast." Using email segmentation, allows you to make messages more relevant to the user and typically results in 30% more open rates and 50% more click-through rates.
One great example laid out in the infographic is segmenting active vs inactive customers and including a promotion code for the inactive customers. This example can be translated to ecommerce by segmenting abandoned carts vs customers - for customers include a 'loyalty coupon code' and for users who have abandoned their cart include a 'first purchase coupon code.'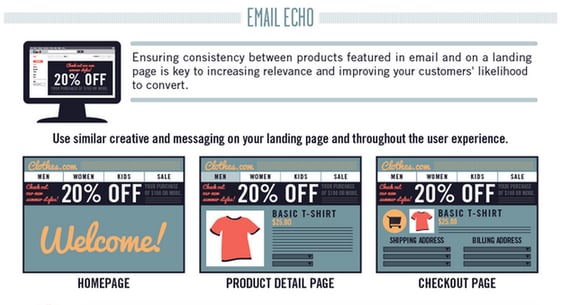 2) Consistency -The infographic points out that your email campaigns should lead to a relavent landing page with wording, offers and images consistent with your email message. In addition, make sure your emails reflect your store's look and feel. Email is another way of presenting your brand to the consumer and thus the design should match up with all of your other channels.

3) Make it mobile friendly - Studies have shown that almost 27% of emails are opened on mobile devices and Monetate points out that there has been a 74% increase in email views on iPads and a 34% increase on smart phones just within the last few months. When you designing both your email campaign and your landing page, you need to keep your mobile audience in mind.
View more interesting statistics and figures on the full infographic: