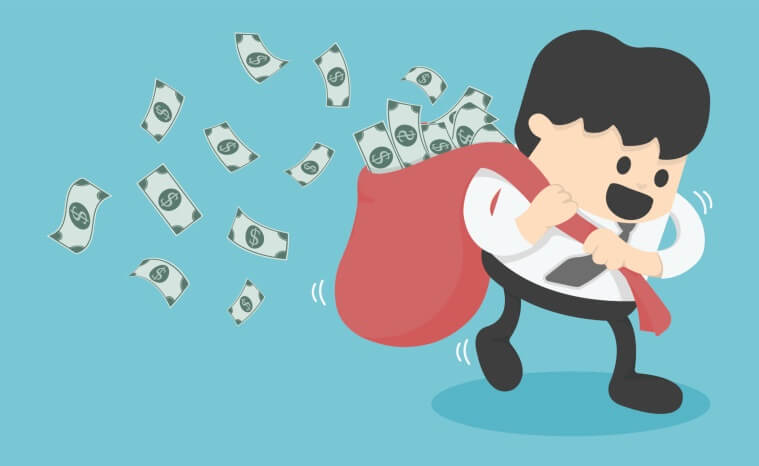 Kickstarter campaigns are becoming the norm for new products sold online. People love contributing to and sharing these campaigns to their friends, family, and social media followers. There is something about helping-the-little-guy that compels people to spread the word; to do their part to gain awareness of a new idea. But, what happens after the Kickstarter has ended and the intrinsic coolness and newness of your product wears off? You need to be proactive to continue getting your product seen and shared by media, visitors, and customers.
Any successful store owner will tell you that the biggest factor in growing sales is generating more views of your product, store, and media. There are dozens of ways – both free and paid – to generate views. However, not everything will translate directly into sales. Some channels - such as word-of-mouth referrals - will always produce higher conversion rates, and paid ads will inherently carry more risk. By focusing on creating more word-of-mouth referrals, you will drive higher quality traffic to your store and pay less for each new visitor than traditional advertising.
Reach out to bloggers to review your product
Bloggers are often looking for exciting new products to write about. However there are so many new products that it's important to actively reach out through email and social media. Remember that most successful bloggers get contacted every day, so many will not reply right away, and most will not reply at all. You should expect a less than 10% reply rate, so be persistent.
A great way to turn a typical article into a word-of-mouth referral is by sending the reviewer your product. In exchange sending them a sample, you will get a write up – and depending on the amount of followers from each blog – the results could be substantial and long-lasting. In fact, most of the organic traffic (other than Facebook) to my sites comes from blogs that were posted over a year ago.
Facebook and Retargeting Ads
It's important to continue targeting and retargeting individuals within your audience. Remember that the popularity of your product is fresh off Kickstarter, and eventually traffic will slow unless you continue to drive high quality traffic to your store. Facebook Ads are a great way to start small (I recommend a budget of $100-200/week to begin) and target audiences with very specific interests. For example, if you are selling golf accessories, you could target individuals who follow Golf Magazine.
Retargeting Ads are also critical to keeping the momentum. Retargeting keeps your product in front of people who triggered an action on your store, such as adding an item to the cart, visiting a certain page on your site, etc. You should find an affordable retargeting software to build and manage your campaigns - I use Perfect Audience and it has proven to be quite good.
Optimize Embedded Media Image
Kickstarter.com does a great job of optimizing embedded media links to show an elegant video thumbnail and short messaging. However, many stores have yet to spend the time customizing this very important yet relatively unknown web feature.
Facebook has instructions to add meta tags to your media, however myself and several peers had trouble navigating their debugging tool, so my team built a simplified version for merchants using Coopt. With our tool, you can choose to optimize for video or an image.
Below is an example of how important optimizing embedded media is. The first image is before we optimized using the Facebook meta tag instructions.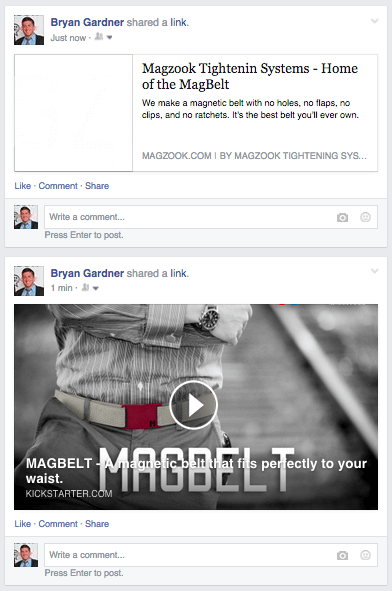 Give something back for sharing
After the Kickstarter campaign has ended and the sentiment has worn off, you have to try harder to get your fans and customers to share your product. We have found that the most effective way to scale this objective is by offering instant rewards sharing. By offering a reward for sharing, you take the guesswork out of getting shared. Instead of hoping that people will share, you must create a transaction that is simple: customers get X% cash back for sharing. Coopt provides the platform for this, and even automates the reward and share process so no additional work is needed by the store owner.
Conclusion
Success on Kickstarter does not mean success on your Store. You must dedicate time and sometimes money to sustain and grow revenue. If you have any questions please leave a comment or email me at bryan@getcoopt.com.
About the Author: Bryan Gardner is the founder of the Coopt app and a seasoned store owner. He has 3 successful Kickstarter campaigns, most notably for Fly Pedals, the worlds first Universal Clipless Bike Pedal Adapter. He has consulted over 1,500 store owners on best practices to increase traffic, sales, and conversion rates.