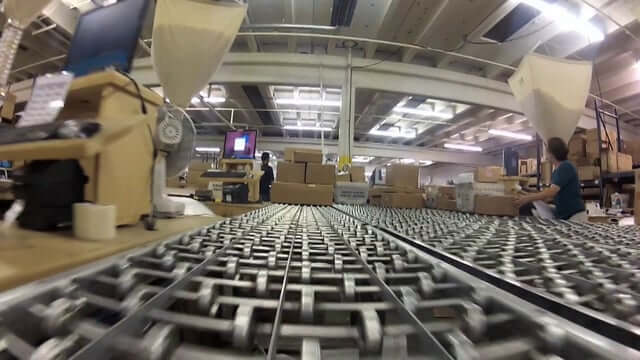 3dcart currently partners with over 200 ecommerce companies, and constantly adding new ones. These partnerships allow online merchants to expand the 3dcart functionality to specific business needs.
Each month 3dcart highlights a Featured Partner. For the month of July, the Featured Partner is Efulfillment Service. Our team interviewed Steve Bulger, Efulfillment's Sales & Marketing Manager to help 3dcart merchants get an insight of their company and solution.
Please share some background and history on efulfillment Service:
eFulfillment Service (EFS) is the leading provider of order fulfillment services to small and mid-sized ecommerce sellers.
EFS was founded in 2001 by John Lindberg. Today, we remain a family-owned business with John as our CEO, and his son Jordan as the Executive VP running the day-to-day operations.
eFulfillment Service was built on a few core values, which include reliability, transparency and integrity. These values are instilled throughout our organization, and because of this, EFS maintains an A+ rating with the Better Business Bureau and is one of the most trusted and respected names in the ecommerce order fulfillment industry.
What's the main service Efulfillment Service offers?
We provide warehousing, order processing and shipping services to online sellers. We work with over 600 merchants around the globe and have experience with virtually every product type, from cosmetics, to supplements, to media, electronics, apparel, toys and more.
In addition to our warehousing order fulfillment services, we also offer a number of ancillary services, including:
360 product photography
Still product photography
Kitting and assembly
Returns processing
Custom technology projects
Describe the integration and how long Efulfillment Service has been a partner with 3dcart.
3dcart is actually our oldest integration, and we have been a partner with 3dcart for nearly a decade.
Our clients love 3dcart not only because of all the features it offers, but they also love the fact that we can automate the order fulfillment process.
We have made it very simple to connect our software with 3dcart, so as orders come through the merchant's store, we're able to pull those orders automatically, pick, pack and ship them out, and then send tracking and inventory data back to 3dcart automatically.
What are the benefits for 3dcart Merchants that use Efulfillment Service?
The main benefit to 3dcart merchants is that we simplify the order fulfillment process, while providing an affordable, dependable solution.
Generally merchants are outsourcing order fulfillment to save themselves time. This means they don't want to be spending time placing orders and trying to figure out the status of orders or getting tracking number to their customers. We automate all of this for them.
In addition, some merchants have difficulty giving up the order fulfillment reigns. And rightfully so….successful order fulfillment is critical, and a big part of retaining customers. This is where our 15 years of experience comes into play. Merchants take comfort knowing that we have the experience and technology to consistently get their orders to the right customers at the right time.
What are your solutions' biggest strengths?
Our biggest strengths are our experience, technology, flexibility, level of service, and our commitment to being open, fair and honest with our clients.
How's your solution price structure?
Our pricing is somewhat dependent on the shipping volume of the merchant. In general, though, our pricing is simplified and we differ from a lot of fulfillment companies in that we do not have any setup costs, no minimum order volume requirements, no big monthly retainers, and no tricky fees.
This allows the merchant to maintain more of a consistent cost per order, even as order volume fluctuates throughout the year. With many fulfillment companies charging minimums or having high fixed costs, it can result in the merchant's per order cost dramatically going up and down throughout the year.
How does Efulfillment Service compare to similar solutions in the market?
eFulfillment Service has been shipping ecommerce orders longer than most companies out there. So our experience is a big reason why so many merchants choose us.
Our technology also makes things very easy for the merchant while keeping them in the loop. In addition, we have simple, straightforward pricing, responsive service, as well as a high level of flexibility in order to accommodate a variety of merchants and their particular needs.
Lastly, here at EFS, we own and operate our warehouse, whereas many fulfillment companies actually contract out the warehousing and order fulfillment. By operating our facility and having our customer support team at the same location, it leads to faster and more consistent response times for our clients.
What plans do you have for future development Efulfillment Service?
We are constantly making improvements to make things better, faster and easier for our clients. This not only includes our technology, which involves adding new features and integrations, but also on the operations side. Experience is invaluable with order fulfillment, and we're constantly applying what we've learned over the past 15 years.
Any other thoughts for our readers, who are mainly ecommerce merchants?
This is probably fairly straightforward, but my one piece of advice is that, when evaluating fulfillment providers, do your homework.
Order fulfillment is a big deal. You do it right, you may have a customer for life. You mess it up, you may have lost a customer for life. So while price should of course be a consideration when outsourcing your order fulfillment, the handling and shipping of your customers' orders really shouldn't be viewed as a commodity, and experience, reputation and track record should be equally important.
To learn more about Efulfillment Service and how their services can help you grow your business, please visit Efulfillment's 3dcart App Store profile.