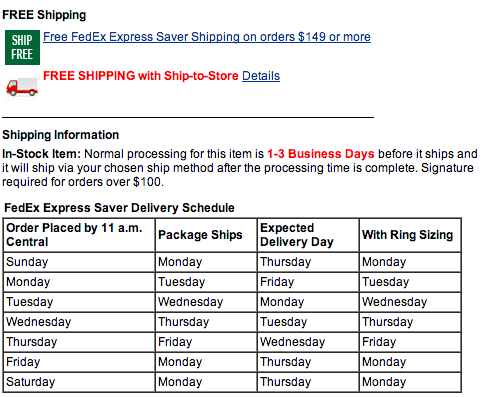 Studies tell us that 65% of shoppers abandon their cart before purchase and the average eCommerce site converts only 2.13% of traffic to sales. Fighting your way through abandoned carts to a higher conversion rate is no small task. Every page of your site needs to usher shoppers closer to conversion, especially product pages.

The basics of an effective product pages are:

Compelling copy - Product descriptions should be detailed, non-generic, and list benefits, not just features
Quality Product Photos - Photos should be clean, high-quality and offer a multitude of angles
Call To Action - An easy-to-read call to action should be prominently featured
While those elements are essential to an effective product page, there are many other ways you can set your store a part and increase conversions.
Beyond The Basics: How To Create Product Pages That Convert
Prominently Display Shipping Costs:
Informed customers are confident customers. Don't make customers anxious about shipping rates and times - inform them upfront by prominently placing shipping information in your product pages.
Free shipping goes a long way in increasing conversions, but it is important to weigh the pros and cons to decide if free shipping is for you. A great way to increase your store's average order value is to offer free shipping over a certain amount. Flat rate shipping is also another great option. Flat rates are easy to understand and eliminate surprises.
Scared to display your international shipping rates for fear of scaring away customers?
High shipping rates will scare away some customers. However, it is much better for a customer to leave your product page because they didn't want to pay your actual shipping rates, than it is for a customer,that would be happy to pay your rates, leave the page for the fear of the unknown.
See Also:
Can You Make Free Shipping Work for Online Store?
Cost Of Free Shipping
Remove Guesswork By Providing Sizing Information:
Often, online retailers burry their sizing charts in "about us", "FAQ" or other pages, but that is not where the information is the most useful. Give customers the information they need, where they most need it - on the product pages.
Offer sizing guidelines and conversion charts to avoid refunds and unhappy customers.
Establish Trust By Listing Customer Reviews:
Build trust with your customer by allowing shoppers to post reviews of the products and of your company.
See Also:
Boost your SEO with customer reviews
Promote Customer Photos:
Models and product photos are great, but seeing the product in-use by a real customer can reassure potential buyers the product that will arrive at their door is as great as the product photos on your site.
Don't have user-submitted photos?
Hold a contest encouraging previous customers to take pictures of your product in use and upload to Facebook, Instagram and other social sites for a prize. Make sure you are up-front with all the entrees that submissions could be used on your site. Most customers won't mind and often many are flattered to be featured!
Include Useful Product Advice:
Including useful product information like styling, cleaning, and best use tips allow the customer to feel more educated about the product and helps them to picture themselves wearing, using, or integrating the product into their lives.
Use Daily Deals To Create Urgency:
Daily deals add urgency to your offer and let shoppers know they should act while they can. Furthermore, by constantly updating the type of deal that is offered and posting a new deal at regular intervals, your shoppers will get into the habit of checking your site often to see what the new offering is.
3dcart has a great free daily deal feature that all merchants should utilize to increase a shoppers sense of urgency. Make sure to prominently display the normal retail price and the amount of discount you are offering.
See also:
Five Reasons Why Online Stores Should Run Daily Deals
Give Customers Peace Of Mind With Free Returns:
We've said it before and we'll say it again: Free returns are crucial for customers to feel confident purchasing online, especially for a customer's first purchase on your store. It is especially crucial for all etailers as fit and style come into play with garments and accessories.
Allow customers to give your brand a try without fear.
Encourage Large Orders With A Buy more, Save More Discount:
Offer a discount on orders over a certain amount to encourage shoppers to fill up their carts.
Show-off Your Products With Product Videos:
Using video demos of items increased sales for Zappos between 6% and 30%. Include video content to show your product in real-life, offer tips, answer common questions, and express the benefits/uses of your product.
See also:
8 Tips For Making An Effective Product Video
eCommerce Video: Tips for Effective Product Videos