If you want to maximize visibility, make a sleigh full of money and effectively grow your ecommerce business this holiday season, than perk up and pay attention because this one's for you.
ViralSweep is a brand new ecommerce extension that allows online store owners to build and run sweepstakes directly on their website(s). Perfect for every 3dcart merchant, ViralSweep will immediately drive traffic to your store, increase brand visibility and escalate user engagement... guaranteed!
If you're new to sweepstakes as an e-store owner, don't fret, the ViralSweep team has taken the time to create a FREE user guide teaching you how to "utilize giveaways as your most reliable marketing strategy." To read and/or download the guide, simply click the image below.

Fully equipped with a growing number of features, ViralSweep is quickly becoming a must-have 3dcart extension.
Why you'll love ViralSweep:
Collect emails
Gather the email addresses of your entrants. You own this data, and ViralSweep will never contact your participants.
Embed on your site
ViralSweep is embedded directly inside your 3dcart store(s)
Custom style
Customize sweepstakes by uploading a background image, logo and product images.
Mobile optimized
ViralSweep's sweepstakes app is compatible with both desktop and mobile devices.
Real-time analytics
See how many people are entering, sharing, referring friends and visiting your site.
Choose winners
When your sweepstakes ends, you can draw the winners with the click of a button.
Bonus entries
Entrants gain bonus entries for liking you on Facebook, sharing, referring friends and more.
Export data
Export all of your entrant data into a CSV file. You can then download this data any time you want.
Sweepstakes rules
Comply with state and federal laws by using ViralSweep's sweepstakes rules template.
Custom forms
Collect data from your entrants like name, address and phone, or input your own custom fields.
Email integration
Import leads directly into your Mailchimp (included natively inside 3dcart) account.
Fraud detection
Automatically receive an alert when a chosen winner appears to have violated the rules.
(Note: The above information was pulled from https://www.viralsweep.com/)
To start running sweepstakes inside your 3dcart store, simply visit https://apps.3dcart.com/ViralSweep_p_69.html and get started. "After you create an account, you'll automatically be on the free plan. You can create and run giveaways on the free plan, but if you want to export data or have analytics, you will need to upgrade," according to the ViralSweep website.
If you would like to learn more about premium ViralSweep accounts such as what's offered and how much they cost, please visit https://www.viralsweep.com/pricing
After establishing a FREE account with ViralSweep, you can immediately start building your first sweepstakes. Doing so only takes a few minutes, and when you're done, you'll be able to showcase your campaign in one of three ways...
Embeddable widget
The embeddable widget lets you place your giveaway inside any page of your website, like a blog post.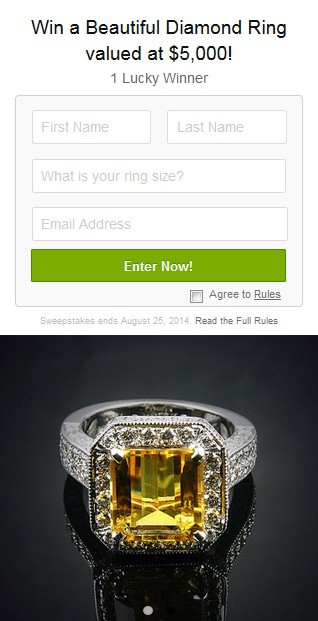 Full-page widget
The full-page widget takes over an entire page of your site, guaranteeing high conversions.

Pop-up widget
This widget pops up from the lower corner of your website displaying your giveaway.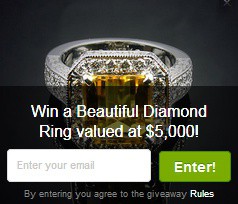 Wrap-up
ViralSweep is the perfect 3dcart extension for e-store owners who want to maximize sales and increase brand visibility during the 2013 holiday season. No matter what marketing efforts you and your team employ, be sure to create a ViralSweep account today so you can start running professional sweepstakes in no time!
For more information about ViralSweep, visit https://apps.3dcart.com/ViralSweep_p_69.html. If you have any questions or comments, feel free to post them below.

(Create a Sweepstakes with ViralSweep)