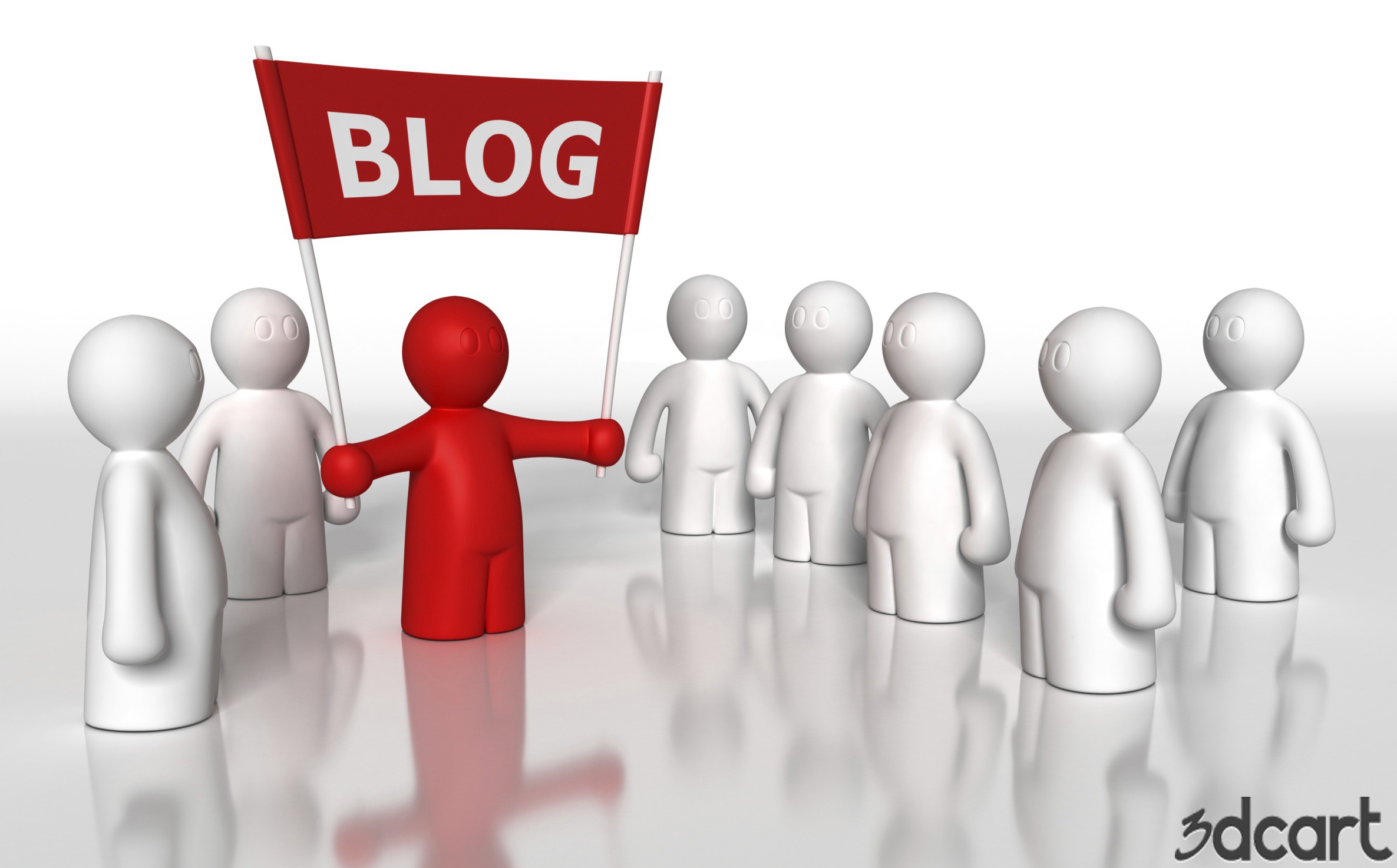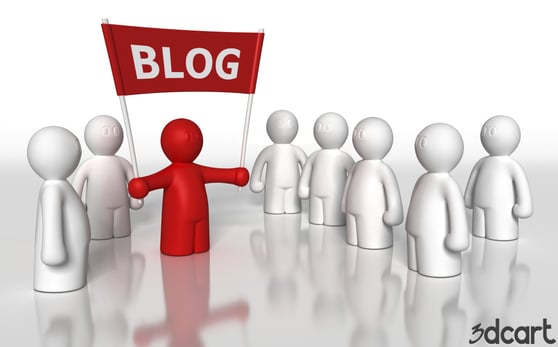 Every 3dcart store owner should have a blog. It's impossible to survive in the Ecommerce Ocean without one. Blogs create opportunities to establish authority, market promotions, increase brand visibility and optimize a website.
In today's hyper-connected society driven by social media, content truly is king. But before you login to your 3dcart Store Manager and start typing away, we'd like to offer a few tips and tricks designed to maximize your blog's visibility and exposure so you can continue to get the most out of your ecommerce experience.
1.) Make it Good
Social sharing is all about stellar content creation, and the only way to make your blog shine is to make it good. If you write articles that lack research, a voice or an angle that appeals to a wide audience, no one on social media is going to care. OK – Maybe your cousin and your mother will "Share" a post or two, but that's about it.
Truth be told, we live in a world of instant information, and everyone with an internet connection loves to post their opinions online. It gives them a sense of self-importance, and that's exactly why many bloggers fail. Part of being a good blogger is being a humble blogger. You shouldn't be in this for the fame, because let's be honest, there isn't much to go around. In other words, don't write to make yourself feel important, write to make your audience feel important; to keep them interested and engaged.
Blogging can be a personal thing, and I even recommend putting a lot of yourself into what you write, but never make your blog all about you. There's a time and place for that, of course, but that time and place isn't your ecommerce blog.
The last piece of advice I'll offer under the "Make it Good" section is to proofread and preview everything before posting. I also recommend reading your posts aloud as this will help with cadence and tone.
2.) Establish Goals
Before you can create stellar content, you'll need to establish a few goals. So if you sell musical instruments in your online store, one of your goals might be to become an authority in the industry. By showcasing your expertise via blog posts – and sharing those blogs on social media – you'll begin to build a loyal army of followers.
No matter what goals you set for your ecommerce blog, draft a game plan before getting started and be sure to follow through. Keep in mind that goals aren't very effective without a deadline, so whatever goals you establish for your blog, set a date to review them and reassess if necessary.
3.) Visibility
If no one can find your blog, what's the point in having one? That's why we recommend featuring it on the homepage of your 3dcart store, and you can easily do this by following the steps below.
To put a link to your blog inside the header of your website, login to your 3dcart store manager and navigate to Settings --> Design --> Site Content.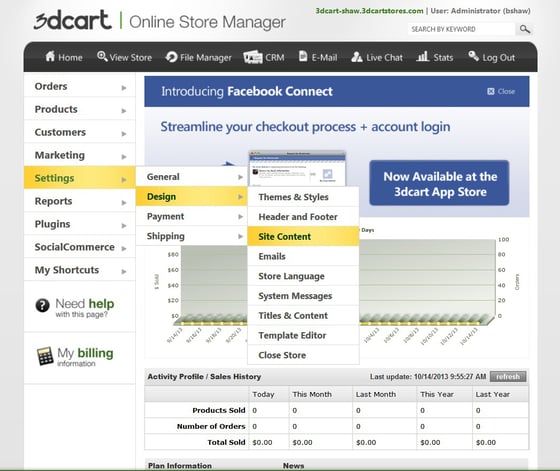 Now let's add your blog to the header of your 3dcart store. From the screen below, simply click the "Add New Link" tab found in the upper-right-hand corner of your 3dcart Store Manager.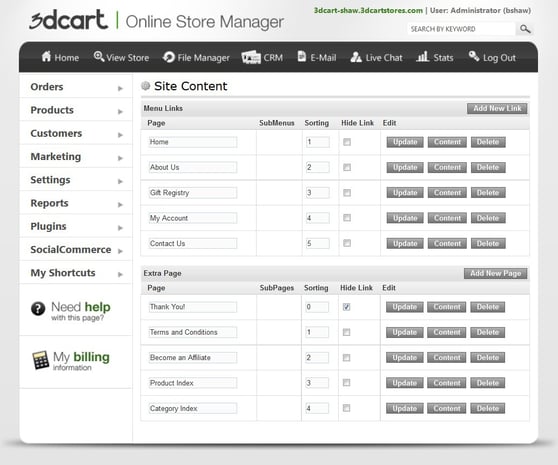 Now you'll have to enter the page name of your new header, and unless you have something clever you'd like to input, we recommend using the word "Blog" to define it. If you'd like to make your blog a sub category inside one of your existing headers, this can easily be done by scrolling through the Sub Menu options on the right side of the screen.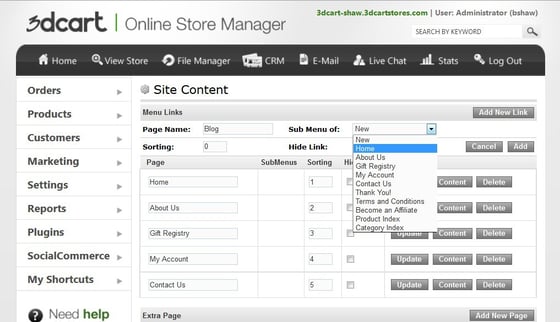 Once the above fields have been defined, click the "Add" button. Your new "Blog" header will be added to your page, but we're not done yet. Now it's time to link the tab to your blog so users can read it. This is easy, and all you need to do is click the "Content" icon located to the right of your new blog header.

After clicking "Content," you will then need to link to your blog. If you elect to use 3dcart's internal blogging platform, the link you will need to insert is "blog.asp." If you use another blogging platform like Wordpress, simply enter that URL in the "Link" field. If you would like to introduce your 3dcart blog our hard code web copy to that page, simply enter your text in the appropriate fields. You can also flush out Meta Tags as well for SEO purposes. When you are done, simply click "Save Changes."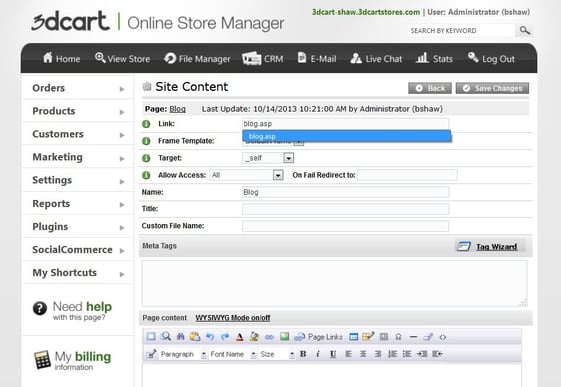 Now let's alter the sorting order for your headers. After clicking the "Save Changes" icon, click the "Back" button and you'll be returned to the following screen. From here, simply adjust the sorting order of your header tabs by placing the appropriate numerical value in the required fields. So if you want your blog to appear at the end of your header list, it will have a higher numerical value than everything that comes before it. Once you've finished sorting your header tabs, click "Update."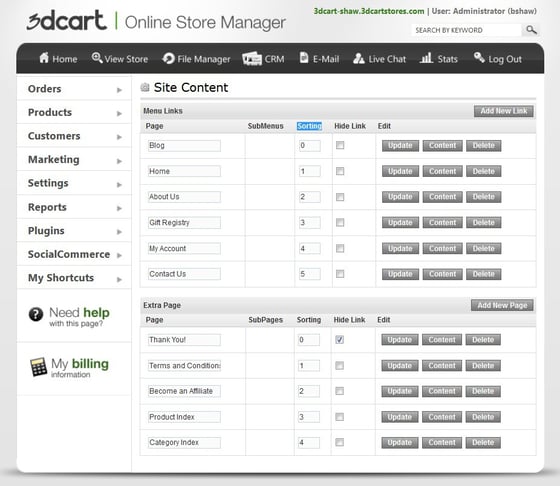 Now it's time to configure your blog's settings. Return the homepage of your 3dcart Store Manager and navigate to Social Commerce --> Blog --> Settings.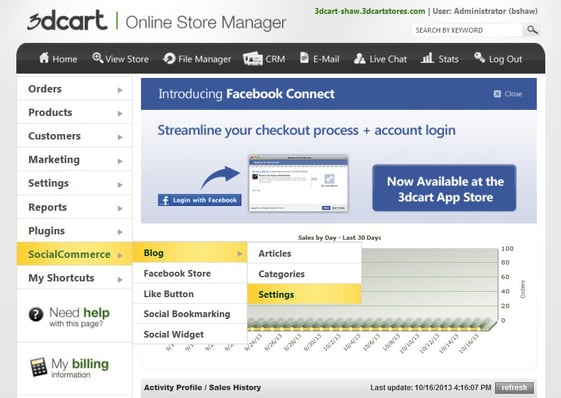 From here, you can customize both your top and bottom navigation banners, and you can also alter your blog's display features. Once complete, select "Save Changes" in the top right.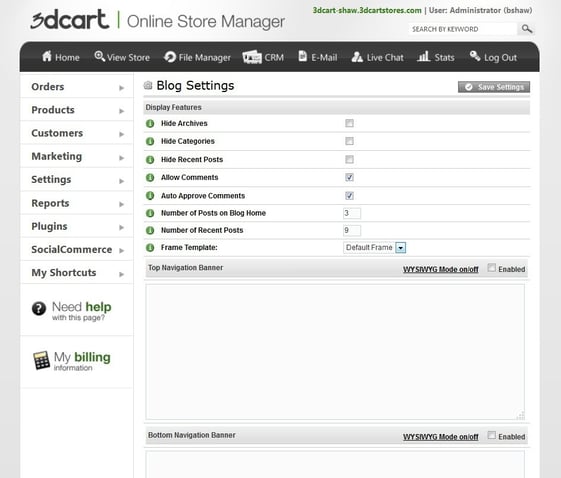 Not it's time to start blogging! Return to the home screen of your Store Manager once more and navigate to Social Commerce --> Blog --> Articles.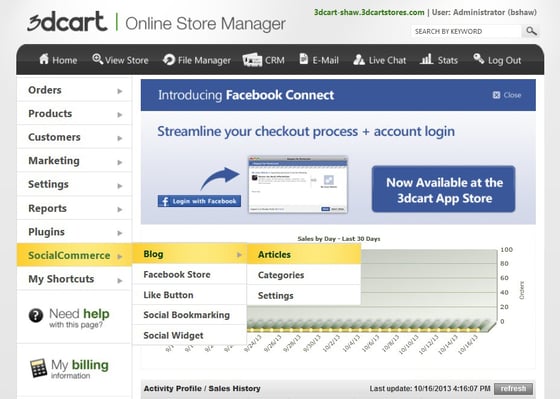 To add a new article, simply click the "Add New Article" tab in the top right.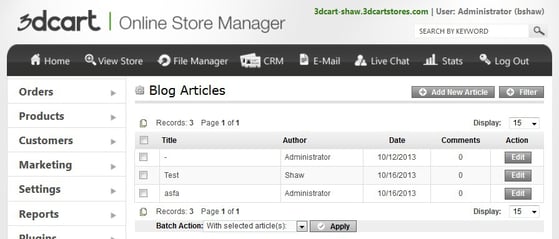 Now the fun begins. The following screen will be the portal to your blog. From here, you will create and share your brilliance with the world.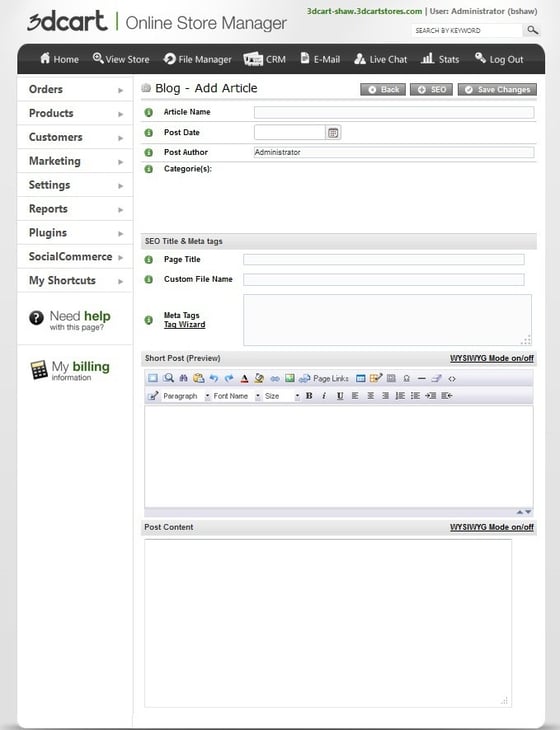 4.) Social sharing
When you create a blog post that's well written and relevant to your industry, be sure to share it across your social media platforms. When doing so, however, it's vital to include a catchy intro tag that will entice your followers to click the shared link. This will be the hook that brings them in, and your blog's content is what will keep them coming back.
5.) Don't forget about art
Every blog you post should have at least one beautiful image housed within. Why? Because those that frolic in the land of social media love pictures, and those same people are more inclined to share a post that has images housed within.
One last thing, and then we'll wrap things up. Every time you blog, try to include engaging multimedia content like videos, slideshows, infographics, etc… Multimedia content is a visibility driver, and readers love passing around posts that contain rich content.
Wrap-up
Blogging is proven to be an extremely powerful tool for ecommerce merchants. That tool, however, can help or harm your business, and that's why you need to plan ahead, take your time and offer great content. Failing to heed this advice can send your online reputation plummeting to the bottom of the Ecommerce Ocean, and that's the last thing you want... trust us.
If you have any questions about blogging in general, or perhaps you have questions about 3dcart's internal blogging platform, feel free to post them in the comment section below.
Thanks for taking the time to ready everyone. Have fun out there and happy blogging.