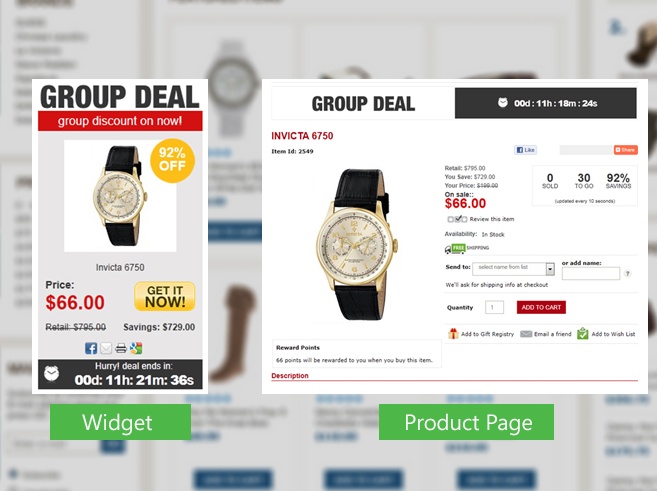 Did you know your 3dcart store comes with a built-in Group Deals module? With Group Deals, you can create a limited-time offer that requires a certain target number of purchases before the discount will be honored. This can be a very effective way of marketing a product, because it combines the urgency of a deadline with the incentive to share the sale with others. Basically, they are made to go viral.
Urgency is a very powerful tool to convert a sale. How many times have you decided to save an online purchase for another time but simply forgot to ever come back and buy it? This kind of thing happens often, believe it or not— people decide to buy something and then they tell themselves they'll come back later. Sometimes they never do, and not even because they change their minds; they simply forget. It happens in brick-and-mortar stores, craft fairs, art shows, and especially online.
The concept of urgency fights against the tendency to wait on a purchase. If you let your customer know that they only have 24 hours to get an item at the stated sale price, they're more likely to feel motivated to buy it immediately, before the distractions kick in.
The Group Deals module has a countdown timer just like the Daily Deals feature, but not only is the customer watching the seconds tick away before the deal is gone: With Group Deals, they also need to go a step further and get others to buy the item too within the time frame! This will have them sharing the deal with their family, friends, and social media followers, who in turn will share it with others, with the potential to go viral. Viral marketing is extremely powerful, because it has an incredibly wide reach and takes on a mind of its own, sometimes with very little investment on the part of the originator.
Since 3dcart's built in Group Deals module leverages urgency and gives the customer a need to share the sale with others before the deadline, customers interested in the sale can end up doing a great deal of your marketing for you. Using Group Deals you can make more sales, move inventory easily, get rid of overstocked items, build a customer following, and more.
You have complete control over the setup of your Group Deals and can choose the time limit, number of customers, and other options including whether you decide to honor the deal anyway even if the minimum sales are not met (if you do this, make it into a marketing moment as well— email your customers and tell them that even though you didn't reach your goal, you want to reward their loyalty by honoring the sale. Or alternately, give them a coupon code instead to use on another item of their choice. No matter how the sale goes, you can work it into your marketing to build customer loyalty).
If you've decided to try out the Group Deals module, you can find complete setup information on our Knowledgebase. Happy marketing!