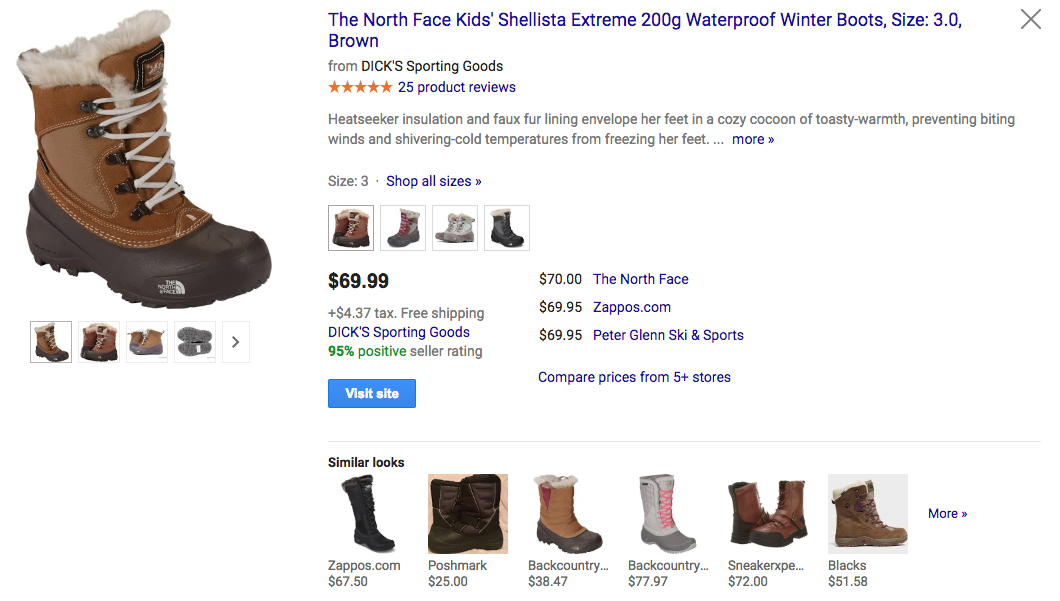 Google Shopping isn't a new option for ecommerce sellers, but it is a growing one. As of mid 2018, Product Listing Ads (or PLAs) are showing up in more and more searches because the results they drive for advertisers are undeniable.
Studies have found that Google Shopping ads can yield 26% better conversion rates at a 23% lower cost-per-click (or CPC) over traditional text-based ads. That's a big difference — regardless of whether your online store serves 50 customers or 50 million.
So how can you take advantage of that growth? If you haven't gotten started with Google Shopping yet, it's high time you did. Whether you're launching your first campaign today or not, let's talk about Google Shopping's ads and how you can be sure your PLAs win the day.
What is a Product Listing Ad?
A Product Listing Ad (PLA) is a distinct type of pay-per-click (PPC) advertising. Google offers PLAs to ecommerce sellers exclusively, and they're distinct from the traditional text-based ads you may have worked with in Google AdWords — or seen pop in your own searches.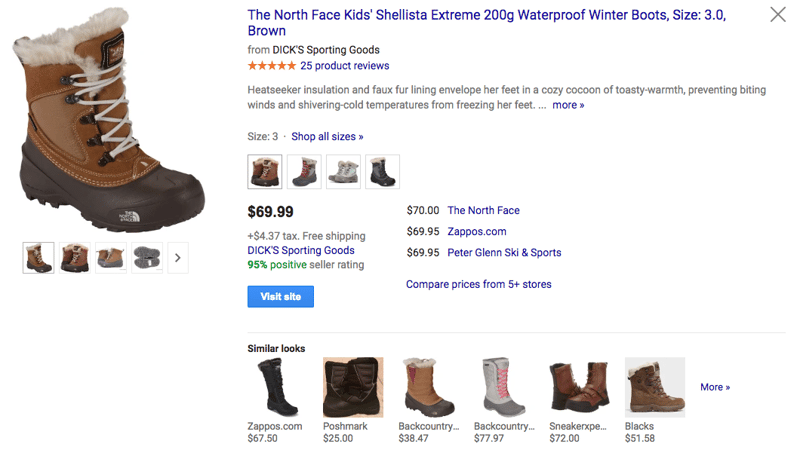 Product Listing Ads are less about getting users to click and more about helping them make a decision.
They include a lot more information than a standard text ad or organic search listing, and that information is tailored specifically to what ecommerce shoppers are looking for. Google Shopping makes it easy to compare products and prices before you ever leave Google, reducing back and forth and cutting down on friction for consumers.
How is it Different From a Text Ad?
The most notable difference between text ads and PLAs is that the latter includes an image. That's what makes Google Shopping an ideal way to advertise ecommerce products. There are also some key differences in how Google Shopping ads are created, on the back end, versus the AdWords text ads you may be familiar with.
To start, when you create a Google Shopping campaign, you won't design and build each ad separately. Instead, your ad information fits into a standard Product Listing Ad template (like the example below — a PLA for a winter boot.)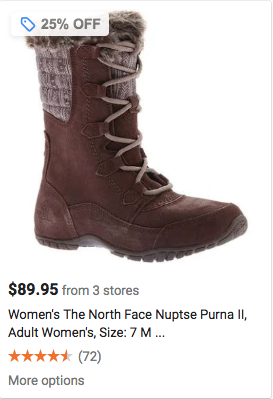 To create each PLA, Google pulls in information from your product feed — which you'll add into your Google Merchant Center account. Instead of crafting individual ads, focus on ensuring the names, descriptions, and other information in your product feed are well-optimized to convince users to click on your product.
What's included in a Product Listing Ad?
Product Listing Ads include a lot more information than a regular search listing, and it's exactly the information ecommerce shoppers look for. So what does that mean? PLAs contain all or most of this information about each product listing:
Product name
Image
Brand or ecommerce store
Product description
Price
Available options (colors, sizes, etc.)
Star rating and reviews
Shipping costs
Promotional information
Best Practices for Google Shopping Ads
Product Listing Ads offer ecommerce sellers more engagement at a lower cost per click — but what they offer in ROI, they make up for in increased competition (particularly for lower priced items.) That's why it's important to follow these best practices and give your Google Shopping ads the best chance to stand apart from their on-screen neighbors and convince customers to choose your store.
Invest in High Quality, Unique Images
High quality images are an absolute must for Google Shopping and PLAs. The image is what captures user interest and helps them get a feel for the product before clicking through to your website. Always use high resolution, well-lit product photography in your Google Shopping ads (and on your website, for that matter!)

For many items, the Google Shopping results look like a wall of nearly identical images. How can your PLA stand out? Spend some time looking at the images your competitors are using for each product on Google Shopping. Find a way to make your image different enough to draw shoppers' eyes.
Include as Much Information as You Can
Google Shopping enables you to include tons of information in your PLAs — information that has the power to convince consumers to buy your product, before they even leave the Google search.
Make the most of that by including as much information as you can. Price, shipping costs, promotional information like sales, seasonal information, color options, size options… include it all in your product feed so that info is readily available for potential customers who see your product listing ad.


Update Your Product Feed Regularly
The last thing users want is to click on your Google Shopping ad only to find out that the information on your website is different. To give customers the best experience when they interact with your PLAs, you have to make sure the information is always up to date. Whether you have limited stock or the price changes, your product feed needs to know about it.
You can manually update your product feed in your Google Merchant Center account. If you're updating by hand, we recommend doing it at least every 14 days (or more often if your products and prices change a lot.)
Most ecommerce solutions will have an app or integration that can automate this process for you. Some of the best google shopping feed automation tools are:

Write Product Titles and Descriptions for Humans
When you're used to Google AdWords, text ads, and bidding on specific keywords, it's easy to fall into the trap of putting too much emphasis on keywords. Ads written to fulfill keyword requirements often lose focus on creating compelling titles and descriptions that get the humans on the other side of the computer screen to click.
In your Merchant Center account, ensure all of your product names and descriptions are written with a human audience in mind, not a search bot. That means using natural language that flows and including keywords only where they make sense.
Boost Sales with Google Shopping and Product Listing Ads
Product Listing Ads represent an incredible opportunity for ecommerce stores to grow their business and boost sales, all while spending less than many other advertising channels. It's a tactic that's here to stay, and there's no time like the present to dive in and see what Google Shopping can do for your store.