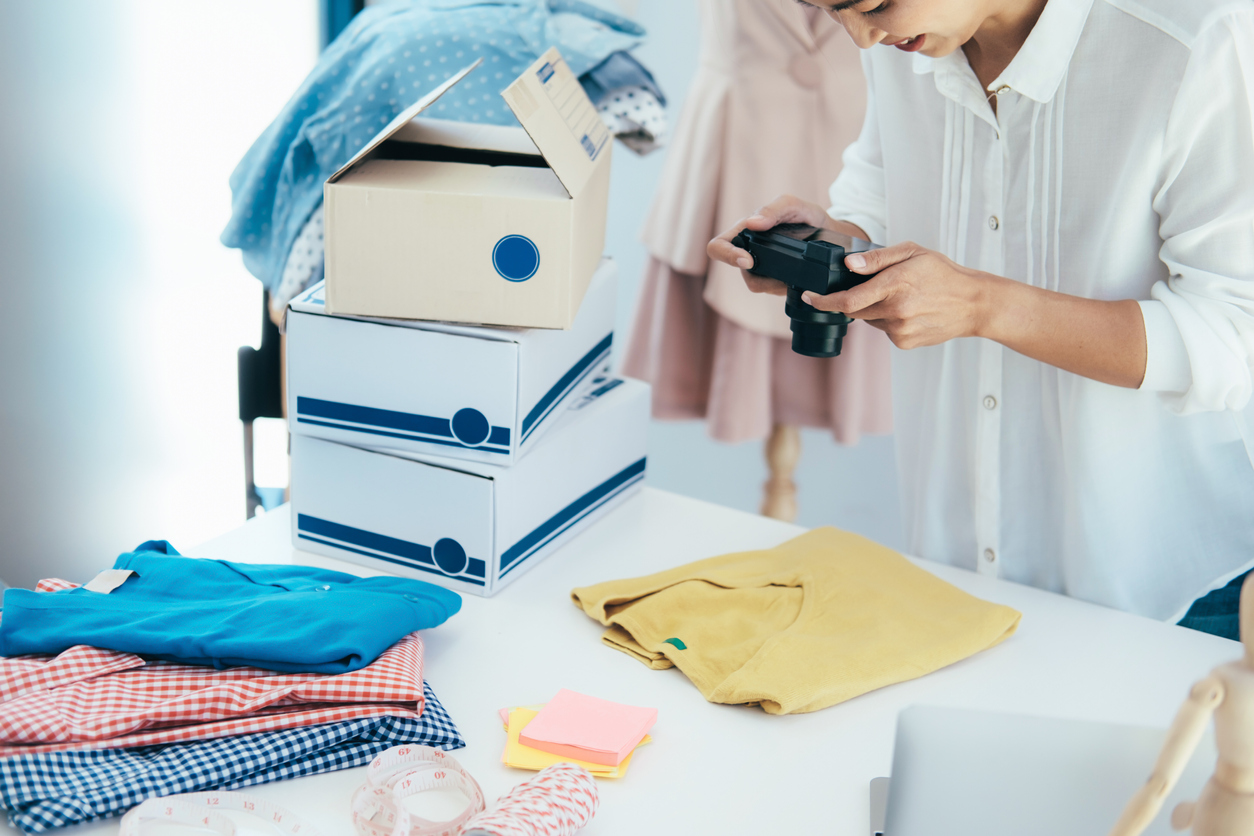 Online apparel stores are hotter than ever. Not only are they on trend with the ever-growing world of eCommerce, but the latest print-on-demand technology and business automation software tools make them even more appealing. Unlike years ago, where a successful online store meant a whole lot of work and money spent upfront, today's online apparel stores are agile and self-sufficient, needing very little attention once they're up and running.
Of course, no business can really be successful without a whole lot of effort and commitment, especially upfront. After all, when everyone wants in, it means there's more competition to get ahead of. Thankfully, compared to other businesses, starting an online apparel store is relatively simple in today's digital world.
Here are the six things you need to do to get started — and actually make the sales you want.
How to Build a Successful Online Apparel Store in 5 Simple Steps
Step 1: Zero in on your target audience.
Being a generic online apparel store just isn't going to cut it. Not only does this give you no direction, but it does nothing to set you apart from the competition. Why would new customers be excited to find you? Why would they want to give you their business?
So, the number one most important step to developing an eCommerce apparel store is carving out a niche for your brand. When you do this, you can find your target audience. And, even better, they can find you.
If you're not sure who your target audience should be, or what your niche really is, then sit down and brainstorm a list of your passions and interests. The more aligned your business can be with your genuine interests, the more authentic everything will be. Plus, you'll understand your target audience so much better, giving you a leg up on the competition.
Some of the more popular audiences shopping for apparel online are:
Parent's shopping for kid's clothes
Fashion fans shopping for the latest trends
High-fashion shoppers looking for luxury products
Niche audiences looking for graphic t-shirts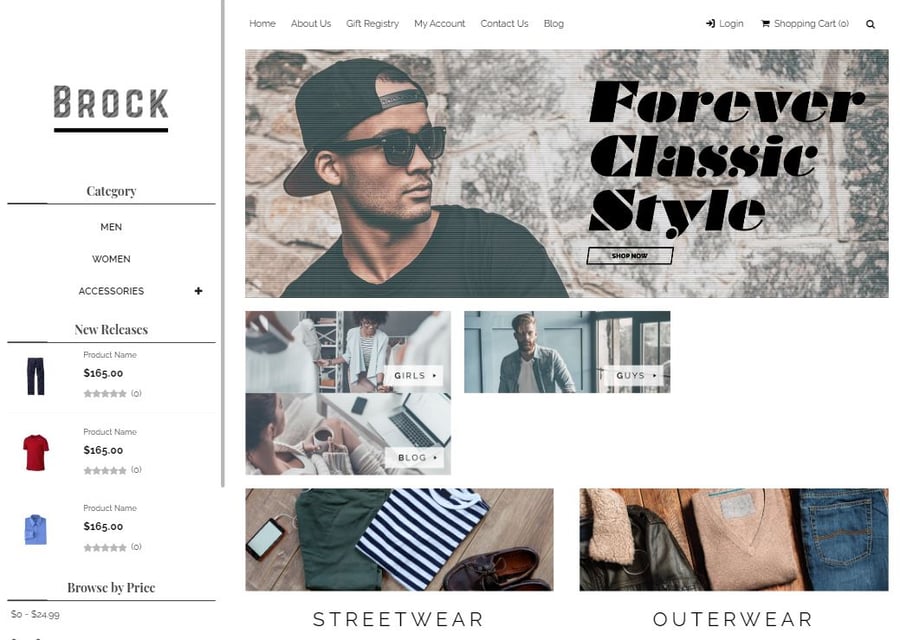 To determine what you'll be selling, you'll need to know who you're selling it to. If you can't determine an audience, do some market research and find what popular, niche audiences have an unfulfilled need that you can meet. With your target audience in place, you can move onto the next step.
Step 2: Know your reason why.
Starting an eCommerce apparel store and starting a successful eCommerce apparel store are two very different things. While anyone can create an online store and put some products on it, not everyone has the passion and drive to really see the business through and guarantee its success. If you want your online apparel store to really thrive, then you need to be able to commit to it, which means you have to know your reasons why. Answer the following questions to find the purpose of your business:
Why do you want to sell apparel online?
Why do you want so start an online business?
What will your business provide that others don't?
What will make customers stay with your business?
The answer to these questions will lead you to your mission statement, which should inform every decision you make about your business. For example, if your purpose is to create sustainable fashion, then every aspect of your business needs to be sustainable.
While a lot of the behind-the-scenes operations of an online apparel store can be fun, allowing you to really be creative and unique, there is the reality of needing to actually run a business, which means not everything is going to be a walk in the park. The more you can remind yourself of your reasons why, the better prepared you'll be for the challenges that lie ahead.
Step 3: Choose your business model.
Next, you want to determine exactly what type of business model you're going to be using for your apparel store. Once you know this, you'll be better able to select the right format and type of online store to match your business plan.
The four main business models for online apparel stores are:
Private Label
Dropship
Print-on-Demand
Custom Design (Cut and Sew)
Each of these models requires a different type of online store experience and, of course, some require a lot more skill, too. For most business owners, the first three business models make the most sense. And, among those three, print-on-demand shops have grown significantly over the last few years — and for good reason.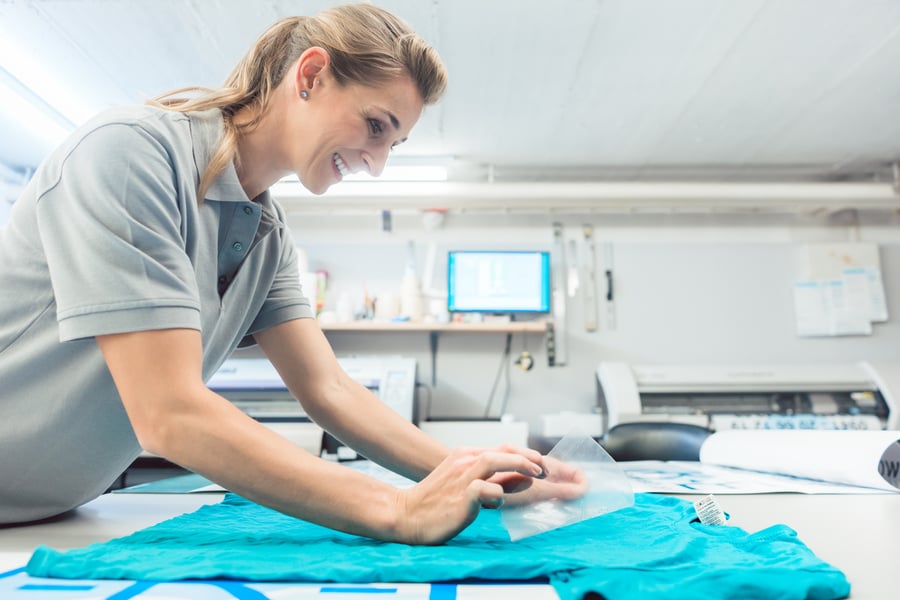 Not only are print-on-demand apparel stores the simplest to set up in terms of having products designed and ready to market, but print-on-demand is also the most cost-efficient way to build an online apparel store. Because you actually don't invest in any inventory until it's purchased, you can test a variety of different designs on your store and in your ads without ever needing to stock up on tons of inventory. Because of this, estimates suggest that custom t-shirt printing will singlehandedly bring in $10 billion of revenue worldwide by 2025.
If you're not familiar with the print-on-demand business model, it's actually quite simple. Basically, you're able to work with a company that gives you access to a wide variety of types of clothing (sweatshirts, hoodies, tank tops, t-shirts, sweatpants, underwear, bags, etc.) and color and material options. You then choose the products you want to carry in your store and then have designs made for them.
These designs can be digitally transferred to the photos of the merchandise so that you can carry them in your store, without them ever needing to physically exist. Once, however, a purchase is made, this company receives the order, takes your design, and creates the product, shipping it to your customer as soon as it's complete.
The beauty of this model is, of course, that virtually everything is automated.
Step 4: Build your online store.
Once you have the right direction, and you know that you're ready to commit to your new brand, then it's time to actually set up your online store. Unlike opening a physical storefront, creating an eCommerce website is much simpler. In order for it to truly be successful and capable of making sales, however, it requires the same attention to detail that a physical shop would.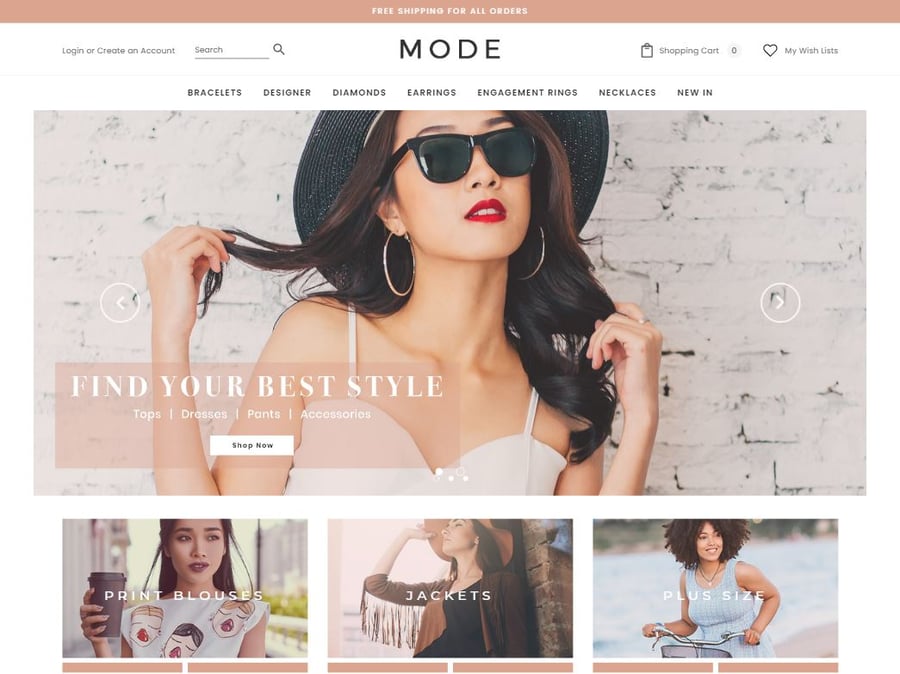 The beauty of online businesses is that more and more consumers are looking for online shopping experiences. Years ago, making an online sale was much more difficult because, not only were fewer shoppers online, but those who were felt much more wary of online transactions. Today, 25% of Americans make an online purchase every single month. And, not only that, but today's consumers actually enjoy shopping online more than they do in stores. Plus, online advertising has made finding your target audience and getting them to your shop all too simple — and it's more affordable than ever, too.
When it comes to actually building your online store, you'll first need to choose what platform you'll use. At this point, you can decide whether you'd like to utilize open-source software to build your website, or work with a hosted eCommerce platform. If you'd like more control at the cost of time and technical know-how, open source options may be right for you. However, if you'd like to quickly set up your online store in an easy, all-in-one platform, then a hosted solution is your best bet.
The solution you choose should provide you with the features that your business needs to really shine. For example, Shift4Shop provides the following features that are necessary for online apparel stores:
You'll also want to make sure that the platform you choose to build your online store with integrates with the software that fits your business model. As we previously discussed, print-on-demand is one of the more popular business models for online apparel stores. Shift4Shop, for example, integrates with Printful for print-on-demand support. By integrating with Printful, Shift4Shop stores can sell their own custom t-shirts, jackets, sweatpants, accessories, hats, and more.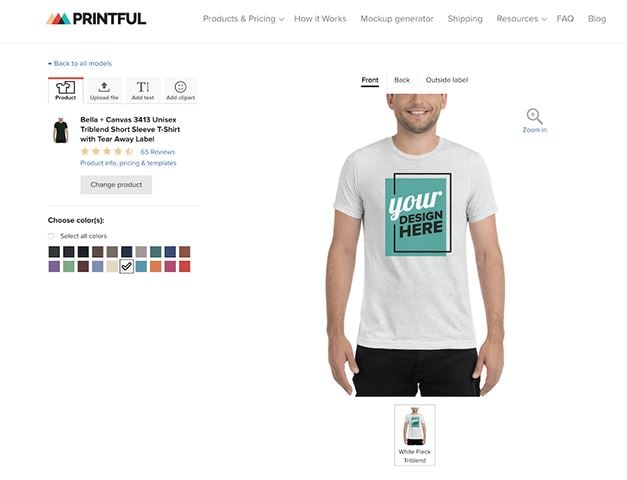 As for the design of your site, eCommerce platforms like Shift4Shop offer a variety of templates you can use to make your online store look great while being easy-to-use and, most importantly, responsive on mobile devices.
Step 5: Create your unique products.
In order to make sure your business stands out, you want products that capture the attention of your target audience. Designing or selecting great products to carry in your store is, then, crucial to your online brand's success. Depending on which type of online apparel business model you're using, creating or selecting the products for your store will look different. The bottom line, however, is that you carry products that you know your audience will love.
Consider these ideas below to help make sure you have the best products possible in your store.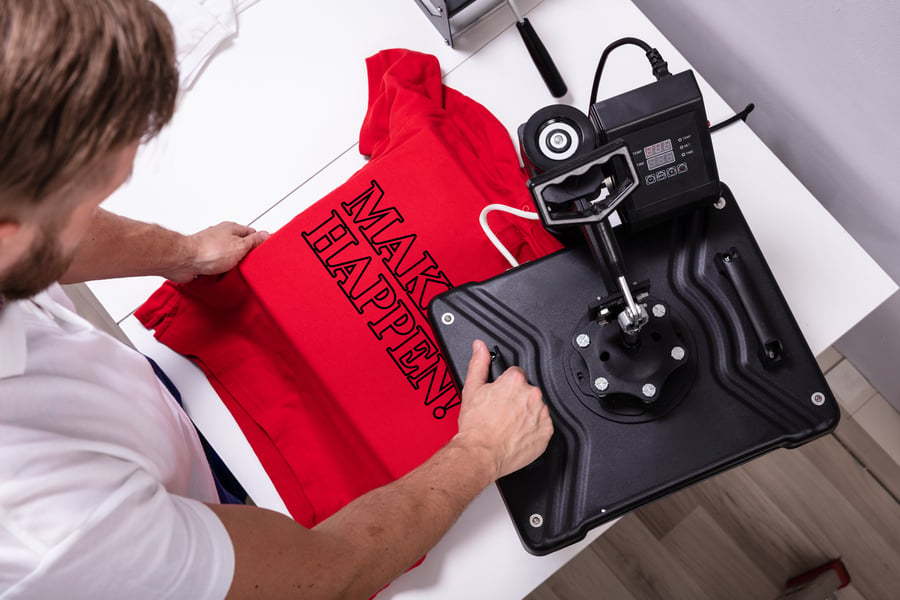 Hire a talented designer/artist.
If you're creating unique designs for your clothing and apparel, and you're not an artist yourself, then find a great designer or artist who can help bring your vision to life. You'd be surprised at how many talented artists you can find online today, especially on freelancer and design websites.
Leverage mockup tools.
Before you carry a product in your store, or even advertise it, you'll want to see what it looks like. If you're having a design made for a t-shirt, for example, you'll want to see how the design will be placed on the shirt, how big it will be, and how the colors look together. While ordering a sample is sometimes an option, a lot of times you'll need to rely on online mockup tools. Thankfully, these tools have improved and can give you an accurate idea as to what your final product will look like.
Test-run the products.
While having all of your custom designs printed on products for you to review isn't always cost effective (or even possible), you can and should ask for product samples so that you can feel fabrics, see colors, and try on for fit. The quality of your product depends on these tangible aspects, so always make sure you know exactly what you're selling before you start selling it.
Test your audience.
Deciding which products you'll carry in your store should be entirely dependent on the interest of your target audience. Whether you pre-launch a product or simply ask people within your niche for their opinion, it's always a good idea to test the waters to make sure you have the best product possible — something that will get your audience's attention and convince them to spend their money.
Step 6: Get sales.
The final step is getting sales on your online store, marking the success of every previous step here. While it takes time to properly promote and grow your brand through the right marketing, there are a few things you should do right away before your online apparel store even launches.
1. Set up social media accounts.
Social media can will help you build brand awareness and provide you with a platform to reach your audience with. With social media, you can create digital content that will help educate your target audience about your new brand and showcase what your business is all about.
For online apparel shops, Facebook, Instagram and Pinterest are the best platforms to use. You can even sell your clothing directly on these social media platforms by connecting your online store's inventory to your business profile.
2. Take lots of photos.
When shopping online, customer's can't physically feel and inspect your products. Because this is an important part of clothes shopping for many people, providing a multitude of high-quality pictures can help customers better understand what they're buying. Lifestyle photos of your clothes are great because they showcase how your apparel looks when worn by a human, rather than displayed flat on a table.
The more unique photos you can use in your online marketing, the more attractive your brand will be to your target audience. If you're on a budget, look to your network to find people who can help with brand photos, makeup, and modeling.
3. Study online marketing.
Online marketing can't be mastered overnight, and it should definitely be something you continue to study well after your business launches. In fact, it's always changing! But understanding the fundamentals and the strategies you want to use to get sales isn't rocket science. The more quickly you can grasp the basics of online and digital marketing, the sooner you'll be able to get sales.
Conclusion
Building an online apparel store can be a lot of fun. However, it still requires work and commitment in order to make it successful. Once you decide it's the right path for you, don't hesitate! There's so much information out there, and so many tools available, that can help you along the way.