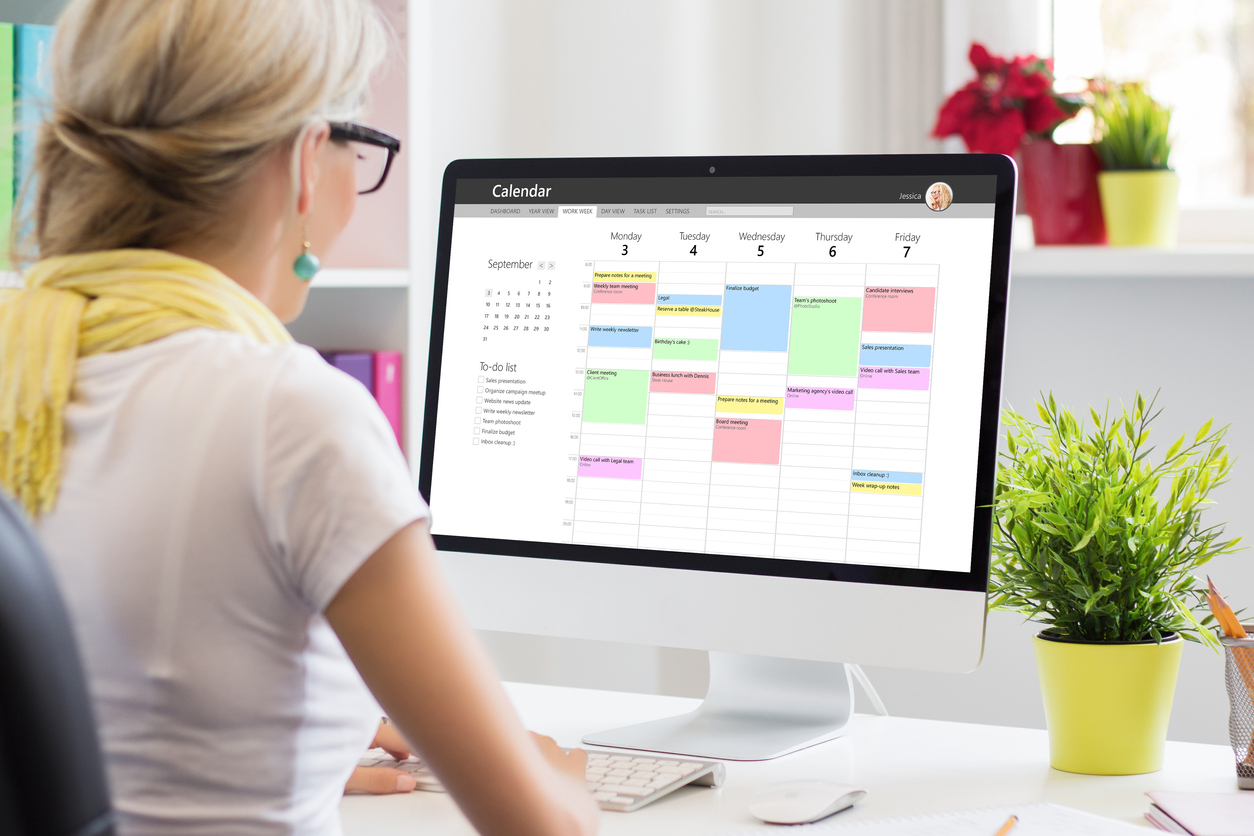 Whether you are a freelancer, small firm, startup, or a large enterprise, you will need some way to manage and keep track of various business activities and operations. If you fail to do so efficiently, the consequences can be really harsh on your business. This is where business management software comes in handy.
Business management software is packed with different features, functionalities, and tools that help you manage and keep all work related to your business in one place. It also enables the automation of many tasks, allowing your team to be more productive and efficient while relying less on manual actions. In a nutshell, business management software is an all-in-one solution for all your business requirements.
There are many business management tools in the market tailored to fulfill certain business demands. You need to select a tool that complies with your business demands, only then you will be able to see fruitful results.
To assist you in navigating the vast ocean of business management tools, we're going to take a deep dive into some of the most popular and effective options available.
Best Business Management Software Tools in 2022
To make your search easier, we've compiled a list of the top 12 business management software in the market. Let's get started.
1. SmartTask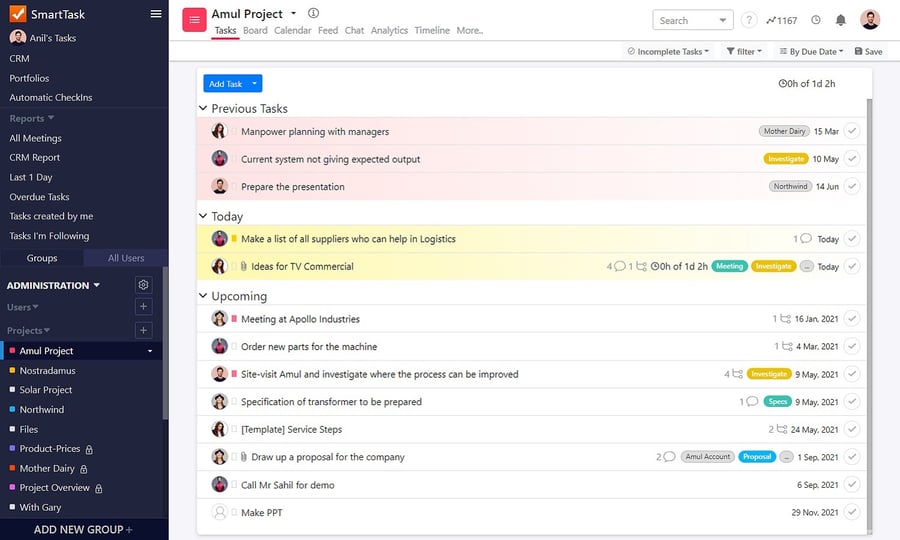 SmartTask is an all-in-one software that caters to day-to-day business needs across various industries. This award-winning tool is well known for its user-friendly interface and its ability to boost team productivity.
It offers different project views that help in managing multiple projects and in-built communication functionalities such as video calls, chat, mentions, comments, and automated check-ins that make collaboration easier than ever.
Its simple hierarchy helps teams stay organized and visualize their day-to-day tasks effortlessly. From sales to operations, project evaluation and management to reporting, SmartTask brings all your business needs onto one platform, saving you a lot of time.
Top Features:
Milestones and multiple project views like Board, List, Timeline, Calendar, and Portfolio
Auto-scheduling and recurring tasks
Time tracking and reporting
Budgeting and invoicing
CRM analytics and sales tracking
Newsfeed and automated check-ins
Real-time communication and collaboration
Invite guest users
Custom charts and custom fields
Productivity scoring
1000+ integrations
Pricing:
Offers a freemium plan. Paid plans start at $5 per user, per month (billed annually).
2. Bit.ai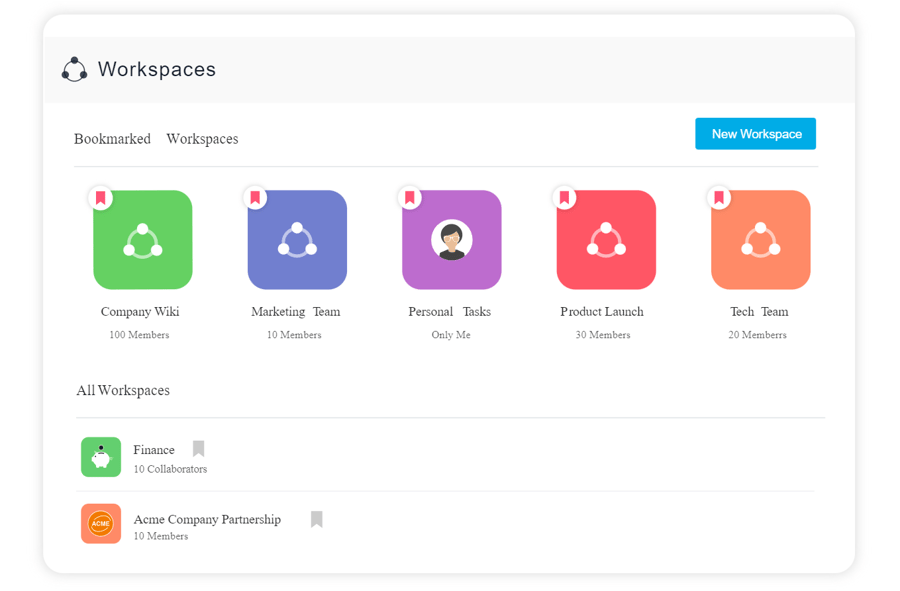 Bit.ai is a great business management tool for teams of all sizes. It allows you to create interactive documents, organize material in different folders, and communicate in real time.
It even offers a clever search option to help you locate what you're looking for quickly. Furthermore, Bit.ai interacts smoothly with over 100 platforms, which can significantly increase your productivity.
Top Features:
Real-time collaboration and chat feature
Smart workspaces
Customizable workflows
Fully customizable templates
Document live sharing and tracking
Workspace insights
Pricing:
Offers a freemium plan. Paid plans start at $8 per member, per month.
3. Scoro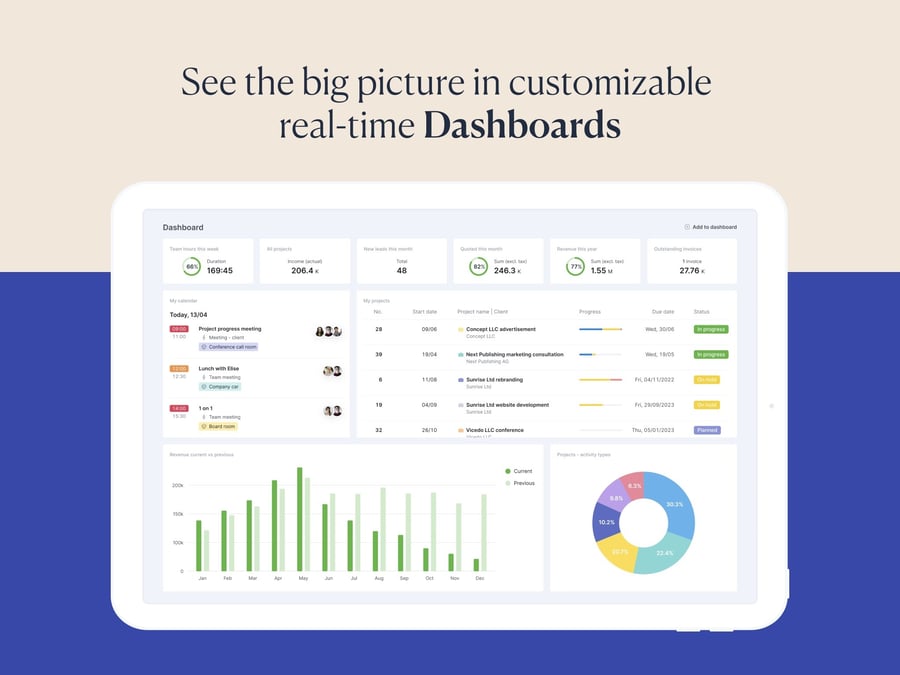 Scoro is a business management application aimed at advertising and creative agencies. The primary characteristics that have made it popular are its enterprise-level reporting and integrated time management.
It is ideal for automating typical tasks such as quoting and billing, as well as tracking sales performance and goals. It does not, however, help single entrepreneurs or businesses that demand specific data entry.
Top Features:
Highly customizable KPI dashboard
Shared team calendar & schedules
Phases and milestones
Contact management
Time tracking and billing
Invoicing & quoting with pre-set templates
Pricing:
Paid plans start at $26 per user, per month (billed annually).
4. FreshBooks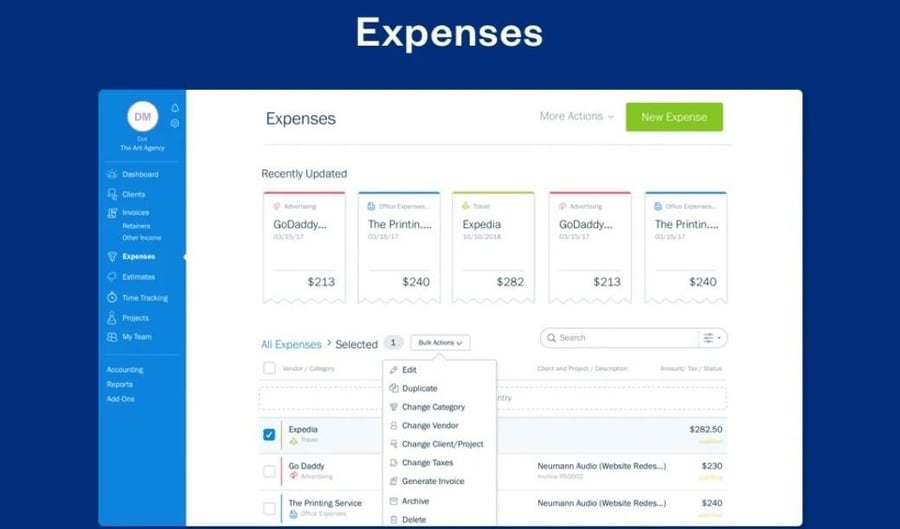 FreshBooks, a popular tool for invoicing and accounting, is one of the best small business management tools when it comes to finances. FreshBooks includes a full suite of accounting capabilities and provides quick and dependable solutions for making invoices, managing expenses, and much more.
The software also supports project management through an extensive feature set. There are some notable features such as centralized file storage, team communication, and project assignment.
Top Features:
Expense tracking
Time tracking and billing
Cost estimates
Accounting reports
Dashboards
Customized team permissions
Team communication
Pricing:
Paid plans start at $15 per month.
5. Bitrix24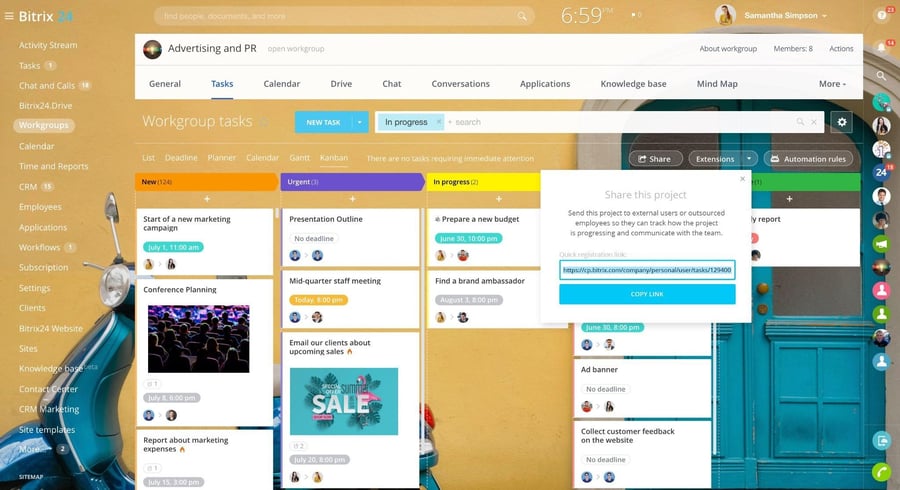 Bitrix24 is a CRM, task management, document management, and team collaboration tool all in one. You can create groups, tasks, projects, calendars, and track time. It even enables clients and partners to participate in your projects. Bitrix24, equipped with task templates, repeated tasks, and checklists, assists you in automating your tasks, saving time and effort spent on routine chores.
Top Features:
CRM & sales automation
Leads management and tracking
Workgroups, chats & video calls
Team collaboration
Group calendars
Time management
MindMap and Billable Hours
Tasks, Projects & Gantt charts
HR & Automation
Pricing:
Offers a freemium plan. Paid plans start at $39 per month for 5 users.
6. HubSpot

HubSpot is another excellent business management tool aimed at marketing and sales automation. The software caters to every area of your inbound marketing. It goes without saying that HubSpot is one of the most effective marketing tools available.
HubSpot claims to handle everything from website traffic and lead management to more complex CRM and sales administration. HubSpot tracks every client engagement down to the most basic information. It is specifically designed to save you time when it comes to sales management.
Top Features:
Lead generation
Pipeline management
Marketing automation
Analytics
Email tracking
Sequential emails
Templates and canned emails
Website live chat
SEO and content strategy tools
Third-party access
Pricing:
Free plan available. Paid plans start at $45 per month.
7. Basecamp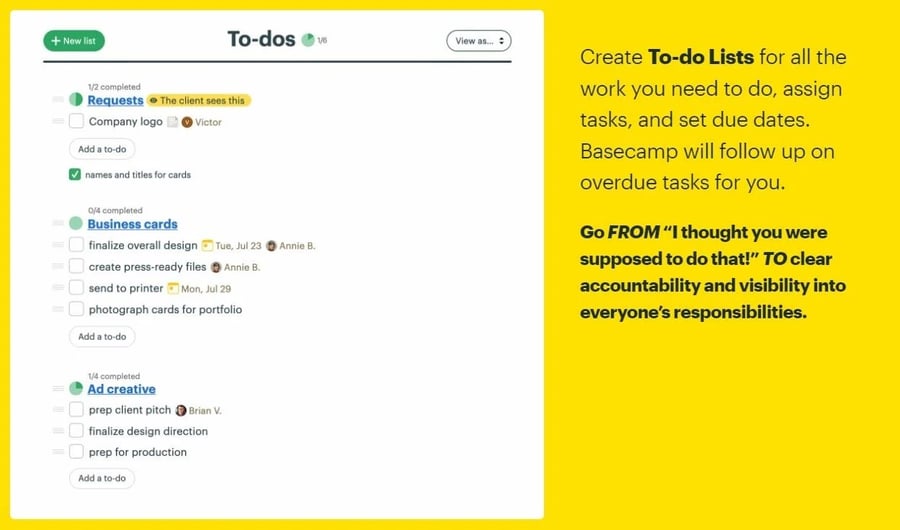 Basecamp is an effective tool for businesses looking for project management and team communication solutions. It is well-known in the web design business and was among the earliest project management software.
Basecamp, with its to-do lists, calendars, due dates, and file-sharing features, allows teams to keep track of priorities and actionable tasks.
Top Features:
Message boards
Project calendar and schedules
Separate dashboards
Real-time team communication
Group chats
Automatic check-ins
Client access
Hill charts
Reporting
Pricing:
Offers a freemium plan. Paid plans start at $99 per month.
8. ProductPlan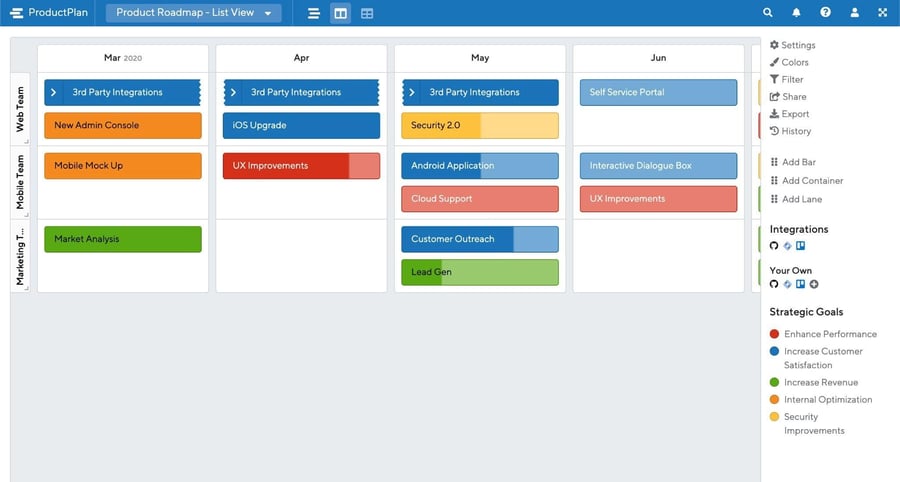 ProductPlan is one of the best business management tools for creating and managing your product or project roadmap. Project managers prefer this tool for creating a visual roadmap for their projects. This road-mapping application can be used to organize your projects from the development phase to the testing phase.
You can also work with your team to develop a visual roadmap of your product, set estimations, and specify required work in the process to provide your team with a clear view of your strategy. It includes a simple drag-and-drop interface that can assist you in creating a product timeline and remove obstacles during the development phase.
Top Features:
Timeline and list view
Create multiple roadmaps
Planning board
Create milestones
Convenient drag and drop functionality
Easy project sharing with stakeholders
Pricing:
Paid plans start at $39 per editor, per month (billed annually).
9. inFlow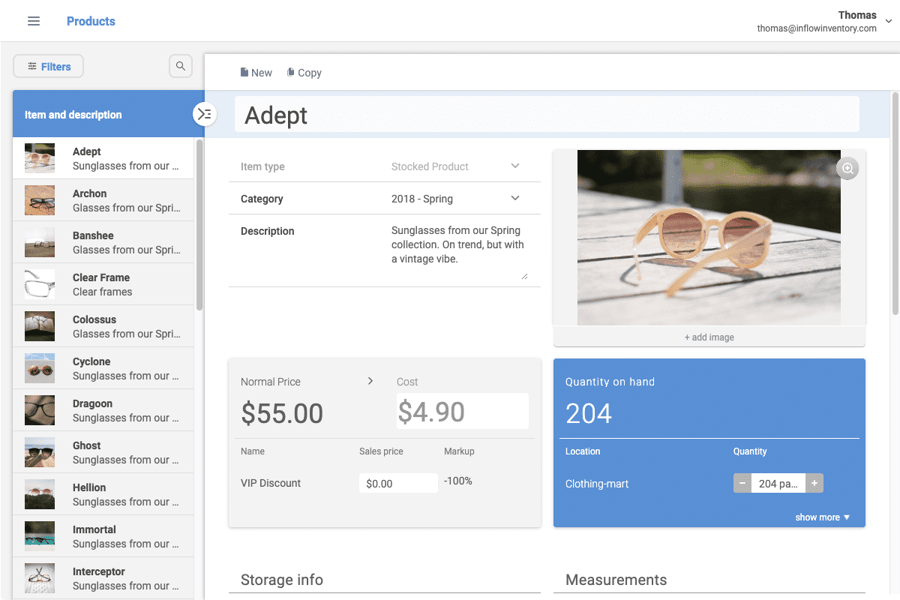 inFlow primarily fulfills the demands of inventory managers who require a quick response solution capable of storing and retrieving warehousing-related information on the fly. Having said that, we believe inFlow is an excellent complement for medium and small business owners looking for inventory monitoring solutions.
If you are a startup owner with a few product batches in your warehouse, you might have to rely on committing things to memory. It's a healthy habit, but what if product demand skyrockets and you're left with only a few resources and a slew of inventory management headaches that are guaranteed to wreak havoc on sales? That's where inventory management software like inFlow can help.
Top Features:
Stock and order management
Barcode generation and scanning
Inventory optimization
Serial number assignment and tracking
Customer tracking
Sales vs. break-even point analysis
Advanced reporting
Vendor management
Pricing:
Paid plans start at $79 per month (billed annually).
10. LiquidPlanner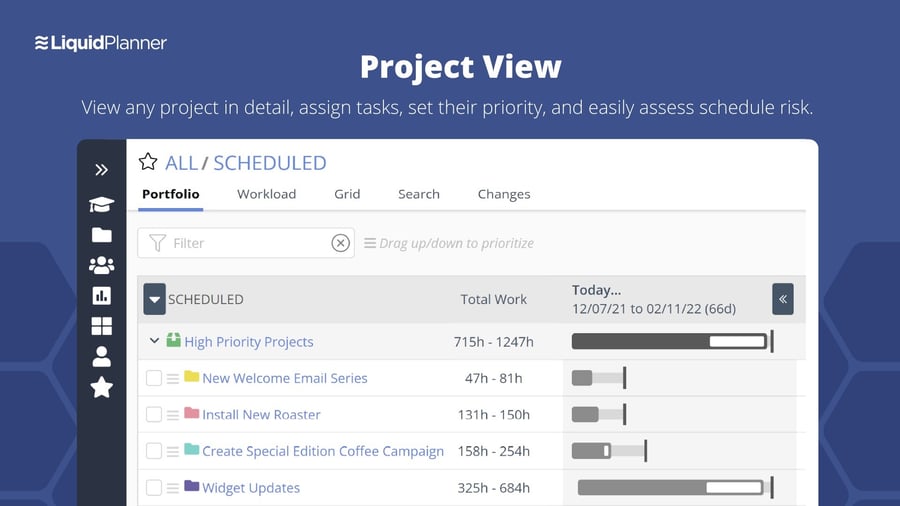 LiquidPlanner is a business management software that focuses on smart resource planning, risk management, and scheduling.
The features were created in such a way that users may assign resources per task, manage workload by team members, and properly estimate project development so that deadlines and budgets are met. It includes an automated scheduling system that predicts when you'll finish your projects.
Top Features:
Priority-based scheduling
Team collaboration
Time tracking
Drag-and-drop prioritization
Analytics & reporting
Workspace chatter
Client sharing
Baseline view
Task management
Project planning
Pricing:
Offers a freemium plan. Paid plans start at $15 per user, per month (billed annually).
11. Microsoft SQL Server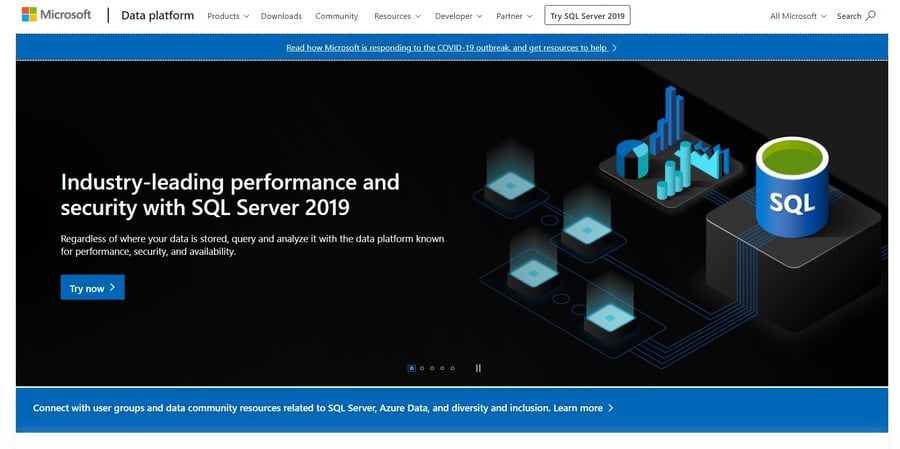 Microsoft SQL Server is a powerful tool for data management. While running a business, it's obvious that a massive amount of data is generated every second. The data exceeds gigabytes, terabytes, and millions of bytes in size. Managing such a large volume of data is no less than a headache because you require a system that not only saves the data, but also keeps it secure, structured, and quick to retrieve.
Microsoft has already gained our trust with its innovative and efficient solutions, and the Microsoft SQL Server is another example of its brilliance.
Top Features:
Analyzes all types of data
Available across various platforms and in multiple languages
Highly secure databases
Offers big data clusters
Integration with third-party apps
Pricing:
Offers a freemium plan. Paid plans start at $209.
12. Paymo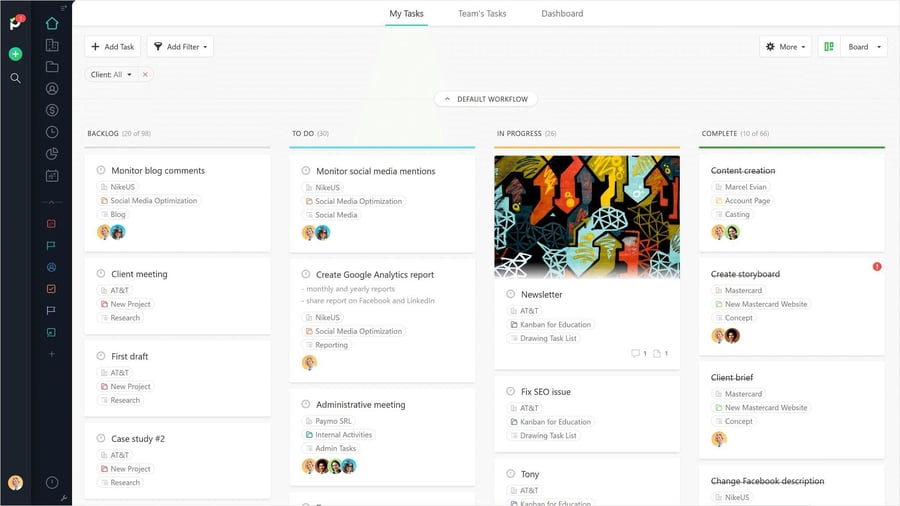 Paymo is a modern business management tool for small enterprises and hybrid teams. People from many departments all over the world utilize it, including creative experts, web designers, marketers, and business advisors.
It has a plethora of features that allow you to keep track of a project's complete life cycle — from development to payment — without having to use and pay for several apps.
Top Features:
Milestones
Alerts for major events
Gantt chart
Critical path creation
Team collaboration and activity tracking
Resource management
Billing & invoicing
Customizable time and work reports
Contact database management
Customizable Templates
Pricing:
Offers a freemium plan. Paid plans start at $9.95 per user, per month (billed annually).
How to Select the Most Suitable Business Management Software
There are numerous variables to consider when selecting the right business management software for your organization. This choice is determined by elements such as a company's size, needs, jobs, and processes that must be automated.
However, you can ensure that your business management software has some basic features such as:
Management of projects and tasks
Capabilities for tracking time
Document sharing and file storage
Real-time collaboration and communication
Budget and invoice management
Management of resources
Your business management software must comply with your business requirements and methodologies. Otherwise, an ill-fitted software or tool can be a burden for your team rather than making things simpler for them.
Final Words
It is critical to use business management strategies to streamline your daily tasks. Good business management software not only helps you improve your talents, but it also helps you balance many of your business procedures. Modern project tools are a manager's best friend when it comes to coping with project unpredictability. At the end of the day, everyone wants a more successful organization and happier employees, which can only be accomplished by competent management.
I hope that you will find the ideal tool for your business among this list of 12 business management tools. Select the best business management software for your team and achieve your goals more efficiently.