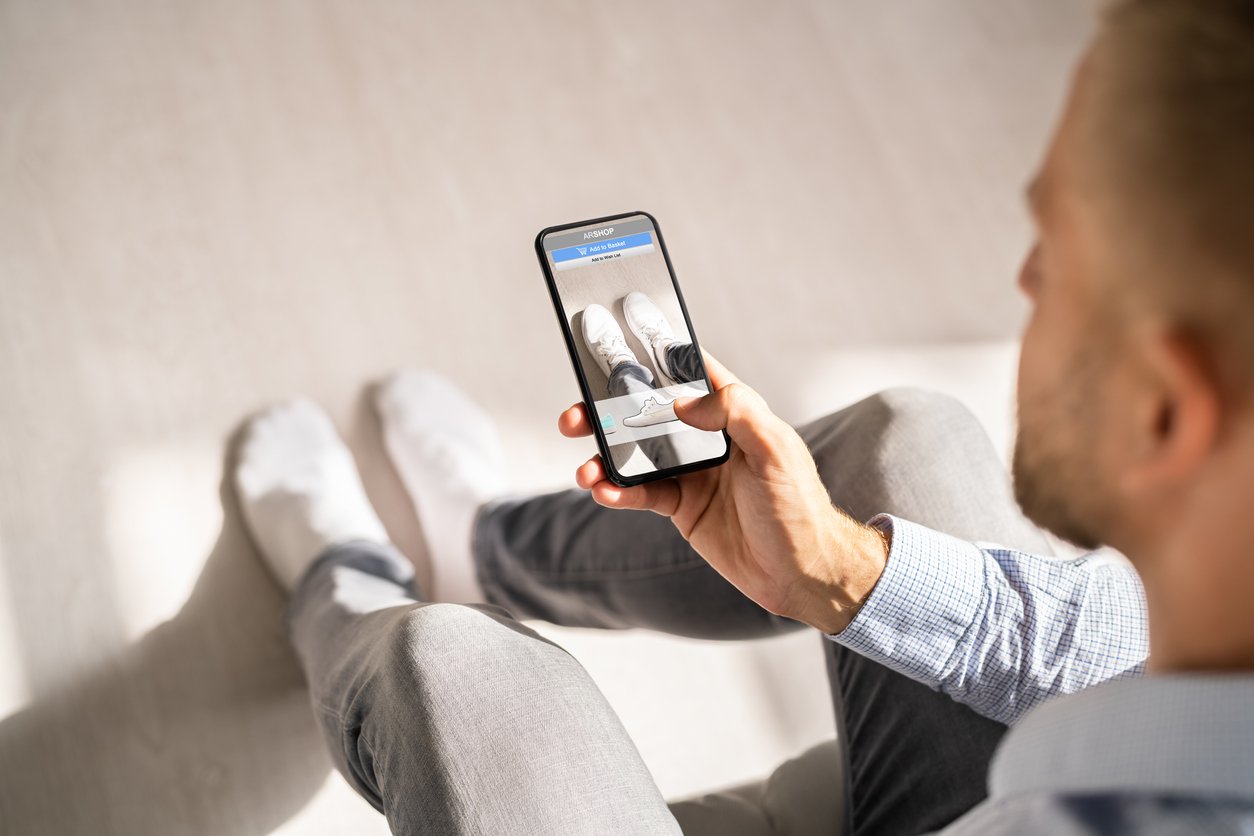 From automation via chatbots to AI-powered shopping experiences, the eCommerce industry is poised for significant changes in the near future.
Emerging technologies are going to revolutionize the eCommerce industry in many ways. Customers are already enjoying engaging and personalized shopping experiences. Meanwhile, eCommerce businesses will likely see streamlined operations, reduced operational costs, and increased sales.
But, of course, only the brands that identify and embrace these technologies will experience the benefits.
This article will take you through six emerging technologies in eCommerce. We'll tell you how these technologies are shaping the eCommerce industry and share some examples of retailers already embracing the trends. Hopefully, this will help you make informed decisions to ensure your eCommerce business remains competitive.
Let's dive right in.
1. Artificial Intelligence for Personalized Shopping Experiences
Giant eCommerce businesses like Amazon and Alibaba have long recognized the benefits of artificial intelligence (AI). They have leveraged AI in different ways to ensure seamless operations and boost sales.
A report published by PR Newswire revealed that the AI-enabled eCommerce market size is expected to reach $36.46 billion by 2030.
AI in eCommerce uses machine learning to create a personalized experience for online shoppers. Machine learning is an element of AI that can study your buyers' shopping history and predict their shopping patterns. It then recommends relevant products they may need when visiting your eCommerce website.
This very technology will also revolutionize paid campaigns. You see, data is fuel for AI. The more data your AI has access to, the more it understands your customers. Combine this with automation, and you can run effective campaigns on autopilot.
We're already seeing software companies benefit hugely from this. Effective SaaS marketing strategies leverage data, AI, and automation to qualify, nurture, and convert prospects into customers. There's no reason for eCommerce companies not to enjoy the same benefits.
Retailers like Amazon also offer voice-enabled services that allow buyers to interact with their products and purchase through voice commands.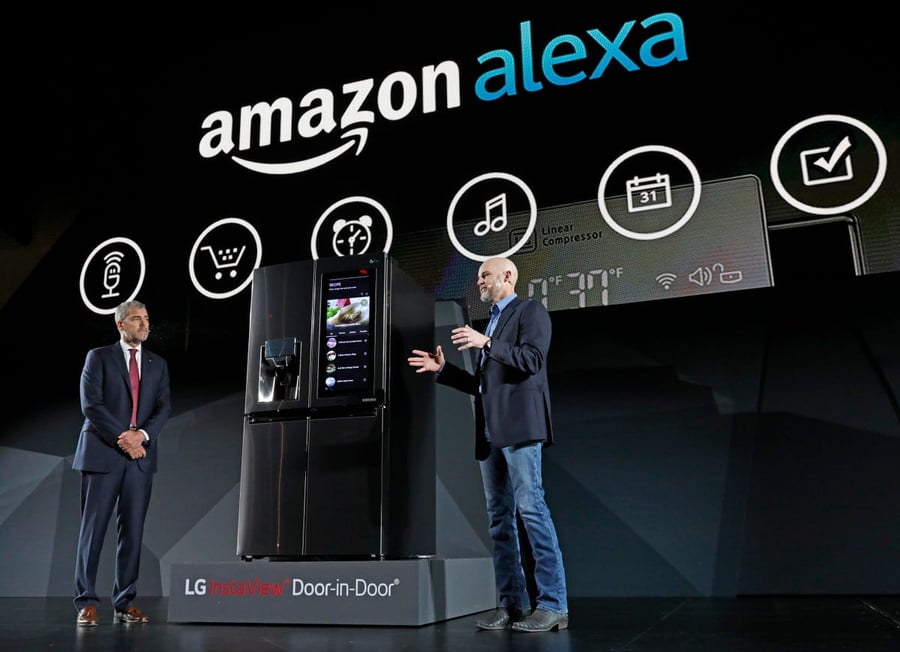 Source: Forbes
AI can also enhance various in-house operations to boost employee productivity and experiences. For example, businesses can use AI-powered platforms to automate tasks, track issues meticulously, and align remote team members.
Online retailers can also use AI to manage their pricing strategy to maximize profit. AI-enabled tools can update your product prices according to demand and supply.
Moreover, you can leverage AI and machine learning to enhance your customer support. You can use this tech to deliver efficient low-level customer support. This can be especially effective when combining machine learning with chatbots, which we will discuss next.
That should free your customer support team to deal with the more complex and technical issues. Meanwhile, customers will enjoy a better experience.
The use cases of AI in eCommerce are vast. We've not even touched on AI pricing systems and warehouse automation tech. And the benefits of all these systems are just as extensive. They range from increased conversion rates and online sales to higher customer retention rates as a result of earning customer loyalty and trust.
2. Chatbots
When we talk about emerging technologies in eCommerce, chatbots can't be left out. According to Oracle, about 78% of businesses plan to add chatbots to their operations. It's not hard to see why chatbots are becoming prevalent in the eCommerce industry.
Chatbots can be used in various ways. You can add them to your website, where they can provide instant customer service, help shoppers find products they want, and answer simple questions. Chatbots can even collect customer data critical for your marketing and sales teams.
You may also find chatbots helpful on more than just your website. For example, you can deploy a conversational chatbot on Facebook Messenger, Telegram, and other social platforms. These chatbots can converse with your customers 24/7, answering questions and recommending products.
Chatbots can also be your 24/7 sales agent. We're already seeing several eCommerce brands deploy sales chatbots on messenger apps like Facebook Messenger. Polysleep is an excellent example of an online retailer doing this. Its chatbot is also trained to interact with users in different languages.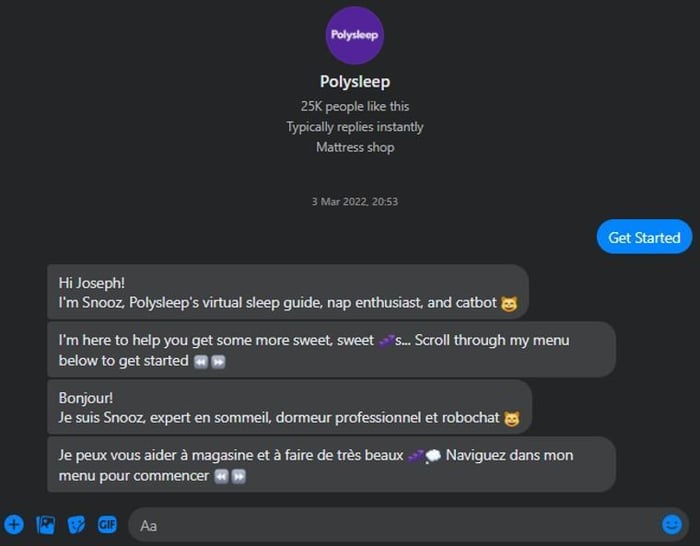 As artificial intelligence, machine learning, and natural language processing technologies continue to advance, so do chatbots. The future will likely feature more intelligent chatbots that can hold conversations from start to finish. Ecommerce business owners should pay attention to this growing trend. You should seriously consider deploying AI chatbots on your website and messaging platforms.
3. Gamification to Boost Sales
While gamification isn't new, it's still one of the most effective techniques eCommerce brands can use to cultivate engaging and profitable customer experiences.
Gamification is the integration of game-like elements and features in commercial websites and apps to encourage user engagement and, ultimately, boost sales.
According to Finance Online, gamification can increase conversion rates by as much as 700%.
Customers who encounter activities on your website that involve receiving rewards and accumulating loyalty points are more likely to participate and return for future purchases. A survey by aytm.com revealed that 30% of people said they are more likely to buy products from websites with interactive features.
Boosting your customers' experience in this way creates engagement and can consequently improve customer loyalty.
Here are a few ways to gamify the shopping experience:
Create fun product recommendations based on personality traits, pets, etc.
Come up with product quizzes and trivia that point customers to products on your website and award them points that can be redeemed in cash or kind.
Spin the wheel: This can be used to reward customers with freebies and discounts.
Incorporating this strategy makes your buyers' journey more fun. Gamification works by tapping into your customers' drive to compete and accomplish a goal. Aside from the fact that gamification can help to grow your eCommerce sales, it can also increase brand awareness and lead capture.
4. Immersive Shopping with VR
VR and augmented reality are more prevalent in gaming than anywhere else. This is about to change, though. These immersive technologies might soon become a staple in the eCommerce industry. This is especially true considering Apple has entered the market with the Vision Pro. Soon, more manufacturers and third-party developers will embrace VR and AR tech.
We're already seeing adoption of the technology by major retailers like IKEA and even the beauty giant Sephora.
IKEA, for example, allows shoppers to use augmented reality through their shopping app to see how different furniture pieces would fit in their homes.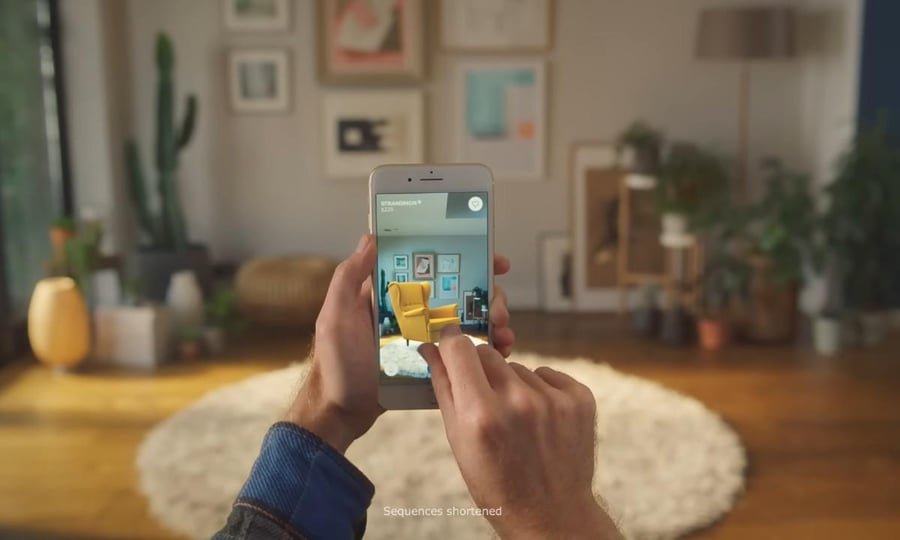 Source: IKEA's YouTube Channel
Sephora, on the other hand, uses similar technology for makeup. Customers can upload a selfie and then try on different makeup products.
This tech provides more than a cool, engaging shopping experience. It's also very functional. Users can easily see whether a particular product is a good fit before spending money.
It also partially solves a real pain point where online shoppers cannot interact with the product, as is the norm with traditional brick-and-mortar shopping. Although shoppers can still not touch the products, they can now better imagine how the items would look on them or in their homes.
5. Social Commerce
Did you know that more than 100 million people in the US bought items through social media in 2022? That's according to eMarketer. The report estimates that social commerce will continue to grow, with the number of buyers expected to hit 114 million by 2025.
But what exactly is social commerce? Social commerce is the use of social media to discover, shop, and purchase items directly within social media platforms. Users don't have to get off their favorite platform and visit your site to complete a purchase. The entire experience is handled within social networks.
Social media has already proved to be a valuable tool for businesses. You can use social platforms to build brand awareness, engage your customer base, and provide customer support.
Brands have also used social media to identify and collaborate with other companies. For example, they can identify potential influencers or creators and initiate joint campaigns.
Social commerce provides an additional dimension to your social media strategy. No longer will you force customers to abandon the platforms they love. Networks like Facebook now let you sell your products within the platform, making it more convenient for your customers.
6. Drones for Delivery
We cannot discuss emerging technologies in eCommerce without mentioning drone delivery services. We live in a world where consumers love to have their products as soon as possible. For this reason, online retailers constantly try to reduce delivery times to keep their customers happy and maximize their revenue. Enter drone delivery.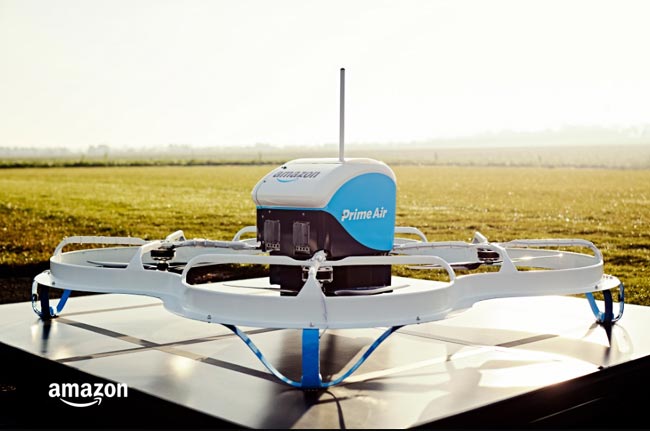 Source: CircuitDigest
When it comes to eCommerce delivery, Unmanned Aerial Vehicles (UAV) or drones have proven to be effective in many ways. Big online retailers like Amazon and UPS are already leveraging this technology to reduce delivery times as much as possible and increase customer satisfaction. This consequently increases conversion rates and revenue.
Although the commercial use of drones for delivery is yet to be permitted in some parts of the world, research reveals that the delivery drones market is expected to reach $31,188.7 million in value by 2028, growing at a compound annual growth rate of 53.94% from 2021 to 2028.
The benefits of drones in eCommerce are enough to make you scale new heights in your online business. Deploying drones for delivery can help to improve your customers' experience as they receive orders faster.
Drone delivery also reduces your carbon footprint. That's critical because more brands — and customers — are becoming increasingly environmentally conscious.
Moreover, drone delivery can eliminate challenges arising from poor road networks.
You should expect to see more applications and benefits of drone delivery in coming years, as the industry will only continue to expand across many sectors — not just eCommerce.
7. Social Payments
Also known as peer-to-peer (P2P) payments, social payments allow your customers to make payments without using cash or sharing sensitive bank details. A significant benefit of this payment method is that buyers can make payments with just a click of a button.
Some common examples of applications that offer social payment services include PayPal, Venmo, Apple Pay, and Zelle.
Social payments work by linking the buyer's bank account or debit/credit card details to their payment channel. So, whenever the buyer wants to pay, the money will be automatically deducted from their account.
When running an eCommerce business, you should provide an option that allows social payment on your website. This enables potential buyers to make transactions without leaving your page.
By incorporating social payments into your online store, you can expect increased business transactions from customers due to ease of payment. That should boost the customer experience as well as customer relationships.
In Closing
The eCommerce industry has come a long way since it began in 1972. The COVID-19 pandemic significantly increased the percentage of online shoppers across the globe, and even after the pandemic, the number of eCommerce customers keeps rising.
This is due to the convenience and benefits that online shopping platforms offer buyers. The emerging eCommerce technologies mentioned in this article will likely enhance customer experiences. The benefits won't stop there, either.
Online retailers will also reap huge benefits. Techs like AI and chatbots can cut operational costs and enhance efficiency. The same tools can increase sales due to better targeting and personalized product recommendations.
In closing, artificial intelligence, chatbots, VR & AR, social payments, drone deliveries, and gamification in the eCommerce sector will work together to provide buyers with a superior shopping experience. As a result, you'll be able to retain customers and increase revenue.