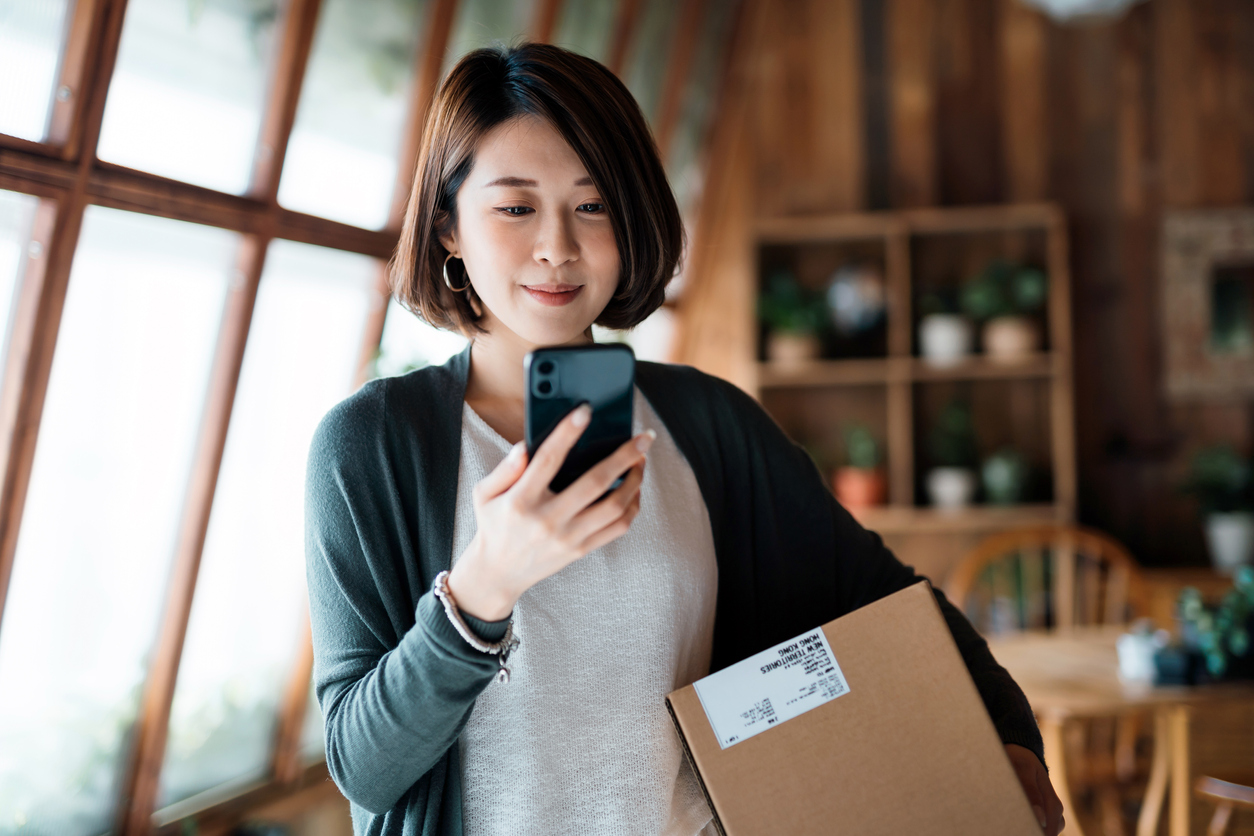 Customer expectations greatly influence the ever-evolving eCommerce landscape.
Their rising demand for efficiency is pushing business owners to improve delivery in their eCommerce stores by bringing down shipping costs and making the experience as seamless as possible.
And given the magnitude of the eCommerce industry, business owners have no choice but to comply. According to Statista, the retail eCommerce sector in the US will generate more than 107 trillion dollars by 2027.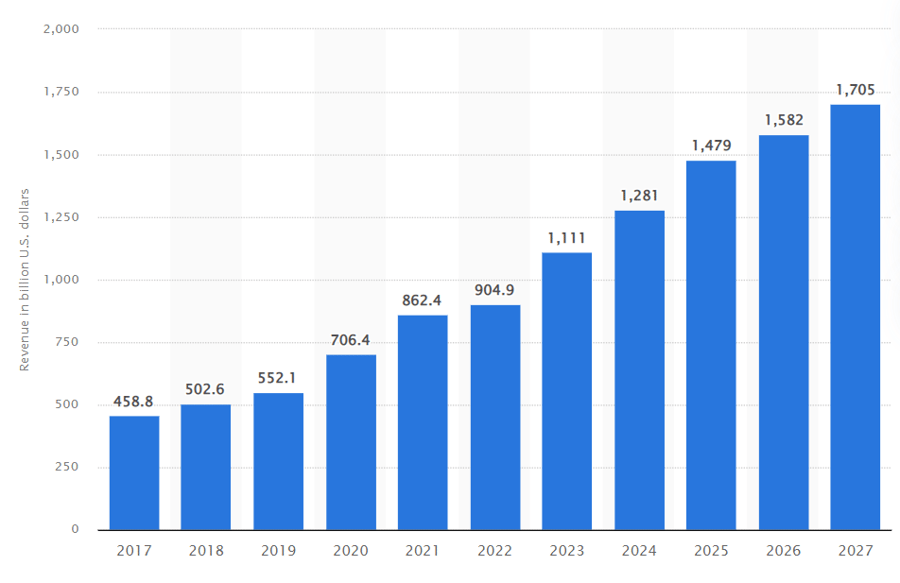 Source: Statista
And the number of people shopping online continues to increase. In the EU region alone, 74% of internet users shopped online in 2021.
This has led to millions of eCommerce sites springing up every year. According to a study, there were 9.7 million eCommerce sites in 2020, and within a year, they grew to 19.8 million stores. That's a 204% YoY growth!
What do online shoppers consider before buying from an online store? Their priorities range from competitive pricing to product quality, customer reviews, convenient shipping and delivery, and so on.
Shipping and delivery play a vital role in your eCommerce store's growth. But with so much competition, how can you improve delivery for your online business?
Creating an effective shipping and delivery strategy to attract new customers and retain existing ones is possible.
Let's understand the challenges eCommerce stores face regarding shipping and logistics and how you can practically improve the delivery process for your online business.
Let's get rolling.
The Biggest Challenges of eCommerce Delivery
As an eCommerce business owner, your goal is to offer a seamless shipping and delivery experience with every product you deliver.
But several factors may hold you back from achieving complete customer satisfaction.
Let's look at some of the significant challenges of eCommerce delivery that businesses must address to improve delivery for their online store.
Bringing Down the Cost of Delivery
Mounting delivery costs are a very real challenge for eCommerce store owners.
Everything from fuel charges to vehicle maintenance, software, handling returns and damages, and several other operational eCommerce expenses are too much to handle for many small businesses.
What is the solution? Adopt efficient methods to improve the delivery process in such a way that you get more ROI.
Optimizing your resources and the supply chain can reduce overall delivery costs.
Reducing Delivery Time
As you can see in the State of Shipping Report by X Delivery, customers consider the speed of shipping as much as the cost of shipping and more than the product price while shopping online.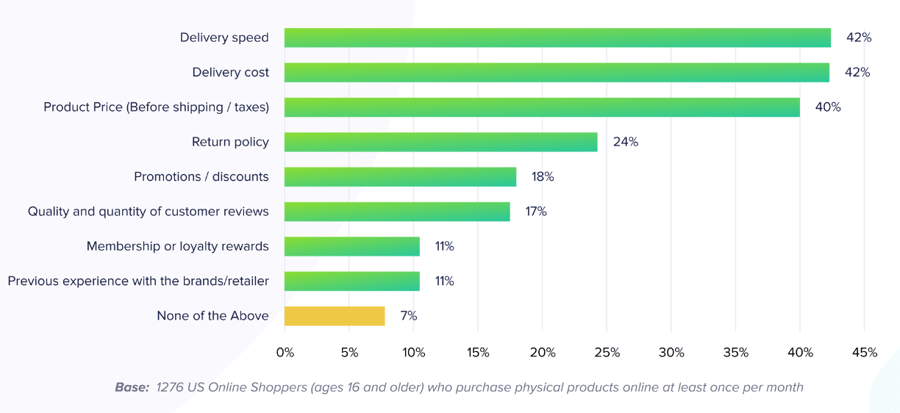 Source: X Delivery
Customers expect delivery of their product within 1-3 days of placing an order. This means that eCommerce stores have to race against the clock to meet their expectations.
The only way out is to develop solutions to speed up your operations and streamline your delivery process.
For instance, work with CRM software to automate order processing, track orders, and send real-time updates to your customers. You can learn about different CRM tools and choose a CRM from Attrock's list of HubSpot alternatives for your business.
Determining the Right Shipping Charges
As mentioned in the above survey, shipping costs greatly influence a customer's buying decision. From the business's perspective, though, it is challenging to determine the appropriate shipping charges.
You might also be in a dilemma whether to offer flat shipping rates for every product, offer different charges based on product categories, or offer free shipping for all.
While a well-established eCommerce store can afford to offer free shipping, new stores might find it a challenge.
The probable solution would be to adjust the product price to include the shipping charges or allow your logistics partner to decide. In any case, you should ensure your pricing is competitive enough to attract customers.
Finding the Right Delivery Partner
How do you deliver your products? You can adopt different eCommerce order fulfillment processes like building an internal fleet or outsourcing the responsibility to a delivery partner.
If you're a budding eCommerce store, you might want to consider the second option rather than the first one. The reason is, developing your own fleet requires enormous capital investment.
Choosing the most compatible third-party delivery partner is a challenge in itself too. You should collaborate with a service provider who offers top-class delivery services at an affordable price.
Handling Returns
Returns are integral to the delivery process, and handling them can be stressful.
There are several reasons why your customers may return the products. They might have received a damaged or wrong product or were unhappy with it.
In any case, taking those products back means additional expenses for your business and should also be factored into your packaging design and costs. If not handled wisely, return and refund costs may lead to a considerable loss for your eCommerce store.
If you're using dropshipping as your eCommerce business model, then the right dropshipping partner can help you to manage your eCommerce business effectively. They can guide you through their unique strategies to sell your products.
7 Actionable Tips to Improve Delivery Efficacy for Your eCommerce Store
Whether your goal is to grow your eCommerce sales during holidays or any time of the year, efficient delivery is vital to success.
And how do you improve delivery efficiency for your eCommerce store? By developing a smart shipping and delivery strategy.
With the right eCommerce site essentials, you can boost your customers' shopping experience.
Here are seven tips to get you started.
1. Choose the Right Delivery Method
Regarding eCommerce delivery, customers expect your services to be seamless and lightning-fast. And the first step to improving delivery efficiency is to choose the right delivery channel.
Based on your eCommerce business objectives and the extent of your business, you can opt for dropshipping, an in-house logistics team, or outsourcing it to a delivery partner.
And if you choose to outsource, here are a few factors you should consider before finalizing the right fulfillment provider:
Speed of delivery
Cost
Order fulfillment technology used
Data tracking capacity
Return management
Scalability
Suppose you cannot afford to collaborate with big names like FedEx and Delhivery. In that case, you can still work with regional fulfillment partners and improve the delivery experience of your eCommerce store.
2. Improve Communication
Often, online stores focus more on the products they offer. But, to improve your delivery efficiency, you must adopt a simple, seamless, and efficient internal business process too. You can integrate an SMS service that will notify all parties involved of the real-time status of the shipment.
There are several stages where your delivery may get delayed; those are the issues you need to fix.
Transparent and streamlined communication between your internal teams and the delivery partner is a great way to improve delivery speed. When everyone understands their role and your goals for the business, it gets a lot easier to deliver products on time and satisfy your customers.
3. Upgrade and Automate the Process
Technology will play a significant role if you want to beat the competition and offer a better delivery experience.
Today, we have hundreds of tools that not only boost your supply chain management but can also help improve delivery for your eCommerce store.
If you still need help dealing with paperwork and manual order processing, it's time to upgrade. One thing you should learn from business leaders and dividend kings is that they stay on top of technology to beat the competition.
You can use eCommerce tools to create delivery orders in minutes using QR codes, enable automatic tracking, and allow easy returns.
Integration of quality eCommerce tools and automation of the entire process will enable you to handle large delivery demands without stress.
4. Offer an Effortless Tracking Experience
When your customers are waiting for their favorite products to be delivered, time seems to go awfully slow. And the best way to tackle that is by keeping them updated about their delivery status.
How can you create an effortless tracking experience? You can accomplish this by incorporating enhanced eCommerce website features such as a tracking page with information like estimated delivery date, order specifications, etc.
With one click, your customers should be able to track the movement of their orders.
You can also improve your eCommerce store's delivery experience by sending SMS and email updates.
Be proactive in providing your customer care numbers to resolve any customer queries related to product delivery. Allow the users to even chat with a representative or a bot to track their shipment.
All these add up to a delightful customer experience.
5. Analyze Data to Optimize the Process
With every order you receive and deliver, you generate immensely valuable data.
To improve your online store's delivery process, you must gather all this data from your eCommerce tools and the delivery partner.
Analyzing this data might help you to:
Gain clarity on the delivery process you have been following
Identify the factors causing delays
Spot opportunities to save time and money
Locate your major shipping spends
Your team can collaborate with the delivery partner to work on these insights and optimize your delivery process.
6. Improve Reverse Logistics
Ill-managed returns can mean loss of goods, time, money, and resources for your eCommerce store — and you can't let that happen. That's why improving reverse logistics is essential if you want to enhance your delivery experience.
While shipping and delivery are all about getting a product from your warehouse to the customer, reverse logistics refers to returning a parcel to the warehouse as quickly and safely as possible.
Through smart return management, you should determine the cost, route, and means to either resell or liquidate the products.
Well-planned reverse logistics can help you win customer confidence and improve your reputation.
7. Establish More Local Warehouses
One of the most practical ways to improve your delivery process is by establishing more local warehouses.
Rather than fulfilling all your orders from a few distribution centers in major cities, your eCommerce store can opt to set up smaller facilities at strategic locations.
What does this do? Decentralizing warehousing can reduce the overall shipping and delivery cost while allowing you to deliver products at lightning speed.
You will be able to reach farther locations a lot easier and establish a loyal customer base in smaller cities too.
To establish multiple shipping points, you can rent smaller facilities or convert a part of any existing retail space into shipping centers. With this, you can optimize delivery routes and deliver more parcels on time.
Strategize to Improve the Delivery Experience for Your eCommerce Store
There you have it: seven ways to improve your eCommerce store's delivery efficiency. As you would know, the delivery process involves several stages handled by different teams.
As an eCommerce business owner, you should encourage collaboration and transparency between these groups to achieve the end goal, which is providing excellent customer satisfaction.
Whether you build an in-house shipping and delivery fleet or partner with a logistics service provider, you should employ technology and optimize operations to improve the delivery experience.
Go ahead and implement the tips shared above to finetune your delivery process to boost customer experience and skyrocket your revenue.