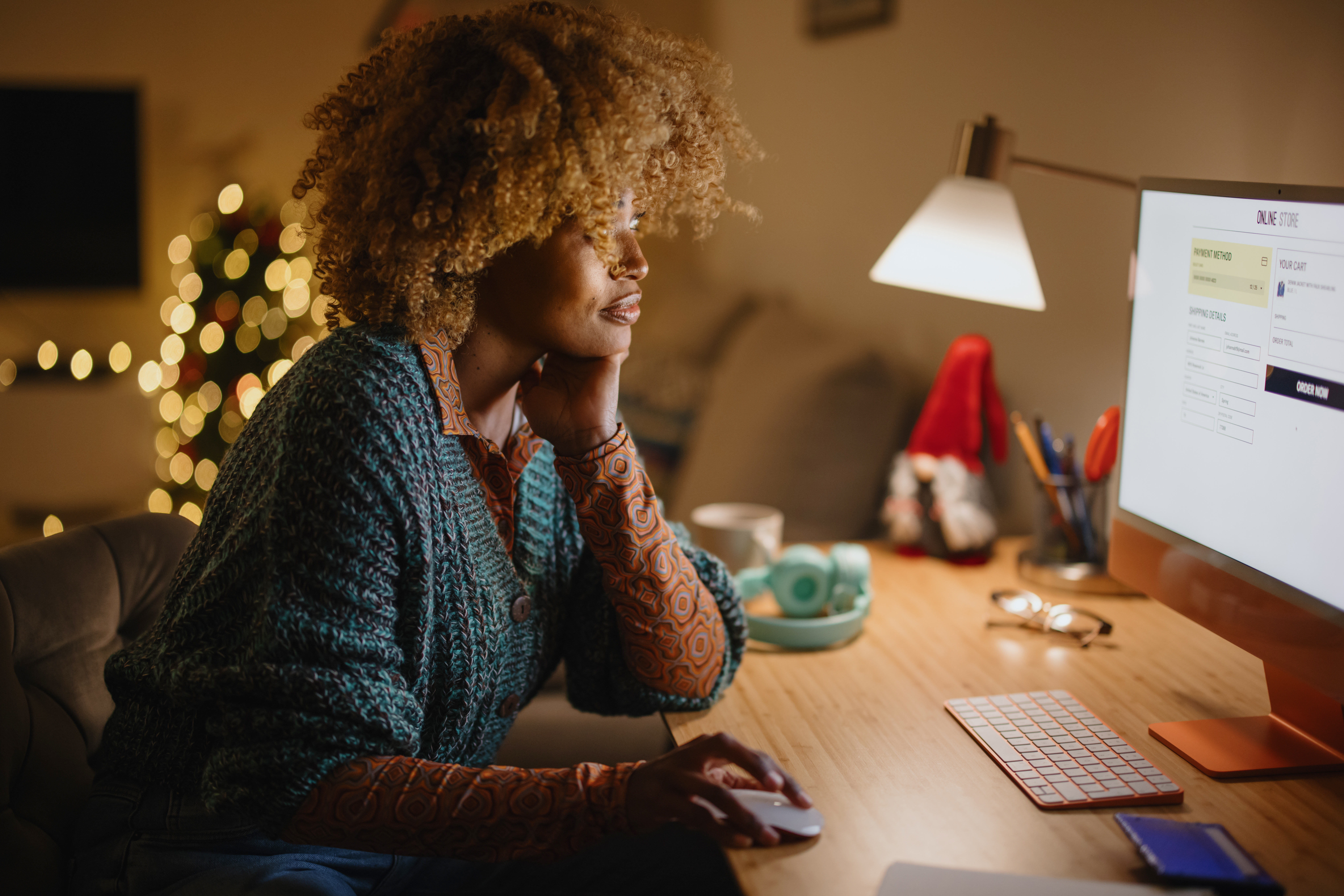 Marketing is not the only route to sales for eCommerce businesses during the holiday season. Customer support can also help stack up sales figures to generate revenue. While marketing drives sales through broadcast messages, customer service can close deals through conversations.
While the efforts of marketing focus on bringing in traffic and conversions, customer service sales focus on getting more value from each customer. According to HubSpot, 93% of customers are more likely to repeat purchases with companies that have excellent customer service.
Especially during the holiday season, when inbound traffic and purchase intent is high, sales through customer support feel more personal and can inspire brand loyalty.
9 Ways to Boost eCommerce Sales through Customer Support
Each of the methods below uses different aspects of eCommerce customer support. Some of them require you to blend customer service with marketing to get the best results.
1. Holiday-Themed Communication
Communicate the spirit of festivity in every aspect of your eCommerce brand. It is not just about merriment. Holiday-themed communication has psychological implications. People buy more during the holiday season than at any other time of the year.
Themed communication reminds them of the festive spirit and makes them more open to purchases. You have to reflect this in your website's design, text communication, chats, emails, product photographs, and so on.
Each element should declare "Ho! Ho! Ho! It's the holidays, get ready to shop!"
When your customer support executive greets someone, it should be with "Happy Holidays" instead of a dry "hello." Excitement is infectious and if you can imbue your customers with a purchase mindset, you're more likely to make sales.
Here are a few tips to sprinkle a little holiday spirit into your communications:
Open with a holiday greeting
Include holiday-related buzzwords in the conversations
Design holiday-themed emails & signatures
Re-design your chat-box for holiday shopping
Optimize chat-bots for holiday-themed communication
Sign off with a greeting and good wishes
2. Personalized Suggestions
Once you dazzle customers with the holiday spirit, it is time to get up close and personal. Use audience segmentation to understand the preferences of your customers and create personalized suggestions.
But before getting into suggestions, customer support teams should develop a rapport and set a friendly tone. Use the first names of the customers along with holiday greetings. Your customers should receive messages like "Happy Holidays Mathew!" instead of just "Happy Holidays!"
While marketing campaigns can generate sales from general messages, customer support sales depend on one-on-one conversations. Even when people are talking to chatbots, this level of personalization is now expected and should be delivered.
You can also use information from customers' past purchases to further personalize their experience. During the interaction, the customer should feel that your eCommerce brand knows them and has their best interest at heart.
For example, if a customer has previously checked out a scarf on your eCommerce website, you can present this product to them again with a holiday discount.
3. Upselling & Cross-Selling
Once again, customer support should incorporate the sales pitch into the conversation. There are only a select few queries that have the possibility for upselling and cross-selling. You can't pitch an upgrade to an upset customer.
The first order of business is recognizing the opportunity for upselling and cross-selling. You can slip these into conversations about product inquiries, purchase guidance, offer queries, and so on.
For example, if a customer is seeking to purchase an Android phone as a gift and asks you about its battery life, you can push for a slightly more expensive phone with better battery life. You can also suggest a rapid charger to this customer to give as a complementary gift.
Each suggestion should be relevant to the customer's query. The products you suggest should suit the customer's requirements and provide additional value over their selections.
You will have to pay close attention to each conversation to suggest relevant products to the customers. Look for cues suggesting their interest, budget, preferences, and requirements. You should also use data from previous interactions with the customer to improve recommendations.
And don't forget to offer deals, packages, or discounts. It's the holiday season after all!
4. Connect with Customers on Social Media
According to Facebook's Seasonal Holiday Study, 40% of holiday shoppers are more likely to buy from a brand they can message. Social media is as crucial for customer relationship management as it is for marketing.
People will also leave queries in messages and comments on your brand's social media accounts. You will have to promptly respond to these queries and guide them to either your website or purchase options within social media. Time is of the essence during the holiday shopping season, so quick responses will be appreciated.
If you are replying to a customer in the comments it is important to move the conversation to a direct message or email. You can also customize social media chats for holiday-themed communication.
Your customer support team should also look for mentions of your brand or products to target leads on platforms like Facebook, Instagram, Twitter, and so on. You can proactively connect with these people and offer them holiday-themed deals.
5. Use Chatbots as Shopping Assistants
Chatbots are re-shaping interactions for eCommerce businesses. Online shoppers turn to chatbots for help with a variety of queries. Just like customer support executives, chatbots can also give out product suggestions during conversations.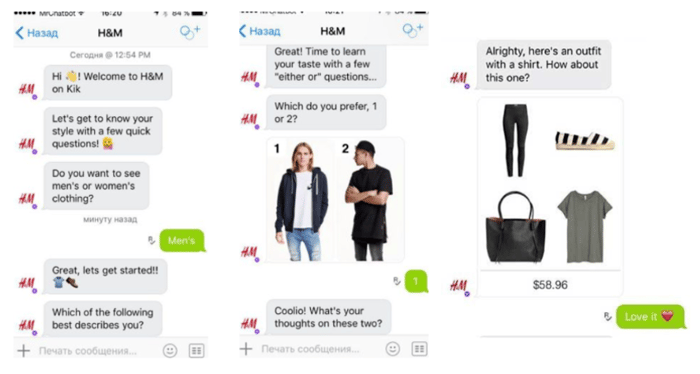 Source: hm.com
H&M is using its chatbots to create a personalized shopping experience for its website visitors. This chatbot slips in product suggestions in the form of conversations and games. The interactive bot can also complete the order without the customer having to leave the chatbox.
You can design your eCommerce chatbots to prompt product suggestions based on trigger words or phrases used by the customer. However, before you do that, you should incorporate elements of personalization and holiday-themed communication into the chatbot.
You will also need to create a custom prompt message to notify the website visitors that your chatbots are also shopping assistants. You can welcome visitors to your eCommerce website with messages like "I've got a few holiday gift ideas, can I help?" or "Tell me what you want & I'll find you the best Black Friday Deals."
Just like other customer support conversations, the chatbot should listen first and suggest second.
6. Resolve Cart Abandonment
During the holiday season, you can win back customers who have abandoned purchases with top-notch customer service.
Customers have a high purchase inclination during the holiday season. You can reach out to people that have abandoned carts and convert them into customers. However, you have to make sure that they don't face the same problems again.
You will have to identify and resolve cart abandonment issues before you reach out to potential customers.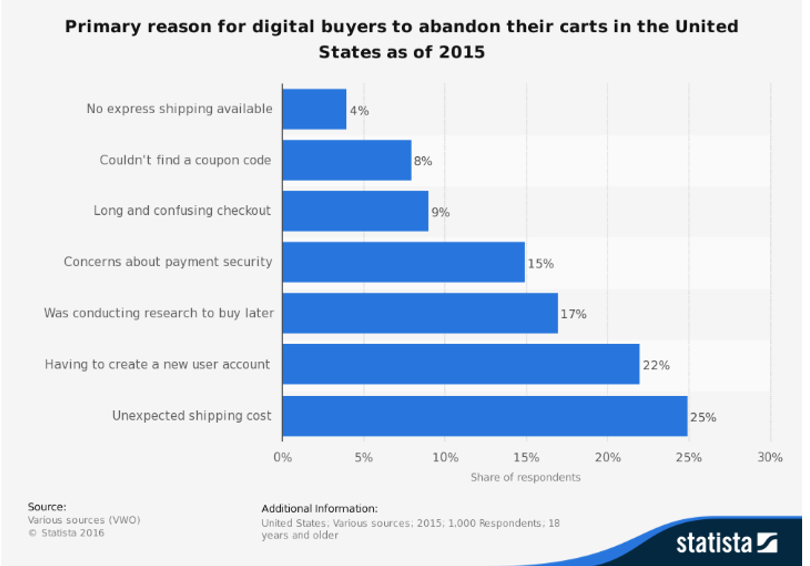 Source: statista.com
Then you can create personalized emails to initiate conversations with people. Your email should include:
Holiday-themed greetings
Acceptance of the issue
Apology for the issue
Preview of the customer's abandoned order
Assurance that the issue is resolved
A special holiday offer for the order
A ticking clock for offer validity
Holiday-themed CTAs
This email might not convert the customer straightaway — but that does not matter. The purpose is to initiate a conversation so that you can bring them back into the fold.
7. Holiday-Themed Referral Program
People trust other people more than they trust brands. That's why referral programs work so well. 84% of shoppers trust recommendations by friends, family, and colleagues.
During the holiday season, gift ideas are a hot topic. Wouldn't you want your brand mentioned in these conversations?
Start a referral program to provide incentives to customers who recommend your eCommerce brand or products. You can further strengthen the possibility of recommendation by providing incentives for those who refer as well as for those who purchase.
You will need to begin this campaign well before the holidays. People usually start searching for products months before the date of purchase.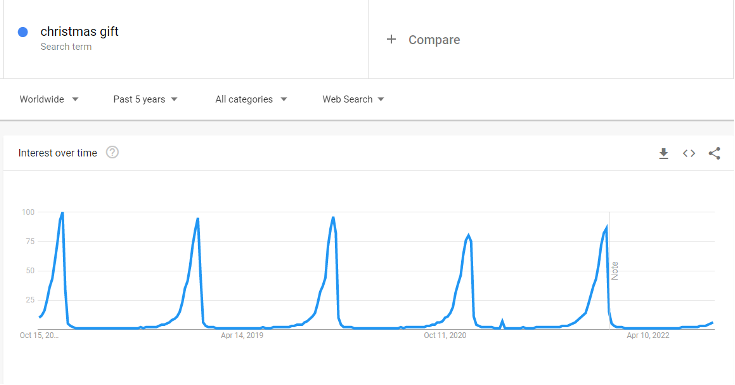 Source: trends.google.com
Each year searches for "Christmas Gifts" behind to grow from October. You have to start approaching your customers before they decide to purchase.
You can use a variety of referral tactics to bring in more customers during the holiday season. Nevertheless, make sure that the offers are holiday-themed and have an expiry date.
8. Personalize Packages & Offers
This method combines the principles of cart abandonment, personalized suggestions, and upselling and cross-selling. You should reserve this kind of deal for your loyal customers only. Make them feel special during the holiday season.
Long-time customers are more likely to communicate with customer support than sales. Therefore, CRM executives are better positioned to make such personalized package offers to loyal customers.
You will have to dig deep into data about the customer's purchase history, social media activity, and web searches to create a personalized package. The deal you offer should contain products they want, like, or require.
For example, if a customer has purchased a Macbook Air, you can approach them with a package deal for laptop covers, laptop bags, extension docks, and AirPods. You should also choose each item based on the customer's data. If they have shown a preference for the color red, you should include that color option in your package.
Similarly, you can also create gift packages for Christmas, Thanksgiving, New Year's, etc. However, you must ensure that these gifts will reach their destination before or on the exact date of the holiday.
You can allow the customer to make changes to this package and still get the same lucrative deal.
If you want customers to be generous during the holidays, you will have to show a little generosity as well.
9. Improve Response & Resolution Time
You will experience growth in traffic during the holiday season. This also means that you will face more customer queries than before.
People are also quite impatient during the holiday season, each business offers some kind of deal and most of these deals have a ticking clock attached to them. They do not want to miss out on the best deals, so they want answers fast.
You will have to improve your response time as well as resolution time to close maximum deals. If you delay responses, you might be sending the customer to your competitor.
This is why you should create SOPs and templates for common holiday deal-related queries. You can also use conversation models and tools to improve communication competence. An FAQ section can prove to be quite helpful in this regard.
Chatbots are another great tool to reduce the burden on customer support. They can handle a variety of simple and complex queries based on their programming.
You have to be fast and still adhere to personalization and holiday-themed communication. Each of the methods mentioned in this article will work better with a quick response time.
Wrapping Up
When you are spreading happiness and discounts during the holiday season, do not forget that you have to give your business the gift of loyal customers. That's the ultimate purpose of all customer support efforts.
Each conversation with the customer should communicate your brand value and inspire loyalty. It may feel like a herculean task, but keeping a customer is much easier and cheaper than acquiring a new one.