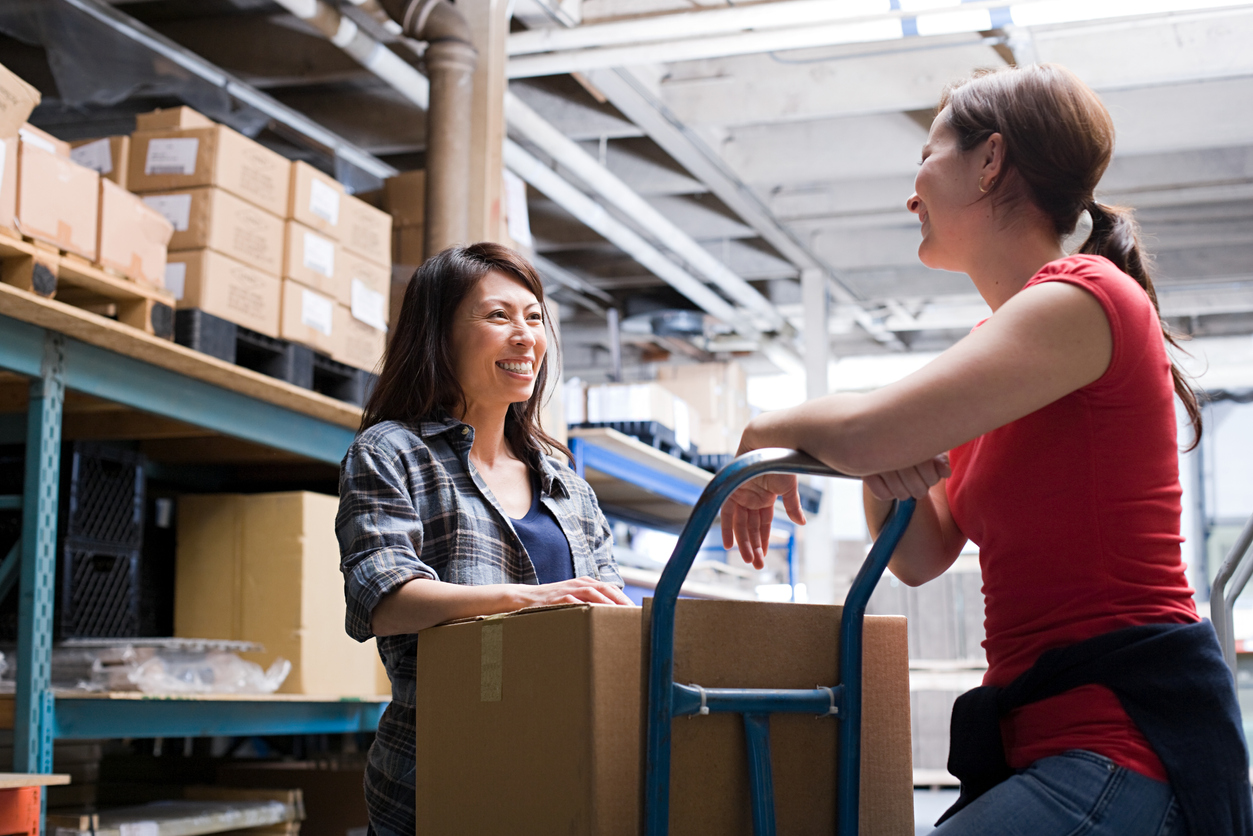 So you've made a smart move and decided to opt for a fulfillment provider. You're definitely on the right track as far as business decisions go. However, the question now is, "How do I make sure I'm choosing the right fulfillment company for my business?" There are several options to choose from and, as a business owner, making the wrong choice can have serious consequences for your company.
In addition to this, sometimes what makes a fulfillment service the right solution for you can depend on several factors, such as the volume of sales you have each month, extra services provided by your third-party logistics company, the location of most of your customers, and even how fast your business scales up.
Apart from what you can see at the surface, there's also a lot that goes on behind the scenes that plays a crucial role in getting your product from the warehouse to the people who want it. If you're going to work with another business to handle these responsibilities, you should be familiar with how they work.
Add to this the complexities involved with fees, pricing, shipping time, and software integration, and it becomes increasingly challenging to choose a fulfillment partner confidently. Rest assured by the time you're through with this article, you will understand what to look for in a fulfillment company and be able to select an appropriate fulfillment partner for your business.
What to Look for in Your Fulfillment Provider
To help you select the right order fulfillment company for your business needs, you have to consider a few significant points. These play the most crucial role and should factor in heavily while making your decision.
While it may be tempting to get carried away by advertisements or even great deals, it's important to make sure you cover the most important bases first, as these will build a strong foundation for your business.
1. Shipping Speeds
With Amazon's two-day delivery becoming the new industry standard, the process of choosing a fulfillment company has to include an eCommerce fulfillment service capable of getting your company's product to your customer in a very short delivery time.
A longer delivery could drive your customers to buy from competitors, causing you to lose clients. In fact, as companies begin to deliver faster and faster, any services that take longer than the industry standard will eventually be put out of business.
To ensure that you're not missing out on customers, make sure that your fulfillment partner is reliable and won't let you down when you experience a bump in sales volume. A great example of an order fulfillment service with incredible speed is Red Stag Fulfillment.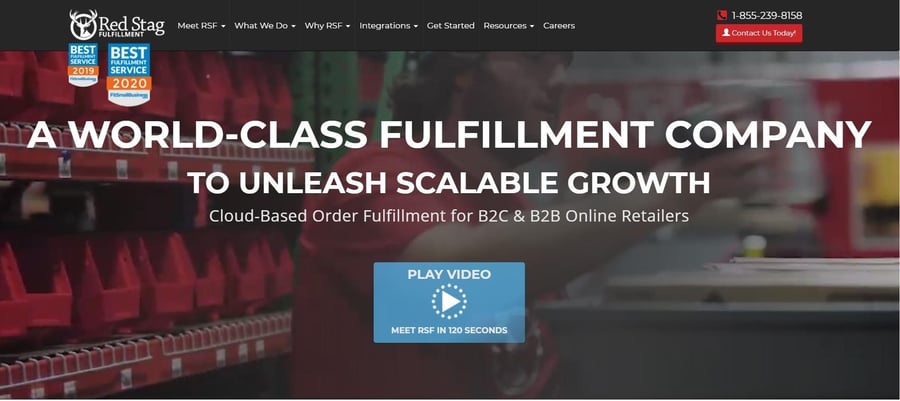 Source: Red Stag Fulfillment
They're so sure about their speed that they can promise that your product will go from dock to shelf in under two days. They even pay you a $50 fee if they get something wrong, so rest assured you're covered in the shipping speed department.
If you're interested in increasing your shipping speed, you can also try out the dropshipping business model, which offers a considerable advantage, especially with storage and inventory management.
2. Warehouse Locations
The location of your warehouse is critical to the supply chain. Without properly located warehouses, the supply chain will become needlessly long and complicated. This can result in huge delays and logistics cost increases which would otherwise be easily avoided.
How fast your product can get to your customer depends on how far it has to travel to get there. This means that order fulfillment centers with multiple warehouses located in various regions are imperative to your clients receiving their parcels on time.
You want to make sure that you know the location of the warehouses before committing to a fulfillment company. While this can certainly seem like a dilemma, an easy solution is to go with an existing fulfillment service giant like Fulfillment by Amazon.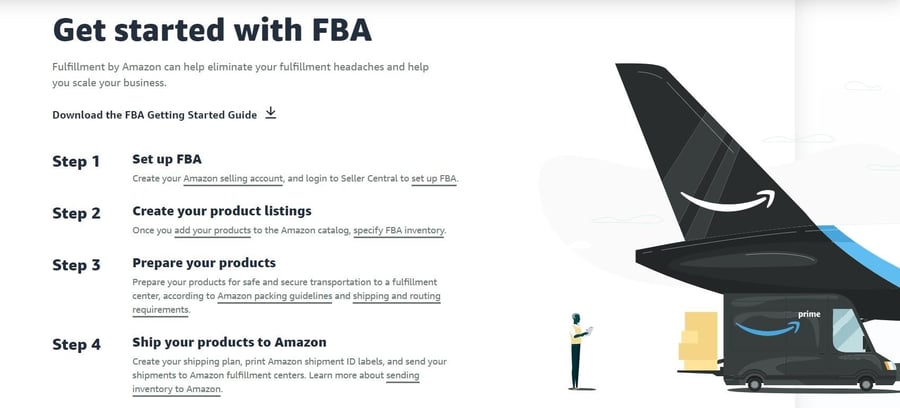 Source: Amazon FBA
With its vast network of 170 fulfillment centers, FBA is the perfect warehouse choice. Not to mention that you will gain access to the data-driven advertising that Amazon does on your behalf. This can be a huge source of growth for businesses.
3. Order Fulfillment Software and Automation
If you want your business to stay ahead of the competition, it's crucial that the fulfillment service you opt for has integrated software and uses automation technology for their inventory. This means that your fulfillment company needs to automatically send orders when your clients buy something on your eCommerce platform to the warehouses that handle your packaging and shipping.
This needs to be done in real-time, and the integration of this technology with your platform and third-party fulfillment center can help save a lot of time. In addition to this, it should automatically update your inventory at your warehouse and on your eCommerce platform.
While this all sounds very basic, not all businesses will offer you these options in real-time, and you definitely want this technology and software integrated with your platform.
For this reason, it's worth trying a provider like ShipBob for your order fulfillment. ShipBob offers integrations with several marketplaces, and its seamless software can make a huge difference to your inventory processing and customers. It's a great pillar of support to your fulfillment process and definitely a provider worth considering.
4. Transparency and Visibility
If you want to stay in business, transparency and visibility are vital characteristics of a fulfillment partner. As a customer, you want to be able to log into your account and be able to track your parcel at every stage. Transparent businesses should have software that customers can use to track their shipment, whether it's in warehouse storage or already out to be delivered.
This visibility helps build trust, and trust retains customers. You're less likely to lose a customer if they're familiar with the process of ordering from your company and can smoothly check the status of their order at every stage.
Customers will tend to remember negative aspects of their order fulfillment. If you promise packaging and shipping by a certain date on your website, but your order fulfillment center can't deliver on your promise, customers will be disappointed.
Try choosing a fulfillment center or company like ShipMonk if you're looking for an industry leader in terms of transparency and visibility. Their 4-in-1 cloud-based software allows you to handle inventory, orders, shipping, and warehousing and gives your customer the ability to track their order at every step of the way.
5. Branding and Packaging
If you want to cater to the customer experience, you must have special branding and packaging options available. Building brand awareness should be a goal for any business, and it can be achieved with branded packaging. Unique packaging can create a sense of customer satisfaction and improve the unboxing experience. Often a personal touch, when added to your product, branded packaging can even create strong feelings of loyalty.
Not all fulfillment centers offer branding and packaging options. It's worth doing a little research while choosing a fulfillment company to find out what services are provided and the fee related to branding and special packaging.
Remember that personalization is the end result, and there are multiple ways to make your product uniquely personal. Customers want to buy from people, not conglomerates, and so this is an area worth investing in to build long-term brand loyalty among your customers. In fact, eCommerce statistics reveal that almost half of the revenue of online stores is brought by returning customers.
6. Shipping Rates and Costs
The fulfillment process involves several costs, and different fulfillment companies will charge you different rates as a customer. You want to make sure that shipping costs and warehouse storage fees will save you money long term.
While there might be some initial fees that you would have to bear, you can minimize the cost of services by looking through different pricing plans before committing to a fulfillment company.
What most customers are looking for in fulfillment companies are services that fit their business's budget. Fulfillment companies like Ruby Has could solve this problem, as they offer the best competitive shipping rates.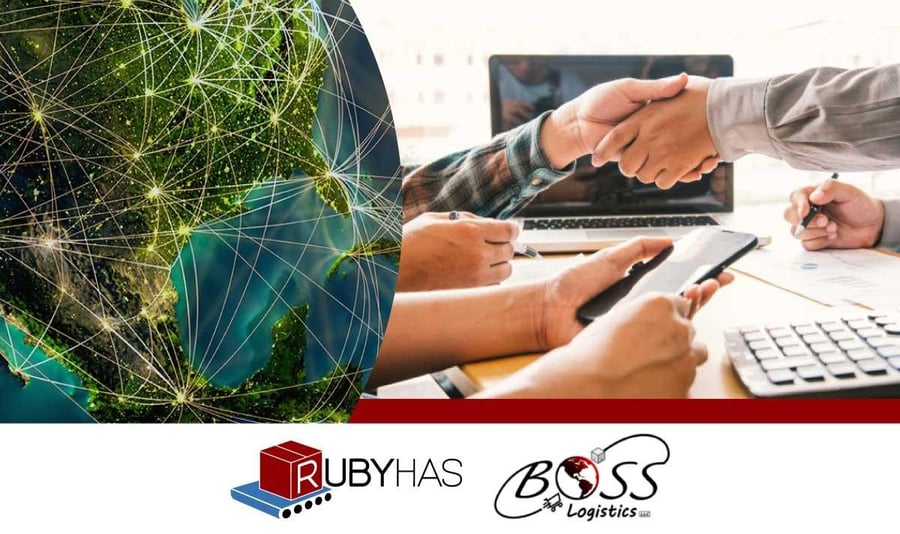 Source: Ruby Has
7. Scalability
No one starts companies in the hope of failure, and chances are if you're putting in the work, you're going to grow. The worst thing that could happen is working with a fulfillment provider whose services can't keep up as your business scales.
This is when you want to be even more efficient than ever. You shouldn't be worrying about whether your fulfillment service can handle the volume of packing, if they have enough space, or if their software can keep up with your product going viral.
You might not think you'll ever make it that big anytime soon, but chances are you might, as more and more businesses have a presence online. The last thing you want is a bad reputation for your brand because you chose a partner whose services can't keep up with your growth.
Here's where it's worth considering Rakuten Super Logistics. They're great for enterprises that are growing and can probably handle anything you throw at them. They've even got great shipping costs, and their fulfillment services can scale up or down according to your needs.
8. Certifications
As with any other kind of industry, quality matters. In fact, quality is so important that most people hire quality control specialists in their field to ensure everything is meeting the mark. Fulfillment services are certainly no different.
For this very reason, many industries have certifications that can be achieved in order to demonstrate to the public that they meet a certain standard. It's worth putting in the time and effort to get certified.
So, if you're looking for a fulfillment service and you're happy with their pricing, packing, and service, it's worth digging a little deeper to find out if they're certified. These certifications cover not just the organization, but also the staff that works for it, which makes up a crucial part of the packing and shipping team that handles your product.
A few great independent organizations that certify warehouses and staff in this industry are the American Purchasing Society, the International Warehouse Logistics Association (IWLA), and the Warehousing Education and Research Council (WERC).
However, don't just stop here. It's recommended that you talk to existing customers, read as many customer reviews as you can, and ask about the employee turnover rate for staff. The more experienced employees you find, the smoother operations will usually run.
Consider Your Fulfillment Needs Fulfilled
Now, you have a rock-solid foundation on which you can base your decision to select your fulfillment management company.
You may encounter many similarities during this process between fulfillment companies, and this is because many indeed do offer almost similar services, but the devil is in the details. Make sure you read the fine print before you agree to anything, and remember you're looking for something to meet your fulfillment needs specifically.
While it can be overwhelming looking at all your options online, remember the basic logistics needs and the critical points discussed in this article. Over-analysis leads to paralysis, and if you think you've found the right organization for fulfillment services online, then go ahead and give them a try.
With the right team behind you, it's only a matter of time until you're a success.