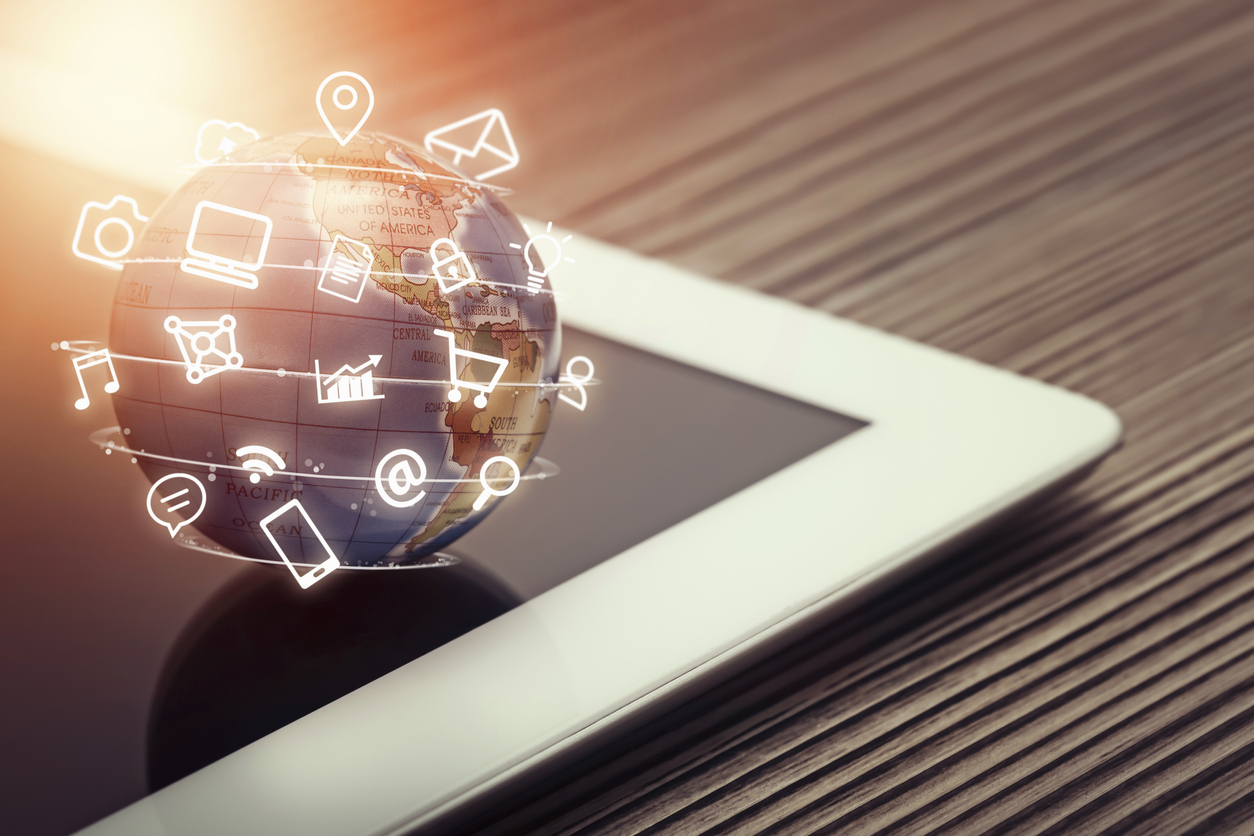 Is your business looking to expand to global markets? Selling products online and shipping them to international customers has become commonplace today. That's especially thanks to marketplace giants like Amazon in the picture. But you don't need to rely on marketplace selling to reach international customers. Your products can cross borders from your own online store.
Cross-border eCommerce isn't new, but it's been expanding exponentially in recent years. In fact, cross-border eCommerce is estimated to reach 1 trillion by the end of 2020.
So, what exactly does cross-border eCommerce entail? And how can your business take advantage of it without breaking the bank? Let's go through how cross-border eCommerce can work for your online business.
What is Cross-Border eCommerce?
Cross-border eCommerce is the online selling of products and services to customers in other countries. If your business engages in cross-border selling, customers around the globe will be able to shop on your website and ship them to their door. In today's eCommerce landscape, global eCommerce is the new norm. Customers have been able to compare prices in different countries, connect with merchants on social media, and more for years.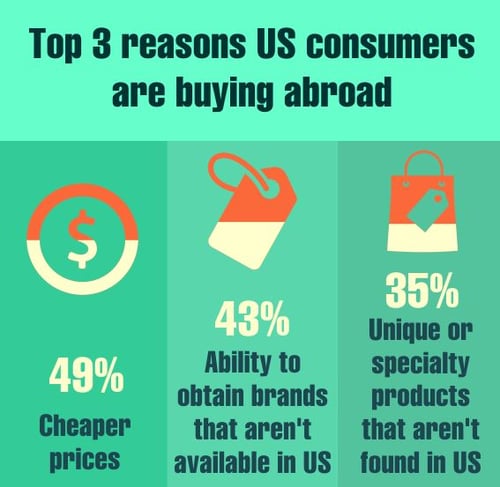 Source: Invesp
Expanding into global markets can be a beneficial opportunity for many online stores. International selling is only getting bigger. In fact, cross-border eCommerce is expected to grow twice as fast its domestic counterpart.
Understanding Cross-Border eCommerce: Common Terms
In the realm of cross-border commerce exists a variety of terms that you may not be familiar with, even if you're an online business owner. Let's go through some of the most important terms that you should know when learning about cross-border eCommerce:
Localization: This means adjusting your website, content, and prices to match the region you're targeting. Your site should fit with the culture and language that's preferred in that country. For example, if you're targeting a modest country, the version of your site that they see should not display bikini models.
De Minimis Value: This is the smallest value that your order must reach for a country to apply customs duty and tax rates on it. This threshold is determined by the destination country.
Third-Party Logistics: Usually shortened to 3PL, this is an outsourced logistics service. 3PL services include anything involved the movement and management of your products.
Landed Cost: This is the total price of a product once it's been delivered to the end customer. It includes the original price, transportation fees, customs, taxes, insurance, and currency conversions.
APAC: This is the Asia Pacific region, which is the part of the world in or near the Western Pacific Ocean. It includes East Asia, South Asia, Southeast Asia, and Oceania. It can also include parts of Russia on the North Pacific.
MENA: This is the region including the Middle East and North Africa, also referred to as the Greater Middle East. It also includes Afghanistan and Pakistan.
Cross Border Shipping vs. Localized Shipping
There are two main paths you can take when it comes to fulfilling international orders. Your business can either use cross-border shipping or localized shipping.
Cross-border shipping and fulfillment means that orders must leave one country to another. In this model, the inventory is not stored in the country being shipped to. If you're shipping from one warehouse and international orders aren't a large part of your business model, then this method is the best fit for you.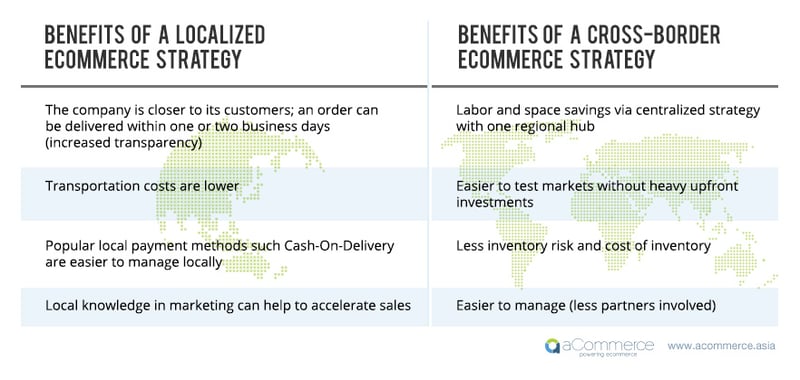 Source: EcommerceIQ
Localized shipping and fulfillment is a model where your business stores products within a country or region other than your own. Inventory is stocked in warehouses within the country that your business mainly ships to. For example, if most of your international orders come from Asian countries, then you'd store products in an APAC warehouse. This can reduce delivery costs and time in transit, making it a cost-effective way to handle international orders.
The model that your business chooses will ultimately depend on the size of your business. It'll also be determined by the location of most of your customers.
List of Cross-Border Shipping Services
To provide cross-border shipping to your international customers, you'll need to work with a shipping service that supports it. There are several options available, each with varying levels of involvement. Let's go through your most popular options.
FedEx Cross Border

FedEx Cross Border is an international fulfillment service provided by FedEx. The service helps online merchants sell internationally in over 200 countries and territories. FedEx Cross Border's solution allows merchants to accept orders from customers outside the United States and Canada. As an end-to-end solution, integration with your business should be seamless.
Also, FedEx Cross Border is pre-integrated with many eCommerce platforms. This is to help streamline a localized experience for international customers. It automatically displays the checkout page in the customer's language. The service also allows for preferred regional their payment methods and shows prices in local currency. Merchants can display an order's total landed cost at checkout as well.
GlobalShopex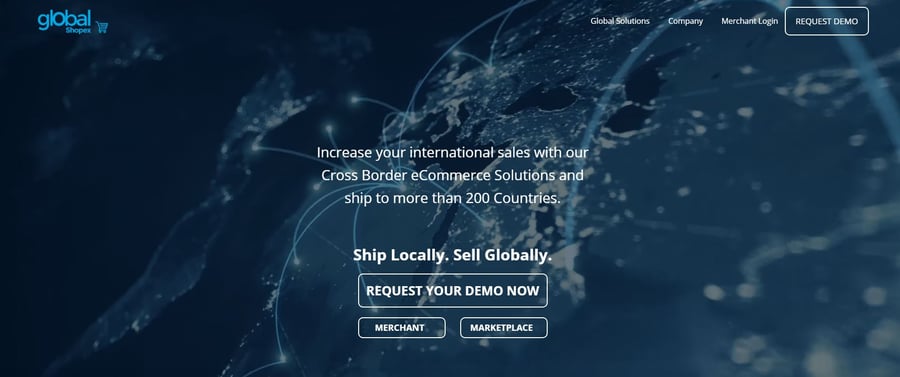 GlobalShopex provides international fulfillment solutions to online sellers. U.S.-based merchants can take advantage of their coast-to-coast fulfillment centers in Los Angeles and Miami. These centers are referred to as "international warehouse hubs."
The process takes a few simple steps. When an international customer makes an order on your site, you'll pack it up and send it to the international warehouse hub closest to you. Then, GlobalShopex will receive it, package it properly for cross-border shipping, and deliver it to your customer.
Zonos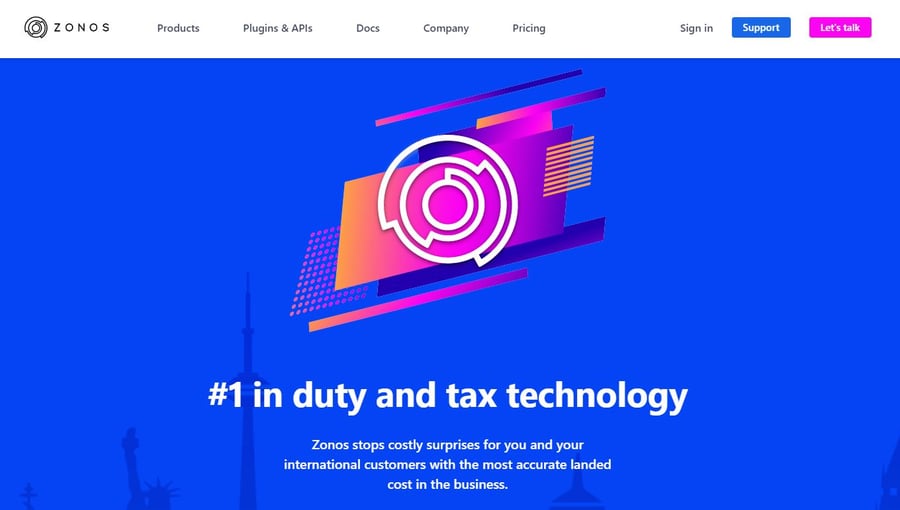 Zonos offers several fulfillment solutions to merchants looking to globally expand their business. Their international checkout service includes landed cost, localized checkout fields, and carrier rating. It also supports 18 languages, restricted items, denied party screening, and more. Global payments and fraud protection are part of the service as well.
Zonos also offers a feature called "Hello", which welcomes shoppers in their local language and currency on your online store. This feature includes duty & tax calculations and quotes, currency conversion, and country-specific messaging. As the "number 1 duty and tax technology," calculating those fees is one of their specialties.
LandmarkGlobal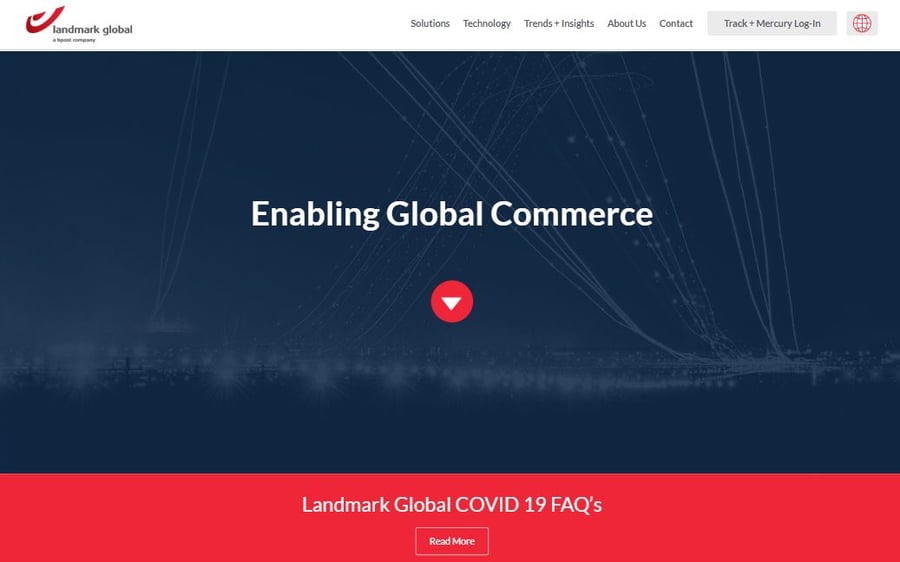 LandmarkGlobal offers several solutions for merchants looking to go global. This includes logistics and communications solutions. LandmarkGlobal handles returns, trade services, fulfillment services, and international mail and parcel delivery. They also offer a variety of eCommerce modules for integration with your store.
Turning "challenges into opportunities," LandmarkGlobal works to streamline international shipping for merchants. Stores can deliver products to more than 220 countries with the service. Sellers using their service also have access to more than 40 currencies and 150 local payment methods. All these features can be easily integrated into your eCommerce software.
UPS

UPS provides cross-border shipping "with confidence" to online sellers. Their service helps businesses to manage imports and exports simply. They provide cross-border shipping and tracking tools that help maintain trade compliance. At the same time, they prioritize delivering your orders on time.
UPS TradeAbility helps merchants comply with trade regulations and determine international shipping costs. Their free global shipping software, WorldShip, automates shipping and processes your cross-border shipping. Both of these toolkits combined can help streamline international shipping for UPS merchants.
Cross-Border eCommerce Best Practices
Before you start shipping out orders across the border to international customers, you need to make sure that your business is ready. It's not difficult to make a mistake when shipping internationally, so we'll be going through a few best practices that your business should use.
1. Pinpoint where your customers are.
While it's true that eCommerce is rapidly growing across the world, that doesn't mean that a large part of your customers are (or will be) international. Prior to making the decision to enable cross-border payment options and shipping on your online store, you first should determine where your customers are.
For example, if you're a U.S.-based business and your target audience is largely in Texas and New Mexico, then you don't have much of a reason to work on your cross-border efforts. On the other hand, if you're located in the U.S. and your products are mostly targeted at customers living in Spain, then you'll want to make sure that those customers can buy from your site.
Also, if a small amount of your site visitors is in different countries than your own, you may not see a return on investment (ROI) by going cross-border. But, if you want to expand your business to global markets in the future, you can start preparing for that.
2. Choose the countries you want to ship to.
Your next question to yourself should be: do I want to ship globally, or to a select few countries? To answer this question, go back to where your customers are located. If you only want to ship to a select few countries, choose those with the largest amount of potential customers for your business.
If you'd like to ship globally and accept orders from customers anywhere in the world, then you'll need to determine the cost associated with that. Each country has unique shipment costs and restrictions, meaning you'll need to be aware of these before allowing orders on your site.
3. Consider the cost of export and delivery taxes.
The duties and taxes applied to your business's shipments will ultimately depend on whether you're shipping cross-border or using localized fulfillment. In regards to export taxes, orders above the receiving country's de minimis value limit per shipment or sale may have delivery duties applied. Generally, eCommerce sellers in the United States won't encounter US export regulations or taxes B2C sales made internationally.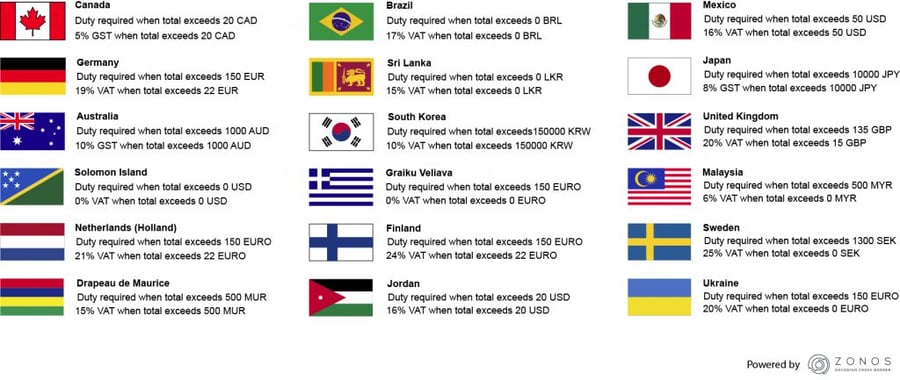 Source: Zonos
But, it's important that you understand the receiving country's product regulations or restrictions. If you're shipping out larger orders or are serving B2B clients in other countries, you may be subject to export and import taxes. Keep this in mind and determine whether your business and customers are willing to pay these extra charges.
4. Abide by local laws for the countries you'll be selling to.
When shipping internationally, be sure to stay aware of the destination country's product regulations and restrictions. The following products are the most commonly restricted or regulated internationally:
Cosmetics and skincare products
Food and alcohol
Medical and safety products
Electronics
Tobacco and CBD products
Clothing and shoes
If you sell any of the above products, research the restrictions of your destination country before accepting orders and shipping them out to customers.
5. Localize your online store.
By expanding to global markets, you'll be serving customers that may speak a different language than your own. Or, they may have a culture that has different customs and traditions than what you're familiar with. To accept these customers with open arms, be sure to localize your online store's content, images, and prices. The region-specific versions of your site should also include local and legal payment methods. For example, if you're selling to Iranian customers, then you shouldn't allow Bitcoin payments, as they have been banned by the Central Bank of Iran.
You should keep local currency and currency conversions in mind as well when pricing your products. What may be a bargain in your home country could cost a fortune in another. 67% of global consumers shop abroad because prices are lower outside of their own country. Avoid being the online store that does the opposite of that and charges high prices due to negligence.
Moving Forward
Selling internationally can be a huge opportunity for your business to expand into new, profitable markets. But, it doesn't come with a host of caveats that you need to be aware of before diving in headfirst. Every country has unique laws, regulations, restrictions, taxes, and mail that can affect how you fulfill orders.
If you're considering cross-border fulfillment for your online store, be sure to:
Understand common terminology
Choose cross-border or localized shipping
Work with the cross-border shipping service that's right for you
Research where your most valuable customers are located
Consider all extra international delivery costs
Take the time to localize your website
Follow all international laws
With all this work done, your business is ready to start shipping globally!