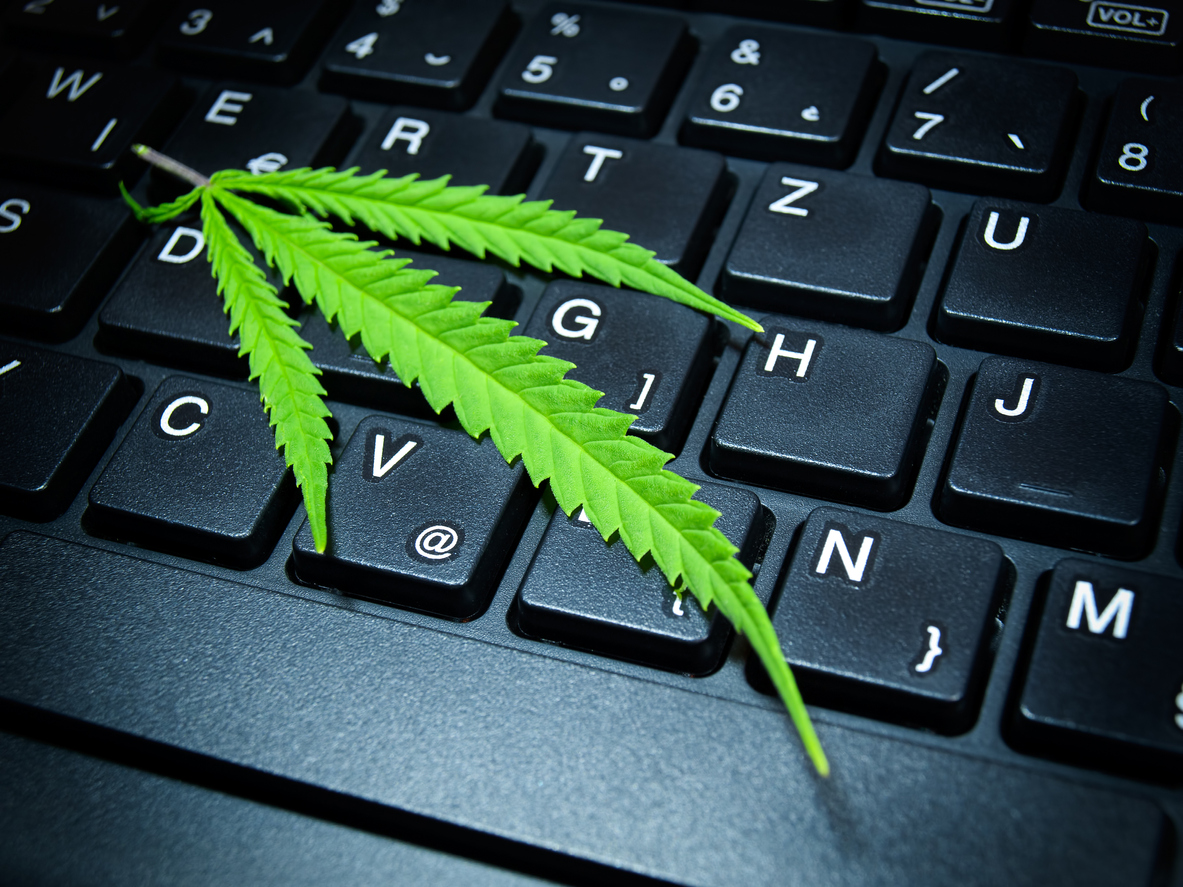 It seems that every day, more states and countries are legalizing marijuana for medicinal or recreational use. As cannabis commerce becomes less restricted, opportunities are growing and business is booming. The expansion of eCommerce platforms coinciding with the advent of cannabis legalization means that you have the ideal outlet for selling CBD oil and related merchandise beyond your local dispensary. If you want to start your own cannabis online store, keep reading for tips on building your website for success while staying legal.
How Big is the Cannabis Market?
Sales of marijuana-based products are expected to reach $77 billion annually by 2022. This booming industry has created 250,000 new jobs, which is five times the number of workers in the coal industry.
This exploding market has also piqued the interest of investors since surpassing the GDP of five states combined. Marijuana businesses have been able to generate $13.8 billion in outside funding for the 2018 fiscal year, which is quadruple the investment attracted the previous year.
When numbers like that are multiplying exponentially by the day, the time to jump into the industry is now. But, how do you brand a cannabis website in the face of so much competition?
Considerations for Building Your eCommerce Store
Online CDB sales are an emerging industry, so avoiding common startup mistakes will put you a few steps ahead of the competition right out of the gate.
The first thing you'll want to do is design a website that's visually appealing, easy to navigate, and provides an efficient, secure checkout interface. That means using a professional website developer or a DIY web builder.
Unless you use a site-building service that comes with hosting, you'll want to find a reliable hosting platform that delivers high uptime percentages and protects your customers' personal and financial information when they shop at your store.
Our recommendation is to self-host or work with an eCommerce platform that fully supports legal marijuana sales.
If you self-host, that means you will create a standalone website with a unique domain name registered to you or your company and install it on a hosting platform. This allows you to have total ownership of a custom URL and your web content and more freedom, but you'll have to install and set-up everything yourself.
On the other hand, most eCommerce software and website builders won't allow high-risk products like marijuana to be sold with them. But there are a few platforms, like 3dcart, that don't restrict you – if you're looking for an easier all-in-one solution to building and hosting your online store, a nonrestrictive eCommerce platform may be your best bet.
Whichever route you choose for your website and hosting, the key words are security, speed, and scalability.
Now, let's talk about how to get some eyes on your pages.
Design for User Experience (UX)
Before you do any marketing or outreach, consider what kind of experience will get traffic to your website, keep visitors on your page longer, and generate repeat business. It isn't enough to create the best edibles in town or market an anti-aging formula that takes 10 years off of someone's appearance if the platform you use to sell it drives customers away.
The layout of your website should be clean and uncluttered, navigation should be easy, and the checkout system should be designed to conclude within a click or two without glitches or bugs. Optimize the design for speed and elegance with minimal coding, lightweight frameworks, and alt-text for images. Use the correct image file format and reduce file sizes. Better yet, choose one or two great photos and link the rest to your Instagram gallery.
Design for Speed and Security
Speed can be optimized by design, but your plugins and platform determine how much lag or downtime you - and your visitors - will experience. One of the main causes of high bounce rates and shopping cart abandonment are slow page load times, excessive downtime, and other avoidable technical issues.
You should also be mindful of security and privacy when running a business online. In addition to the security measures you install yourself, like firewalls and antivirus and anti-malware apps, choose a hosting service that includes SSL authentication, DNS leak protection, and high-grade encryption. Ask about their policy for data storage and sharing; your customers probably don't want to end up on a mailing list or under surveillance.
Even though marijuana is legal in many places, there is still a need for discretion. Secure web hosting and security measures that you put into place will reassure your customers that their privacy and the safety of their information are as important to you as it is to them.
Define Your Niche
The possible markets and submarkets for marijuana sales are staggering. You could consider getting into the grow and production side of things, which could relate to everything from grow lights to plywood. Marijuana entrepreneurs also have the option of selling marijuana directly or manufacturing CBD products and edibles.
The best way to break into the market is to define a niche or devise an innovative way to serve an existing niche. This is where market research comes in, and it starts with the competition.
What are customers saying about your competitors and their products? This is a great way to find out how you can offer something new. Are people expressing in reviews that they are unhappy with some part of their service? Are there aspects of the product that are unsatisfactory?
If the problem is customer service, demonstrate how yours is better. Does the edible they market taste like sawdust? Highlight the deliciousness of your baked goods and candies. Are customer complaints about a competitor's checkout process burning up the internet? Tell customers about the convenience of shopping your website. If there is a consensus among medical or recreational users about the need for a certain product or service, find a way to fill it.
Identify Your Audience
Once you've decided on a niche market, you need to identify and segment your target audience. What are their pain points, and how can your product relieve them? For example, if your products are CDB-based tinctures that relieve skin conditions in dogs, your audience is pet owners concerned about the health and well-being of their fur babies. When your products are edibles that are targeted toward recreational users, consider how, when, and in what environment they use your products.
Knowing who your audience is and how your products can provide value is only part of the equation. You should also segment your target audience by where they are in their journey. On-page marketing should be directed toward people who are already interested in what you have to sell. Outreach should be directed toward people who aren't familiar with your brand and need to be led further.
Diversify Your Marketing Channels and Platforms
In today's competitive, global marketplace, people aren't restricted to buying goods from the neighborhood shop. Ecommerce channels have opened up markets in as many places as you can reach with your website. If all of your other website building and marketing efforts are optimized for traffic and sales generation, your final consideration is broadening your reach.
This can be accomplished with a diverse range of marketing channels and platforms that are optimized by the type of audience and content. For example, Instagram is a great platform for photos. This is where you can post product images and shareable, lifestyle-related photos of real customers and staff members. Facebook is still a great medium for interaction with the wider community and targeted advertising. Twitter is a good platform for releasing breaking news and conducting customer surveys, and email is a great way to generate repeat business, offer discounts, and keep your customers informed with updates about your company and products. Influencer marketing is a cost-effective way to get word-of-mouth advertising through someone who's relatable and trustworthy to your audience.
In order to maximize the impact of these marketing channels, your content should have a unified look that's immediately identified with your brand, and your platforms should be interlinked to reach all of your audience segments.
Legal and Ethical Considerations
One of the main factors that separates marijuana commerce from more traditional industries is the legal implications of product marketing and sales. Although the government has recently approved CBD-based products for sale online, there are still potential legal hassles you should know.

Source: governing.com
All but three states have legalized CBD sales. CBD is a non-psychoactive byproduct of marijuana. Of all states where CBD is legal, 20 also have broad statutes on their books allowing medical marijuana sales, and 10 have okayed pot for recreational use.
That aside, there are strict guidelines in place that regulate licensing, packaging, marketing, and distribution. For one thing, marketing your products as a medicine will trigger oversight by the FDA. Food products are less heavily regulated, and cosmetics receive almost no government scrutiny at all.
Labelling CBD and medical or recreational marijuana in any way that would make the product attractive to children is also a problem. That means no cutesy names or cartoon characters on the packaging. You also have to provide a complete ingredient list, including the strength, amount, and strain of marijuana or CBD used to manufacture your products.
Your website, landing pages, and social media posts cannot contain the words marijuana or CBD, and you can't market these products directly or post links to your CBD website in Google PPC advertising or on social media platforms.
Final Thoughts
Creating the foundation for a healthy online presence is an integral part of brand building. When you follow the above best practices for growing your marijuana eCommerce store, you'll experience the kind of steady, sustainable growth that supports long-term success.