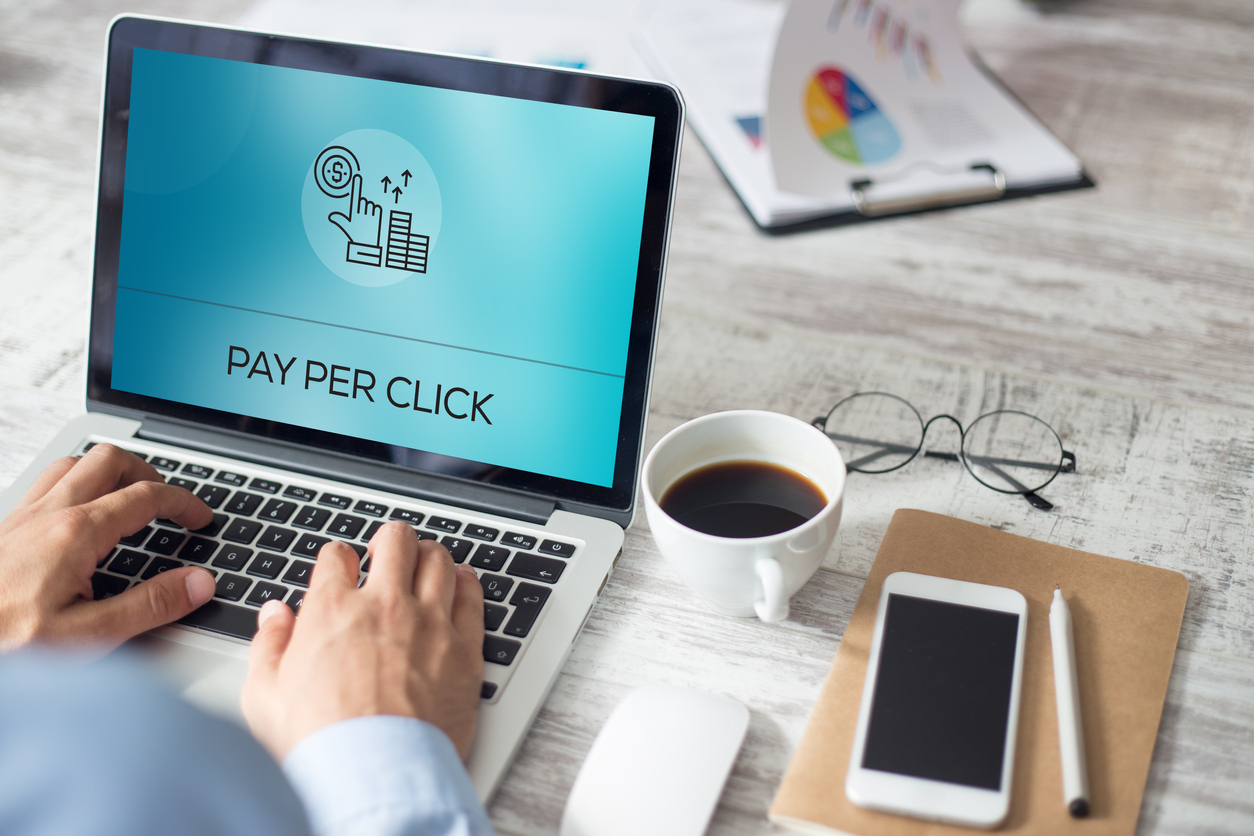 Are you making mistakes within your Pay-Per-Click advertising campaign? Luckily, if you are, it's fairly easy to pick out any errors and rectify your actions before you start to lose significant portions of your budget with little to show for it.
By possessing a little bit more awareness, alongside the investment of some time and effort, it's possible to adjust your PPC strategy and use your Google Ads budget to optimise your ROI (instead of your CPA) to attract better conversion opportunities.
Even the most renowned PPC marketers in the industry are only human, and mistakes are inevitable in such a dynamic and competitive industry. With this in mind, it could be worth investing a little bit of time to explore some of the most common pitfalls in the world of PPC. Hopefully, this short guide can aid you in building a campaign that takes your business from strength-to-strength.
Don't Focus Too Much on Cost-Per-Lead
One of the biggest pitfalls in the PPC landscape is the assumption that cost-per-lead (CPL) is a measure of success. While a strong CPL can certainly be a good thing for your campaign, it should be regarded as nothing more than an indicator of your performance.
The CPL fallacy stems from the fact that this metric can't guarantee profitability for businesses. In a marketing landscape that's driven by money, it can be entirely possible for a Google Ads campaign to operate with a high-quality score, great click-through-rates (CTR) and promising CPLs that aren't justifiably profitable enough to be sustained.
It's easy to remedy this trap, and the solution revolves around focusing on your bottom line above all else. If you're unable to build a relationship between your PPC campaign and your company's bottom line, then your endeavour is in serious trouble.
Here, it's important to build a consistent tracking operation that links your marketing efforts to that of your sales. Once you have a coherent system in place, you can carry out campaigns with more confidence in observing tangible results.
Avoid Generalising your Retargeting
One of the most common ways to misplace your budget occurs when you remarket lists that are ultimately way too general and poorly segmented. If you find yourself remarketing a brand ad that goes out to everybody who visited your website over the past three weeks, it's important to stop and ask yourself whether the criteria is too wide to have a positive effect on your conversion rates.
As an example, here are some targeting options you can select when advertising on Facebook.
These allow you to narrow down the audience and make sure that ads are served to relevant people.
Other advertising platforms, including Google Ads, Twitter and LinkedIn work on a similar principle.
But remember, always try to narrow down your targeting to target those who are ready to act.
Although some marketers can get drawn in by the temptation of scale, it's important to target users wisely. If your visitors navigated onto a specific page on your site, it's entirely logical to offer added value to readers for your retargeting strategy.
For example, if you're running a sportswear website and a visitor browsed your basketball equipment pages, rather than hitting them with a generalised marketing ad, look to cater specifically towards their interests.
Remember to Keep Caring for Your Campaign
Some marketers fall into the trap of setting up their PPC campaigns before leaving them out on the internet to fend for themselves.
Strong campaigns involve a coherent network of ad copy, landing pages, tracking opportunities and plenty more under-the-surface operations.
Negligence costs conversions – not to mention money. With this in mind, it's important to provide a little bit of aftercare for your campaigns in order to keep supporting them even after they're launched.
One of the most important jobs that a marketer can do is to monitor their campaign performance on a daily basis. It's vital that users look for fluctuations in their cost-per-click values, lower CTRs, poorly converting campaigns, unforeseen increases in clicks, search terms that appear to be irrelevant and keywords that are failing.
Google Analytics is a great platform that covers plenty of the metrics that can help you provide the right aftercare for your PPC campaigns.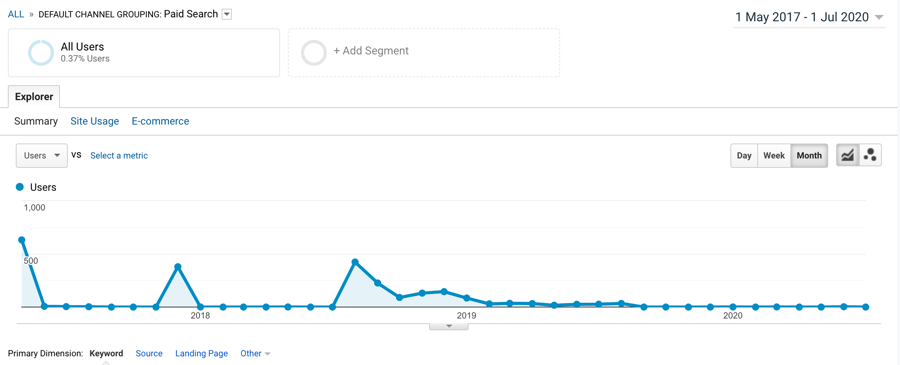 One thing that Google Analytics doesn't show is the quality of incoming traffic. This important aspect is left for marketers to figure out and is often neglected by many businesses.
If the majority of incoming traffic is generated by bots, you would want to know it.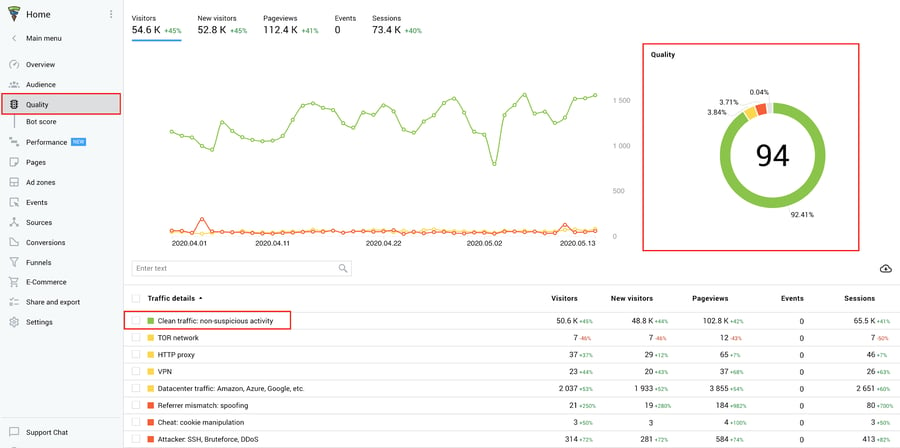 In such cases, Finteza comes in pretty useful. It automatically breaks down the traffic into categories like "Clean Traffic", "TOR Network", "Bot Traffic" and "Attackers", saving you a ton of time to go through all of this manually.
Stop Bidding on Too Many Keywords
In marketing, as in life, quantity never equates to quality. According to Disruptive Advertising, the average PPC campaign produces all of its sales through just 6% of its keywords.
Furthermore, the remaining 94% of useless campaign keywords account for as much as 76% of the average account's ad spend.
Luckily, this problem can be easily remedied by avoiding Google Ads' broad match feature. This is the default match item on the platform, but it can contribute to faltering budgets for campaigns.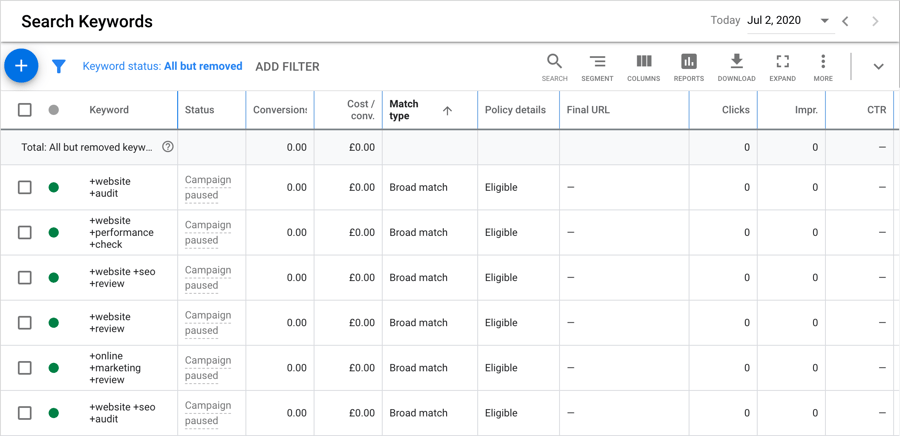 Although "Broad Match" keywords can work well with niche products and services, it may easily drain the budget for campaigns in more general niches.
Make sure to go through different keyword match types to see which may work the best for your specific case.
Take a moment for some introspection. Assess your overall campaign strategy and check to see how you can build conversions via high-intent keywords before indulging in more broad terms.
High-intent keywords refer to the exact terms people use when they're keen on viewing the products that you're selling. If your high-intent keywords aren't working for you, then more broad campaigns have little chance of helping either.
Sometimes, users are required to play a waiting game before assessing the quality of keywords. Let each of your keywords attain around 250 clicks before figuring out whether they're actually viable or not.
Give Your Exclusion List the Attention It Deserves
All PPC marketers know the importance of the role that exclusion lists play. However, sometimes this important facet of your campaign is left to get neglected.
Fundamentally, exclusion lists help customers to focus on attracting new customers, as opposed to those that have already been tempted onto your pages.
While retargeting is important, and existing customers need to feel valued too, it's vital that you adapt current campaigns to focus on acquiring fresh conversions.
With the healthy level of user data available, it's possible to leverage data-based exclusion alongside cookies-based exclusion in order to establish an effective conversion strategy.
Even if you're happy with your conversion rates, the PPC landscape never sits still for long, and with emerging trends and tools surfacing each day, it's important to ensure you're creating the best chance possible of attracting the right audiences onto your pages.
PPC Won't Single-Handedly Win Customers
Even if you've managed to craft the perfect PPC campaign with the right ad groups and enticing ad copy, the chances are all of your hard work will be undermined if you haven't got a website that's good enough to keep your prospective customers engaged.
Whenever somebody sees your PPC advert, they'll gain an idea of the sort of page they will be led to by making a click based on the headline and content that you've chosen to use. If these expectations aren't backed up by the landing page that they arrive on, the chances are that they'll bounce back from your site – meaning the cost of the click has been wasted.
Your landing page, and website as a whole, should complement the type of advertising you put out and the sort of keywords that you've chosen to rank for. Furthermore, your pages should be simple to navigate and focus on offering high quality content that's wholly informative and waffle-free. Be sure to check that your menus can allow users to navigate to every page on your website within three clicks, and remember to utilise effective call to actions to help maximise the number of customers who'll convert after making a click.
Google covets landing page relevancy as one of its most important factors when determining your website's quality, so it literally pays to dedicate a healthy amount of time and effort towards getting your website right before you even consider setting up a PPC campaign – or else you could find yourself throwing money away.
One of the most common traps that marketers and their businesses fall into when launching a PPC campaign stems from an eagerness to force through favourable results. This means that many companies try to run before they can walk when it comes to attracting clicks onto their websites.
Building a PPC campaign is a multi-faceted process that relies on a consistent message delivered both across campaigns and the website the ads direct to. It's vital to communicate regularly with your website developers to ensure that visitors won't feel duped with misinformation in return for a worthless click without a subsequent conversion.
You Don't Always Have to Shoot for The Stars
There's clearly plenty of benefits to ranking in first place among Google's search results, however, it's not always a good idea to focus your PPC campaign's resources on hitting the top rank for one search term.
Positioning yourself at the top of Google's results pages is a sure-fire way to attract more traffic, but there's no guarantee that the cost of hitting that coveted number one spot will be cost-effective for your business.
For many companies that are more conscious of their expenditures, it can often be far more beneficial to avoid the lure of shooting for the stars by ranking further down a results page at a significantly lower cost-per-click, which will result in a more profitable campaign as a result.
Resist the Temptation of Copycatting
Laziness and complacency are conversion killers. If you've ever seen two PPC ads for a similar topic that carry the same appearance and tone, it's probably because a marketer has chosen to join the crowd rather than stand out from it.
This approach is common, and as a result, it can be really hard for businesses to get noticed when they fundamentally sound and appear the same as everyone else.
Of course, it's a good idea to always keep an eye on your competitors to see what innovations they're bringing to campaigns, but it's imperative that your ads are distinguishable online.
Here, good marketers take a little bit of time for some introspection. It's vital that an understanding of what your business' personality looks like and how it behaves. PPC campaigns are great opportunities in forging recognisable identities for businesses and upholding your unique selling points.
Conclusion
Truth be told, PPC can be difficult to navigate successfully – and without losing money. But, with a little bit of brand identity and a nouse for the right keywords, your path away from the PPC pitfalls and towards supercharged conversions can truly begin.