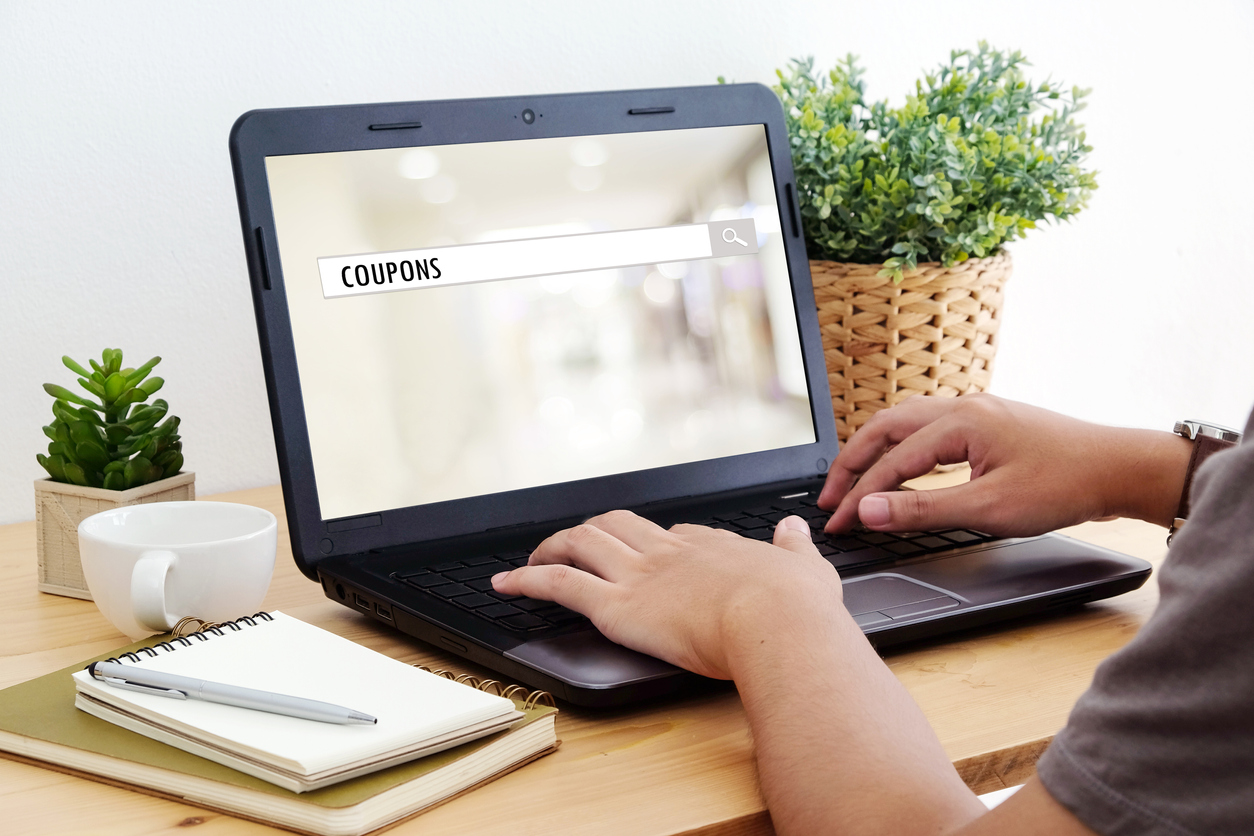 When it comes to making money at home, you have to consider one very important thing: solving someone else's problem. At the core of every lucrative business is the ability to problem solve for someone else (and, the bigger that group is, the more successful your business will be). While there are plenty of problems to be solved, they mostly revolve around two things: time and money. If you can help me save time or money (or both), then you're likely on to something big.
And that's exactly why coupon websites have become so successful in recent years.
Not only do these coupon-type of websites ensure people aren't spending more money than they have to, but they also put all of the best deals in one place, which means consumers don't have to scour the internet (or sign up for every possible mailing list) in order to stay up-to-date on when and where to save money.
According to recent reports, nearly 85% of all consumers in the United States use coupons when it's time to make a purchase. And, unlike the coupon clipping days of the past, these new coupons are digital, scanned via smart phone at checkout.
How Do Coupon & Deals Websites Make You Money?
While it's easy to see how coupon and deals websites can help consumers save money, it's not as clear how they can actually make you money by running one. Take one look at some of the most successful coupon websites, however, and you know instantly just how lucrative they can be. In order to create a successful coupon website, you need to select the right business model. Because, like any business, there are several different ways you can monetize these types of websites.
In general, coupon websites make money by receiving upwards of 20% for every deal purchased. (In some cases, websites take half of every deal purchased.) In addition to these straightforward commissions, other coupon websites are monetized through subscription-based memberships, paid advertisements, and other affiliate programs offered by big brands.
Top Examples of Successful Coupon & Deals Websites
One of the most well-known coupon websites in the world, Groupon has become the place to save time and money since it launched back in 2008. As one of the first "Daily Deal" websites, Groupon's business model revolved around getting enough people to want one product that the seller of the product could reduce the cost and still come out on top. In less than two years, Groupon had amassed revenue upwards of $1 billion.
Acquired by Groupon in 2016, LivingSocial specializes in helping people find things to do locally. Using a similar model to Groupon, LivingSocial managed to become so successful by finding a niche and digging in.
Creating a members-only coupon and deals website focusing on fashion and home goods, Zulily has become increasingly popular since its inception back in 2009. Helping its members experience the "joy of shopping", the company promises to beat any lower prices for products found online, as well as offers exclusive (and limited) deals for members ready to buy.
An old-school coupon website, Slickdeals was founded all the way back in 1999 by Van Trac in Las Vegas, Nevada. Today, Slickdeals still operates, showcasing featured deals in a variety of categories, ranging from groceries to electronics.
Based in Austin, Texas, Retailmenot is actually a collection of the best retail coupon websites online. In 2015, the brand reportedly generated nearly $250 million in revenue, offering coupons to stores like American Eagle, Costco, Target, Wayfair, and more.
10 Benefits of Creating a Coupons Website
Launching is affordable. Compared to other online business models, starting a coupon website costs next to nothing. To get started, the only requirement is having a website (which means a host, name, and theme). The coupon programs themselves are almost always free to join, which means you can choose the ones you want to promote without making any monetary investment.

Setting everything up is fast. There are a variety of website platforms you can use to start your coupon website. If you choose a simple blog platform, then you can literally be up and running in just a few hours. If you're looking to start a serious business, than setting up your site with an eCommerce platform is your best bet.

Running the site is easy. Unlike other online businesses, operating a coupon and deals website is incredibly flexible. You can work from anywhere and at anytime, making it the perfect side hustle or business model for stay-at-home parents.

Save money and make money. A lot of people who operate coupon websites not only enjoy making money (while they sleep), but they love that they can save money too. Deciding the niche you want your coupon website to be in should almost always be one that you're interested in, too.

Finding customers isn't difficult. Because there are few people out there not interested in saving time or money, getting people to your website isn't difficult, especially if you have a specific niche and clear offers.
How to Start Your Own Coupon Website in 10 Simple Steps
When people look at some of the competition in the coupon website world (like the five website examples given above), it's easy to feel overwhelmed. How could you ever compete with big players like that? Thankfully, there's plenty of opportunities! Because there's no shortage of people online, all it takes is a good idea and a clear offer to start attracting customers.
One of the best ways you can differentiate yourself from the big players in the coupon business industry is by focusing on your local market. While Groupon and LivingSocial can make some connections with local businesses in your area, they're not as nimble and knowledgeable as you are. Making your own connections with smaller, local businesses can help you attract customers tired of giving their business to franchises and big box stores.
In addition to focusing locally, you can also create a successful coupon website by getting super specific about the types of deals you're going to offer. Rather than trying to get all of the best deals in one place, look at just selecting deals in one niche. Not only will this help you stay focused, but it will attract consumers looking to make a purchase in this particular industry.
More than anything, creating a user-friendly website that's easy to navigate is the best way to ensure your website has success. You can attract all the customers you want to your website but if they can't find what they're looking for, then it's not likely you'll make any money at all.
Ready to get started? Here are ten simple steps to follow to get your coupon website up and running in as little time as possible.
1. Zero in on your offer.
Knowing specifically what you want to offer and the niche you want your website to target is the very first step to creating a successful coupon website. As you develop your specific offer, remember that there are several ways to monetize your website. Will you offer some coupons for free and restrict others behind a paid subscription, or perhaps make your entire site paid-members exclusive? Will all of your coupons be freely available, with your income being solely derived from affiliate commissions? Knowing how you're going to leverage coupons, daily deals, affiliates, and ads will help you start making money sooner rather than later.
2. Stay focused.
As you start to research the variety of coupon and daily deal offers you can get involved with, it's easy to become too opportunistic, wanting to offer anything and everything that sounds like it can make you money. Don't be tempted. The more you can cater to one specific audience, the more success you'll have in the long run.
3. Create your business.
Once it's clear what you're going to offer and how you're going to offer it, it's time to actually create a real business. In addition to creating a business name or entity, you'll want to look at the rules your city or state has about operating a business. What kind of documentation, licenses, and tax information do you need before you start making money online?
4. Set up your website.
Purchasing your website domain and finding a good host (almost always not the free hosting sites) is the first step. From there, you'll want to plan out your website, designing the features and layout so that it's easy for visitors to navigate and find what they're looking for.
If you utilize an eCommerce platform to create your coupon website, then all of these steps are built into one solution; find your domain, host your site, and build your custom website using integrated pre-designed themes all within the same software.
5. Hire professionals as needed.
While there are plenty of themes and templates you can use to create a professional looking website on your own, sometimes the options available may not fit your business model. If you're not familiar with creating websites or if the idea of sitting down and laying everything out is overwhelming, don't be afraid to invest some money in hiring web designers to do the work for you. Oftentimes, you can find freelancing professionals who are happy to do more personalized and affordable work than you would find when working with a large design company or firm.
6. Remember the details.
As you design and develop your website, don't overlook some of the fine-print details that will ensure you're doing business the right way. Things like privacy statements and policies (ones for businesses you're working with and customers making purchases) can prevent major, and costly, issues down the road.
7. Don't lose leads.
Getting people to your website is rarely free. And, oftentimes, visitors don't make a purchase the first time they land on your site. That's why creating a sign-up so that you capture leads is incredibly important. Not only does a sign-up keep you in touch with potential customers, but it allows you more opportunities to make sales down the road, too.
8. Make relationships official.
Once you have a website and business ready to go, you can start signing up for daily deal, referral, and coupon programs, as well as reaching out to local businesses directly. As you do, be sure you take a good look at terms of services so that you know exactly what you'll be getting — and giving — by developing this relationship. Below is a list of some of the best resources for getting started:
9. Keep your partners happy.
Once you start developing relationships with businesses, it's important to make sure you're keeping them happy. This means that you're following their terms of service and providing them with value, too.
10. Generate traffic.
Like any website, people aren't just going to show up out of the blue. In order to make sure your coupon and deals website makes money, you need to market your website. There are a lot of ways you can do this depending on your marketing budget. If you don't have the money to get lots of paid traffic to your site, look into leveraging social media platforms and influencers to help get the word out about your business.
Conclusion
Helping people save time and money is a sure-fire way to create a successful business. If you want to create a coupon website to do this, there are a lot of effective ways to get started. The key is to create value for your customers and the businesses you're working with, offering your deals in a concise, organized way and building a website that's fun and easy to navigate. And, if you already have an existing online store that doesn't sell savings, you can consider adding a daily deal feature to help your customers save money on your own products.