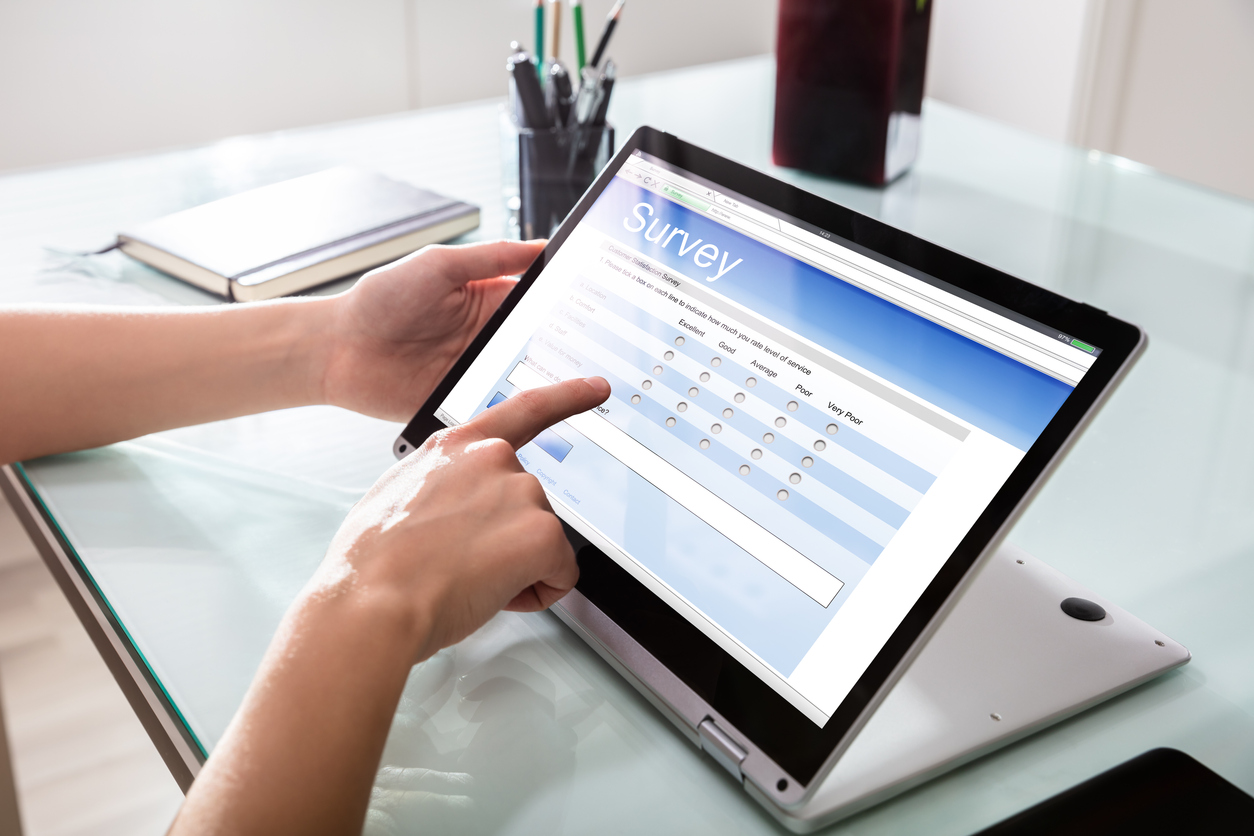 Have you ever wondered what your customers think about your business, products, or services? Gaining this valuable information isn't as simple as asking every customer one-by-one what they thought of your business – especially if you're running a larger eCommerce operation.
Not to mention, manually collecting customer feedback can result in a plethora of unorganized text and numbers that can be impossible to sift through and gain meaningful insight from. That's where customer feedback tools come in: these tools are automated, organized ways to collect quantifiable feedback that your entire team can use.
But why is customer feedback so important for your business? And how can you tell what makes a tool good for your specific customer satisfaction needs? Today, we'll dive into the basics of customer feedback and what each type of tool can do for your website.
Why is Customer Feedback Important?
Customer feedback is information provided by customers of your business regarding their experience with your company and/or it's products and services. This information is crucial for the success of your business because it shows you how satisfied your customers are, which helps you further develop and improve products, customer service, marketing, and all other aspects of your company.
Customers realize how important feedback is too; 52% of people around the world believe that companies need to take action on feedback provided by their customers.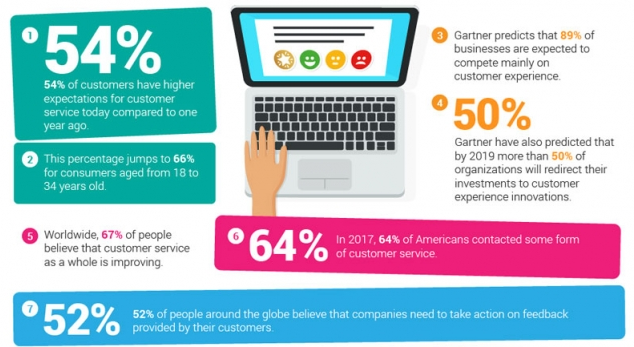 Source: Customer Thermometer
Customer feedback can also inform you of growth opportunities that you may not have realized otherwise. With this data, you can understand what you're doing right and wrong, and how you can change to improve the customer experience overall.
When to Collect Customer Feedback
Customer feedback can be beneficial in different ways depending on when you ask for it. There are a few crucial parts in the customer journey that can give you the most actionable and beneficial information: following an action, after cart abandonment, and when a customer stops buying.
Following an Action
If you want fresh feedback, then try asking for feedback immediately after a customer takes a desired action on your website. This can be after a purchase is made, a newsletter sign up is submitted, an order is received, or a visitor lands on your site. When you ask for feedback immediately after an action takes place, their experience is still fresh in their mind, making your feedback more genuine and, in some instances, more accurate.
Additionally, by immediately contacting your customer for feedback at this state of the customer journey, you can aid in cementing a long-term relationship with that customer. This shows that you care enough about the customer's business that you immediately want to know how they felt about their experience.
After Cart Abandonment
One of the most prevalent plagues to online businesses is cart abandonment rates; average online shopping cart abandonment rates are reaching 74%. That means that over half of all your potential customers that reach your checkout page choose to click away, rather than complete their purchase.
To better understand why customers may be leaving your website at this crucial point of the checkout process, you can add a customer feedback area that helps encourage customers to inform you of their thoughts. This can let you know if there's any issues with the stages of checkout, or any reasons as to why they have decided against purchasing.
Aside from asking for this feedback on your site, you can also send out an email to your potential customer that's triggered when they abandon their cart. This email can ask for their feedback and why they decided against purchasing the product or service, which can both give you insight into any flaws in the process and try to bring them back to your store.
When Customers Stop Buying
Did you know that it's cheaper and more profitable to retain a customer than acquire a new one? According to Invesp, existing customers are 50% more likely to try new products and spend 31% more than new customers. With this in mind, it's clearly a smart practice to work towards keeping customers and understand why customers leave your business.
You can reach out to customers who haven't shopped at your store over a certain period of time and ask them for feedback. This can be done with a simple email that asks them what they'd like to see from your business, and what might bring them back to shopping with you. In all likeliness, you may find out about an issue that customers are having with your business that you weren't aware of beforehand. This new information can help you take action and bring back more than just that one customer you reached out to.
Types of Customer Feedback Tools
There are several ways that you can gain customer feedback from your audience, with each one providing their own benefits and drawbacks depending on what you're looking for.
Survey Tools
One of the most traditional ways to collect customer feedback is the survey, which typically includes a list of questions that ask the customer about their experience. Customers can rate their experience on a sliding scale, answer multiple choice questions, enter in their demographic information, and type in written responses. Survey tools usually allow you to create and customize surveys that can either be placed directly on your site or sent out to customers via email.
Online Review Tools
Online reviews are some of the most powerful forms of customer feedback because they can directly influence purchasing behavior; in fact, according to Podium, 93% of consumers say that online reviews do influence their purchasing decisions.
By enabling customers to leave reviews, you can work to build trust among your audience while adding genuine social proof content to your site that may influence other potential customers to buy. Online reviews can also help your Google rating by adding star rating schema to your SERP listing, enticing more searchers to click on your site.
However, the main drawback of online review tools is the public nature of all reviews, whether positive or negative. While some tools allow you to filter out reviews, it's important to maintain transparency and trust among your audience.
Voice-of-the-Customer Tools
Voice-of-the-Customer tools are designed to allow customers to communicate their experience directly to you as they use your site and shop. These tools are perfect for collecting immediate, top-of-mind feedback that tells you what customers are experiencing as they experience it.
Typically, these tools can take the form of feedback tabs or pop-ups on your website that ask for your customer's opinions as they shop. However, these tools can also include live chat, which is a real-time interactive version of customer communication that intersects feedback and support.
User Testing Tools
User testing tools can measure customer interactions on your site to better understand how a user is experiencing every page. These tools collect feedback regarding the entire user experience, including everything from your website to your products and services, and even your company as a whole.
With user testing tools, you can take that valuable information and interpret it to identify the areas of most interest, any areas that are being ignored, and how easy it is for users to browse. However, keep in mind that the data you collect from these tools is limited to the number of page views you can record within that software.
Community Feedback Tools
Community feedback tools, as the name suggests, utilize community-based channels, like forums within your website or on social media channels, to collect publicly available feedback from your customers. Feedback like this is public and can be commented on by visitors, which can evolve into dynamic discussions on that topic.
These tools are perfect for allowing customers to provide suggestions on products or services or for notifying your business of potential issues. Community feedback tools are some of the most transparent tools with the highest amount of social effect within your community. For this reason, they're popular among newer companies looking to foster that type of environment among their audience.
Best Customer Feedback Tools for Your Website
Now that you understand how many types of customer feedback tools are available, let's go through some of the best platforms and programs that you can add to your website.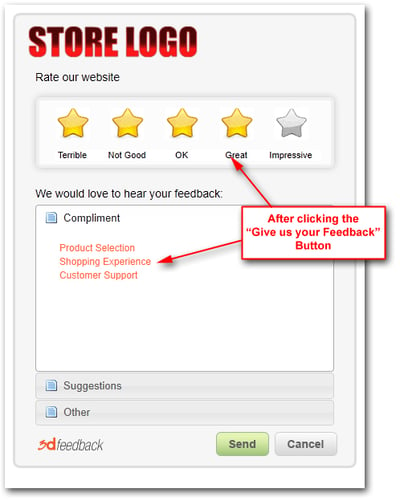 Exclusive to Shift4Shop stores, 3dfeedback is a voice-of-the-customer tool that's designed to collect valuable feedback from your customers as they shop on your online store. The 3dfeedback module places a small tab on the edge of your website that invites customers to rate your store, leave comments, or provide suggestions in a customizable pop-up form. You can customize your form by adding a logo, choosing the fields in the form, or adding the ability to log contact information.
Pricing: The 3dfeedback module is included free with Shift4Shop's unlimited End-to-End eCommerce plan available to merchants using Shift4 payment processing.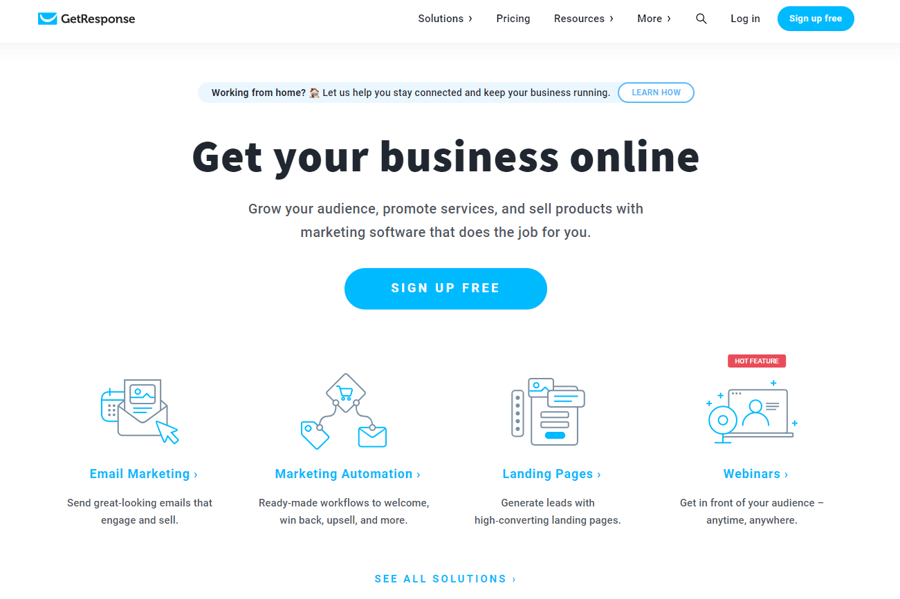 GetResponse is extremely comprehensive software that includes a variety of ways to interact with your customers. This covers everything from email marketing, landing pages, conversion funnels, and webinars. But, most importantly, GetResponse gives you access to customer feedback tools like custom forms and surveys, automated emails, and data tracking. The platform also integrates with over 120 other platforms including Shift4Shop via the GetResponse app.
Pricing: Plans range from $15/month to $99/month depending on the plan you choose (with 1,000 customers). However, that price can increase based on how large your customer list is, so the highest you might spend may reach $580/month.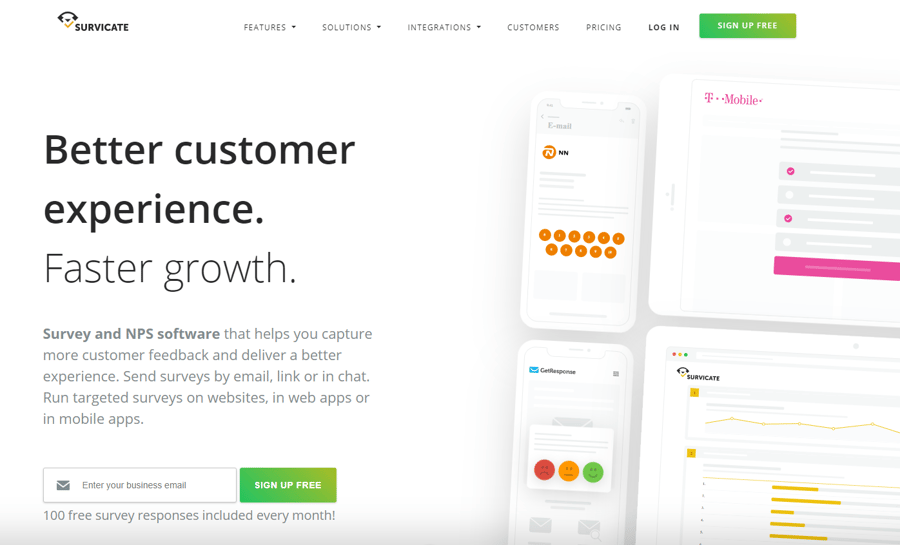 Survicate is a survey tool that allows you to trigger targeted surveys on different areas of your site. You can also use Survicate to send out questionnaires via email to different customers or choose from a library of predefined surveys. In regards to integration, Survicate supports most popular platforms, including analytics software like Google Analytics, CRM platforms like HubSpot, and eCommerce platforms like Shift4Shop.
Pricing: Survicate offers a free forever plan, the Essential plan for $99/month, the Professional plan for $199/month, the Ultimate plan for $499/month, and a custom plan with custom pricing and features. You can save 50% on each plan if you choose to pay yearly.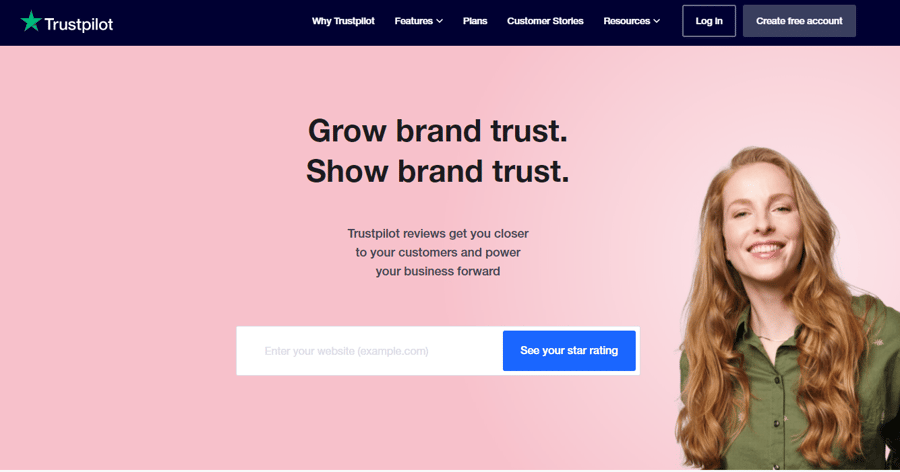 Trustpilot is an online review tool that you can utilize to collect reviews from your customers on your business, products, and services. With Trustpilot, you can upload your customer mailing list and send out an email inviting them all to write a review. You can also automate these review invitation emails to trigger under specific situations, such as immediately after a purchase is made.
Trustpilot enables you to monitor how many reviews you've collected and allows you to respond to them within their system. Their software also automatically feeds your reviews to search engines to improve your SEO visibility and PPC ads. Integration is simple using the Trustpilot API, which can integrate with email campaigns, CRM platforms, and more.
Pricing: You can choose to use their free plan or pay $199/month for their Standard plan. However, keep in mind that you only have the option to pay annually, meaning the Standard plan will cost $2,388 per year. For Enterprise plans, you'll need to contact Trustpilot for custom pricing.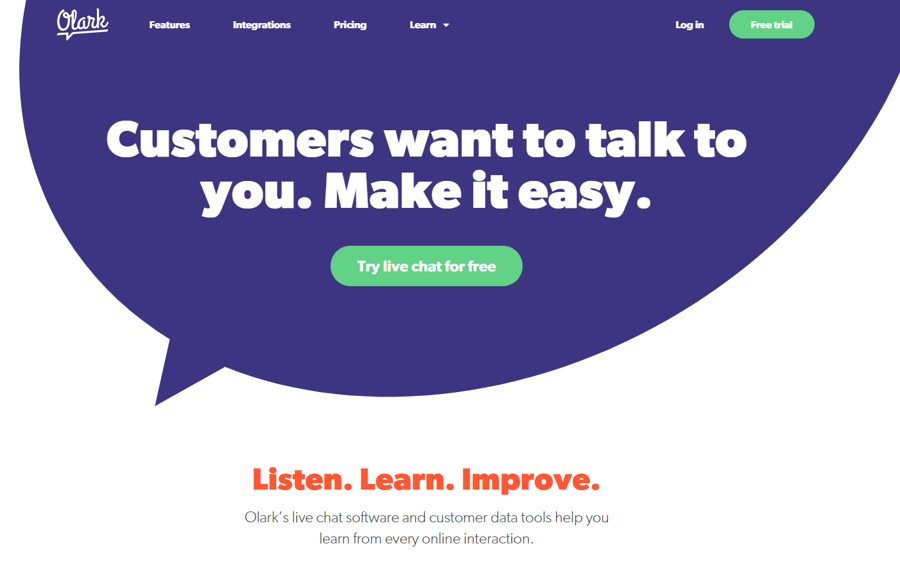 Olark is an advanced live chat program, which provides you with actionable and genuine customer feedback. Using Olark, you can add live chat functionality to your online store in the form of a chat box.
This live chat box can be customized to match your site's branding and include the type of forms you'd like your customers to fill out. You can also automate responses (like greetings), send custom messages based on visitor behavior, automatically route chats to the right department for resolution, customize the visibility of your chat box across the site, and more. Analytics are also available for monitoring chat volume, customer satisfaction, and agent activity in real-time.
Olark supports integrations with a variety of platforms, including Salesforce, Google Analytics, Mailchimp and Shift4Shop.
Pricing: Plans are divided by the length of time you'd like to agree to pay for. The monthly plan is $19/month, the 1-year plan is $15/month, and the 2-year plan is $12/month. Keep in mind that this pricing is all based on 1 agent; you will need to pay extra for every additional agent.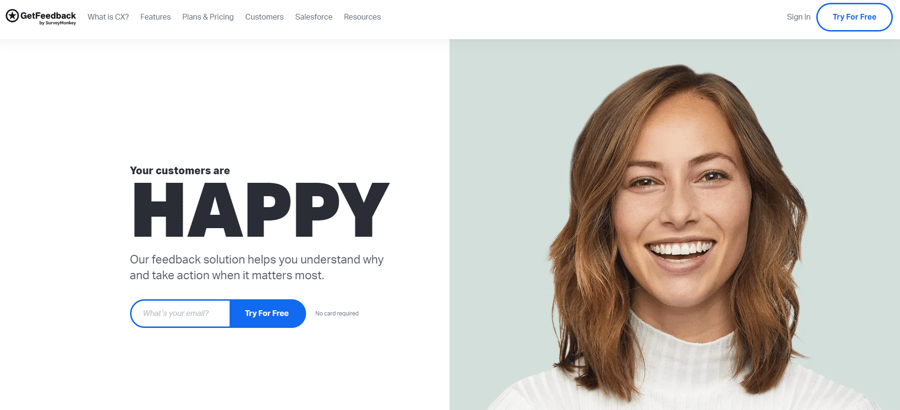 GetFeedback is a multi-faceted customer feedback program that offers several ways to gain feedback from your audience. With GetFeedback, you can build mobile-friendly surveys that are personalized based on customer data, collect top-of-mind feedback across multiple channels (email, SMS, and communities), and more. You can also analyze the feedback data you've collected to understand how customers feel about your business, as well as determine trends and opportunities for improvement. GetFeedback also allows you to have certain actions trigger when negative customer experiences are received. Currently, GetFeedback is owned by SurveyMonkey (which we will cover later in this list) and directly integrates with Salesforce, with other integrations supported.
Pricing: GetFeedback's pricing structure is entirely custom to your business, with two plans available: the Corporate plan and the Salesforce plan (which is for those using Salesforce).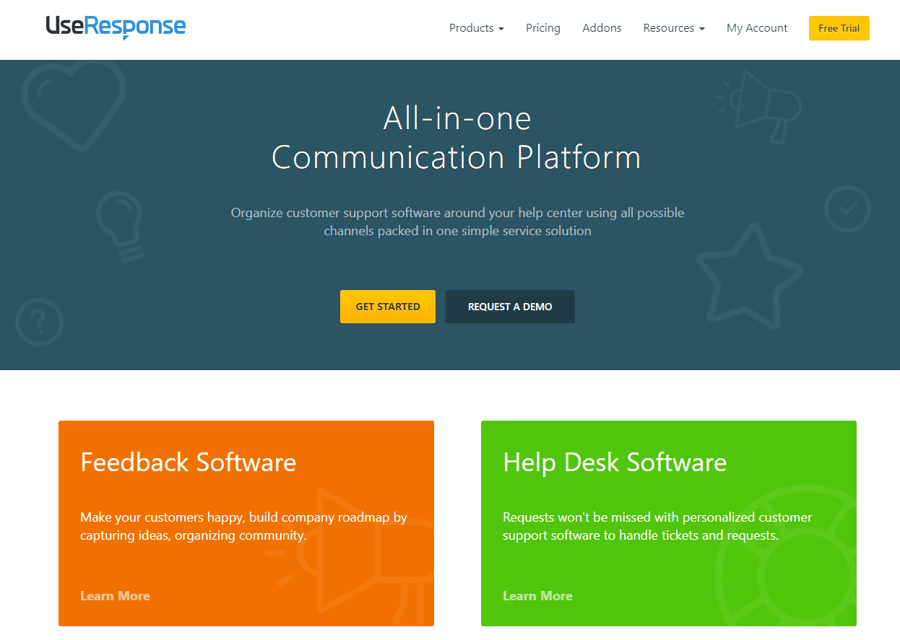 UseResponse combines Voice of the Customer and Community Feedback tools to create an all-in-one feedback software. Customers can leave feedback on your site, which will then be added to a public feedback forum, from which customers and employees can collaborate and interact to solve problems.
With UseResponse, customers can request features and interact on a forum that can be turned into FAQ's while employees can track problems with your products or services. You can also design a feedback widget for customers to fill out on your site, as well as utilize analytics and trends to keep track of your team is utilizing that feedback.
UseResponse integrates with several platforms, including Jira, Confluence, Slack, Salesforce, HubSpot, Zapier and more.
Pricing: You can choose between the Basic Cloud plan for $49/month or the Enterprise Cloud plan for $149/month.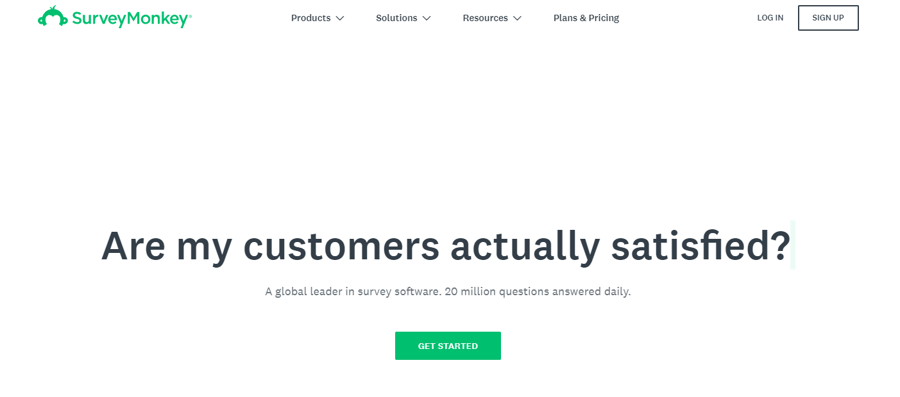 One of the most popular survey tools among businesses and individuals, SurveyMonkey is an advanced program that gives you the ability to create custom surveys to send out to customers. You can add about 15 different types of questions to your custom surveys, including open comments, multiple choice questions, and more. SurveyMonkey has various survey types to build. Including customer satisfaction, customer loyalty, event surveys, opinion polls, concept testing, and much more.
Pricing: SurveyMonkey offers three types of plans depending on your team size and features desired: $32/month for Individual Advantage, $25/month for Team Advantage, and $75/month for Team Premier.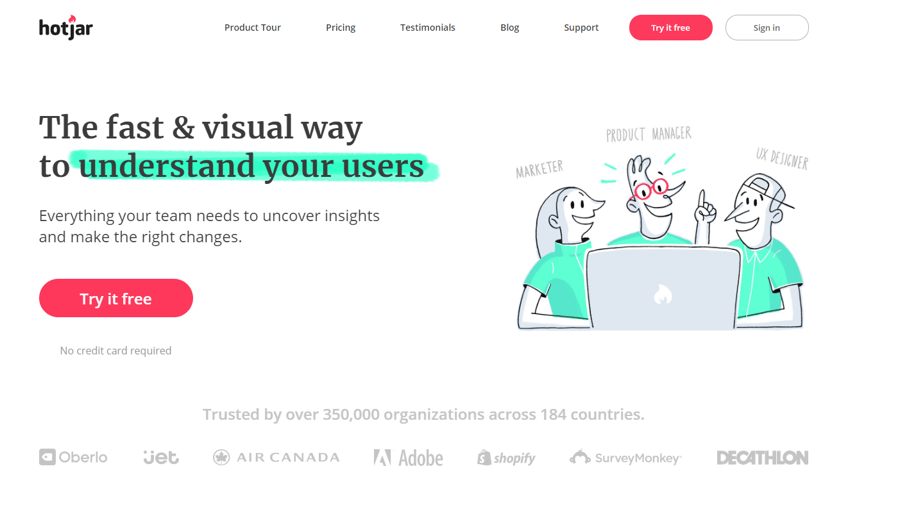 Hotjar's software combines various UX tools with an emphasis on user testing, mainly to understand how customers are behaving on your website in a visual way. Using Hotjar, you can record user behavior with heatmaps, track sessions with recording, and monitor conversion funnels.
You can also garner feedback using on-site satisfaction ratings, custom surveys, and feedback polls. Surveys can be automatically triggered based on a factor of your choice, including the time that's passed on the site, when a visitor shows exit intent, when a page is first loaded, when the user scrolls down, and more.
Pricing: For personal projects, you can use the Basic plan that's free forever or the Plus plan that's $29/month. For businesses, you can pay from $89/month to $989/month depending on daily pageviews. For agencies, you'll need to contact Hotjar for custom pricing.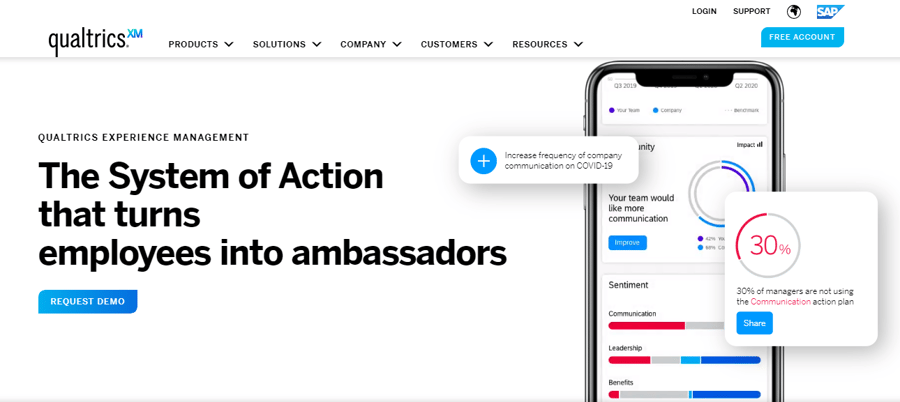 One of the most extensive platforms for analyzing and improving the customer experience, Qualtrics combines many types of customer feedback tools, including Voice of the Customer, surveys, user testing, customer reviews, and more.
Qualtrics' stand-out feature is the ability to create detailed surveys, which is used frequently by both businesses and academic institutions. The included experience management platform gives you several ways to collect customer data, including website & mobile feedback, email surveys, social feedback, and more. Team members can also view results in Trend vs. Target charts.
Pricing: Qualtrics pricing is custom based on your business needs, so you will need to contact their sales team for figures.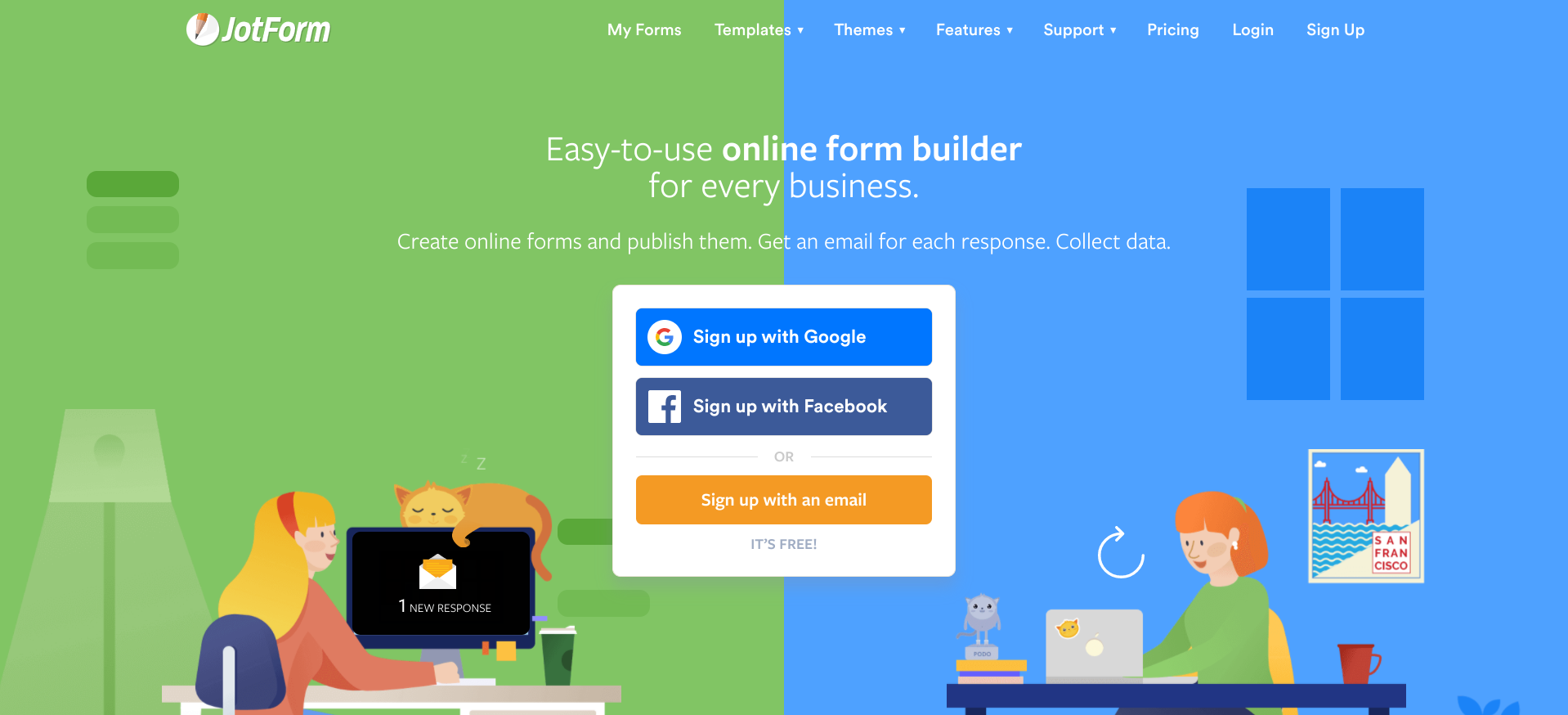 JotForm Survey Maker is one of the most comprehensive feedback tools available. You can collect feedback from your customers with ease and create advanced surveys and online forms with the conditional logic JotForm offers. Creating a survey using JotForm requires zero coding skills as you can create your survey by dragging and dropping.
Creating a survey can happen in minutes since JotForm offers 300+ ready-made feedback forms if you'd like to use or customize an existing template. You can also create well-designed, professional-looking reports out of your survey responses in seconds, automatically, which is perfect for sharing and analyzing the survey results.
Pricing: JotForm is free for everyone to use. If you'd like to increase your limits, the pricing packages are $24 for Bronze, $29 for Silver, and $79 for Gold. You can also contact their Enterprise team for a customized plan for your company.

SurveySparrow is an experience management software that helps you collect customer feedback with ease. Using this tool, you can create highly engaging and conversational surveys that can be used across all customer touchpoints to boost retention.
From ready-to-use templates to no-code chatbots, SurveySparrow comes with a variety of built-in features. You can also automate recurring surveys and send them out across multiple channels at once.
Since it also doubles as an NPS platform right out of the box, you can decode customer sentiments, uncover loyalty insights, and drive growth. Other notable features include ticket management, seamless integrations, an executive dashboard for at-glance visibility, insightful analytical reports, and excellent customer support.
Pricing: SurveySparrow offers a free plan with limited features, responses, and email shares for personal use. They also offer a 14-day free trial for their paid plans. The Basic plan starts at $19/month billed annually. Premium, Business, and Enterprise plans are priced at $29/month, $99/month, and $499/month billed annually, respectively.
Wrapping Up
Using the right customer feedback tool for your online business, you can collect valuable insight that helps your business grow and improve. By listening to your customers and taking action where necessary, you not only will help your products become better, but you'll also let your customers know that you care about their experience and thoughts regarding your brand. This gives your business a type of genuine customer loyalty that can serve your business well for years to come.