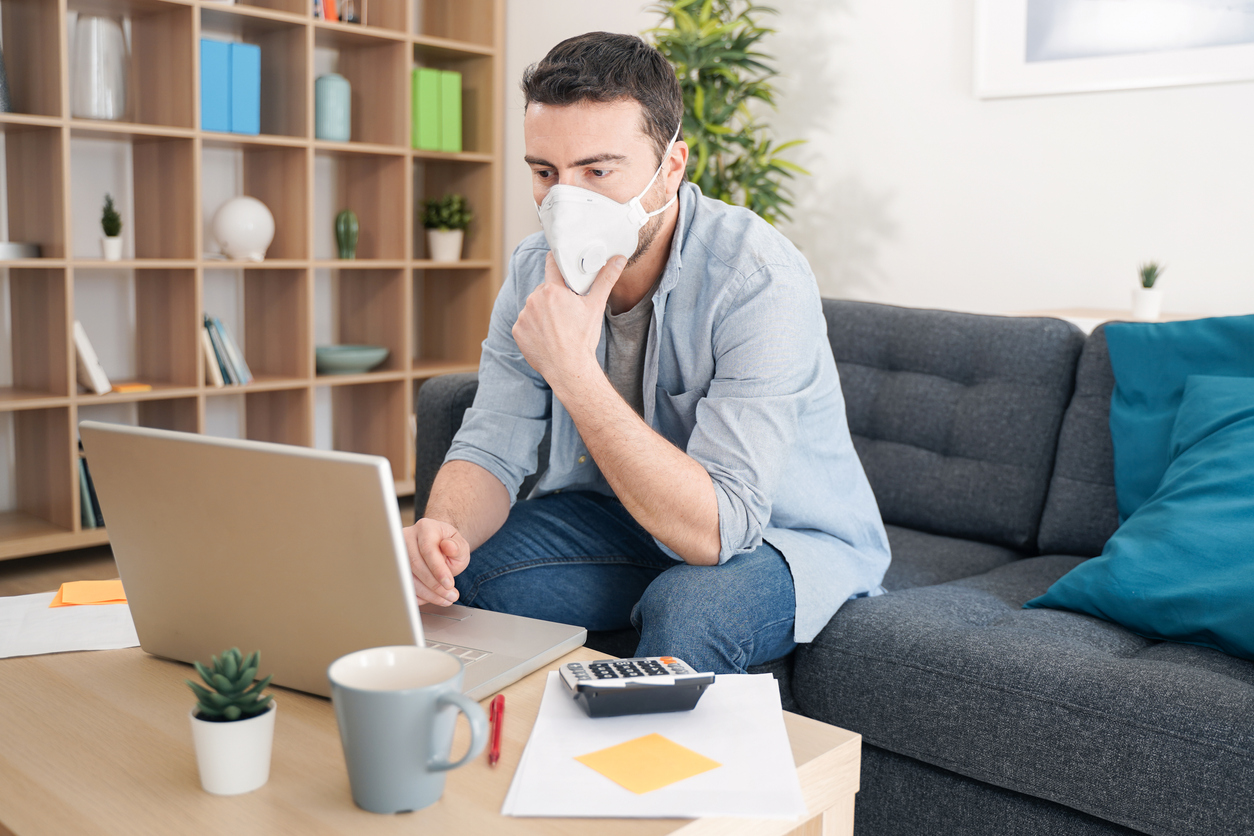 One of the most defining features of 2020 was the the COVID-19 pandemic. This global event has affected individuals in every walk of life, overwhelming our medical facilities, forcing businesses to shut down, and compelling organizations to move to virtual meetings. While our scientists are putting in the hard work to contain this virus, entrepreneurs everywhere are leveraging ecommerce tools and resources to start home-based businesses and make the best of their time in lockdown.
In this article, we will explore the most profitable dropshipping opportunities available, whether you are an eCommerce guru, an experienced dropshipper, or a start-up that is looking to generate an alternative source of income.
The COVID-19 Pandemic: What has changed in business?
Our world has changed fast in the past few months. With restrictions and lockdown rules implemented in several countries, customers no longer have the luxury of stepping out of their homes to buy stuff like before. The long-term sustainability of several traditional businesses is in jeopardy. However, amidst the doom and gloom, the COVID-19 pandemic has caused new products and trends to become popular that no one would have imagined previously.
To navigate the best products to dropship at the moment, it's a good idea to utilize a dropshipping research tool. One such tool, called FindNiche has a searchable database of more than 2 million products and in-depth analytic tools and has reviewed the top 3 product niches over the past 30 days. This database provides you with pre-informed knowledge on how best to maximize all these hot-selling products to scale up your income stream.
Note: It's important that, when selling dropshipped products related to the pandemic, you do not engage in price-gouging, which is at the very least frowned upon and at most illegal. The act of price-gouging is charging customers a much higher price for a product than what is typical, simply because the products is a necessity in high demand.
Top 4 Niches of the Past 30 Days
The face mask has been a best-selling product in the dropshipping business since the coronavirus outbreak, no doubt. At this point, the face mask has become a necessity. However, the most demanded products in the last month have shown a shift in demand. Before you go ahead and invest time and money on products with dwindling demand, you should pause and take a look at our last 30 days of niche research.
Without further ado, here comes our top 4 trending dropshipping products of the past 30 days.
1. Home Workout & Fitness
As people continue staying at home, and gyms are unavoidably shut down, it's natural that some people (especially the fitness enthusiasts) are gradually embracing home workout. Then it should not surprise you that "pull fitness rope" comes in our top hot-selling products during the past 30 days.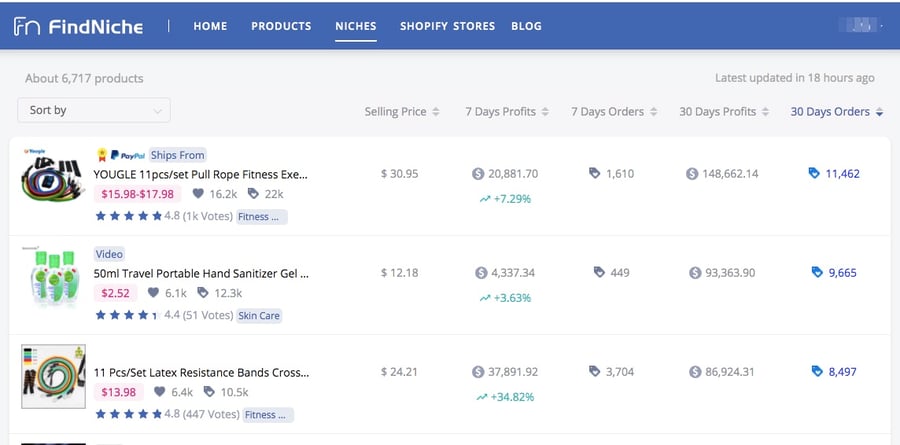 Pull Fitness Rope
The top one is "pull fitness rope." The reason is not farfetched; with restricted movement comes the urge to eat more, sleep more, and exercise less. According to research, the risk of obesity in adults is 3.9 times higher in physically inactive adolescents against physically active ones. That shows that many of your prospects and potential customers are already noticing that they have started adding extra pounds.
Since virtually everyone is aware of the health risks associated with being out of shape, it's no surprise that "pull fitness rope" is taking the lead. From the images attached above, you can see that at $30.95 per set, the "YOUGLE Pull Rope Fitness Exercise" product has an incredible 11,462 orders within 30 days. It has generated a massive revenue of $148,662.14 over that same period. The curve is still going upward, which means that this product shows no signs of slowing down.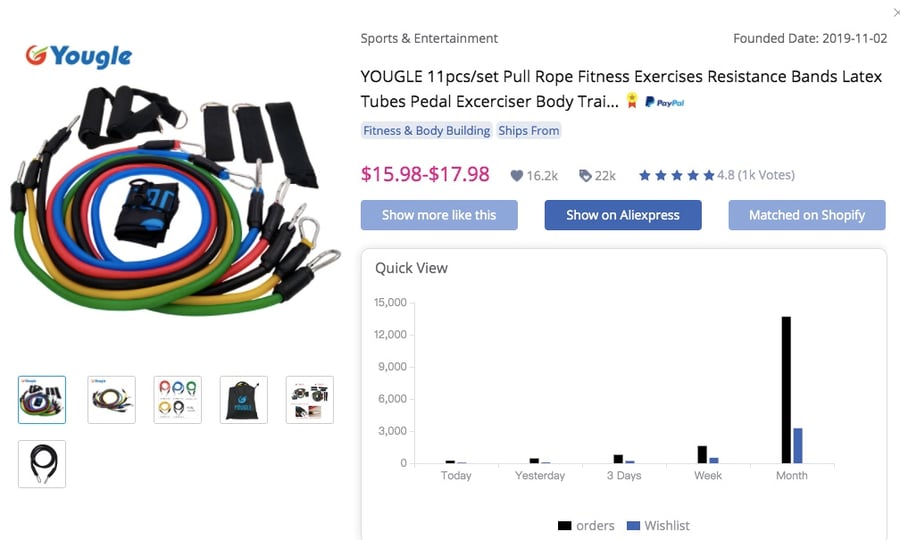 Latex Resistance Bands
One product that has been generating a lot of buzz on marketplaces and dropshipping platforms is the "Latex Resistance Band." The home workout tool aids seamless stretching and helps anyone looking to keep fit to achieve a perfect body shape without needing any complicated gym equipment. With one set having a bundle selling price of $24.21, this home workout device has garnered 8,497 orders and an income of $86,924.31 over the past 30 days.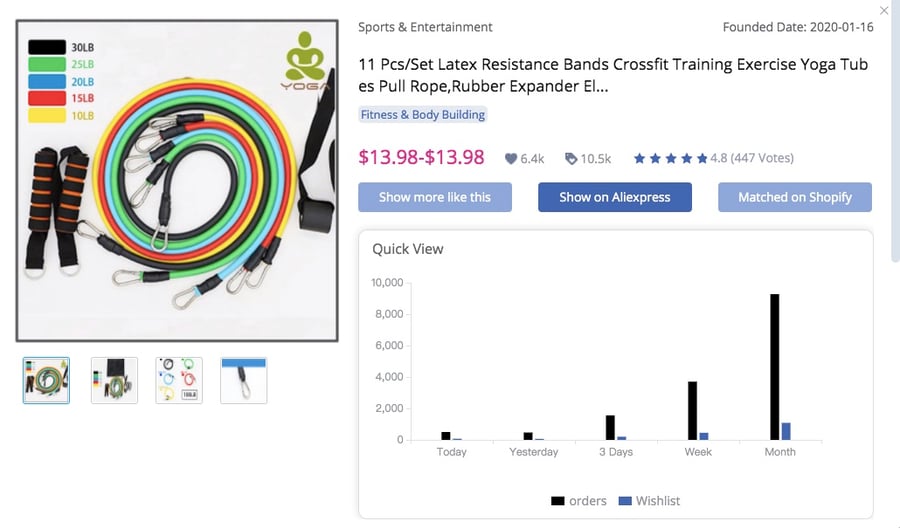 2. Home Necessities
Despite the apparent decline in demand for facial masks, cleaning products like soap and hand sanitizer is expected to see an upsurge in the number of consumers for obvious reasons. From our FindNiche's report, home supplies such as antibacterial hand gel, paper soap, and many more keep gaining popularity in terms of demand.
Portable Hand Sanitizer
Hand sanitizer as a consumable product is easily exhaustible. In an urge to curtail the spread of COVID-19, the CDC has suggested that every home to wash their hands as frequently as possible. Hand sanitizer is a quick, portable way to clean your hands, making it a must-have for those who have to go outside; as a result, it has become one of our top three best-selling products.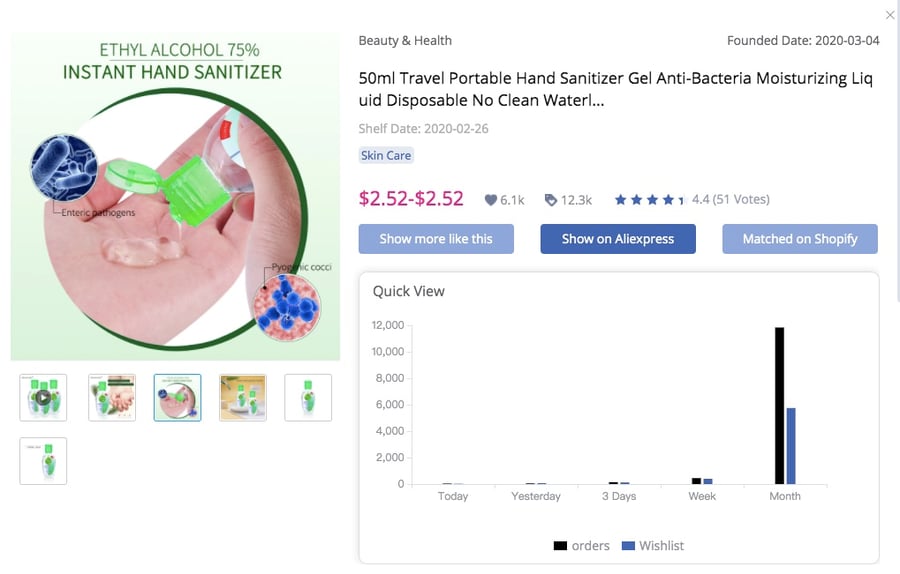 If you look at the listing above, you will notice that "Travel Portable Hand Sanitizer" sits conveniently at the second spot with 9,665 units sold within the past 30 days. It also boasts a reasonable revenue of $93,363.90 in 30 days despite with a selling price of $12.18/50ml.

Paper Soap

Paper soap has also gained popularity. In the absence of hand sanitizer, soap is a highly effective alternative. Paper soap is handy and portable, being a dehydrated sheet of soap that behaves just like regular soap when activated with water. Around six thousand orders have been completed in the last couple of weeks. This indicates that, apart from face masks, these essential home supplies are potentially profitable. business for dropshippers amidst the ongoing COVID-19 pandemic.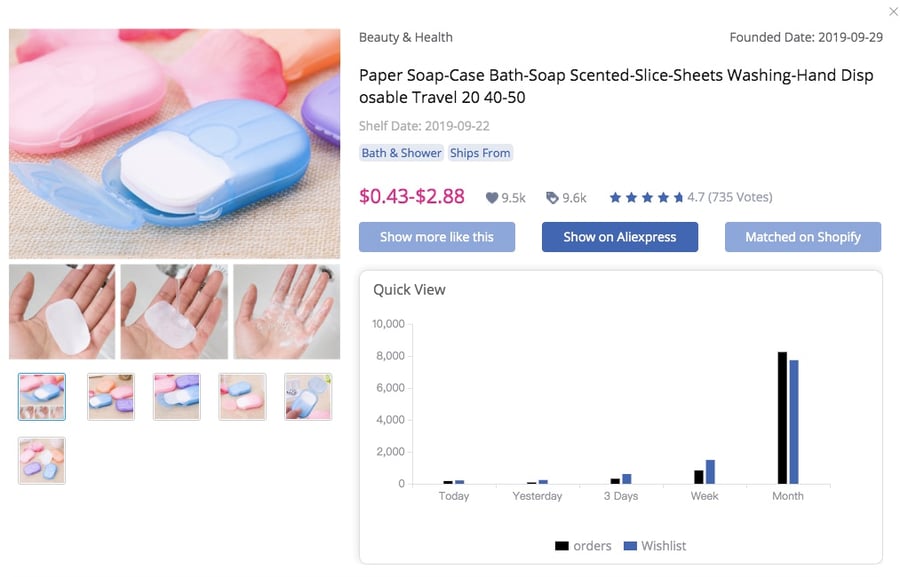 3. Creative & DIY Products
Who says boredom is always bad? A lot of people have started utilizing their creative side to make some handcrafted creations, which could make for good product on eCommerce marketplaces like Etsy. As a dropshipper, a perfect niche idea for this moment is to supply consumers with creativity products such as cotton fabric, watercolor paint, and other items that promote do-it-yourself projects.
Cotton-Fabric Printed Cloth for Needlework DIY
Let's look at the image below. Here you can see that "cotton-fabric printed cloth" has gained traction as a DIY item required for patchwork and needlework. It has generated over 7,000 orders within a month while the total number of shoppers that show interest in buying it stands at 16,000.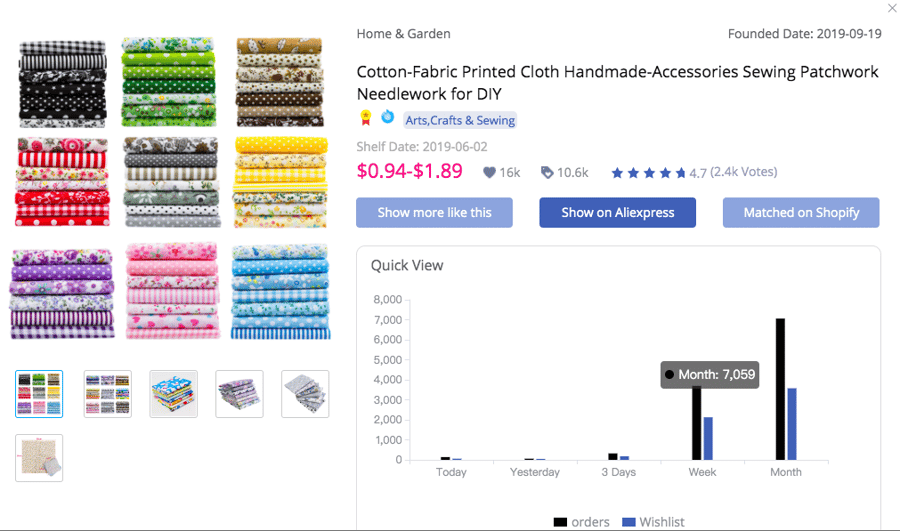 Solid Watercolor Paint Set
Another DIY item gaining interest is watercolor. With more time on their hands, people are being compelled to acquire artistic skills like painting and other forms of artistry.


Thus, there's an upsurge in demand for these materials across the globe. For instance, the item above has achieved $26,027.64 in 30 days with a selling price of $30.14 per item.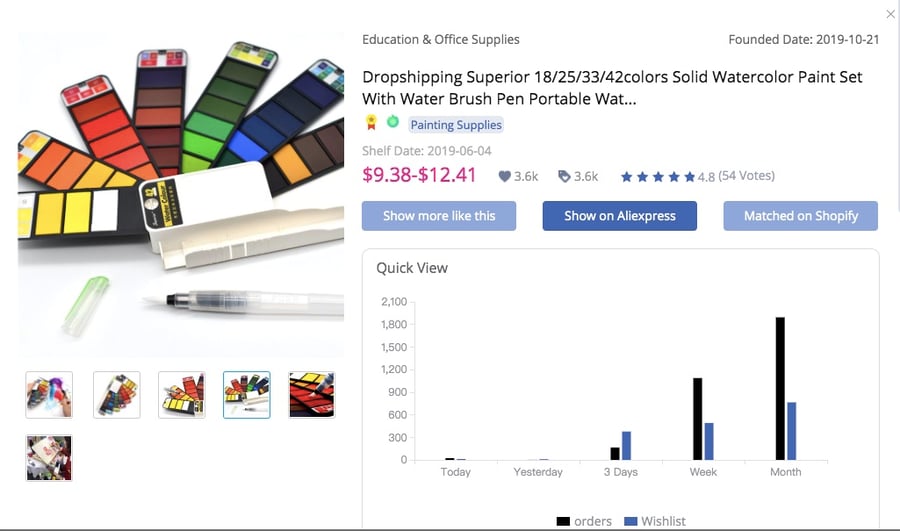 4. Eye Makeup Products
People already utilize makeup to look gorgeous in everyday life. However, since we have been confined to the use of facial masks for an extended period of time, eye makeup has become more important than any other form of makeup on the face. This occurrence has led to a rise in the demand for eye makeup kits and related beauty products.
Eyebrow Pencils
If you are looking for a hot-selling product in the beauty niche, then you might want to consider the eyebrow pencil. It's a multifunctional beauty item that can be used in many ways for eye makeup. As the name suggests, most users will find it handy when drawing out or enhancing eyebrows. With 10.5k units sold and still counting in 30 days, you should consider this item when doing product research.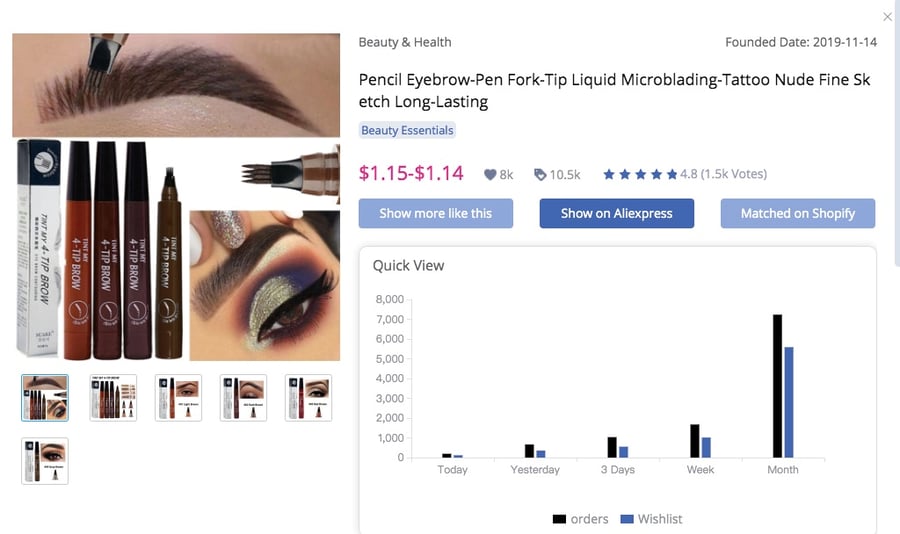 3D False Mink Eyelashes
How about 3D false mink eyelashes? This is another beauty item that has earned its reputation as one of the most popular products to dropship. FindNiche research on this product shows that over 3,000 "3D False Mink Eyelashes" have been sold in just 30 days. Lockdown or not, many makeup enthusiasts care about enhancing their eyelashes while wearing face masks, and it's your responsibility as a proactive dropshipper to help them meet their needs.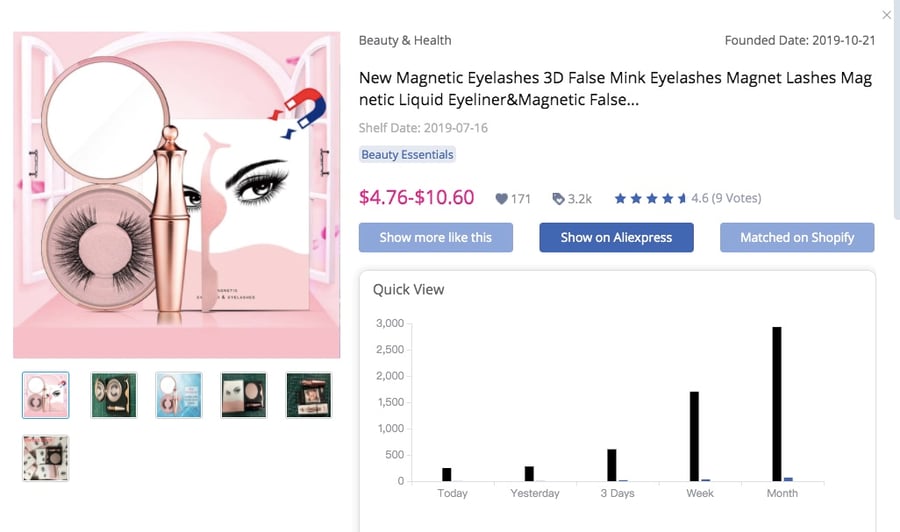 Researching Dropshipping Niches
Now that we've established the fact that face masks are not the only popular item to dropship at the moment, you might be wondering what you stand to benefit from using dropshipping niche analytic tools.
Let's briefly examine the top features that any research tool must have to dig into the dropshipping business.
AliExpress Analytics
AlieExpress remains one of the largest online marketplaces globally. The China-based company has billions of products listed on the site with thousands of individual suppliers. Due to the dynamic nature of online business and a continuous shift in market demand, it's practically impossible to perform niche research manually. Your hunt for profitable niches will be futile if you are relying on guesswork. So, your dropshipping research tool will need to automate product analysis on AliExpress.

Consequently, FindNiche was designed with dropshippers in mind. It has an analytic ability to curate AliExpress and sectionalize product demand based on their performance, number of orders, the potential return on investments, and several indices. FindNiche can not only help you to spot a profitable niche, but it will also ensure that you gain insight into the ever-changing market demand, helping you decide whether to invest in a particular product or not.
Niche Research
Finding a profitable niche will always be a pain for dropshippers. However, it's smart enough to use a dropshipping tool's niche research to find out a competitive edge of promising and profitable niches. For example, FindNiche's tool can analyze hundreds of niches within a short amount of time and fish out the most profitable ones. Sometimes, it will surprise you that the less popular niches might generate more profit than the trendier ones.

Analysis of Top eCommerce Stores
No matter how unpopular your niche may be, there's a huge probability that there are competitors out there to contend with. Some boast bigger resources and experience to blow start-ups and SME's out of the water. However, businesses that built their store using Shopify do expose key information that can be used to your advantage. With FindNiche's ability to analyze top Shopify stores, you can gain insight from your competitors' product sales and ad performances. Also, you can compare your store with theirs to spot what you get right or wrong.

Conclusion
The success and failure of your dropshipping business at this current moment lie on how you keep up with every emerging trend. Do you still want to follow the others that have hit rock bottom utilizing guesswork with product demand? To stay ahead of the curve, you can gain analytic intelligence and insight by leveraging tools like FindNiche.