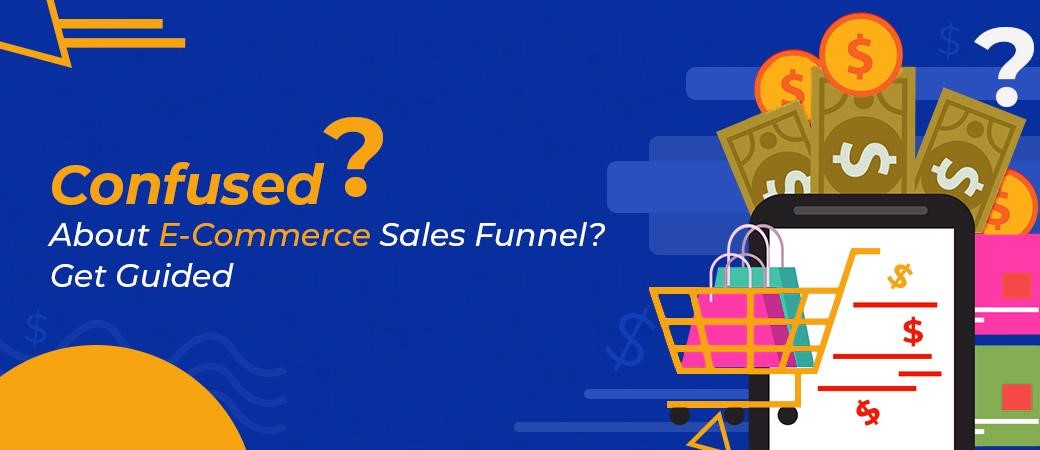 Whether your business is online or offline, you want visiting people to convert into buyers and spend lots of cash so you can make a profit. Now, this is natural. But, what if they don't? In the case of e-business, people hunt for information online and sometimes they don't act in the way you want. Here, you need a sales funnel, which eventually converts them into genuine customers and brings more business to you. If you're not aware of the functionality of an e-commerce sales funnel, here in this article you will get to know:
What is an E-Commerce Sales Funnel?
A sales funnel is actually a route of how targeted and prospective traffic of customers came to finally purchase a product or service. It starts with the awareness of the brand and ends with converting into the purchase. Every business has its own sales funnel depending upon the navigation of business; however, the staging of this funnel system remains the same for all. Each stage pushes your qualified prospects to the next level and drops out those who aren't fit to your offer.
What are the Stages of a Sales Funnel?
Here is the breakdown of a sales funnel in stages:
Awareness of Brand
Making Interest
Convert into Purchasing
Delighting and Feedback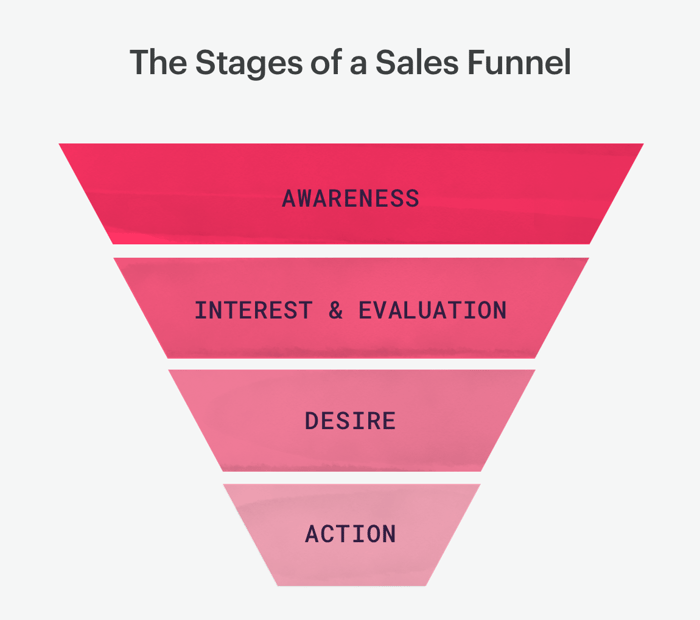 Awareness of Brands
This is the very first stage where customers get to know about your product and brand. In this stage, it is important to make them aware of exactly what you do and what your product is for. There are many ways to spread awareness and attract customers to your business like content marketing, digital advertising, social media, affiliate partnership, etc.
Your e-commerce business needs to figure out the channels with which you can directly influence the target customer leads. For example, if your targeted customers are largely present on Facebook, you can run Facebook ads or write sponsored content that would attract them. Another good way to increase awareness, if your target audience is on video consuming sites, is to promote your products on YouTube.
Nowadays, there is no shortage of ways to advertise online; you can be using Google AdWords or running an ad campaign on different social media platforms. At the top of the funnel, your prospects want to be educated and be guided through the topic that matters to them.
Making of Interest
In this stage of the funnel, you are making the customers actually interested in your product once they're aware of your service. You are no longer to deal with nameless or faceless clients. These customers or clients came to your online store through organic and paid channels, so you opt for the advertising.
Consumers on this step of the sales stages are now considering to buy your products/ services. Plus, they are ready with questions to inquire about what's bothering them in great detail and want to know the possible solutions. These questions might be:
"How do I purchase the product?"
"What are the specifications of the product?"
"How is this service beneficial to me?"
At this point, you need to evaluate the problems faced by your buyers and give quick solutions as soon as possible. For example, if they are still in doubt to buy the product, you need to clear it at the very first instance and to convert them by convincing them to purchase at the next level.
Convert into Purchasing
Now, this is an important stage of your sales funnel where your genuine buyers finally purchase the product. People came to your online business aware of your product and its functionality and are ready to buy and use. Your customer knows exactly what their needs, specific problems, and budget are before they go ahead to buy that product.
Your attracted visitors when they make up their mind to go ahead with the final purchase and take action, your responsibility is to not hassle them while adding the product into the cart and completing transactions. Maybe they will add the product into a wish list; in that case, you need to save the prospect at this stage of making the decision from possible interruptions and give them a gentle nudge to complete the purchase.
At this stage, your e-commerce site must be fully navigational and easy-going so that your buyer must not be hindered at any step and change their mind to not purchase. Your payment gateways must be fully functional and meet the criteria your customer wants to use for shopping. For example, if your customer wants to pay through a credit/debit card, your site must hold the specific payment method so that he/ she will not face any difficulty while paying for the product.
Delighting and Feedback
At this point, your checkout page is the last thing remaining between your customer and you. So, with this, you can turn them into loyal customers or lose them forever. Here you need to make your customer feel special for shopping on your site by sending a "Thank you" message.
To turn customers from your first buyer into loyal customer, you can use the power of free shipping and discounting or extra beneficial coupons for their next purchase. It increases your value and revenue, as well as makes your brand more popular through word of mouth.
After the final checkout, you can send an email or text message asking for feedback of your service or shopping experience with your e-commerce site. This will help you to improve your services and find complications with your product.
How to Build an Effective Sales Funnel?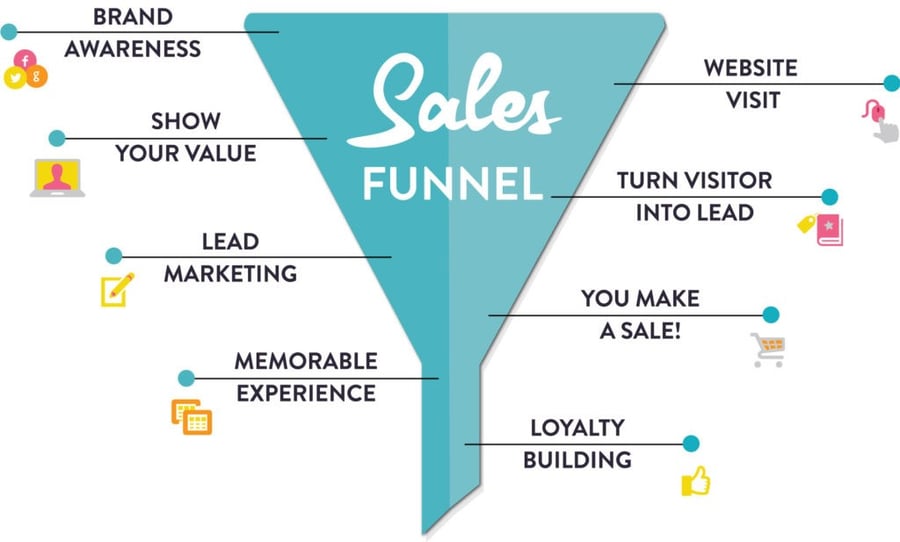 Here are the steps that will help you to identify the wants and needs of your customers and build an effective sales funnel. Let's look at them:
Identify your Customers
Identifying your customers is the first goal to driving interested prospects into your sales funnel. Google Analytics can help you in this to map out your customers and their journey using reports and their flows. You can ask yourself a few questions to better understand your targeted buyers and their wishes, such as:
"What are the pain points of your target audience?"
"What are their interests and expectations?"
"What referring domains bring in the most traffic?"
Mapping out your Sales Funnel
At this point, all stages mentioned above in the sales funnel come into practical mode. Chart out an effective plan to usher consumers through the sales funnel. After that, you can list out the type of content you want to serve up at each funnel stage. Here, you need to keep in mind that not every single buyer is the same. People want to learn about your product or service in order to buy it. So, you need to develop a strategy to drive traffic on your e-commerce site.
Defining Points to Turn a Visitor into Buyer
Once you successfully get the attention of your customers, the second step is to engage them with your brand. Here, your goal is to develop a strategy to create buyer interest with the benefits of your products. You need to show interested parties how your product will be beneficial for them. This will engage your customers with your products and they will move ahead to actually buying the product.
What are the important KPIs for your Sales Funnel?
KPI stands for key performance indicators, through which you can track and improve your sales funnel continuously. There are dozens of metrics that you can use, but here we will discuss a few of the most important ones:
Traffic: Your careful attention is needed for your traffic. For example, if your target traffic is coming from search, put more effort and time into content creation and SEO. You can generate traffic from different sources like emails, social media and more. But, you need to grow this traffic over time.
Conversion Rate: Tracking your conversion rate across all products will help you get to know how well your target traffic receives your offers. It could help you to convince your buyers to sign up for purchasing, or create a discount to incentivize the sale.
Bounce Rate: Your bounce rate suggests improvements for your website. You must know how to reduce bounce rate by offering more incentives to visit other pages. Plus, you can also work to improve your e-commerce web development with the best developers.
Sales: If your sales increase over time, your business grows, and if it goes down, your business eventually falls. So, overall sales can be another metric to track your e-commerce site performance.
Cart Abandonment: In this metric, you will get to know how many people put items into their cart and then navigate away without purchasing them. If the rate of cart abandonment is high, then there are some difficulties with the checkout process.
Conclusion
Your e-commerce sales funnel can be complicated if you are new to your e-business, but not in the case of business holders who are well experienced to tackle the things. A sales funnel is used to understand the needs of genuine customers who are actually beneficial for business and can be turned into loyal customers. On another note, we can say this is the journey of how your sales start with first creating awareness, then convincing to buy, and finally making the sale on your product to earn a profit. This should all be optimized so that, in the end, your sales funnel outperforms your competitors.