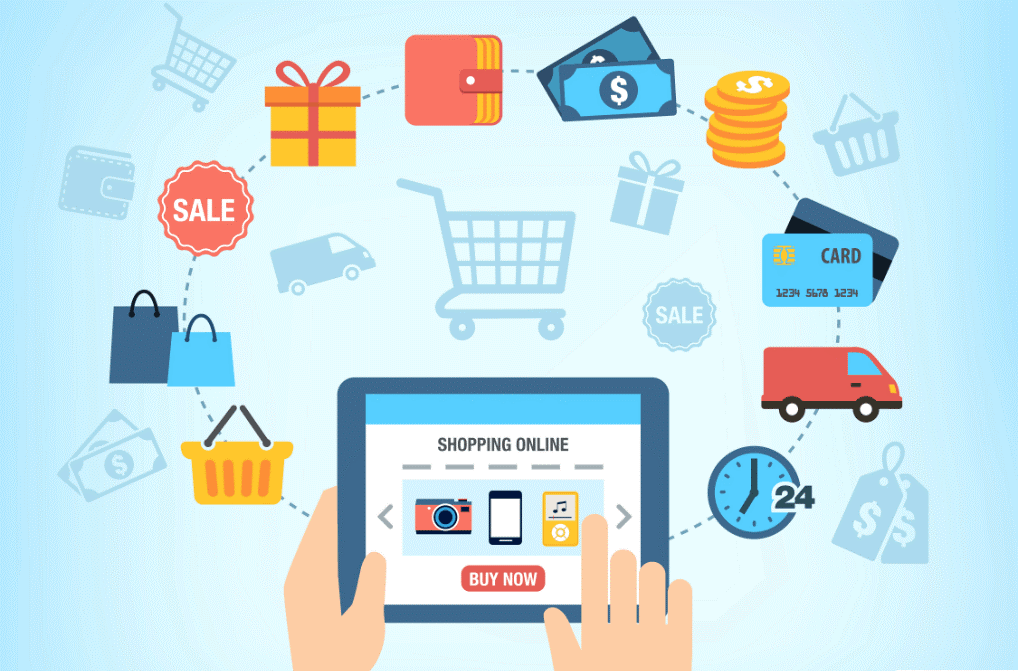 For all businesses professionals, it's necessary to be aware of the current market conditions. Many things are drastically disrupting the business arena, and one of those things is the rise of an eCommerce industry.
You must have heard of how Amazon is a threat to many businesses. Some of the top companies that went out of the market due to the rise of eCommerce are SEARS, American Apparel, Toys "R" Us, and so on. If you're unaware of what's going on in an eCommerce industry, your business might take a huge blow.
However, being aware and preparing for a change can help you reap a lot of benefits from changing trends in the eCommerce industry. In addition to being aware of the current growth statistics, using tools like HubSpot CRM can help you understand your customers better.
Tools like this let you track your customers' behavior and maintain a healthy relationship with them. You can enjoy the fantastic features of HubSpot for free and upgrade to a paid plan after the growth of your business.
What eCommerce statistics might affect my business?
You cannot sit back and relax in the world of information technology, whether you're a startup or a huge corporation. Here are some of the biggest eCommerce growth statistics that may affect your business:
1. The Massive Growth of the eCommerce Market
Ecommerce is not only about selling physical products online. It deals with all kinds of trade that can be done over the internet.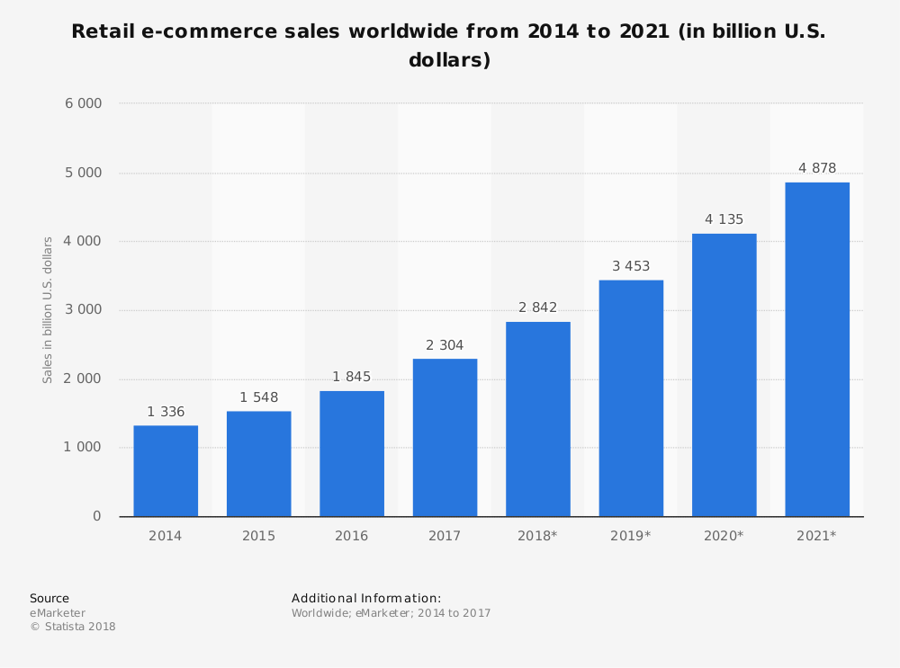 Image Source: Statista
We've already seen Uber disrupting taxi industry, Amazon making waves in grocery by buying Whole Foods Market, and so on. Ecommerce is expected to disrupt even more industries in upcoming time.
2. Borderless Trading Will Be More Common
There's no need for you to travel to different countries to capture the market. According to a recent study, over 50% of eCommerce buyers purchase products online from overseas retailers. All you need is an online presence and good logistics for entering different markets.
However, you need to advertise your store online via different platforms like Facebook, Pinterest, Instagram, Google, and so on to reach out to a diverse market. Some markets are growing at a tremendous rate in Asia, Africa, and other regions; it's also still cheaper to advertise your products in those regions.
3. 65% of Consumers Compare Products Online While They're in a Physical Store
People like purchasing products for the best possible price. While shopping online, you can compare products from various sites and grab the best deal. However, it's not possible when you're buying in a physical store.
One study shows that around 65% of consumers compare products on their smartphone to get the best possible deal, even when they're shopping in a physical store. No one wants to overpay for a product.
If you want to make a sale in the world of extreme competition, you must create a price comparison and offer the product at a reasonable price. Overpricing a product will only harm your business.
4. 58% of Online Shoppers Consider eCommerce Sites as 24/7 Shops
A study found that 58% of online shoppers choose to purchase products online because of their 24/7 service. You can access any major product from across the world in a matter of seconds. Many online consumers love this aspect of eCommerce stores.
However, it has also risen the expectations of shoppers. They expect online store owners to be available all the time to answer their queries. Many products need personal guidance to lead the customers to a purchase stage. To meet customer expectations, you must either have a notice that tells customers when to expect an answer or outsource your customer service to remote workers from different time zones.
The online shoppers at times abandon their cart when they don't get expected customer service from companies. Access to an online store for 24 hours provides both opportunities and challenges for business people.
5. The Share of Global eCommerce Sales Is Drifting Away From the United States
In 2015, the United States of America covered over 22% of total eCommerce sales in the world. However, this figure has now declined to less than 18%, and it is expected to further fall in the future according to Statista.
The United States' share of eCommerce sales is now drifting to other nations, mainly China. One must consider the growing percentage of eCommerce sales in Asian countries, Africa, and other regions when coming up with a business strategy. Furthermore, the internet penetration rate is also increasing at a rapid pace in other parts of the world besides Europe and the USA. There are considerable opportunities in the growing economy due to the increase in this rate.
6. The Gap Between B2B Online Sales Will Increase Its Gap With B2C Online Sales
We've seen the size of B2C eCommerce markets in the earlier part of this article. If you think that's huge, you'll be shocked to know the size of the B2B market size. According to Statista, the current market size of B2B eCommerce market is now $10.5 trillion.
A recent Landscape report predicts the United States B2B eCommerce market will grow from $1.1 trillion to $1.8 trillion by 2023. B2B eCommerce marketplaces are rapidly growing on sites like Alibaba, Amazon Business, Joor, and so on. Furthermore, B2B customers only get in touch with reps after reaching 57% of the buying process. This shows that most of them are self-guided.
7. Product Preference Is Different in Diverse Regions
The size of the eCommerce market isn't just growing in the US; it's also growing in different regions. However, product preference depends on the area. It's essential to know about the market before making a strategy. One Nielsen report does an excellent job by breaking down the famous eCommerce market in different regions.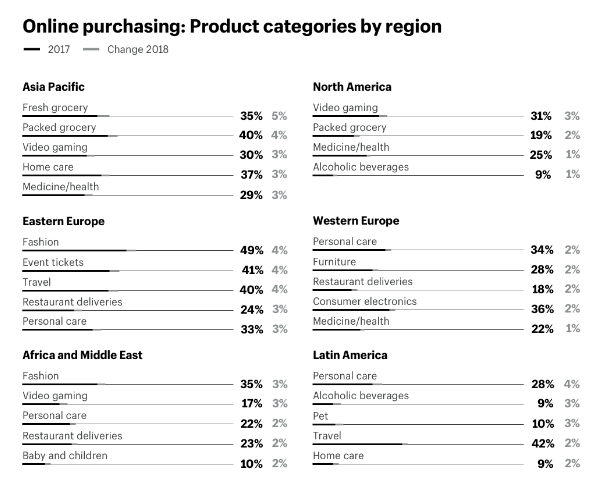 Image Source: Nielsen
By looking at the trends above, you can come up with a plan that will best serve the specific region you're targeting.
8. The Local Currency, Language, and Payment Preference Matters
A study published by the Common Sense Advisory found that over 70% of online shoppers want to purchase a product in their native language. There is now software that lets you customize your site, according to the region.
Another increasingly important factor is local currency preference. One study found that over 90% of shoppers prefer purchasing a product in their local currency, rather than USD. Furthermore, 3 out of 4 shoppers are likely to abandon their cart if there is no option to pay with their region's currency.
Regarding payment preference, it's common for Americans to pay with their credit card or PayPal. However, it's not the same in all regions. Here is a Nielsen report that breaks down payment preference in various areas.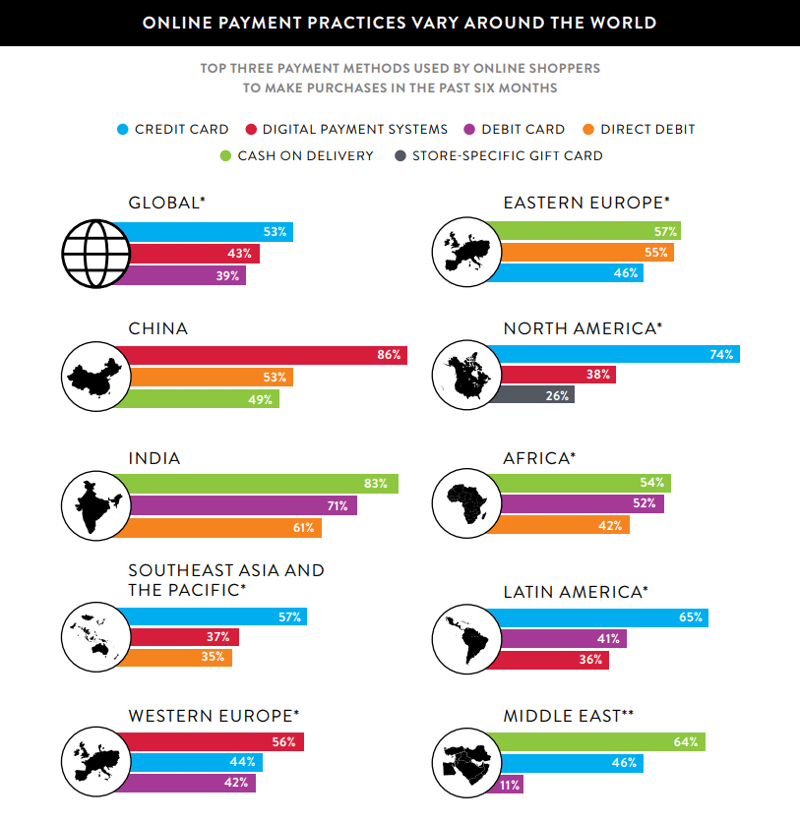 9. Massive Growth in Purchases from Smartphones
One cannot garner success in their eCommerce businesses without ramping up their mobile marketing strategies. The volume of sales via mobile is increasing tremendously. As of now, over 55% of the total eCommerce transactions made were via mobile phones. There is no turning back, especially considering mobile technologies are getting better every single year.
One of the reasons for the increase in mobile phone preference for shopping is due to its convenience. You can shop anytime and anywhere. Furthermore, you can do everything on the mobile phone, including price comparison and so on. There is also the added advantage of mobile apps, which make shopping easier, along with providing a better user experience.
A study found that the conversion rate in smartphones is 30% higher in comparison to the conversion rate on desktop. It shows that emphasizing mobile sales and advertisements can increase your revenue and return on investment in ads.
There is a negative impact on businesses if they fail to offer a seamless mobile experience to their users. First, the visitors are not going to be happy with your store and will ruin your brand image. Secondly, one study shows that over 50% of users who had a bad mobile experience are not likely to re-engage with the site in the future.
10. An Increasing Impact of Social Media on Online Shopping
People are spending a lot of time on various social media platforms, getting to see a lot of insights from their friends about their day-to-day casual and shopping experiences. People rely a lot on their networks and recommendations in regards to brand selection.
One study found that social shopping is getting more common in growing markets, like Southeast Asia. It revealed that social shopping accounts for 30% of the total online sales in that region and it's expected to further increase in the future.
Wrapping it Up
One must consider plenty of trends and information before coming up with an effective strategy. You will waste your time and money if you do not update your plan.
You should consider the statistics that I've mentioned to create a strategy that caters to the needs of the market. Using an eCommerce software can help make a lot of this easier for you. I hope you've gained some valuable information from this article. Are there any statistics that I'm missing here? Let us know your thoughts below.