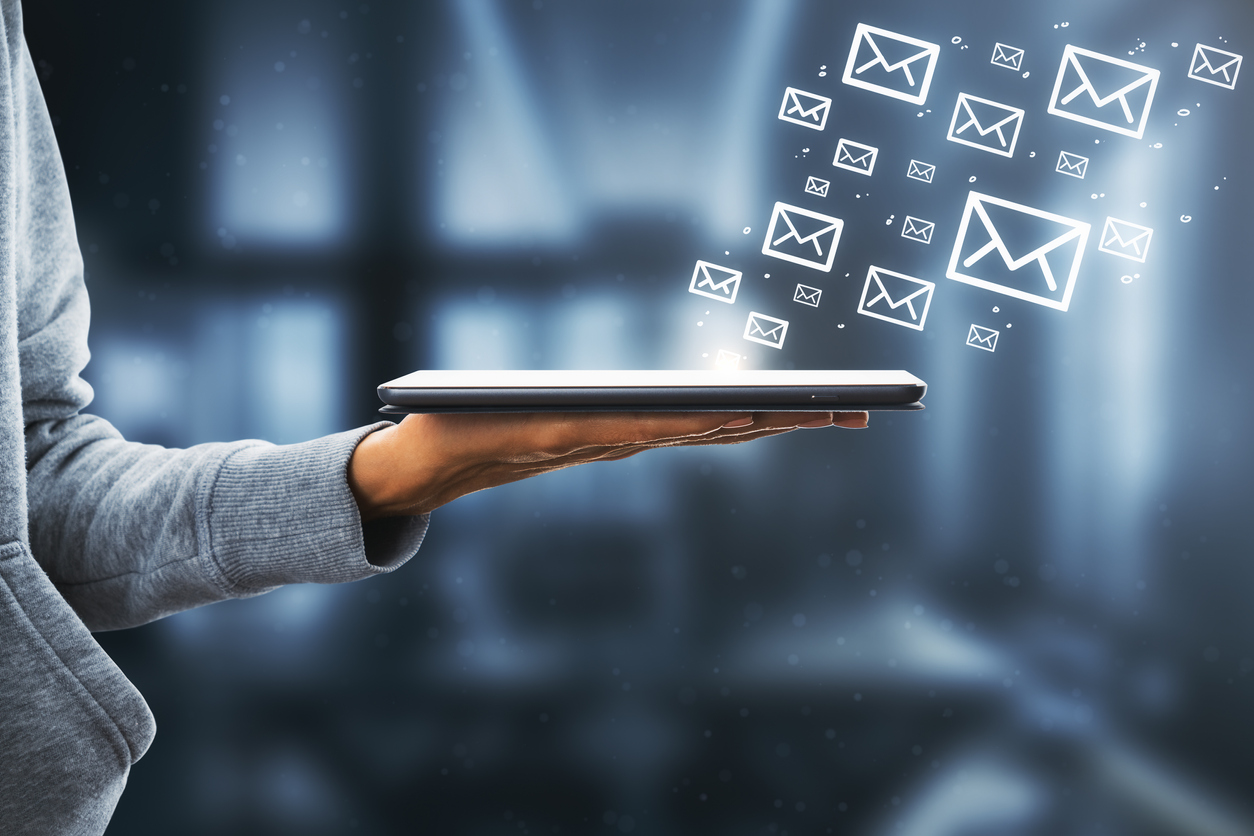 If you're an ecommerce marketer, email marketing should be your best friend. Email consistently outranks other digital channels such as social media and display ads in terms of return on investment. A VentureBeat Insight study found that email marketing generates an average of $38 for every $1 invested.
The problem is that's just an average. Not every ecommerce store's email marketing is going to be churning out $38 for every dollar spent on it. And, more concerning still, not every marketer knows how to achieve such an impressive result.
What separates a finely tuned email marketing machine and a mediocre one often comes down to one word: automation.
To realize impressive returns from email, you need to move beyond the simple newsletter blast. Instead, you need to automate the right email to send to the right customer at the right time.
Of course, the other benefit is that this massively reduces your workload. Once you set up these automations, you don't have to worry about them again. Bar the occasional tweak to optimize your flows, it's pretty much set and forget.
So, in the spirit of helping you get the most out of your email marketing, here are five examples of automated campaigns that you can go and start sending right now.
The Win Back Email
People's engagement with your emails likely follows a common pattern: it peaks just after they've first joined your list, then trails off as the months go by. Whether it's purchasing from your store, or just opening your emails, chances are that as your list ages it becomes seemingly impossible to achieve the same levels of engagement.
Given that acquiring a new customer is at least five times as expensive as it is to retain an existing one, you'll want to fight to keep them engaged. One of the most effective ways to achieve this is with a win back email campaign.
Win back emails are set out to those subscribers who have been on your list for a while and have stopped opening your emails or purchasing from your store. Their one goal is to get the customer to come back to your store. The email below is one of the best examples of this around.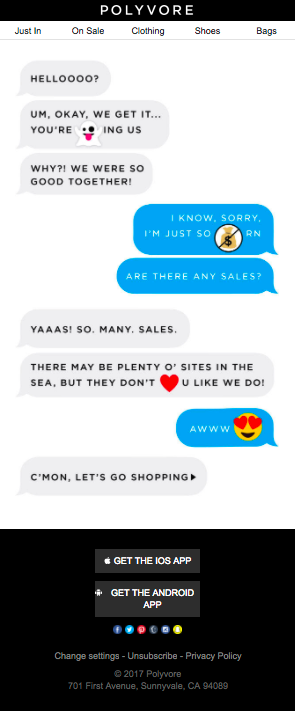 Obviously, not all win back emails opt for a messenger format, but Polyvore's decision to do so makes for a visually appealing and attention grabbing email design. It also has the added benefit of making the copy easy to follow and encourages the subscriber to continue reading as though it was their own messages.
The fundamentals of a good win-back email are also present. There's a clear call-to-action at the bottom ("Let's Go Shopping") which links straight to their store. Mentioning that there are plenty of sales on also helps entice people to come back to their store.
What could be improved, however, is how vague the reference to the sales is. It is always much better to include a concrete offer such as "20% off all summer items" or "free overnight shipping". Doing so gives the subscriber a much better idea of the value they're getting.
The Abandoned Cart Email
If there's one challenge that plagues every ecommerce store out there, it's cart abandonment.
Globally, average shopping cart abandonment is sitting at 69%. Put another way, this means that, for every customer who makes a purchase, there's approximately two others who have placed items in their carts, but will never checkout. This leaves trillions of dollars' worth of unsold products left in carts every year.
The good news is that abandon cart emails do a great job at recovering some of these otherwise lost sales. These emails have open rates of around 50% and a third of all clicks they receive leads to a sale.
For a great example of an abandoned cart email, look no further than the one from Victoria's Secret below.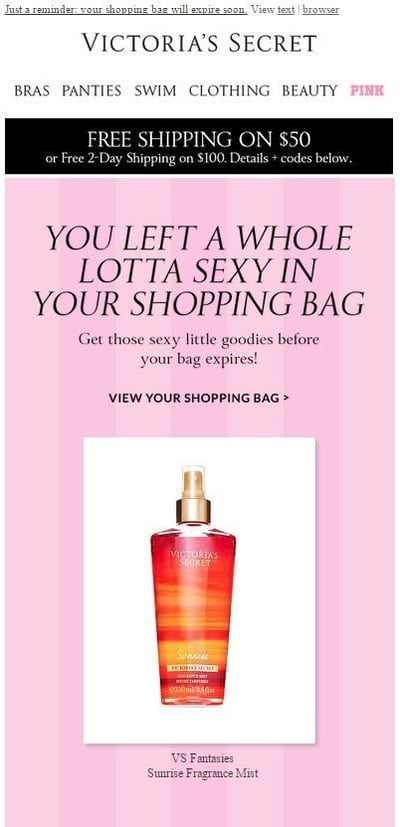 The headline "You left a whole lotta sexy in your shopping bag" is immediately attention grabbing. Having it as the subject line also helps to improve open rates. It reminds the would be customer of the purchase they were going to make as well.
The next line "Get those sexy little goodies before your bag expires" introduces an important element: a sense of urgency. When it comes to abandoned carts, time is of the essence. You will want to get people back to your store and finishing the checkout process as quickly as possible. We know that 72% of customers who convert from these emails do so in the first 24 hours, so don't wait around!
Ideally, you also wouldn't just stop at one abandoned cart email, but automate a series of three to send. If the first email or two don't do the trick, then you increase the offer as an incentive.
The Welcome Email
Welcome emails are your chance to make a great first impression. They present with the opportunity to not only make a sale, but also connect customers with your brand and its ethos.
So, don't just quickly throw your welcome email together with a bit of text. Take your time and craft an email that'll truly make your new subscribers feel welcome to be on your list.
For inspiration, look no further than Tommy Hilfiger's email.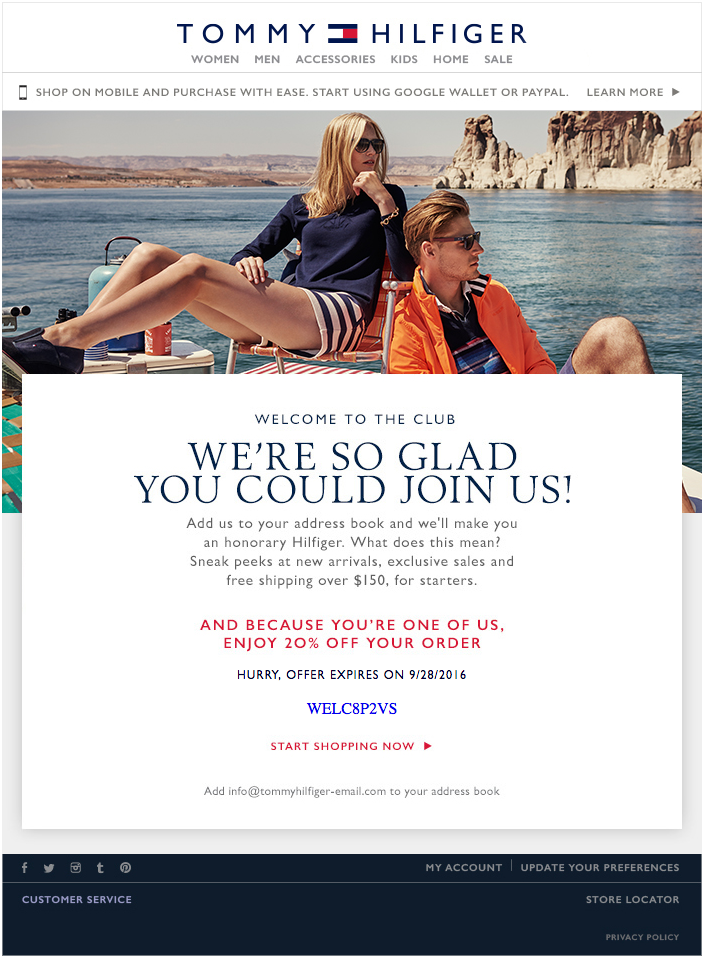 Tommy Hilfiger is a luxury fashion brand, and their welcome email lives up to the brand. You'll always want to reinforce your branding in your emails like this. Besides being well crafted and visually appealing, this email ticks all the boxes a welcome email should.
The line "We're so glad you could join us!" does a good job at genuinely making the subscriber feel welcome. The other "Welcome to the club" line also makes it feel like you're a part of an exclusive club.
There's also a unique discount code for a decent offer off the subscriber's next order. Adding the time sensitivity to the offer also helps with increasing conversions.
If there's anything that could be improved, it's the call-to-action at the bottom. This is one of the smallest text elements within the email, which makes it easy to miss. Increasing its size a little and giving it the appearance of a button would make it more obvious and likely increase the number of clicks.
The Order Confirmation Email
Too many ecommerce marketers think that their job is done when someone makes a purchase. As previously mentioned though, it's much easier to make another sale to a previous customer than it is to someone who has never bought from your store before.
One of the best ways to encourage repeat purchasing is with your order confirmation emails.
The best order confirmation emails not only contain all the details of someone's order, but also incentivizes them to continue shopping, just like the example below.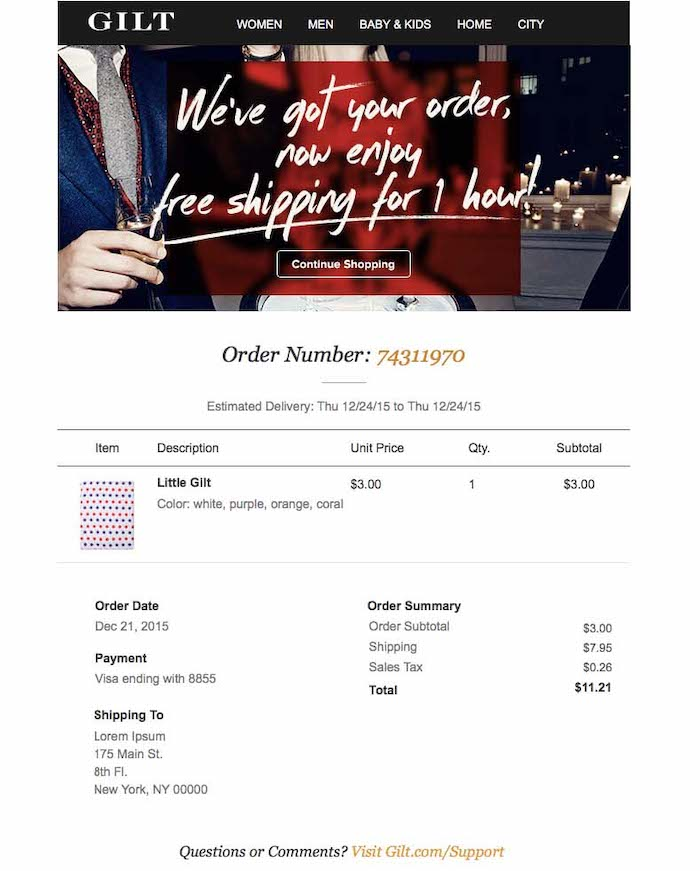 Gilt has a creative way of doing this: offering free shipping for an hour after someone has ordered. This is pretty much telling customers that anything else they buy can be shipped with their original purchase for no extra shipping costs.
This is also yet another good example of adding time sensitivity to an offer to help increase conversions. If there was an item that someone was in two minds about buying before, this offer could push them over the edge.
If you already offer free shipping, then there's plenty of other incentives you could include. This could be anything from a simple coupon code to introducing your new customer to your loyalty program.
Once you've included all the details of the customer's order, you've got plenty of space to transform a first time buyer into a repeat customer.
The Post-Purchase Follow Up Email
Order confirmation emails are not your only opportunity to bring customers back to your store. Ideally, you'll want to be keeping customers engaged by sending emails on a regular basis.
While exactly what emails you send will depend on the customer and your store, there's one type you can automate to send a couple of weeks after every purchase: the post purchase follow up email.
This gives you an opportunity to check in with your customer to see if they're enjoying their purchase or if there's any issues you can resolve for them. Doing so shows that you appreciate your customer's business and lets them know that you care about their experience.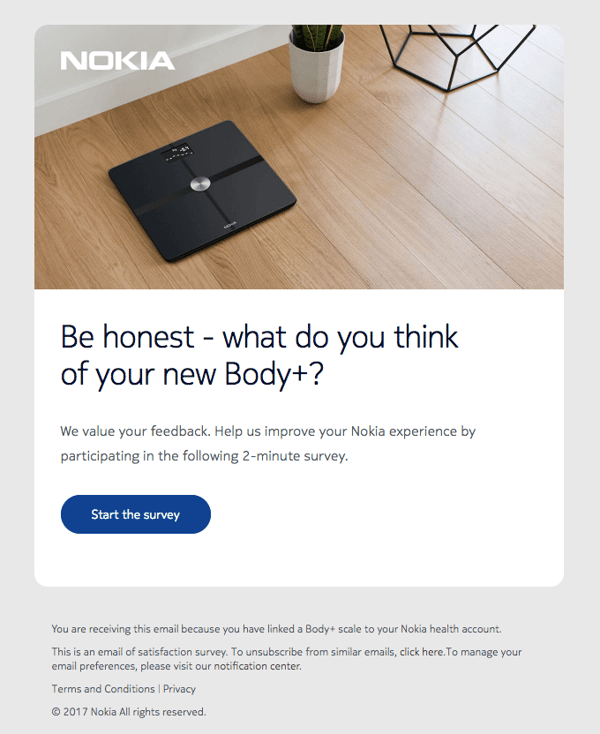 The above email from Nokia is a good example of this. The Nokia brand isn't as personal as many other ecommerce brands out there, so you'll likely want to your email to be a bit more friendly and one-to-one in nature.
The survey link is a great inclusion to get someone to share their feedback with you. You could also prompt people to leave a review on your site to generate some authentic, positive reviews.
Over to You
Not only does email automation help you save time, but it'll improve your results from email marketing too.
When it comes to email, it's all about sending the right message to the right person at the right time. Automating the above five emails will help ensure that your ecommerce store achieves exactly that.
There are, of course, other emails you could be automating, but this list is a good starting point. You know your ecommerce business better than anyone, and you'll know whether other types of automations are worthwhile or not.
So, now all that's left is to start setting up these emails!