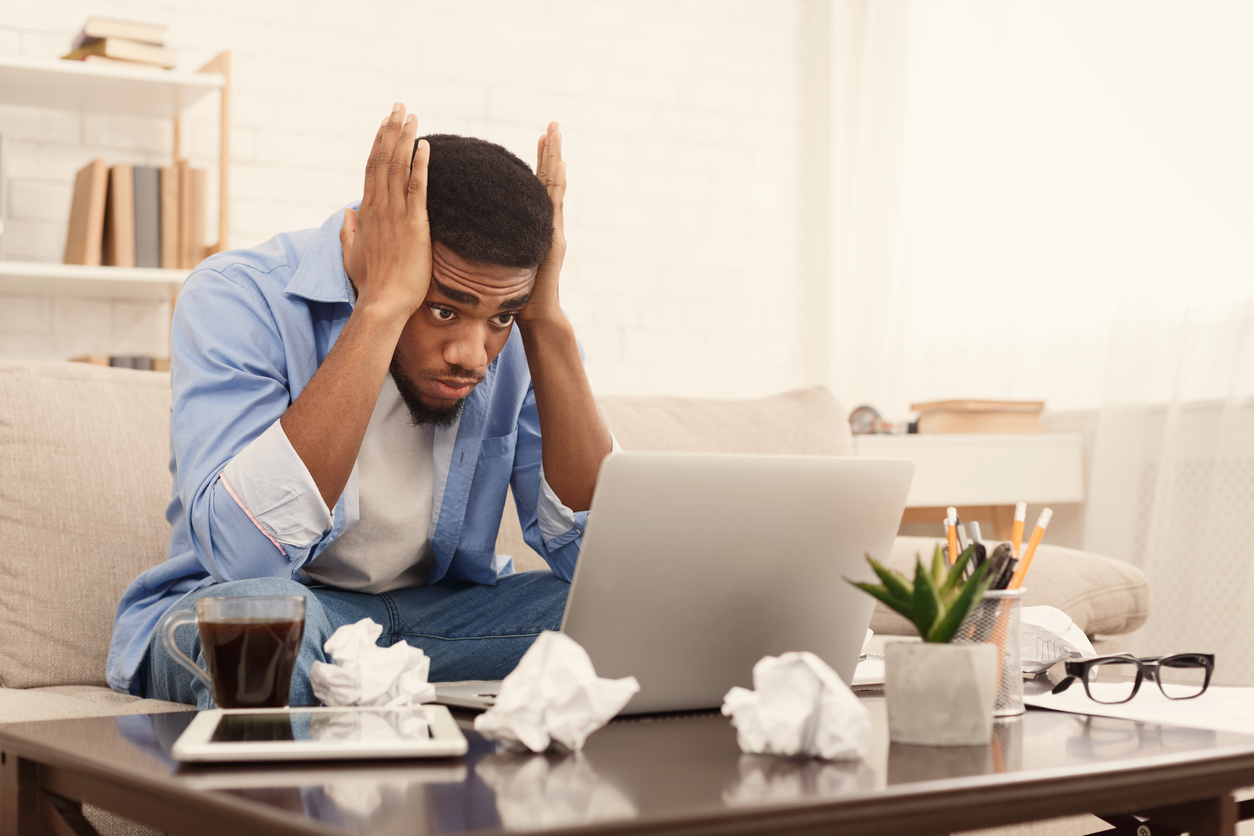 You've worked hard to build your online store. Now, it's time to build your eCommerce marketing plan to prepare for launch.
Since you're competing against millions of eCommerce sites, you need to stand out. As you map out your strategy, here's a list of top eCommerce marketing pitfalls you should avoid.
Preventing these mistakes will help you rise above your competitors.
1) You're Writing from a Product-First Perspective
You've built your online store from the ground up. You're proud of your business – as you should be! But, just like you wouldn't want to listen to someone talk about how amazing they are, there's a way to tell your story without bragging.
Use storytelling techniques to help you grow a deeper connection with your audience. After all, science proves that people make decisions based on emotion, then justify them with logic.
Set the scene and build up to the conflict or challenge. And, just like a good story, you can position your customer as the hero – and your brand as the trusty sidekick that helps them achieve their goals.
Nike does an incredible job of storytelling. They don't say that their athletic clothes were made with the latest moisture-wicking technology in their ads. Instead, their brand story is centered around empowerment. They tell their customers that it's within their power to accomplish whatever they want. All they need to do is work hard to unlock it.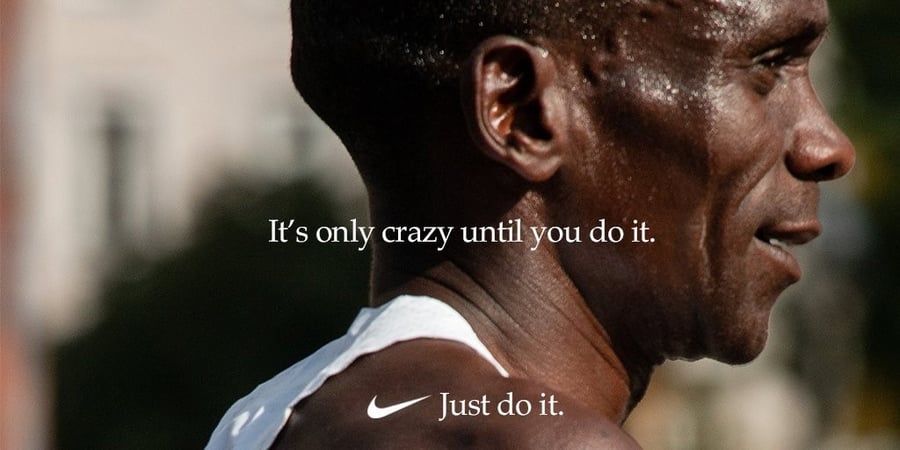 Pro-Tip: Use storytelling techniques to write your content from a user-first perspective. Make your audience the heroes of your story.
2) Your Writing is Overly Self-Promotional
Saying you're the best will only go so far. Back up your claims with case studies, testimonials, and stats that show how you helped your customers.
The most successful marketers also create content aimed directly at their target audience. So, it's important to find out what your customers care about. How can you help add context or insight to industry trends?
Take HubSpot for example. They're a thought leader in content marketing and are seen as a go-to source for industry insights. You know they're trustworthy based on the testimonials and reviews they weave throughout their site. And, because of the value they provide in their educational resources, they'd be top-of-mind if you're ever on the market for their services.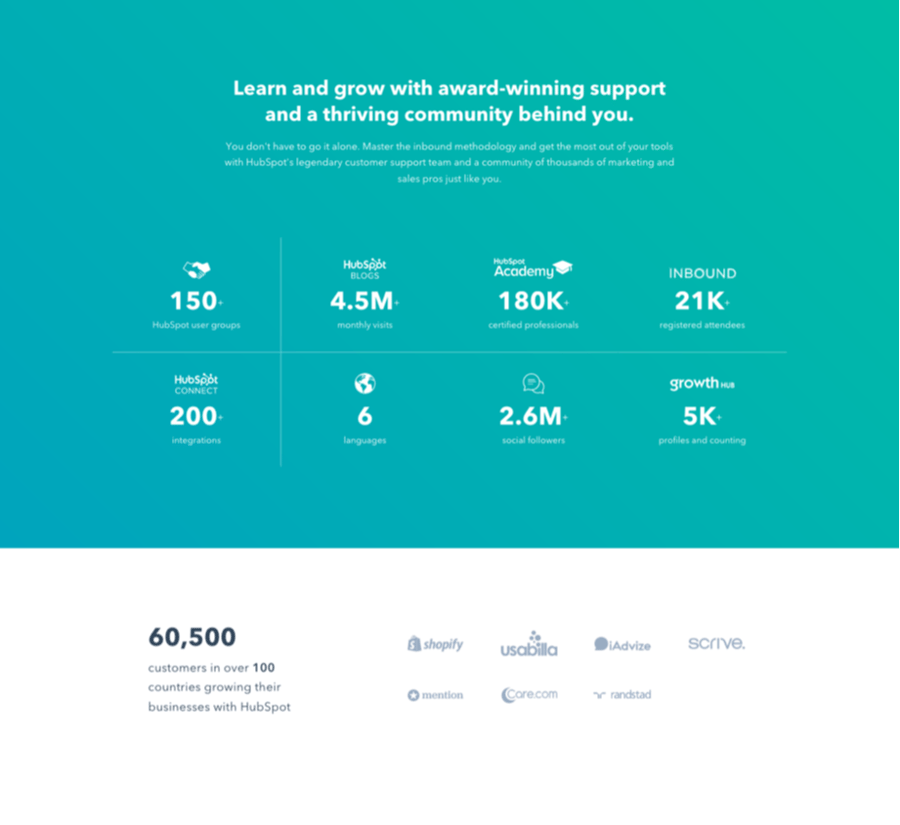 Pro-Tip: Use social proof to show how you've helped your customers solve their problems. Share insights they'll use to improve their business. The quality of your content and customer feedback will speak to your brand's credibility so you don't have to.
3) You Don't Speak to User Goals
As Steve Krug famously states, "don't make me think!" Center your copy around the value your products or services provide your customers. What can they achieve if they choose you? How can they grow revenue, decrease customer churn, or reach their goals?
Orient how you talk about your product around top tasks your customers want to accomplish. Doing this will reduce the amount your customers have to think, and they can more easily see how your brand can help them.
The lightweight developer framework AMP does an excellent job of this. Their documentation includes ready-made templates you can quickly use depending on the type of website you're building. This makes it easier for their users to take action right away and immediately feel confident using their product.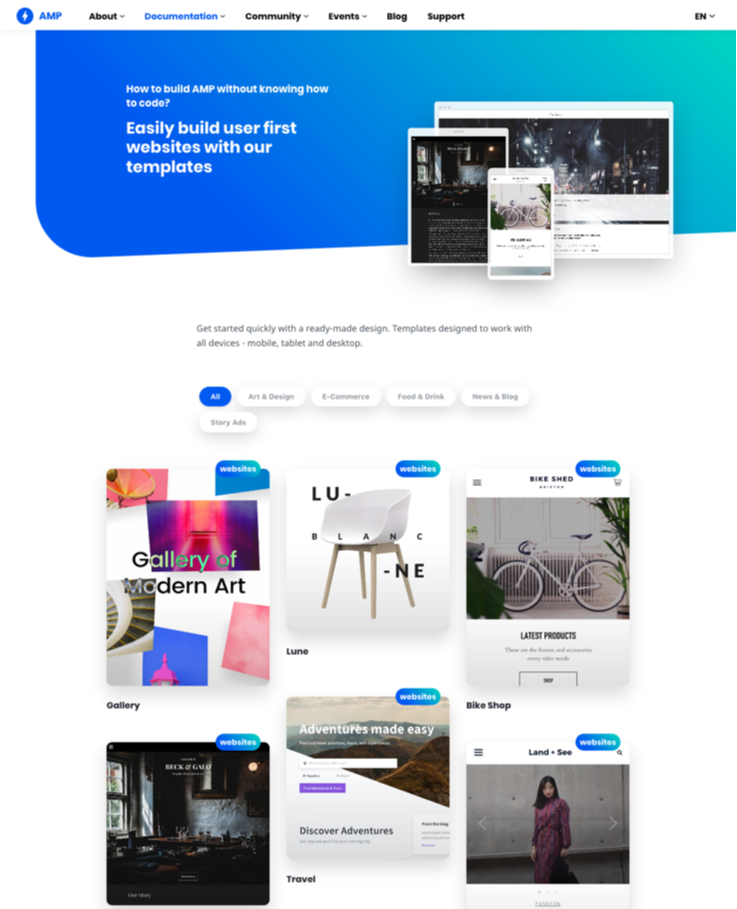 Pro-Tip: Reduce your users' cognitive load by speaking to their goals. Make it easier for them to see how they can apply your products or services to solve their problems right away.
4) Your Brand Experience is Disjointed Across Channels
Your customers will interact with your brand on channels that are most convenient to them. This includes your website, Facebook, Twitter, etc. It's important to provide a consistent experience when they communicate with you. If you don't, it can lead to customer confusion and lower trust in your brand.
Slack provides a perfect example of a job well done. From their Twitter channel to their product copy to their emails, it sounds like a single person wrote it. And that's how it should be.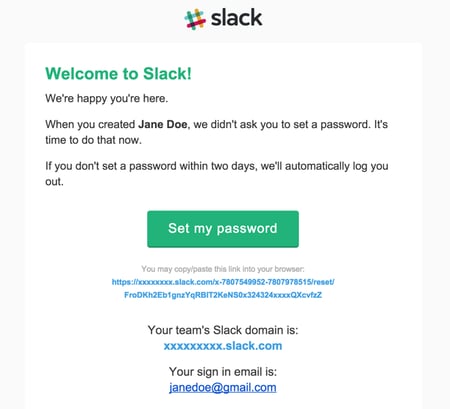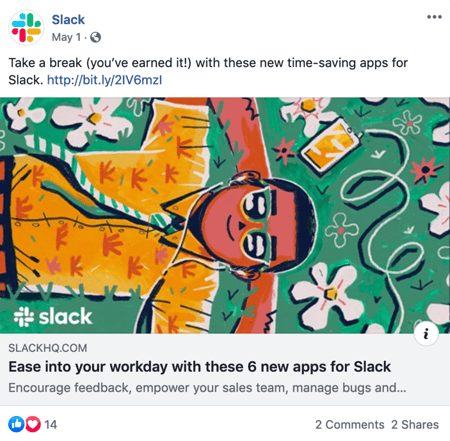 Pro-Tip: Your brand experience should come from a united front. Create a content style guide so your brand's voice and tone sound like it's one person speaking, no matter where your content appears across your channels.
5) You Talk at Your Customers
Your customers are the lifeblood of your business. When they interact with your brand, it should sound like a conversation with a trusted friend or advisor, not a one-sided lecture from your teacher or parent. If customers don't feel heard, they'll disengage and likely look somewhere else where they feel more empowered.
Take Capital One – sure, banking can sound dry, but how they interact with their customers across different touch-points sounds human and relatable. Even when they're asking you to verify a purchase.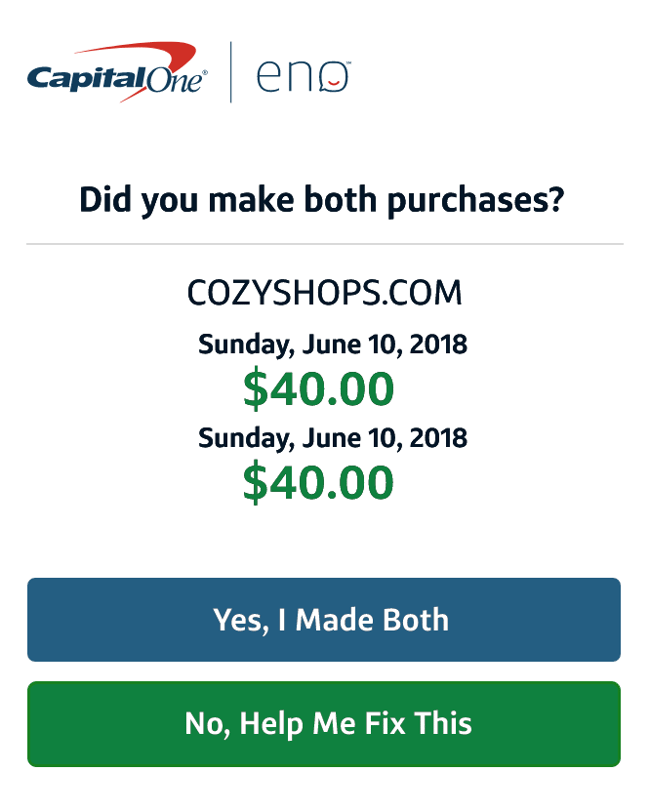 Pro-Tip: Avoid having your communication sound like a monologue. Write a script of how an interaction could unfold between you and a potential customer. What questions would they ask? That will help you determine the tone and the priority of what content to include.
6) You Don't Do Keyword Research
The point of creating content is so your audience can read it! Make sure you're speaking the same language as your customers. Use tools like Moz Keyword Explorer, Google Trends, or the Keywords Everywhere tool to find out which keywords they use to do online research.
Incorporate those keywords into your web pages, blog posts, titles, and meta descriptions so your content can rank higher on search engine results pages (SERPs). The higher you rank, the more traffic you'll drive to your site – for free! You can learn how to measure SEO to help you see how your content is performing. If you fail to optimize your content for SEO, you're doing your company a disservice by making it more difficult for your audience to find you.
Neil Patel is the king of SEO and consistently ranks high on Google as an SEO expert. He takes his own advice – and it works: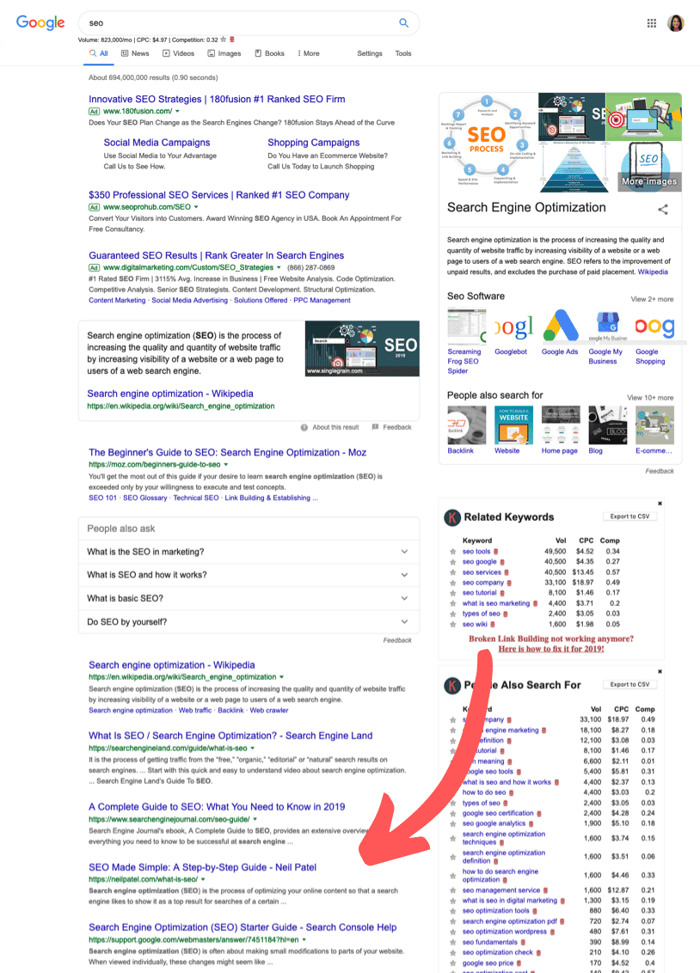 Pro-Tip: The best way to drive traffic to your site is through organic search. Be strategic about which keywords you use so your audience can easily find your content.
7) You Don't Follow Up
Only about 30% of people will buy something on the first visit to an online store. That's 7 out of 10 people who didn't purchase anything. Before they leave for good, offer a discount or free shipping – in exchange for their email address, of course!
If you don't email to follow up, you're losing out on an easy opportunity to close a sale. In fact, about 45% of cart abandonment emails are opened. And of those that are opened, 21% are clicked. Further, half those that click end up purchasing.
Cosmetics company Thrive is one of many retailers talented in the art of crafting abandoned cart emails. Take the following example. They include a catchy subject line (Forget something?") to get you to open the email and show you the item you were interested in when you were on their site. They create a sense of urgency to move you to purchase.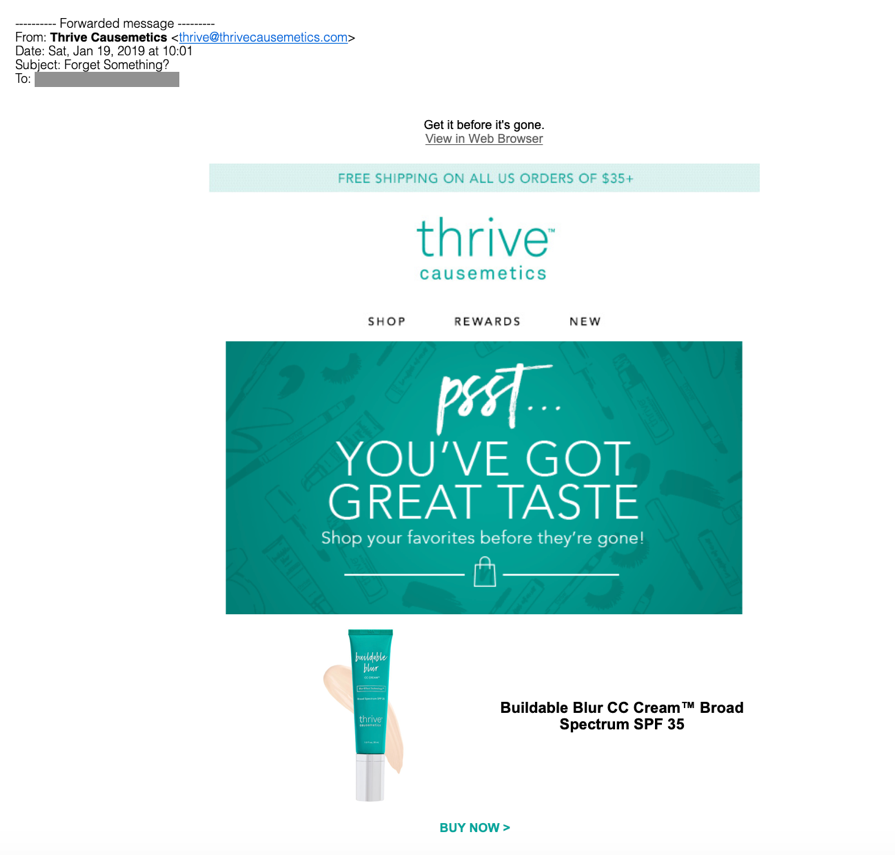 Pro-Tip: Capture your visitors' contact information before they exit your site. You can set up lead capture tools to pop up before they close out of their browser.
Wrapping up
Looking ahead, eCommerce is poised to take up almost 18% of total global retail sales by 2021. By avoiding these common eCommerce marketing pitfalls, your business can thrive in this growing industry.
Ready to take your online store to the next level? Use the AddThis List Building tool to easily capture leads and grow your email list. You can also find out additional ecommerce best practices to keep your website ahead of the curve.