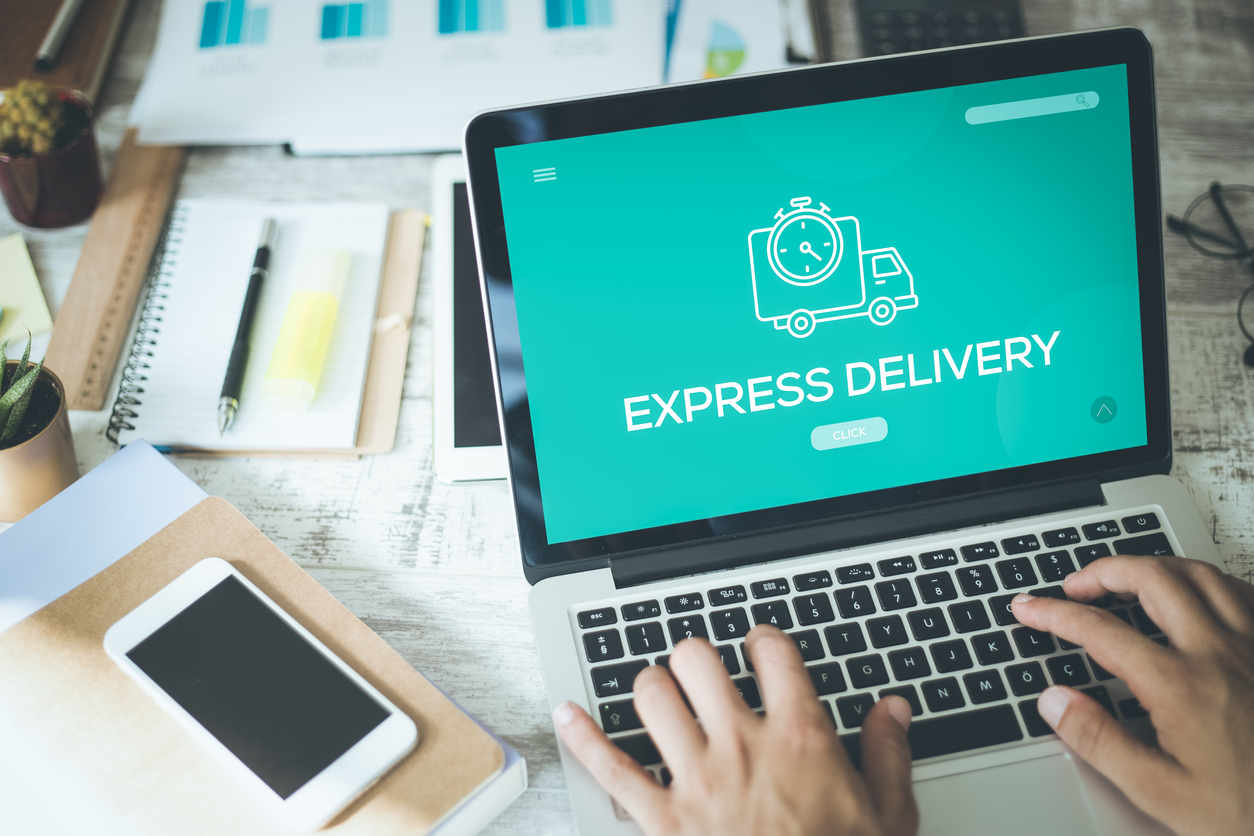 Online shopping has changed the entire retail landscape for everyone, both retailers and consumers. Not only has online shopping demanded more of all retailers, especially those who never considered selling their products online previously, but it has also changed the way consumers think, altering the requirements that must be met in order to fulfill their expectations. One of the biggest changes in terms of consumer expectations is, of course, shipping.
Today, shoppers want their items to be delivered to their door faster than ever. Or, at the very least, to have the option to do so when their needs require. This desire is more than an expectation; it has become a demand, a huge determining factor as to whether or not a consumer will buy a particular product or locate a competitor who can better fulfill their (expedited) needs. This enormous pressure to get products off the shelves and to customers' front doors has caused a lot of stress for businesses, both those with physical retail space and those solely online.
If you're unable to keep up with expedited shipping expectations of consumers, then your business might be out of luck.
Thankfully, this increasing demand for faster shipping times has also led to the advent of several online shipping innovations, which are helping businesses of all sizes fulfill orders and keep customers happy. By enabling expedited shipping options in your online store, you can not only keep current customers satisfied, but you can also actually attract new customers – ones who need their products fast and don't see other alternatives online.
What Is Considered Expedited Shipping?
Of course, before you can start offering "expedited shipping" on your website, you need to understand exactly what it is and how you can actually provide it for your store's customers. By definition, expedited shipping is any delivery or shipping method that guarantees a customer's order will get to them faster than standard shipping methods. Generally, customers expect expedited shipping to get their order to their doors in less than two days, sometimes overnight.
Bottom line: Customers expect to pay more for expedited shipping so that they can have their order delivered in the fastest way possible.
What Are Expedited Shipping Options?
There are a few different ways you can provide expedited shipping to your online customers. All of your choices are fairly similar, but there are some distinct differences that will help you determine which option is right for your business and your customers. The three most popular expedited shipping options for ecommerce stores are:
USPS Priority Mail Express

The fastest domestic service offered by the United States Postal Service, USPS's Priority Mail Express allows items under 70 pounds to be shipped overnight for as low as $24.70. In addition to overnight expedited services, USPS also offers another Priority Mail option where you can guarantee that your customer's package arrives by 10:30 AM the following day. One of the reasons many shop owners choose to use USPS for expedited shipping is because they offer peace of mind add-ons, including certificate of mailing and sign-on-delivery, which can help you and your customer feel confident about the additional money that's being paid.
UPS Expedited Shipping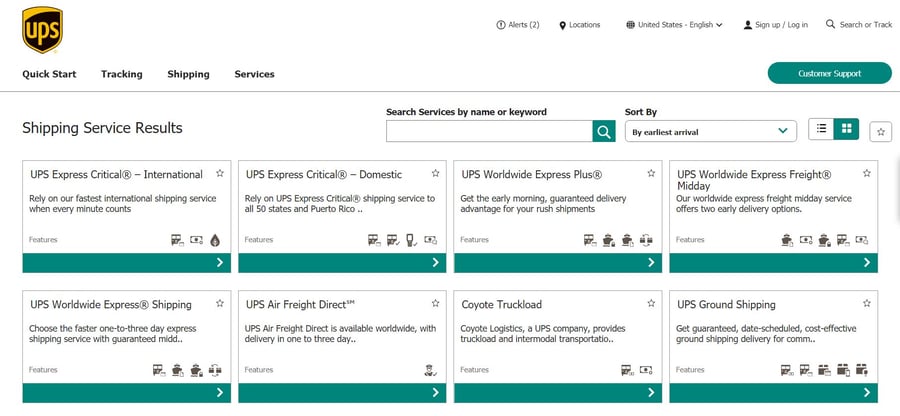 UPS has several different ways to provide expedited shipping for your customers. Among those options include same-day, next-day, two-day, and three-day shipping guarantees. For perspective, the average product shipped with UPS's standard ground delivery takes five business days. As an added bonus for online stores with international customers, UPS's Expedited Shipping option can also be extended for most international shipments.
FedEx Expedited Shipping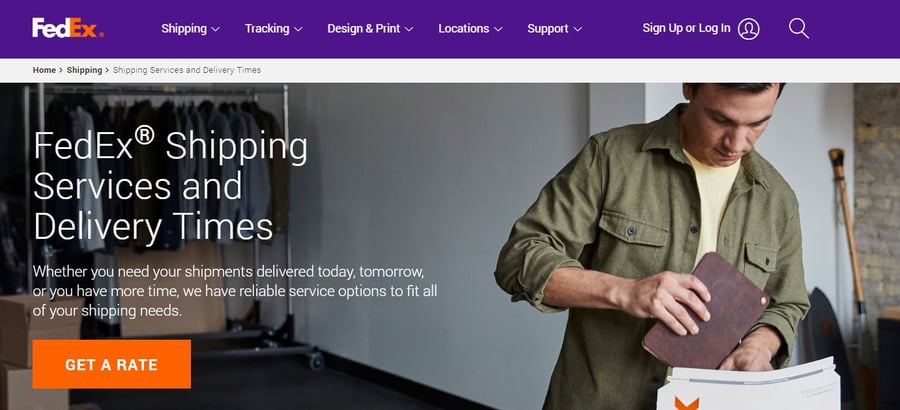 Not to be outdone, FedEx also has a solid expedited shipping service for its customers. Store owners can determine which service best suits their customers' needs and then determine expedited shipping expenses based on the size of the package, the destination of delivery, and the urgency with which the product is needed. Among the most popular FedEx services for expedited shipping are FedEx Express Same Day, FedEx Express Saver, and FedEx Expedited Freight Services. Like UPS, FedEx also has international options for expedited shipping, including FedEx International First and International Priority.
Which Products Really Require Expedited Shipping?
Although you'll find customers in every niche wanting products shipped same-day or overnight, the reality is that not all types of products have the same expedited shipping demands. As a store owner, it's up to you to determine what your customers want and need by understanding the type of product you're selling and the expectations of your shoppers.
While you can offer expedited shipping for anything sold online, below are the products that really require it. These types of products tend to be, by nature, time sensitive, which is why the demand for them to be shipped and delivered as quickly as possible is high among consumers.
Medical and Pharmaceutical Supplies
When consumers need medical and pharmaceutical supplies, they tend to need them quickly. Whether an injury has just happened and they need supplies to take care of that injury or a prescription medicine has run out more quickly than they anticipated, it's not uncommon for products in this category to need to be received same-day or overnight. Even certain supplements and vitamins are needed by consumers fast so that they can stick to their daily regimen or help treat the symptoms of an illness.
Not to mention, some medical and pharmaceutical supplies need to be shipped and delivered quickly in order to maintain the integrity and effectiveness of the product. If you sell products within this category and aren't offering expedited shipping options, then you are 100% missing out on sales every time a potential customer comes to your store.
Seasonal Products
Although not "urgent" in the same sense as medical and pharmaceutical products, consumers wanting seasonal products have time restrictions and, therefore, want to be able to have their orders arrive as quickly as possible. Holiday gifts, Halloween costumes, and party decorations all have time sensitive delivery dates. Miss these time frames and you'll not only disappoint your customer, but you can miss out on a purchase altogether.
Offering expedited shipping for all seasonal products can help you keep orders coming in even when a holiday or event gets close. In fact, you can use expedited shipping options as part of an effective marketing campaign to help keep your customers engaged and interested in your products.
Food Products
Certain types of food products are shipped refrigerated or frozen, making the need to send them with expedited services more obvious. Additionally, consumers ordering these types of items are concerned with freshness, which means they'll expect expedited shipping to be part of their order — not just an option. In order to keep the quality of your food products high and your customers satisfied, expedited shipping needs to be an integral part of your online business model.
Floral Products
Like food, flowers and plants need to be shipped quickly so that they don't get damaged or destroyed during shipping. Expedited shipping is essential for floral businesses because it's typically the only way to guarantee customer satisfaction. Offering a few different expedited shipping options can help your customers decide which option is right for their needs and their budget. Just be sure to not offer a shipping option that will risk the integrity of your product.
B2B Products
If your online store provides products for other businesses, then having expedited shipping options is a must. Doing so allows the businesses you work with to offer better service to their own customers, and that's invaluable. Oftentimes other businesses will need items quickly in order to deliver on their own customers' expectations, so the better you can meet their needs, the happier they will be. Items that are used for repair and merchandise are some of the most highly demanded products and, as such, should come with several different expedited shipping options for your customers.
Again, any type of product sold online can come with expedited shipping options — from shampoos to dog beds. But, if you sell one of the products above, know that your customers won't just be happy to see expedited services, they'll be expecting them. By anticipating your customers' needs by offering a variety of expedited shipping options, you can increase conversions and customer satisfaction, which are two of the fundamental building blocks for developing any successful online business.
How Much Does Expedited Shipping Cost?
Expedited shipping is, of course, more expensive than standard shipping options. When you promise your customers a much faster delivery of their order, you're relying on several different partners to help you live up to expectations. From warehouse workers to shipping systems, the cost of getting a product out and delivered so quickly needs to be high so that it can be prioritized appropriately.
Determining how much expedited shipping will cost for your specific products depends on a few different variables, including:
The carrier you choose
How quickly a product is delivered (same-day, overnight, 2-day, etc.)
Where your products are located
How much your products weigh
Where your products are being shipped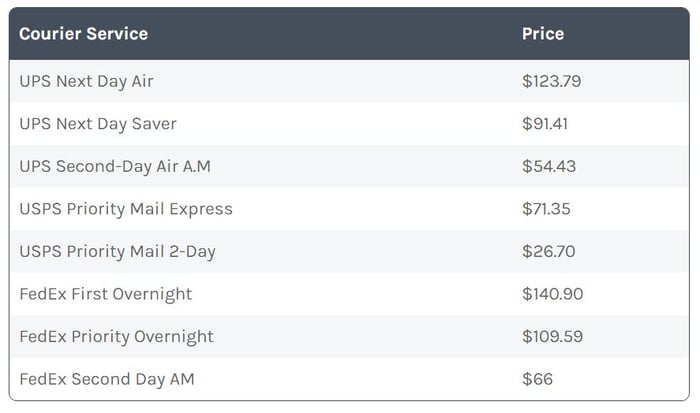 Source: EasyShip
Once you know what the range of costs will be for expedited shipping for your products, you can work to help make them more appealing to your customers by doing a few strategic things, including offsetting the cost so that expedited shipping options are actually more affordable. The three most effective strategies for making expedited shipping work for everyone include:
1. Require a minimum spending threshold.
Setting a minimum spending threshold for your online store can help you manage the additional costs of expedited shipping services. This is especially important if you're wanting to use free expedited shipping as a marketing point to help boost onsite conversions.
Determining what your minimum spending threshold is depends, again, on the types of products you sell and where you ship them. Generally, you'll want to only offer free expedited shipping for customers who order more than your typical average order. For example, if your average order is $50, then you would want to set your minimum spending threshold for free expedited shipping to a value above that, like $75 or $100. This incentivizes customers who want expedited shipping to add more products to their cart and, as such, increases your profit. When minimum spending thresholds work, store owners actually see an increase in the average order value (AOV), which allows their stores to become even more successful.
2. Outsource fulfillment to a third-party.
Fulfilling expedited orders can be a huge burden for online businesses, especially smaller businesses that have fewer employees and resources. In order to help make the process of expedited shipping work more effectively, online stores can look into outsourcing fulfillment to a third party. This not only offloads work that needs to be done, but it can also help reduce costs by leveraging a variety of discounts and services that are offered by a larger third-party operation.
While outsourcing can, at first, seem unnecessary or like just another added expense, putting this system in place can help your business grow and scale in ways that would otherwise be impossible. Using a third-party fulfillment service is a proven way to maximize efficiency and, in some cases, is the only way to actually guarantee expedited shipping to customers.
Furthermore, many third-party fulfillment services can actually integrate into ecommerce store platforms, like Shift4Shop, therefore eliminating another step in the ordering process and allowing for a more streamlined order-to-delivery process to take place.
3. Ship inventory from multiple fulfillment centers.
In addition to using third-party fulfillment centers, online store owners can get even smarter by using several strategically placed fulfillment centers to help reduce shipping costs and shipping times.
When products are spread out around the country, it's easier to get products to customers in a more efficient and affordable manner. If all of your products are stored in California, for example, but many of your orders come from the East Coast, then shipping costs and times will always be higher. In this case, finding a fulfillment center for your products on the East Coast would help make shipping more efficient and affordable for everyone.
In a lot of cases, customers end up abandoning their carts as soon as they see the cost of shipping. This is only exacerbated when they're needing more expensive expedited shipping. By using multiple fulfillment centers, you can actually expedite a variety of ground shipping methods, which helps to keep your shipping costs reasonable — and your customers interested.
How Do You Display Expedited Shipping Services In Your Store?
A lot of online store owners go to the effort of providing expedited shipping services to their customers, but then fail to actually let them know that it's an option. While it might show up during check out, not advertising expedited shipping earlier is a huge mistake. When customers know that they need shipping to be expedited, whether to make sure they get an urgent product in-time or to give them peace of mind that what they're ordering will arrive fresh, then they want to be confident that this is an option before they ever even add any items to their shopping cart.
If you want to increase conversions and entice customers to start shopping, then making them aware of your expedited shipping services and offers is a must. Below are five effective ways to showcase your expedited shipping deals for your online store:
1. Site Banners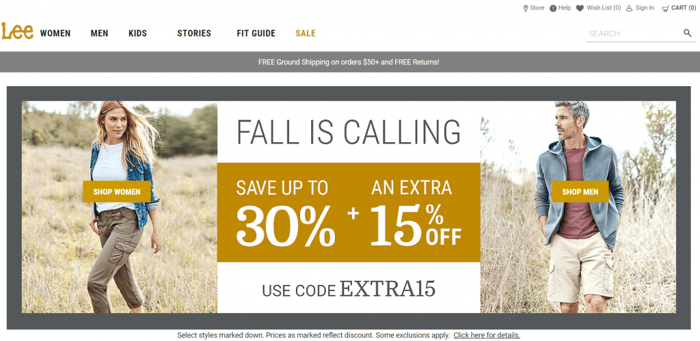 Source: Printful
Banner advertisements are a great way to announce to your customers that you offer expedited shipping. These banners should capture your customer's attention while also giving them the information they need to understand how expedited shipping for your store works. If you have a shipping threshold to qualify for an expedited shipping offer, then your banner should advertise this. Site banners are also a great way to provide a "final date" to order with expedited shipping in order to get a product on time. (Ex: "Order by X to receive your items in time for Christmas!")
2. Pop-Up Notifications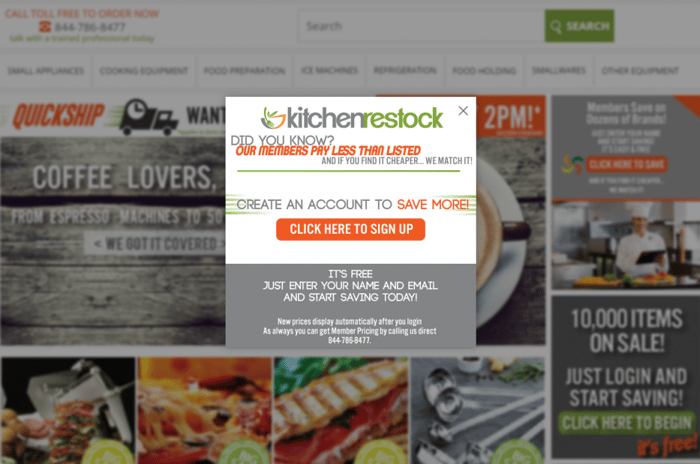 Similar to site banners, pop-up notifications show up on your website to remind customers about your expedited shipping offers. These can be used on your homepage, as well as individual product pages. You can also program a pop-up to show up as soon as your customers reach your minimum shipping threshold to qualify for expedited shipping.
One of the best ways to create pop-up notifications for your expedited shipping offers is with the 3dBoost app. Once installed, 3dBoost allows you to create dynamic (and responsive) popup modal windows on any particular page or group of pages in your store. These popup modals are a great opportunity for you to advertise your promotions or create any other type of marketing messaging that is valuable to your online shoppers.
3. Email Newsletters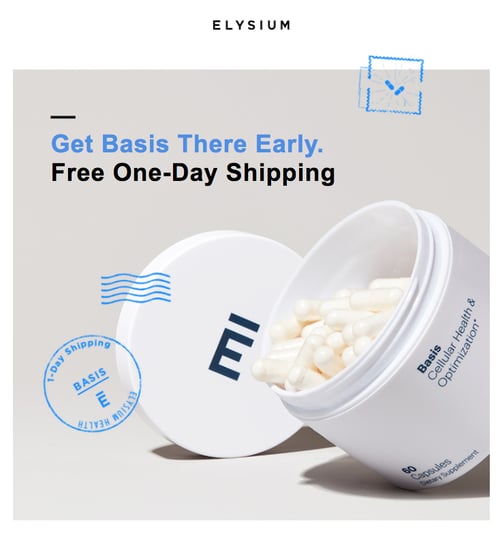 Source: Elysium Health
Emails are a powerful way to stay connected with your consumers. They're also a great way to let them know about expedited shipping offers. If you're just adding expedited shipping to your store, then that's a great newsletter topic for your email list. You can also leverage email newsletters to promote deals you have in your store (Ex: Buy X and receive free overnight shipping!) or to remind them of the last date they can order a product (Ex: Purchase your Halloween costume by X to receive it by October 30th!)
Even if you always offer expedited shipping options on your website, you can create special limited time deals that promote certain offers. And, when you do, creating an email to let your customers know is essential.
4. Shipping Threshold Counter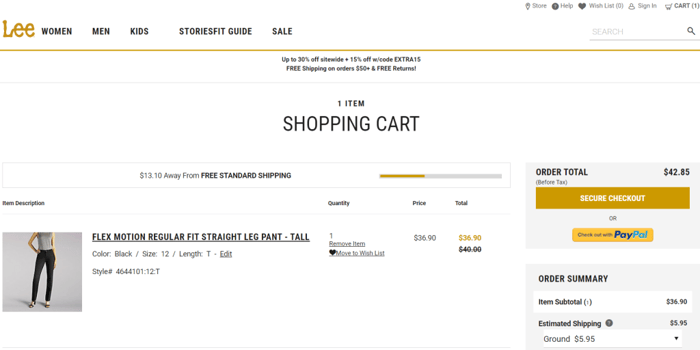 Source: Printful
One of the best ways to keep expedited shipping offers in front of your consumers is by adding a shipping threshold counter to your website. This counter will keep track of how much is in your shopper's cart and let them know how much more they need to add to qualify for a special expedited shipping offer. This simple feature is an incredibly powerful way to increase your average order value (AOV) and to keep shoppers engaged so that they don't abandon their carts.
5. Shipping Options at Checkout

And, of course, you'll need to let your customers know at checkout which shipping options are available. The more organized and sensical this step is, the more likely your customers will make it all the way through check out. While you don't want to overwhelm your customers, having multiple types of shipping options, including expedited shipping, can help your customers get the products they want at a price that they can afford. Also keep in mind that expedited shipping options come with tracking numbers in order to help keep everyone organized and on the same page.
Conclusion
By offering expedited shipping in your online store, you can not only compete with other stores in your niche, but you can also dramatically improve your customers' online shopping experience. With more and more consumers wanting and expecting products to be delivered to their doors quickly, expedited shipping is becoming a standard operating process. The better you understand how it works and how you can leverage it to actually boost sales and conversions, the more successful your online store will become.
One of the reasons so many online shoppers continue to give their business to megastores, like Walmart and Amazon, is because they know they can get the products they want quickly. Thankfully, even small businesses can now compete with these extra-fast shipping times, which means more consumers are starting to look at different types of online stores as viable options for all of their purchases.
Although more expensive than regular shipping options, expedited shipping options can start to make sense when business owners understand how to offset the cost. Through strategic offers, third-party relationships, and minimum order thresholds, even the smallest of businesses can thrive with orders that are regularly expedited.