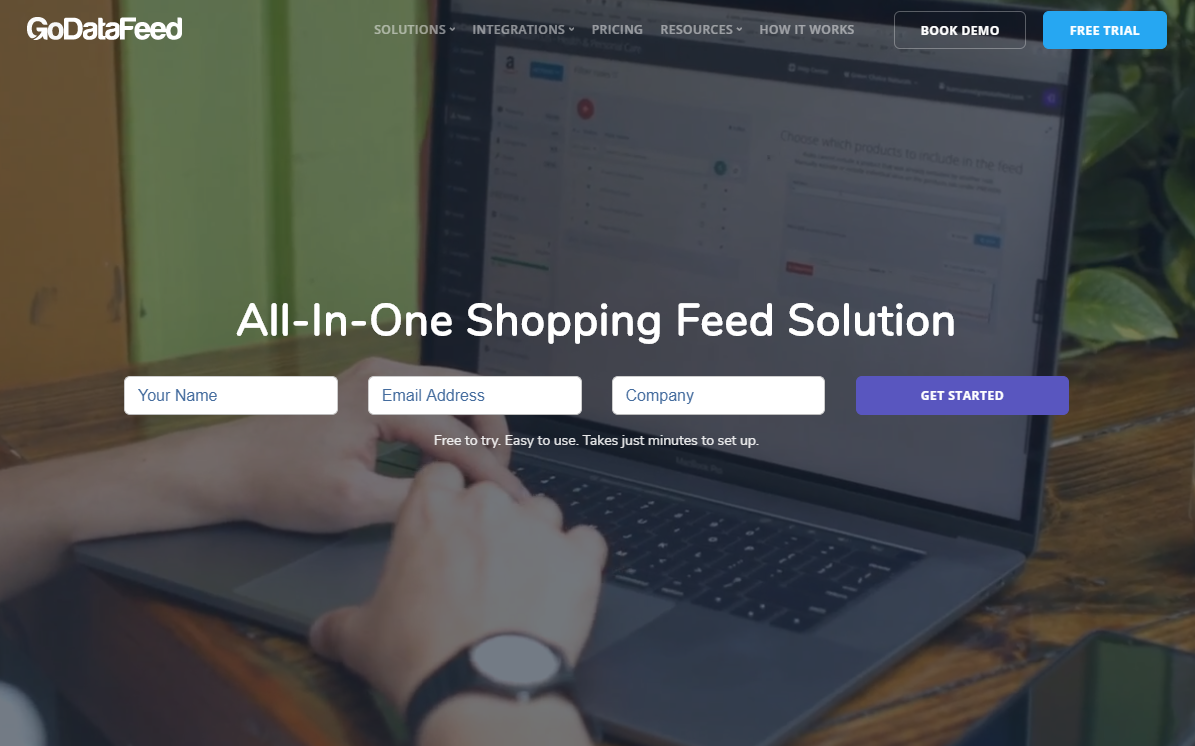 Every business needs to increase the size of its customer base to ensure continued growth. While a detailed marketing strategy and great SEO are important for finding new customers, they're not your only options. To scale up effectively, you need to go where your potential customers are — and often, they're shopping on other websites like eBay or Amazon, searching for products on Google Shopping, exploring their interests on Facebook, getting ideas from Pinterest… you get the picture.
So how do you connect with customers that aren't visiting your website or searching directly on other marketplaces instead of on a search engine where your targeted SEO keywords would take effect? The answer is to build a presence on these other marketplaces, via multichannel eCommerce. GoDataFeed is a powerful and popular tool to help you accomplish this, but before we get into the details, let's introduce a few core concepts.
What is Multichannel eCommerce?
Multichannel eCommerce is the practice of selling your products on multiple websites, which can include online stores you own, big marketplaces like Amazon and eBay, product search platforms like Google Shopping, social media like Facebook and Instagram, and more. By expanding your business across multiple channels, you can reach more customers who might otherwise not discover your products or brand.
As you can imagine, adding your products to multiple eCommerce channels could be incredibly time-consuming — if you had to do it manually. Imagine needing to compile information on hundreds or even thousands of products, one by one, in different formats to be uploaded to different websites, and then needing to update your stock and pricing on every one! Thankfully, organizing and posting product data doesn't have to be difficult, and is one of many online business elements vastly assisted by eCommerce automation. You can easily distribute your inventory data across multiple channels by using a product feed.
What is a Product Feed?
A product feed is required for multichannel eCommerce. It compiles data about your products, like their names, pricing, images, star ratings, brand, or other pertinent information, and sends the data to your targeted marketplaces. All your product data can be sourced from your eCommerce website, which is why it's important to use an online store builder that structures your data for compatibility with product feeds, like 3dcart.
Product data feeds take the form of a CSV, TXT, or XML file that presents all the pertinent information about each product in a format that online shopping channels can interpret and use to display complete product listings. Of course, the exact data each channel displays may be a little different — for example, some will show the star ratings of your products as pulled from your website, while others (like Amazon) have their own review systems that will take precedence. This is why you can save the most time by using a product feed service that's compatible with as many channels as possible.
The best product feed services provide automatic updates and synchronization, and regularly send information to your other channels to keep your product listings updated wherever they appear. This will keep your inventory consistent across all channels to prevent overselling, and ensure that your most up-to-date pricing and other information is shown everywhere. Even better, a great product feed automation service will also synchronize your orders so you can manage all your multichannel sales from a central location — in this case, your 3dcart dashboard. This means you can effectively sell in dozens of places across the internet without creating an unmanageable workload. As you can imagine, this presents vast opportunity to online retailers of all sizes.
While 3dcart includes built-in tools for exporting and synchronizing your products across multiple channels, we also integrate with product feed management services that smooth workflow and provide additional functionality. One such solution is GoDataFeed, an affordable product data feed management service.
Why Use GoDataFeed for Multichannel eCommerce?
GoDataFeed is an all-in-one solution for creating and managing your product feeds across over 200 channels. It has a seamless integration with 3dcart and takes only a few minutes to connect it to your store. The interface is web-based and user-friendly, and is built to be easy to use, even if you're relatively new at (or intimidated by) product feeds. Soon you'll find it a breeze to set up and can add more shopping channels to your strategy with confidence.
GoDataFeed retrieves your product information from your 3dcart store in preparation for exporting to your other channels, but it does much more than that, too. It includes several features to streamline the process and improve the results you get from your multichannel sales. Some of the most important are the following:
Customizable Product Information
Once you create your product feed, you can view and edit your information to better fit the channel to which you're about to upload your data — without changing any details on your 3dcart website. GoDataFeed's data modification tools let you create rules that will apply your changes dynamically without being overwritten by synchronization updates. Some shopping engines have different requirements than others, so it's a great advantage to be able to freely customize your data feeds rather than have all your product information simply copied identically from your 3dcart store. Product names are often subject to the biggest variance in formatting. Even if there isn't a specific rule, this advanced customization lets you fine-tune your products' appearance for best results on all channels.
Data Feed Optimization
The quality of your product feed will have a significant effect on your multichannel sales, so GoDataFeed takes measures to keep your feed fully optimized at all times. It includes complete data for your product listings to ensure higher quality scores according to the algorithm used by the shopping engine, which will help your listings perform better than those of your competitors. Your data is always kept accurate as well, through regularly scheduled synchronization.
Full Product and Order Synchronization
GoDataFeed does more than keep your product listings updated — it also creates full communication between your 3dcart store and your other sales channels to make multichannel selling easy at any scale. Orders from your other shopping channels are imported to your 3dcart dashboard for processing, and when you update their status, GoDataFeed forwards the information to update your orders on the marketplaces as well. This ensures accurate inventory counts, keeps customers informed via the order notification tools on the marketplace where they made their purchase, and overall makes running a multichannel eCommerce business much smoother.
Vast Compatibility
One of the essentials of multichannel eCommerce is to target multiple shopping channels with different audiences. As long as each channel is appropriate for your products, spreading them far and wide can help you discover more customers, sometimes in unexpected demographics. However, for some industries, it's better to focus intently on only a few channels where your investment will make the most difference. Whether you want to target several channels or just a few, GoDataFeed can manage product feeds for over 200 channels, including:
Amazon
eBay
Facebook
Instagram
Google Shopping
Yahoo!
Pinterest
Walmart
Newegg
Rakuten.com
…and many more.
Great Plans and Support
GoDataFeed offers a 14-day free trial as well as a series of competitively priced plans great for businesses of different sizes and with different needs and goals in mind. They also offer custom plans for those who don't fit neatly into their usual structure. GoDataFeed's support is based in the US and can be reached by phone, email, or live chat, and unlike some service providers, doesn't require an extra monthly fee or a plan upgrade to access. The company also offers comprehensive onboarding to help you understand their software, and how it works in conjunction with your 3dcart store.
Ready to Break Into Multichannel eCommerce?
By using 3dcart's powerful all-in-one eCommerce software, online entrepreneurs can build a complete online store with features normally only found on top-tier retail websites, and use effective built-in marketing and SEO tools to draw traffic. Combine that with the power of GoDataFeed, and you'll have an optimized method for reaching out to the huge proportion of customers who shop on comparison sites, social media, favorite marketplaces, and other channels. It's the easiest way to optimize the necessary data, edit or enhance it without needing to change the source, and keep it perfectly synchronized.
Online retailers are always looking for more ways to grow their business and increase their return on investment. Customers and visibility are the key to this, and going multichannel offers plenty of opportunity for both. Best yet, the two build on each other: more visibility leads to more customers and vice versa, with growth becoming more accelerated as your brand grows.
While eCommerce has already made it so much easier to get in touch with vast numbers of customers worldwide, multichannel eCommerce is even more powerful, and could be considered the "next level" of selling online. 3dcart and GoDataFeed are ready to take you there.