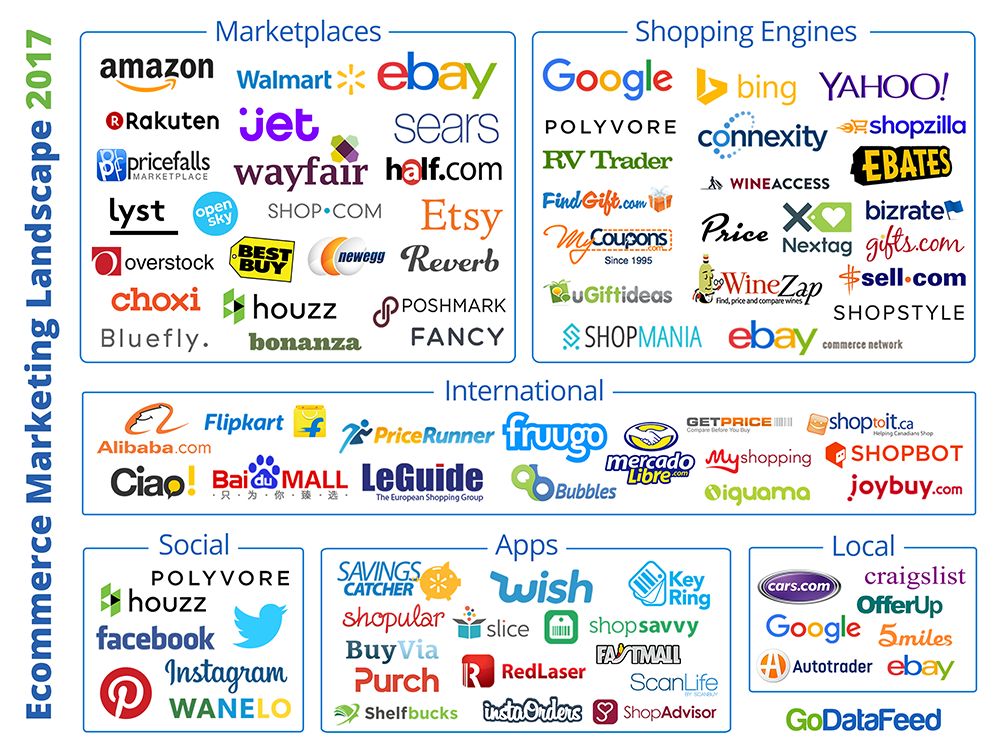 Ecommerce is changing at break-neck speed and with it, the way shoppers discover and shop for products. And in our experience working with thousands of online retailers over the past decade, we're seeing that not only has ecommerce gotten more crowded, but it has also become exponentially more diverse and intricately complex.
This presents retailers with a variety of new opportunities and challenges when it comes to marketing their products.
A quick look at the new ecommerce landscape tells us that multichannel marketing now means more than just pushing products onto a couple of marketplaces and shopping engines; it means expanding your products' reach and leveraging each channel's strengths to build relationships with highly targeted audiences.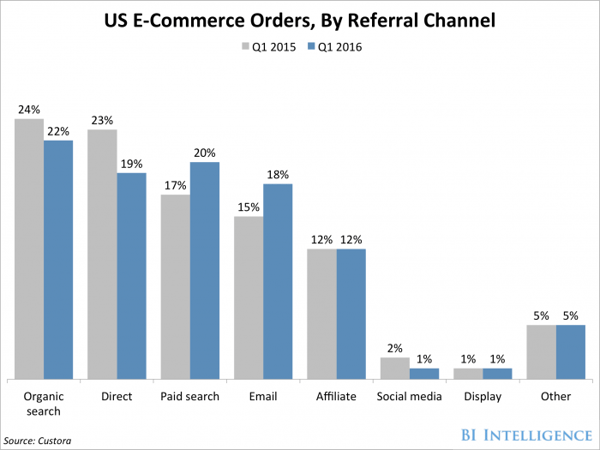 Let's explore the changing ecommerce landscape and uncover new paths to lead shoppers to your products.
The Engines of Product Search
While it's true that organic search through Google and other search engines account for the highest percentage of ecommerce search, there's another truth that should demystify the customer acquisition process for retailers hung up on achieving organic SEO success: More than half of U.S. shoppers start their search for products on Amazon.
According to the BloomReach study, 55% of people searching for products go to Amazon first, while only 28% begin with Google. That is, by far, the widest gap we've seen, but other surveys show that Amazon is beating Google to various degrees in product search.
Taken together, those are significant numbers. And they don't even account for two other important factors:
The percentage of people starting their search on other online marketplaces.
The percentage of people clicking on an Amazon link that comes up in organic search results.
The latter answer, by the way, is a staggering 41%. Yes, you read that right. Even if someone searches for a product using Google or Bing, on four out of every 10 "organic" searches they're still going to Amazon.
Your solution to this trend seems pretty simple, right? Just list your products on Amazon.
Well, that's a good start. But what you really need to understand is why people go to Amazon first. Often cited reasons include its large selection, free shipping, low prices, lots of product reviews, "superior" search capabilities, a mobile friendly responsive site and a world-class mobile shopping app.
These things are important to note for two reasons.
First, because it tells you that pricing and shipping options are crucial to success on Amazon. In particular, offering Amazon Prime is a big way to boost your products' visibility and conversion rates.
The second reason that knowing the "why" is important is because it also serves as a way of telling you where else you might want to list your products:
On other big marketplaces due to the large selection
On channels that offer the ability to review
On channels that let you offer free shipping
On channels with a mobile-friendly interface
Bottom line? The more places you list your products, the more likely they are to be found.
Window Shopping as Image Search
You know that high-quality product images are important in driving sales. You've probably read about how visual content makes people more engaged. You may have even heard that people who become visually engaged with a product are 70% more likely to purchase it.
But what you might not realize is that channels like Google and Pinterest are now making it possible for people to find products solely through image search. How?
Visual search is a tool that can recognize products in pictures. In the case of Pinterest, if you click on a particular image while using it, visual search will pull up images of similar products. Additionally, Pinterest has incorporated Buyable Pin buttons and shoppers can essentially make a purchase based on a picture alone.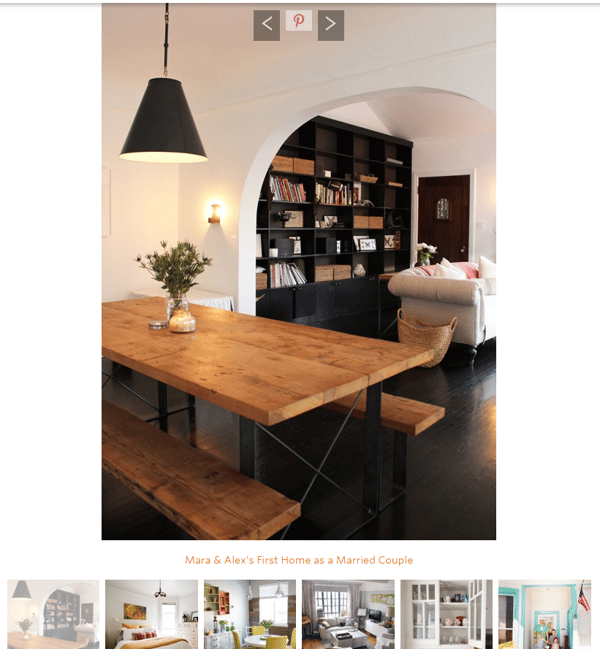 What this means is that product image optimization is the new SEO. If you haven't already been using alt tags and descriptive file names in images, and doing keyword research to match the search terms users and typing in when looking for images, start now.
Social Media Influence
A relatively small number of people actually buy things directly through social media channels. That being said, there are many ways that social networks can affect sales, customer engagement and brand loyalty.
According to a survey from PricewaterhouseCoopers, people do a number of things on social media channels that affect their purchase decisions: read comments, reviews and feedback; receive promotional offerings; view ads; learn about current product and fashion trends; and associate with specific retailers and brands.
Let's take a closer look at these:
Liking retailers and brands. About a fifth of people said they were influenced by "associating" with business on social media. When you like a page, you can choose to receive updates and notifications, which can serve as motivators to interact with a retailer or brand and convert.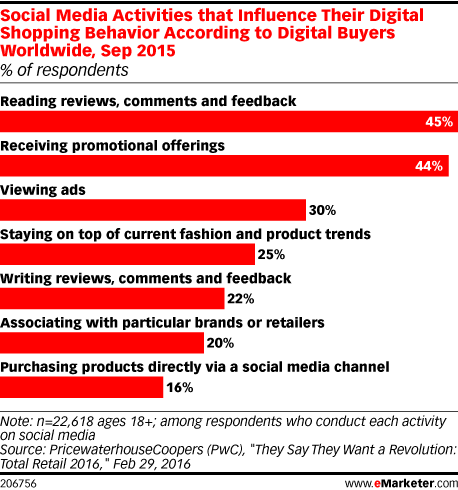 Keeping up with fashion and product trends. Social media lets you see what's popular with your friends. With celebrities. With specific influencers. Learning what's "trendy" at the moment can push people to buy so they feel up-to-date with current fashions. Twenty-five percent of those surveyed said that learning about trends influenced their buying.
Seeing relevant ads. When someone sees an ad on social media, it can be a powerful thing, with 30% of respondents saying it influenced their decision to buy. This is at least in part due to the fact that social media channels tend to possess powerful segmentation tools that allow you to home in on your specific audience.
Getting free stuff. Promotional products are a proven way to increase brand awareness, goodwill, and loyalty – not to mention the fact that they basically act as free advertising. Well, social networks have proven to be an effective medium for organizing contests and other giveaways, and 44% of people say that getting a promotional product affects their shopping behavior.
What others say. The biggest and most important way that social media channels influence people is by providing a space that lends itself for shoppers to share their opinion. Sometimes this comes in the form of feedback or comments, and sometimes in the form of full reviews. All of which can find their way to shoppers at critical moments in the buying process. In fact, 45% of people surveyed admitted that "reading reviews, comments and feedback" most influenced their purchasing decision, narrowly edging out promotional products.
Other factors are involved. People are more likely to use social media when shopping for particular types of products, such as baby items, home furnishings and electronics. And, not surprisingly, millennials are far more likely to be influenced by social media than other groups, with almost half saying Facebook and other social networks affected their purchasing decisions.
There are a number of actionable things to take from this information.
First, think about whether or not your audience is likely to be searching for your type of products on social media. Selling pacifiers to new moms? You're in! Selling high-fiber cereal bars? Um… maybe. As long as your message is tailored to fit the channel's aesthetic style and tone of voice.
Second, solicit feedback and reviews, and cultivate relationships with influencers on social media. Eighty-eight percent of people trust online reviews – and many put as much stock in them as they do recommendations from people they know. Social media can combine the best of both these worlds by offering online reviews and recommendations from people shoppers know.
Third, if you aren't already, run some promotional campaigns on social media channels. It's an inexpensive way of connecting with your audience and earning their goodwill – and, as mentioned above, a really good way hyper-target shoppers using social's ability to segment audiences. And compared to other types of channels, it's relatively easy to create social ads.
Public Wishlists and the Collective Shopper Consciousness
Amazon's lets shoppers add items from other websites to their Registries or Wish Lists. So, for example, a shopper could create a list of potential birthday or baby shower gifts on Amazon, and in it, include products that may not be available on Amazon's platform.
This is a nice feature for shoppers, but for Amazon sellers it's yet another way to get shoppers to be on – and buy on – Amazon.
Similarly, Pinterest lets shoppers pin products from around the Web on boards as a way to save and organize them. Retailers can then market products to shoppers with related interests via promoted pins.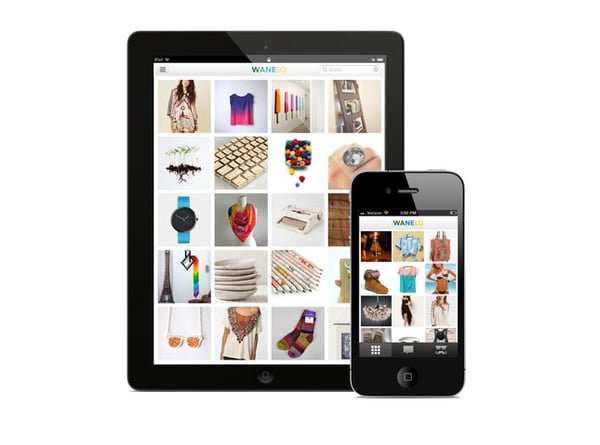 Wanelo is a mobile app that lets shoppers search for products from a wide variety of big brands, tiny boutiques and even independent sellers, and encourages them to save the items they like into collections and wishlists.
Once they do this, shoppers can share their lists as texts or embed them on their personal blogs. Even more interesting, they will receive alerts when the items they've saved go on sale… but only if the brand or store selling that item has submitted its product data feed to Wanelo.
And that's where things start to get interesting for retailers and brands.
Not only will users get sales alerts if you submit your product data feed, the app will prioritize your products and give them more visibility. Moreover, as a brand or retailer, you can create product collections to make them easier for potential customers to find, and even add the Wanelo button to product listings on your own site to let browsers on your site add your products to their lists.
Conclusion
The ecommerce landscape is growing. It's becoming more segmented; more niche. Tapping into the methods of merchandising this growth creates – ensuring your products are present where shoppers search, optimizing images for SEO, and leveraging the reach of social and wishlist apps -- will open new paths for shoppers to discover your site and give you more chances to convert them into buyers.
By diversifying and expanding your claim of the ecommerce playing field, you put your products in better position to reach millions of shoppers at every stage of the buying cycle.