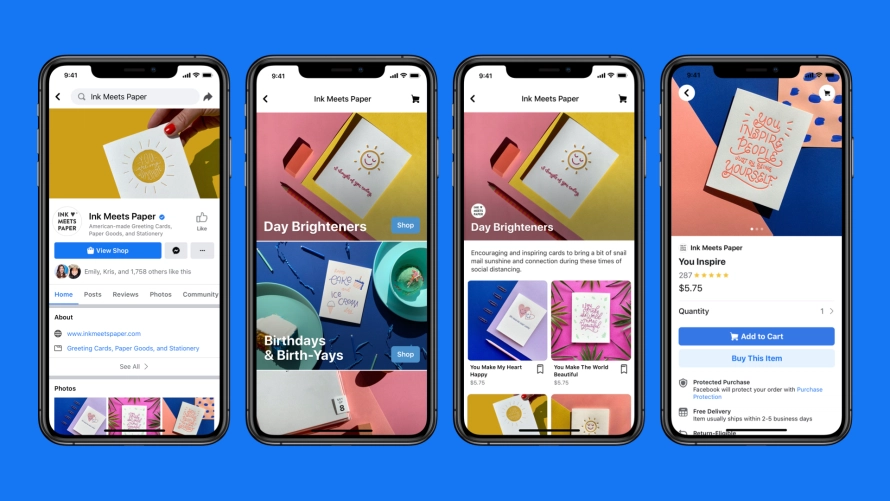 In the last several years, Facebook has exploded in popularity. It's fair to say it redefined social media. It definitely innovated new opportunities for many walks of life. This includes business owners.
With the introduction of Facebook Pages, businesses were able to stake a claim on Facebook and create their official social media profile. This led to new avenues of customer service through reviews and messaging. It also helped create a kind of directory that helped customers find all types of businesses they wanted to check out. These include everything from restaurants to law offices to landscaping services to retail stores.
Businesses got another new opportunity when Facebook added the Shop section. For the first time, people on Facebook could browse products right on their favorite retailer's Page. In some cases, customers could discover a brand without having ever visited the business's website.
Things have only grown since then.
If you're a business owner selling online, it's well worth your time to expand onto Facebook. Instagram might also be a great destination for your brand.
Either way, it starts with setting up your Facebook catalog. This article will explain how to do so, and how selling on Facebook works.
What is a Facebook Catalog?
The purpose of a Facebook catalog is to combine information about the products you want to sell on Facebook. The same information can also be passed to Instagram.
This means you aren't going to be adding products to Facebook one by one. Instead, you'll set up a Facebook catalog to add your products and synchronize them with your eCommerce website.
Before we dive into the details of Facebook catalogs, there are a couple of essentials you need to understand. These include the fundamentals of eCommerce websites and how they work with Facebook. They also include the basics on Facebook Shops, especially because there are multiple ways to sell on Facebook, and it can be a little confusing.
What is an eCommerce Website?
An eCommerce website is an online store. It's a website where customers can buy products. It has product details, an online shopping cart, and a way for the business to collect payment. Simple as that.
The features and capabilities of an eCommerce website depend on the eCommerce software used to build the site.
Some eCommerce software includes tools for exporting your products to other sales channels, like a Facebook Shop. This saves a lot of time setting up your Facebook catalog. (The best eCommerce software also keeps your inventory and sales synchronized, which saves even more time. It's a huge convenience to be able to manage all your orders from Facebook, Instagram, and your eCommerce website in one place.)
Despite the fact that you can sell products from your Facebook Shop, it's not an eCommerce website. The difference is that your eCommerce website is a unique site under its own domain name, while your Facebook Shop is a storefront on your business's Facebook Page.
What are Facebook Shops?
If your eCommerce website is your storefront on a city block, your Facebook Shop is your storefront in the world's busiest mall. Best yet, it's free! Your business can have a Facebook Shop as long as you sell products that are allowed on Facebook and you go through the steps to set it up.
A major step is setting up your Facebook catalog, which we'll get to shortly.
Customers can visit your Facebook Shop by going to your business's Facebook Page. They'll see a Shop section on the page where they can browse your products. You can customize your Facebook Shop by choosing which products to add, organizing them into collections, adding a header image, changing colors, and more.
On your Facebook Shop, customers can browse your products, save the ones that interest them for later, or even make a purchase. They can also contact you through Facebook Messenger, WhatsApp, or Instagram Direct.
But one of the most useful things about Facebook Shops is how many other tools you can get once you set one up.
Having your products on Facebook lets you set up ads with a Buy Now button right on them. Customers can discover products in their news feed and buy them directly from the ad.
But in late 2020, Facebook introduced an even bigger advantage: Facebook Shop. This is a new shopping tab on Facebook that is different from the individual Shops businesses can put on their Pages. People on Facebook can access the Shop tab from their Facebook app or news feed.
It can be a bit confusing that Facebook Shops and Facebook Shop have the same name. But they're quite different.
When a customer visits their Facebook Shop tab, they can search for products and see results from many different businesses, much like on Amazon or Etsy. This means more customers can discover your products even if they've never heard of your business.
It's technically a marketplace. (But don't mix up either kind of Facebook Shop with the Facebook Marketplace. The Marketplace is completely different. It's for individuals to sell to one another much like classified ads or websites like Craigslist.)
Once you have your products on your Facebook Shop (on your business's Facebook Page) they can be found by customers searching for relevant keywords in the Facebook Shop tab. This is a whole new way for shoppers to discover your brand.
Getting Your Products on Instagram
Instagram is owned by Facebook, so if you want to sell on Instagram, you have to go through Facebook first. This means you'll have to create your Facebook Shop, which will power your Instagram store.
Once you have an Instagram business profile and get it approved for shopping, you can tag products in your Instagram posts and link them to the products in your Facebook Shop.
Customers will then be able to buy the product right from the Instagram post. For example, you could post a picture of several of your products being used together. Customers could then tap the product they want to buy, and purchase it right then and there.
How do Customers Checkout on Facebook and Instagram?
You have two options for letting customers check out when they buy from you on Facebook or Instagram.
One choice is to direct the customer to your website to complete the checkout. This lets the customer experience the benefits of your website, like a variety of available payment methods. The customer could also choose to spend more time on your website and learn more about your business. They may choose to shop directly from your site in the future, rather than through Facebook or Instagram.
The other choice was also introduced in late 2020. This is Facebook Checkout, or on Instagram, Instagram Checkout. With these types of checkout, the customer can complete their purchase through the Facebook or Instagram app without leaving it. The benefits here are easier usage on mobile devices and decreased friction.
Setting Up Your Facebook Catalog
Now that you understand the ways you can sell products through Facebook and Instagram, you're ready to learn about Facebook catalogs.
Your Facebook catalog is how you get products onto your Facebook Shop, where they can then be sold and promoted in all the ways we've described.
Among other more specialized features, a Facebook catalog allows you to:
Create a full catalog of all your products, or just the ones you want to put on Facebook
Add and update information about the products, including images, pricing, and more
Create sets of products to use in ads, or collections to help organize your Facebook Shop
So, what is the best way to set up your Facebook catalog? Especially if you have a huge number of products you don't want to add manually?
The enhanced Facebook catalog feed.
What is a Catalog Feed?
A catalog feed takes the information you've already set up in your eCommerce website and pushes it to Facebook. It is a type of data feed.
A data feed is basically a complex spreadsheet that includes all the product data and puts it in a format that can be read by the destination platform (in this case, Facebook). When a data feed is properly set up, it will allow large amounts of product information to be added extremely quickly. For example, a data feed can pull the product name, image, price, star rating, and more from your website. It then organizes that information so the destination platform can understand and display it properly.
Best yet, a data feed can keep information up to date as it changes. For example, if you change the price of a product, your data feed can update the product's price on the destination platform as well.
If you want to sell on multiple channels, like Facebook, Google Shopping, eBay, and others, data feeds are the way to go. You'll only have to edit your products on your eCommerce website and then generate updated data for your feeds. You can then update the feeds yourself or have an automated service do it for you.
When selling on Facebook, you can create a catalog feed to push your products to Facebook and update the spreadsheet as needed. Or, do it automatically if your eCommerce software has a Facebook integration that allows it.
But what is an enhanced catalog feed?
Enhancing Your Facebook Catalog Feed
An enhanced Facebook catalog feed includes some extra information like product categories. This can include categories specific to a certain type of product, like shoe width.
Facebook and Google both support certain types of product categories to be used in this way. Adding this information with an enhanced catalog feed makes it easier for customers to find your products. Especially when they're looking for something very specific. Using shoe width as an example, a customer could be searching for women's US size 10 wide-width shoes. In this case, not every size 10 shoe would do — it needs to be wide. The detailed category information from the enhanced catalog helps narrow down the customer's search by keeping irrelevant products out of the results.
Facebook recommends using an enhanced catalog feed at all times just to get better results. But it's required if you want to use Facebook Checkout.
The Fastest Way to Set Up an Enhanced Facebook Catalog Feed
We've mentioned that the easiest way to set up a Facebook catalog feed is by generating it from your eCommerce website. Of course, to do this, your eCommerce platform needs to be integrated with Facebook and have tools for generating this feed.
However, with the introduction of enhanced catalog feeds, you also need to make sure the Facebook catalog feed generated by your eCommerce software includes the extra fields. Remember product category is required if you want to use Facebook Checkout.
If you want to start using Facebook Checkout right away, build your eCommerce website with software that's fully integrated with it. Including the enhanced catalog feed. Even if you don't want to use Facebook Checkout, your business will still benefit from having the extra information on your products.
Shift4Shop is an example of an eCommerce platform that has this complete integration.
Main Takeaways
Facebook catalogs might seem complicated on the surface, and the entire process of selling on Facebook can be confusing on first glance. But it's easy if you break it down into these key points:
A Facebook catalog compiles information about your products for adding them to Facebook.
Some eCommerce software can generate your Facebook catalog using the product information you've already added to your website.
Some eCommerce software also synchronizes your site with Facebook so you can manage your inventory and orders in one place.
A Facebook Shop is a customizable storefront on your business's Facebook Page. It's the destination for the products in your Facebook catalog.
Customers can make purchases right from your Facebook Shop, save products for later, contact you, and more.
Once you have products on your Facebook Shop you can create "Buy Now" ads, get products into the Facebook Shop section, and sell on Instagram.
The Facebook Shop section is a searchable shopping area where customers can discover your products without having heard of your business before.
Having your own Facebook Shop is required for selling on Instagram via shoppable posts.
Customers can check out through your website or directly within the app depending on if you've activated Facebook Checkout and/or Instagram Checkout.
Getting your products on Facebook for all these purposes requires you to create a Facebook catalog.
The easiest way to create and manage a Facebook catalog is through a catalog feed.
A Facebook catalog feed constantly and automatically updates your Facebook catalog with product information from your eCommerce website.
An enhanced Facebook catalog feed provides extra information that improves the way your products are shown in Facebook.
You need an enhanced catalog feed if you want to use Facebook Checkout.
The fastest and easiest way to set up an enhanced catalog feed is by using an eCommerce platform that supports this kind of data feed.
So, while selling on Facebook might seem difficult at first, it's actually deceptively easy if you have the basic technical knowledge to get started. Once you've set up your eCommerce website and enhanced catalog feed, you can start selling on Facebook in no time — and your business can experience all the benefits of selling on the world's largest social media platform.