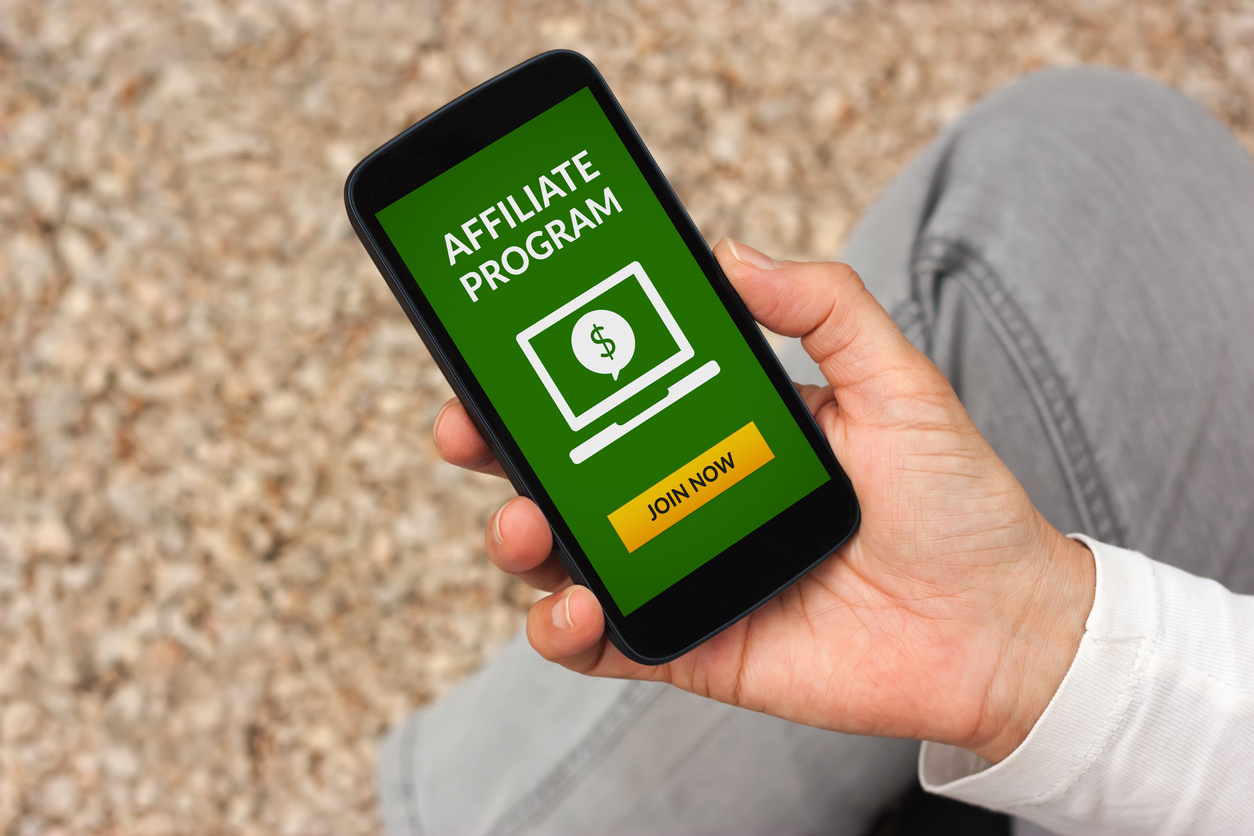 Affiliate programs are some of the best ways to make money online. It's a simple system where you recommend and promote products to other people and get paid if they make a purchase. Loads of affiliate programs exist, but which ones are the best for marketers?
Naturally, there are loads of different options available, so how do you separate the best from the rest? Firstly, think about the type of affiliate programs that are suitable. As a marketer, you'll want to concern yourself with online services, like software, hosting companies, website builders, SEO tools, and more of the like. All of these things are relevant to your career, making it easier for you to promote them. Think about it: your target audience will align with the target audience of these affiliate companies.
Secondly, you want to work with the highest paying affiliate programs, meaning you get paid the most amount of money for each sale. This is typically based on the commission given out: the higher the commission, the more money you make!
With all of that in mind, let's look at the highest paying affiliate programs for marketers in 2020 right now.
1. Shift4Shop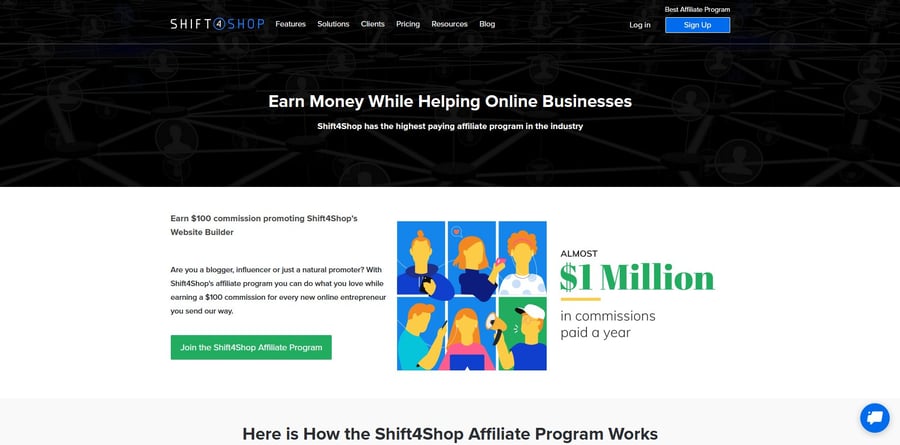 We'll start things off with our very own (and very generous) affiliate program. As a Shift4Shop affiliate, you earn a $100 commission when one of your visitors clicks through to Shift4Shop and signs up for any of our services. We offer lots of content for you to link to – including blogs, webinars, and video tutorials – making it even easier for you to promote us.
Furthermore, we have a Partner Program that's ideal if your referrals work directly with you. For example, if you run a marketing agency and refer a client to Shift4Shop, you qualify for the Partner Program. Why is this beneficial? Because you're entitled to an extra 60% residual split revenue share based on processing fees, if your client uses Shift4 for payment processing.
Alongside this, we also have a 120-day cookie duration, which is highly advantageous. This means that your visitor can click your link, visit Shift4Shop, and leave our site without signing up. But, if they return and sign up within 120 days, you still get your commission.
There's a lot for you to enjoy, and all of this comes with unlimited earning potential. Unlike some affiliate programs, there's no cap on how much you can earn through our program.
2. Fiverr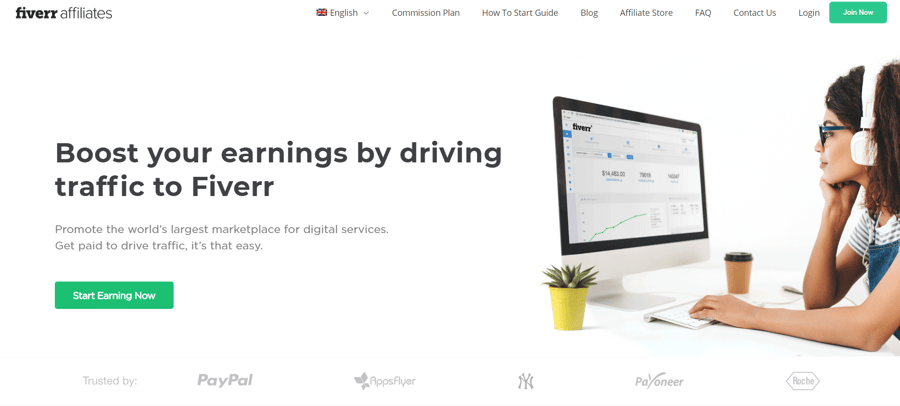 Fiverr has long been a popular affiliate program, and it can work well for marketers. The whole premise of Fiverr is that people pay small amounts of money for different services. As a marketer, your target audience will easily be interested in many of the services on offer here – such as web design, stock videos, and more.
As for commission, a Fiverr affiliate has two different options:
Dynamic CPA up to $150
$10 CPA plus 10% RevShare
Basically, the first option lets you earn up to $150 for every acquisition you gain. The second option lets you earn $10 per acquisition plus up to 10% commission. The choice is yours, but all Fiverr affiliates gain access to lots of marketing materials and tools to ensure you keep up some high conversion rates.
Perhaps the biggest downside of Fiverr is that you get a relatively small commission compared to other options. However, this is offset by a huge advantage – Fiverr is a massive platform. It's so diverse, giving you endless things to recommend and promote to your audience. Not only that, but the diversity lets you zero in on services that you know your clients will need. Therefore, you get high conversion rates compared to other programs.
3. ClickFunnels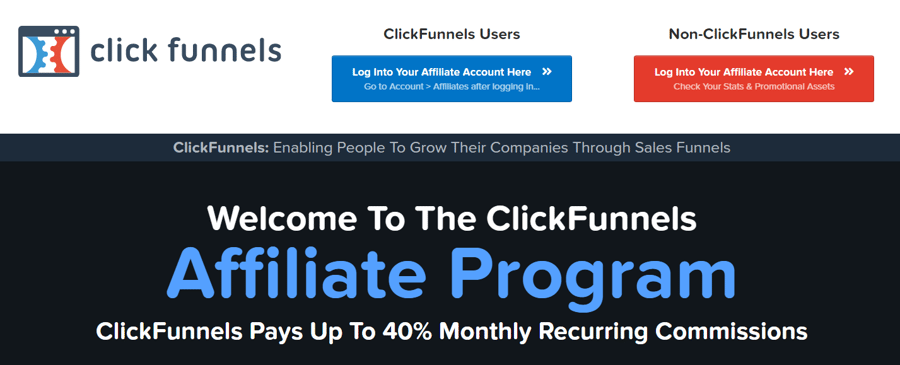 ClickFunnels is all about providing sales funnels for people to grow their companies. Already, you can see how this brand aligns well with yours. Marketing and sales go hand in hand, so it only makes sense to recommend and promote a service that offers sales funnels.
What can you expect from the ClickFunnels affiliate program? The short answer is, a fair bit! Every affiliate gets 40% commission on all the front end offers from ClickFunnels, plus an extra $100 for a couple of their other products. Also, you get a 20% recurring commission on subscription purchases as well. So, whenever someone pays their monthly subscription fee, if they came from you, you'll get 20% of it. This can then be upgraded to 30% once you earn $1,000 in commissions within one month. It can then be upgraded again to 40% if you have 40 active ClickFunnels' members for at least 30 days.
You can clearly see why this is listed as one of the highest paying affiliate programs around. Is there a downside? The only criticism is that ClickFunnels has quite a narrow and niche offering. If your clients all have sales funnels sorted, then there's not a lot you can do to convince them to switch. Still, if you target the right people, you can earn a lot of money.
4. HubSpot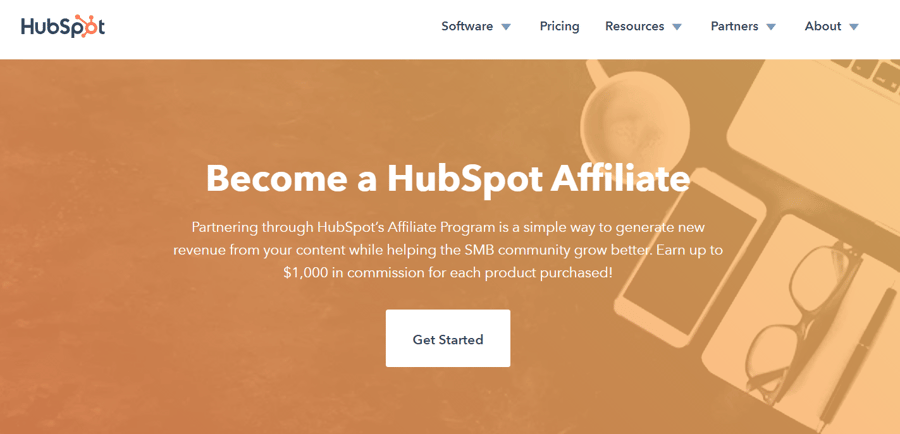 HubSpot is one of the biggest and most trusted digital enterprises on the web. They have a plethora of product offerings that your target audience is bound to enjoy. Most people only think of them as offering marketing tools, but they also have a Sales Hub, Service Hub, and free CRM. Loads of companies use HubSpot and pay for their services every year, so it's a great place for you to try and earn a hefty commission.
Speaking of which, three commission tiers are available: Starter, Professional/CMS, and Enterprise. These refer to the different levels of products your referral has bought. Starter products give you $250 commission, Professional is $500, and Enterprise is $1,000. So, in theory, you can earn up to $1,000 per product as a HubSpot affiliate.
Perhaps the best thing about this affiliate program is the sheer amount of resources at your disposal. HubSpot arms you with a large creative inventory to help you create better content to promote their products. You also get to view analytics that allow you to track clicks and see your most successful conversion methods. A 90-day cookie window is also a great bonus, giving you more time to secure the commission.
There's not much to criticize, but if we wanted to nit-pick, we'd say that a lack of recurring commission and no signs of progression are a bit of a negative. Plus, if you want to maximize your earnings, you have to try pushing the Enterprise-level products, which are typically very expensive.
5. Shopify

Shopify is a top-rated and commonly used eCommerce platform for businesses. The premise is simple; people sign up for Shopify and use it to sell products. If you were to become a Shopify affiliate, your job would be to get as many people to subscribe to Shopify as possible. They have different subscription levels, meaning you can target different products to specific customers you have.
Of course, the big thing that most care about is commission. What do you get from Shopify? There's a very healthy 200% commission. The reason it's so high is that the subscription prices are low, as they're monthly payments. It's believed you can earn around $58 for each paid subscription on average, and $2,000 for a Plus referral.
Another major thing to like about Shopify's program is that your leads are nurtured. You can get them to sign up for a free trial, and nurture them along to become paying customers. Typically, this leads to great conversion rates as people try the product, like what they see, and sign up.
For us, the only con is that you don't get recurring commissions. Could you earn more money on a recurring commission compared to a flat-out 200% one? Most likely, yes, which is why it's not offered. So, you have to focus on getting lots of new customers for Shopify every month to maintain good earnings.
6. ConvertKit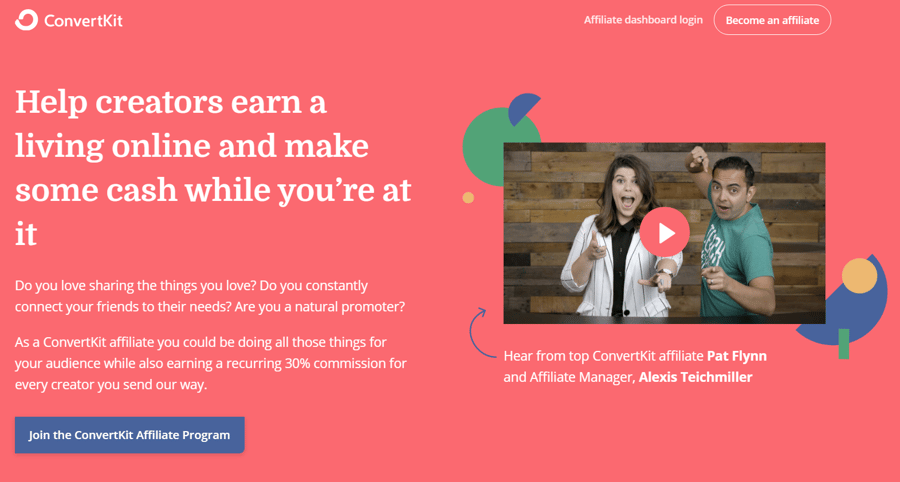 If you've not heard of ConvertKit, it's probably because this is one of the newer members of the digital services industry. The business model revolves around email marketing and provides you with lots of tools and services to improve email conversions. As a marketer, you can already see how this is a brilliant thing to recommend to clients.
So far, you may have noted that a top critique of some affiliate programs is the lack of recurring commission where it seems to make sense. There's no such issue here as ConvertKit affiliates enjoy a 30% recurring commission for every subscriber they gain. On the cheapest plan available, you can earn up around $5,220 every month if you refer 600 accounts. The pricing depends on how many email subscribers someone has, with the cheapest plan being set at $29 per month for up to 1,000 subscribers. If you referred a client that had up to 900,000 subscribers, the cost of the plan is $3,999 per month. After doing some quick math, you would earn $1,199.70 per month after one referral!
There's huge potential with this affiliate program and it definitely pays big. Our issue is that there are no bonuses or rewards for good work. So, if you consistently refer hundreds of people per month, you will only ever earn the 30% recurring commission. There's also a slightly slimmer than usual cookie window of 30 days. It's not awful, but it does make you work a bit harder to secure your commission.
7. Kajabi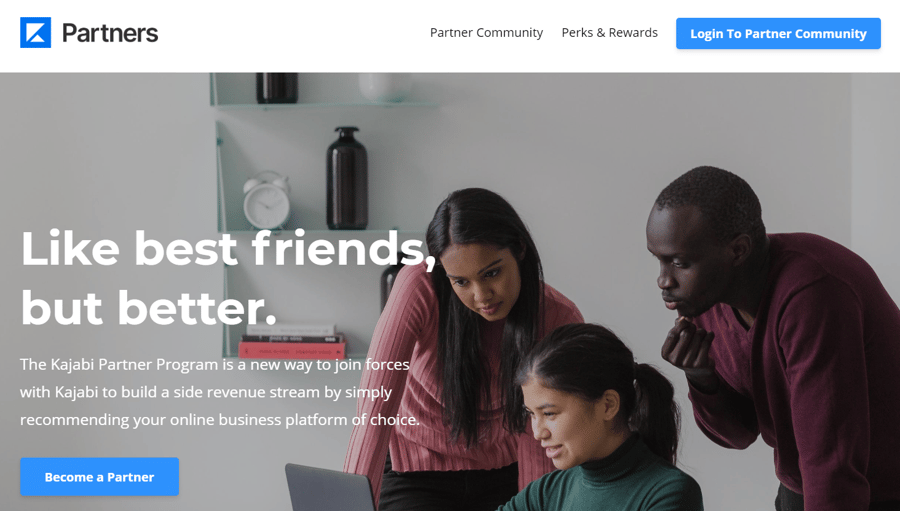 Kajabi is an exciting platform that offers businesses a variety of great tools. It's something of an all-in-one platform where users can build marketing campaigns, design websites, create specific landing pages, and even make courses. So, there's a lot to enjoy and plenty for you to sell to some clients.
The diversity of Kajabi is one of the reasons it makes this list. The other main reason is the 30% recurring commission you get when someone subscribes via your link. The downside is that they only have 30 days to do so, as the cookie duration is only a month long. But, you get special rewards as you keep earning money through the system. This is great, as it encourages you to up your game and benefit from being a loyal Kajabi affiliate.
However, one caveat is that you can only become an affiliate if you use the platform yourself. Some of you may do so already, while others may view it and realize you can benefit from using it. If this is the case, you can also sign up to be an affiliate partner. Still, we have to include this as a negative because you technically have to pay to become an affiliate.
8. WP Engine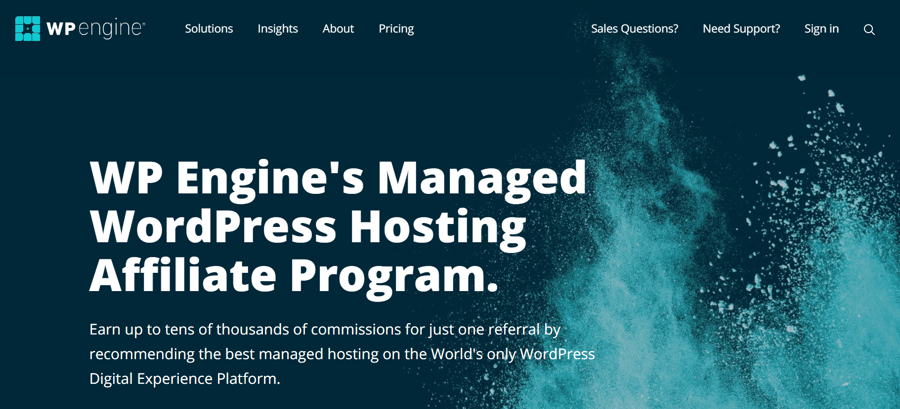 A huge percentage of websites are built using WordPress. As a result, these websites need web hosting services, which is where WP Engine comes in. WordPress hosting is incredibly popular and highly sought-after. In fact, as a marketer, you will definitely encounter lots of clients that use the WP platform. Therefore, it makes sense to partner with WP Engine to earn some extra money.
A WP Engine affiliate will benefit from the ShareASale affiliate network. Here, you get a choice between two different commission options on every sale of a WP Engine plan. The first option is $200 per signup, and the second is 100% commission of the customer's monthly payment. Which one should you choose? Well, here's the great thing – the choice is made for you! Basically, you get paid whichever option is worth more. So, if a customer buys a plan that has a monthly cost below $200, you always get $200. But, if it costs them $300, you'd get $300 instead.
As a bonus, you can also promote the StudioPress themes from WP Engine to get an extra 35% commission from the sales. With these purchases, the cookie window is only 60 days, but for the WP Engine plans it's a long 180!
If you can find the right market for WP Engine, it will be highly profitable and a high earner for you. Ultimately, that's the biggest problem with the program – it can be hard to secure frequent sales, but when they come they will be profitable.
Conclusion
So, these are the highest paying affiliate programs for marketers in 2020. The best thing about affiliate programs is that you can sign up for as many as you like. Pick a few programs that relate to your brand and align with your client's interests. Then, you can start promoting services/products and earning a return on your efforts.