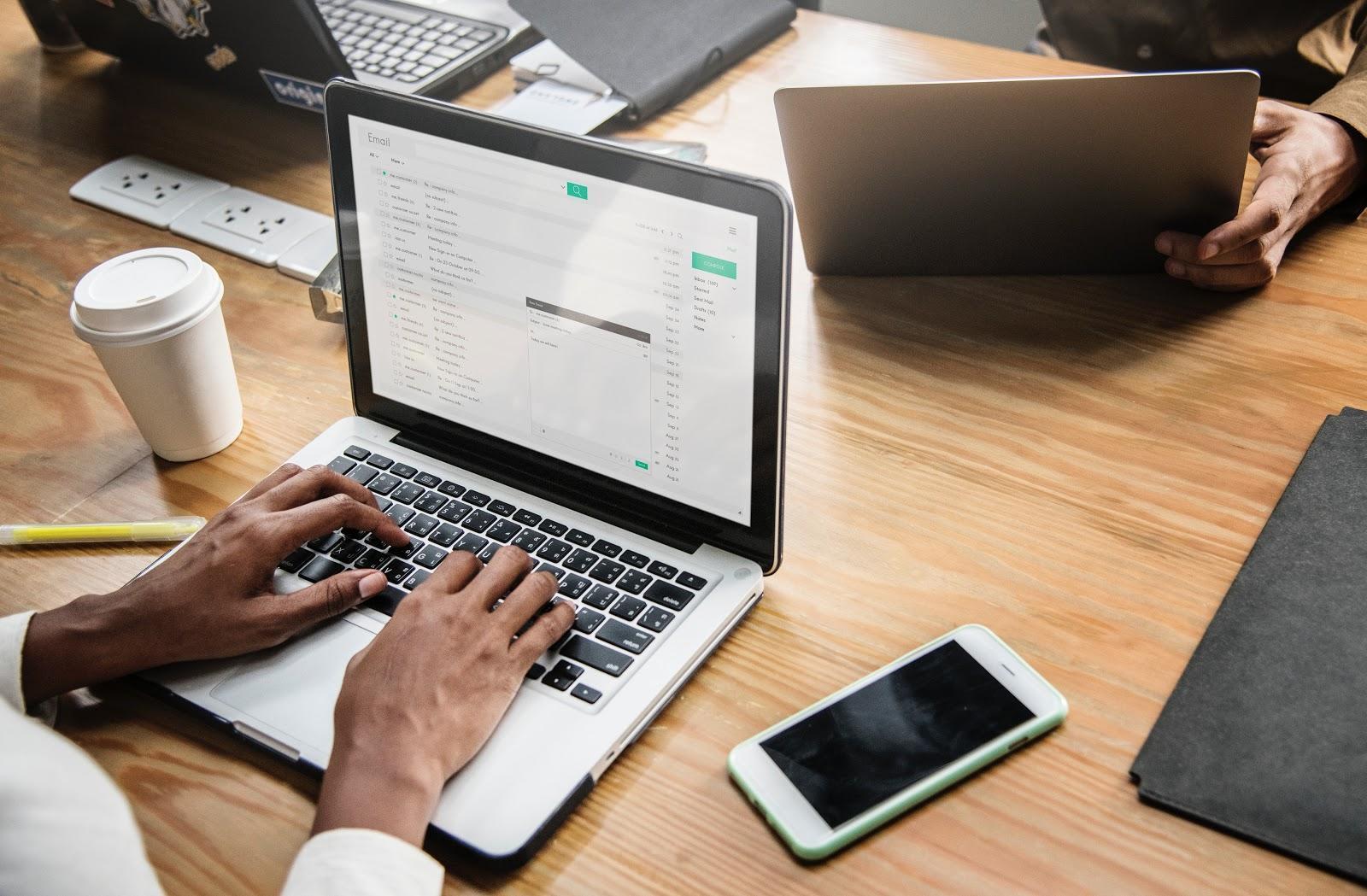 The eCommerce bug has literally taken the world of business by storm. Marketers and entrepreneurs alike are still excited about this business concept despite it having been around for quite some time now.
Business owners and marketers are constantly pushing the eCommerce boundaries — each day trying out trending ideas and experimenting with emerging concepts, all in an effort to boost their click-through rate and, of course, their conversion rate.
You see, as an eCommerce marketer, your goal is to boost sales.
But for that to happen, you must have not only an effective, results-oriented digital marketing plan in place but also a customer-centric communication strategy.
Engaging your customers with regular communication, even when they are not shopping, helps to keep top-of-mind recall (awareness) and drives value to the growth of your business.
Email marketing serves this purpose really well.
It's a highly-effective channel for a marketer who needs to reach their customers and to get them buying, repeatedly. In fact, 66 percent of business owners and marketers still utilize corporate email when interacting with customers.
We all like a good return on investment (ROI), right?
Picture this — for every one dollar spent on email marketing alone in 2016, an entrepreneur got a $44 ROI. And for the same spent in 2015, they got $38. 2014 was at $34. You see where we are going with this, right?
Most marketers rate email marketing as the best channel for ROI with 74 percent rating it as 'excellent' or 'good.'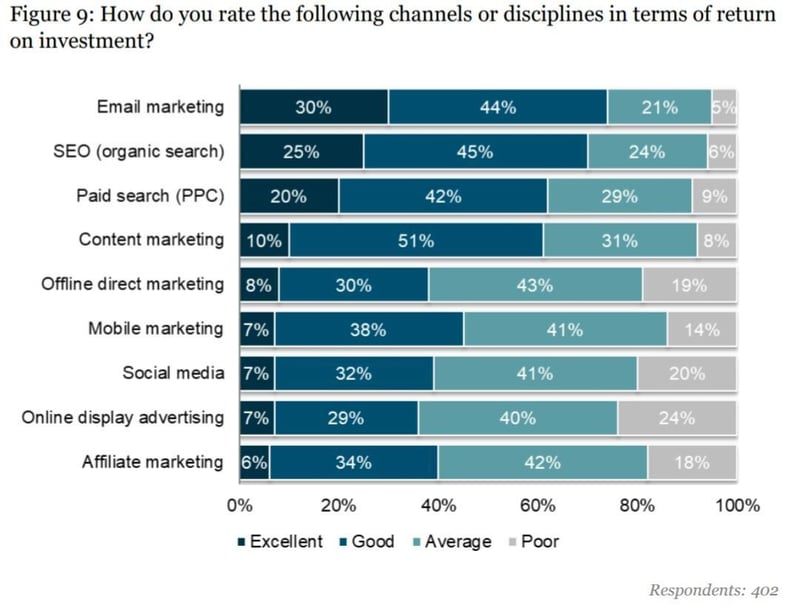 Image Source: Econsultancy
When customers visit your site to browse for products, they become prospects. Your marketing efforts before that visit, during it, and after it, ensure that they convert. If they don't do so on their first visit, you want them to come back.
Still, email marketing for eCommerce is not without its own perils. Competition is fierce, and you have to fight tooth and nail just to get your email opened by its recipient. After all, that recipient most likely received dozens of similar offers in a single day.
So how can you stand out in a crowded inbox?
Email automation is the key.
Let's take a closer look at it, shall we?
What Is Email Automation?
Email automation allows you to send targeted messages at the right time and build (or strengthen) relationships with existing and potential customers.
Automated emails are personalized, timely, and relevant to the customer. Unlike other emails you send to customers or newsletters, automated emails are set up and sent once an individual performs a certain action on your website.
For example, you have a whitepaper on your website. You would like to send each person who downloads the whitepaper an email.
This email is meant to, first, thank them for downloading the whitepaper, obviously. Secondly, it is also a tactical attempt designed to subtly introduce them to some of your other (relevant) services or products.
Manually creating a campaign every time someone downloads the whitepaper takes too much of your time. With an automated email, however, whenever the customer downloads a resource from your site, they immediately receive a 'Thank You' email.
In this example, downloading becomes the trigger that leads to them receiving an email. This action will be replicated every time a download or any other set action is performed by a visitor on your website. The beauty about this is that there's absolutely no room for error, which humans are prone to.
Why Use Email Automation for eCommerce?
Email automation allows you to mass-email selected customers. However, to reap the true benefits of email automation, you must have the ability to coordinate your campaigns based on certain triggers.
Relevance and timing are also important. Email automation allows you to create robust campaigns and send customers relevant information at the right time.
Email automation is the best way to increase conversions and get a return on investment. In fact, with automated emails, you get an average 70.5 percent open rate and click-through rates that are 152 percent higher than those of other marketing messages.
Using Email Automation to Boost Conversions
Some of the automated emails known to drive conversions are:
Welcome Emails
The welcome email is your first opportunity to create a great impression. Welcome emails have an 84.22 percent open rate and a 25.91 percent click-through rate.
Your welcome email sets the tone for your relationship with customers and is the foundation for building your brand image. It, therefore, should properly represent your brand and set expectations for future emails with the customer.
A well-designed welcome email is a key to remaining competitive. It allows you to interact with the customer when their propensity to click, open or transact is at peak level.
Sending a series of welcome emails generates more email-based revenue rather than sending a singular welcome email. These findings are highlighted by research conducted by Listrak on 1,000 retail companies. The majority of the top-performing companies sent more than one welcome email, with 64 percent sending as many as three.
According to the Experian Marketing Services report, when compared to other promotional messages, welcome emails help you generate better click-through rates and times open rates.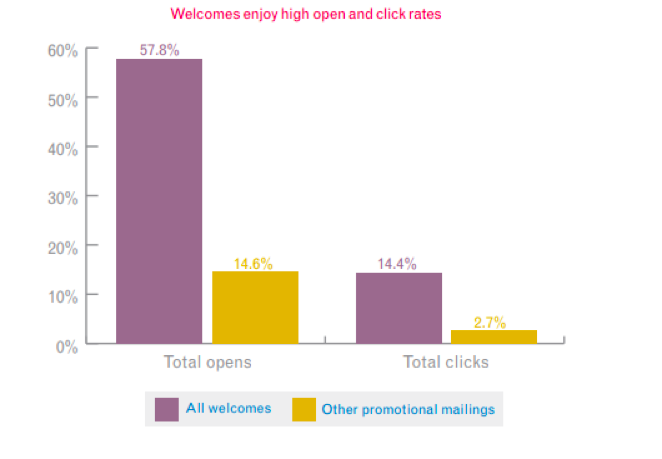 Image Source: Experian Marketing Services
Best practices for welcome emails
Send the email right away because 74 percent of consumers will be expecting it as soon as they subscribe. The welcome email should assure subscribers that they successfully subscribed and start a valuable conversation.
Personalize the email. During signup, ensure that you get more than just the email. Every additional piece of data helps you accurately segment and send relevant content to the customer further down the line.
If you make promises in the welcome email, please keep them. You build good customer relationships on trust.
Keep it brief and to the point. Your customers receive numerous emails in a day, and 43 percent of them open them on their mobile devices.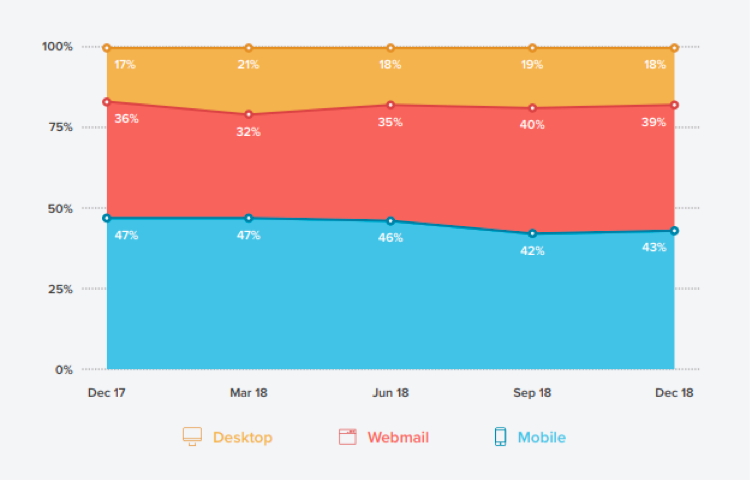 Image Source: Litmus
Focus your welcome email on greeting them, shortly describing your brand and delivering your call-to-action. A welcome series is, therefore, crucial because you can't tell them everything in one email.
The first email: Send it immediately after signup and include a simple welcome and thank you note. If you made any promises, deliver now. Most people will sign-up due to special offers or discounts. Tell the subscriber how many more emails they can expect (frequency) and then introduce them to your brand.
Second email: Send the second email 48 hours after sending the first email. The second email provides information on how your business operates and how they can contact you if they need assistance. Get the customer to connect with you on social media and hopefully turn them into brand advocates.
Third email: Send it two or three days after the second email. Ask them to provide additional information about themselves, including preferences, their birthday, and location. Get as much information as you need to segment them, depending on your industry and products. You can also use it to introduce your products and services.
Ensure that with each of these emails, you provide value and capture engagement.
Abandoned Cart Emails
Abandoned cart emails are triggered when after the customer visits your site, adds items to cart but for whatever reason, leaves before purchasing.
According to research, online shopping sites get an average of 69.57 percent abandonment rate. Reasons for abandonment range from the cost of shipping, a complicated checkout process, and not trusting the site with credit information.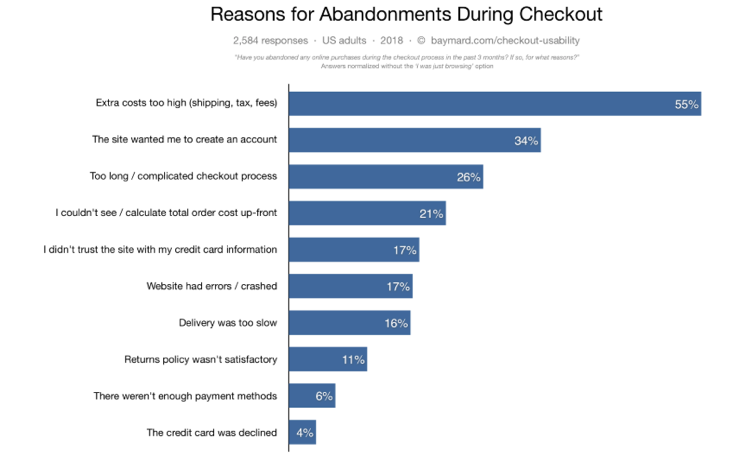 Image Source: Baymard Institute
Abandoned cart emails remind customers of the products they left behind and encourage them to come back and complete the purchase.
Best practices for cart abandonment emails
Get the timing right. Send the first email within the hour, and you get a 33 percent conversion rate. Delay this, and you get half that conversion rate. Send the second email 24 hours after. A third email sent 72 hours after they abandoned cart can also result in more sales.
Write compelling subject lines. Make your email stand out and grab the customer's attention. Personalize it by using their name and then make the subject line shorter — no more than 60 characters.
Segment your audience to deliver a more targeted message.
Persuade the customer with reviews or another form of social proof.
Use urgency by giving them a discount if they buy within a limited time.
Include product recommendations to increase click-through rate and add value to the order. Recommendations also provide the customer with additional choices. The email becomes even more relevant if you personalize it depending on previous customer behavior on the site. It could also increase sales if you show products that are frequently bought together with the one they abandoned.
Include information and images of the actual abandoned products. It reminds them of what they didn't buy YET, but want.
Include a call-to-action button that is easy to see. For example, "Continue Shopping."
If you play your cards right, your email may be among the 45 percent cart abandonment emails opened by customers. Cart abandonment emails are great conversion boosters — 10.7 percent of customers who received them return to make a purchase.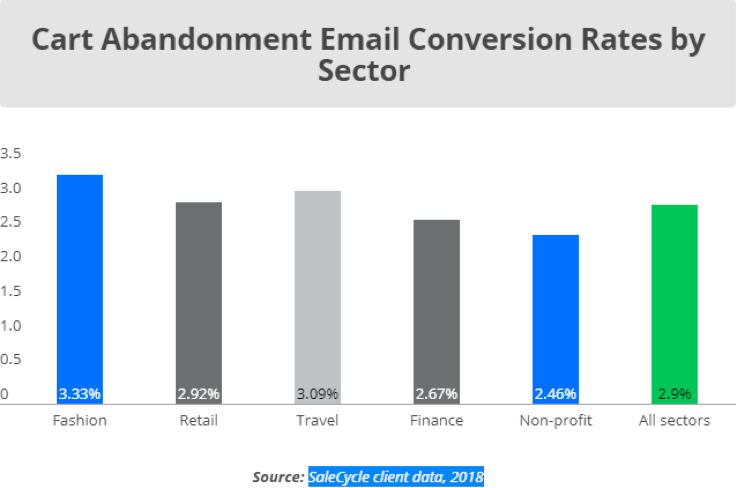 Image Source: Sales Cycle
Browse Abandonment Emails
Ninety-two percent of people visiting your site are not there to buy, but you can bring them back with an abandonment email.
A browse abandonment is the behavior of a customer who visits your site, views a product, but does not buy it or add it to cart.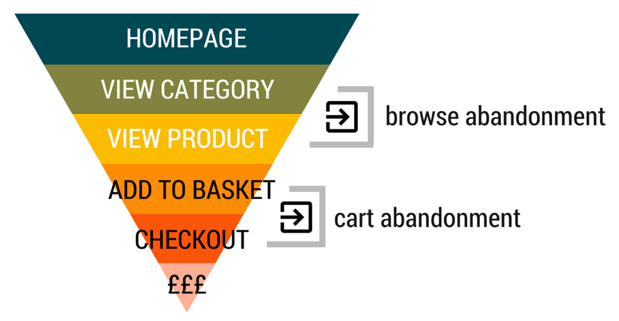 Image Source: Ometeria
A browse abandonment email is an automated email to subscribers who viewed a product without purchase. It tempts them to come back and make a purchase.
Browse abandonment emails help boost conversions due to their precise targeting. You can capture the customer with relevant messaging exactly when they need it.
Your goal is to find people who are interested in the product. You can set up triggers in your campaign so that only those with the highest level of interest receive the emails. These could be people who visited a product from a specific category thrice or visited three products from one category thrice.
Browse abandonment emails best practices
Make the subject line compelling, relevant, short, and to the point.
Insert products they searched for into the emails and get them back into buying mode with a call to action.
Use recommendations to suggest other products within the same category they were researching. Use it also to suggest products frequently bought together to offer more excitement and value.
Send two or three emails depending on the customer and industry just like in cart abandonment. Send the first email after 30 minutes.
Just because the customer left without making a purchase does not mean they are not interested. It could be that they are just not interested now.
A browse abandonment email nudges the customer towards going a little faster to the finishing line.
Post-Purchase Emails
It's important to keep the conversation or engagement going with your customer even after they purchase. It's a good way to get feedback on the item(s) and recommend other products as well.
Post-purchase emails allow you to personalize your content because you know the client. You make their future shopping experiences better and improve their loyalty.
Repeat customers are crucial for your eCommerce business. With the email, you can:
Inform them of more products or services that might interest them based on their interactions with your website.
Cross-sell to them - send an email with complementary products.
Use them to encourage referrals. Encourage your customers to invite their friends and family with special promotions and discounts.
Use them to encourage your customers to make further purchases using a unique discount code.
According to a HubSpot survey, 90 percent of customers will purchase more, 93 percent will become repeat customers if they receive excellent customer service, and 77 percent of them will share positive experiences with friends on social and review sites.
Reactivation Campaigns
Seventy-five percent of your email subscribers are inactive. The reactivation campaign makes unengaged customers active. It's a win-back campaign where you try and make the customer engaged and active again.
Sometimes the customer may be interested in something, but they forgot they had a good experience with your eCommerce site. Re-activation emails help win them back.
Best practices with reactivation campaigns
Send emails with relevant information on products previously bought.
Send inspiring and entertaining content.
Send recommendations of either related or best-selling products .
Send messages that catch their attention. For example, start with "We Miss You."
A/B test to ensure you are sending the right emails to the right audience.
Reactivation campaigns are also a strategic way of cleaning your email list to improve ROI. A good email marketing platform will help you track email campaign statistics. The statistics tell you not only how your campaigns are doing, but who those subscribers that usually take action on the messages sent are.
Member ratings, for example, on MailChimp range on a scale of 5 to 1.5, from subscribers with lots of activity to subscribers who soft bounced in the past or unsubscribed.
Regularly cleaning out your email list boosts ROI.
Special Occasion Themed Email Campaigns
Show you appreciate existing customers with emails that help them celebrate their birthdays, holidays, or anniversaries with you. Remember that it costs five times more to get a new customer than to retain one you already have. If you get a five percent retention rate, your profits will increase by 25-95 percent.
Show them that you appreciate their loyalty and that you care about their interests.
Best practices with birthday and anniversary emails
Provide rewards in the form of coupon gifts.
Congratulate them on a special occasion and show them great items they may want.
Conclusion
Email automation helps you engage customers. With automation, you can inform them of products they may be interested in, encourage them to shop with you again, provide updates, offer discounts, and stay in touch.
This engagement keeps you on the top of their heads when they need to make the next purchase. It also leads to loyalty and customer retention.
However, do not spam their inboxes. If you send irrelevant information, they will definitely unsubscribe from your mailing list.
Email automation will ensure you only send relevant information to relevant customers at the right time. Delivering targeted messages then helps you increase conversions and, of course, boost sales.